I know I said there would only be one more Maui post, but we'll make it 2. I'm the first one up so I have a little bit of extra time, so why not? This will just be a short recap.
Friday night, I did the Crossfit Open workout 17.2. Which meant I had to actually be a little more careful about what I ate during the day so I didn't feel like death. Go figure.
Breakfasts have been the same around here: mango, cheerios, yogurt bowls. After breakfast, we spent the morning at the pool (and saw our favorite kitty).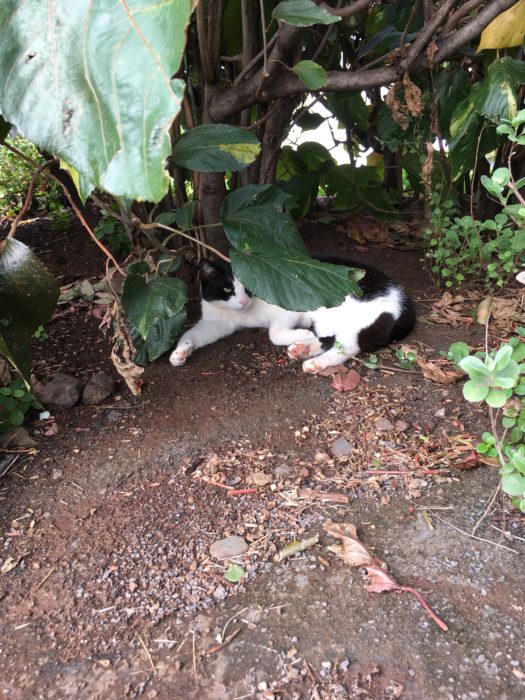 I'm not a big swimmer, but I actually deigned to go in the water this time. There was a very tame water slide that I ever went down a few times.
We cleaned up for lunch, which was Subway. Again, I wanted something familiar before the workout.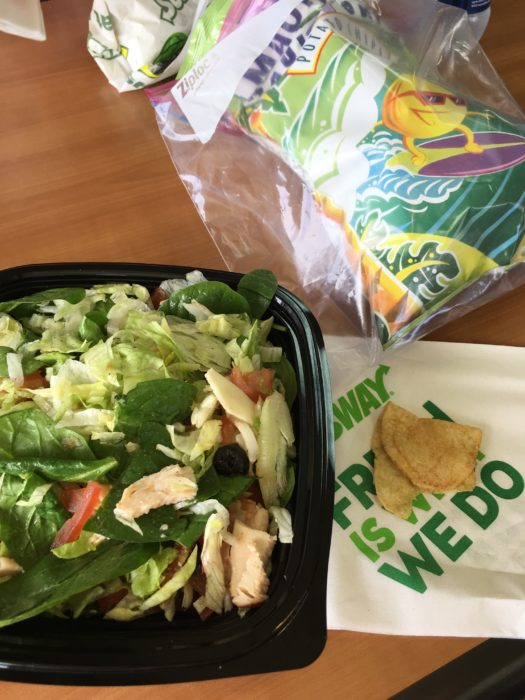 I even chose to skip the afternoon ice cream (gasp)!
We had a low key afternoon. Mostly lounging around the hotel.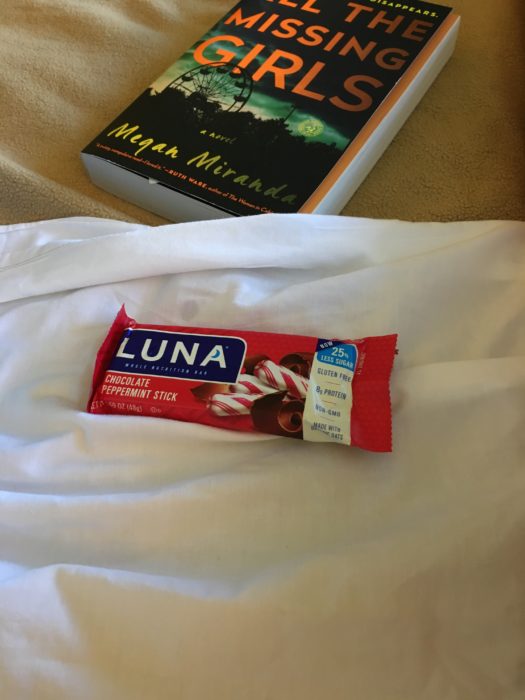 Then it was Crossfit time! I dropped into Lahaina Crossfit again to do 17.2. They had a 2 hour window on Friday night for people to do it, and when I showed up, I signed up for the first slot! I quickly warmed myself up and was ready to go.
17.2:
12 minute AMRAP:
50ft walking lunge with dumbbells in front rack
16 toes to bar
8 dumbbell power cleans
50ft walking lunge with dumbbells in front rack
16 toes to bar
8 dumbbell power cleans
50ft walking lunge with dumbbells in front rack
16 muscle ups
8 dumbbell power cleans
50ft walking lunge with dumbbells in front rack
16 muscle ups
8 dumbbell power cleans
Repeat for 12 minutes.
I obviously cannot do muscle ups, but I did Rx anyways. The weights were 35#. I knew this meant I would have some time left to stare at the bar!
I was worried 35 would feel heavy for dumbbell cleans but it was a non-issue. I honestly don't have a ton of commentary on this. It killed my grip much more than I was expecting, and my second set of toes to bar had to be more broken up as a result. My tiebreaker time was 6:37 for 78 reps, so I had about 5 minutes to "attempt" muscle ups. In reality, I'm nowhere near a muscle up. But I spent some time doing some really high quality pull ups, so there's that.
I do appreciate how this workout didn't have muscle ups right in the first round, so people could still do Rx and have something to do. The atmosphere is always fun, and it's so cool that this is something I can do thousands of miles from home, because it's something Crossfits do worldwide. I stayed an extra heat to judge someone else, and it was all a blast!
Right afterwards, we headed to Kohola Brewery in Lahaina. We stumbled upon this tiny local brewery when grabbing lunch, so we figured, why not check it out?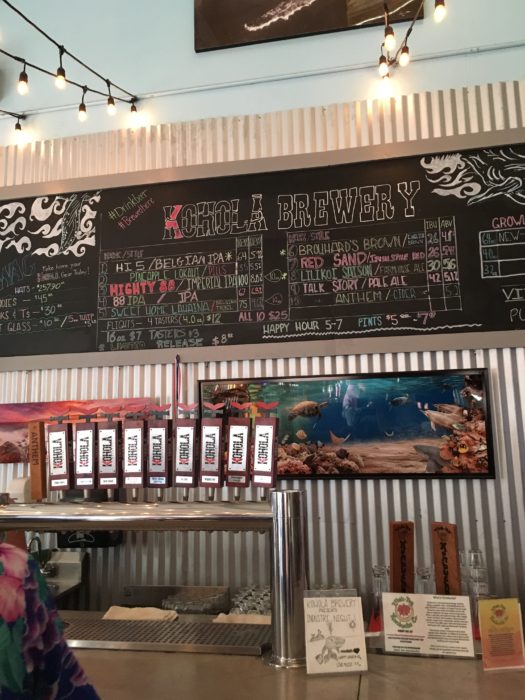 It was a cool vibe. It was out of a warehouse! We got a flight to start.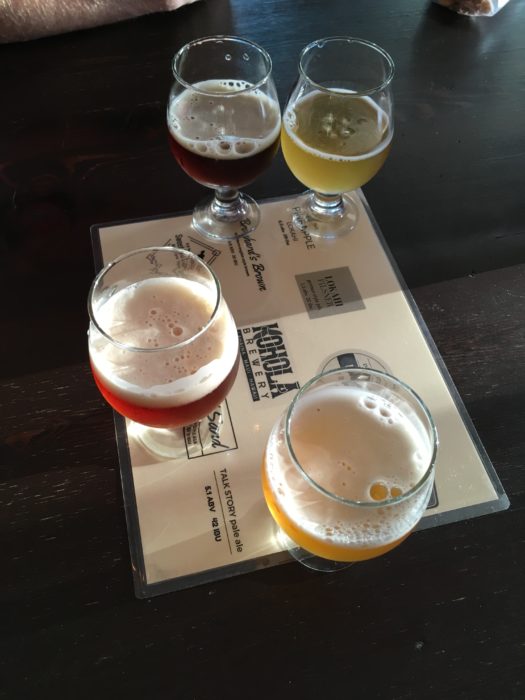 Apparently beer flights are becoming a post-Open workout thing for me?
Then I got a pint of my favorite, the Lilikoi Saison.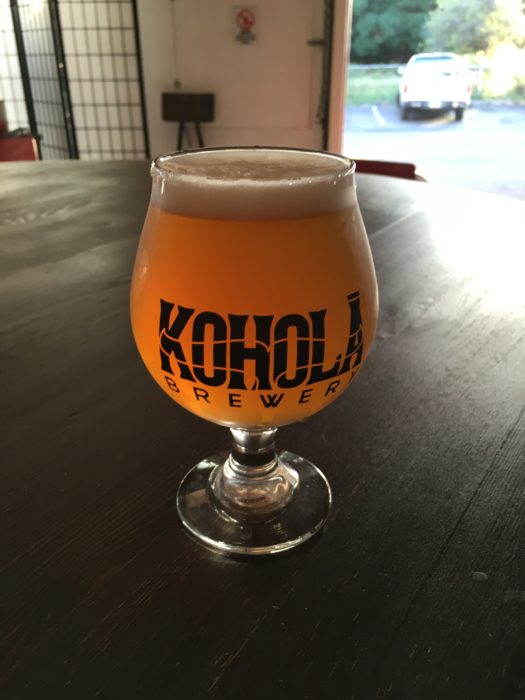 It was a great way to celebrate 17.2!
After our little happy hour, we went down to the water for dinner at Honu. We had originally made reservations for much later, but we were able to snag seats by the bar with no wait.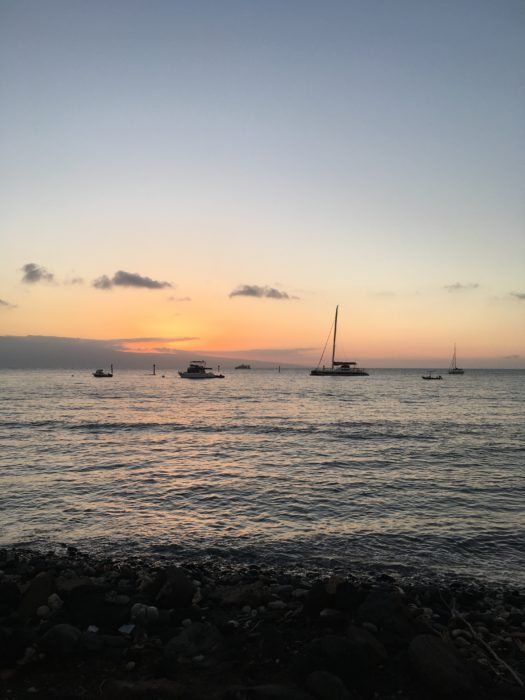 This place was awesome. They had a whole gluten free menu (including pizza), and the waitresses were super helpful figuring out various dietary restrictions (coming to Hawaii with a coconut allergy stinks). On top of the great service, the food was top notch. To start, we shared a date salad.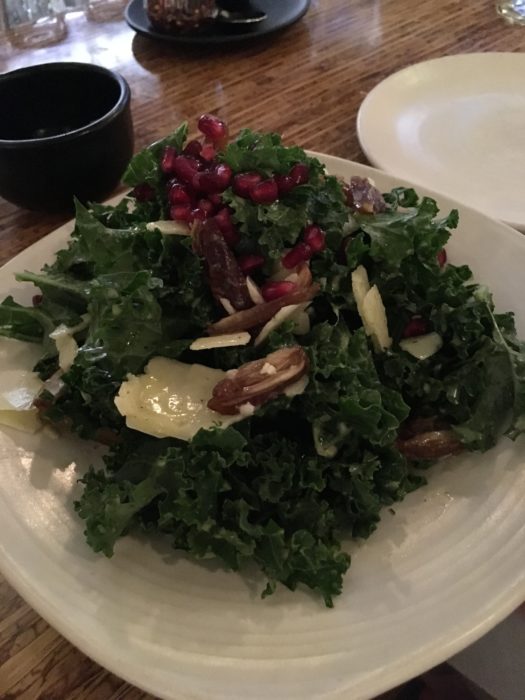 For my main dish, I had a taro burger on GF bread with truffle cheese. (How could one pass up TRUFFLE cheese??)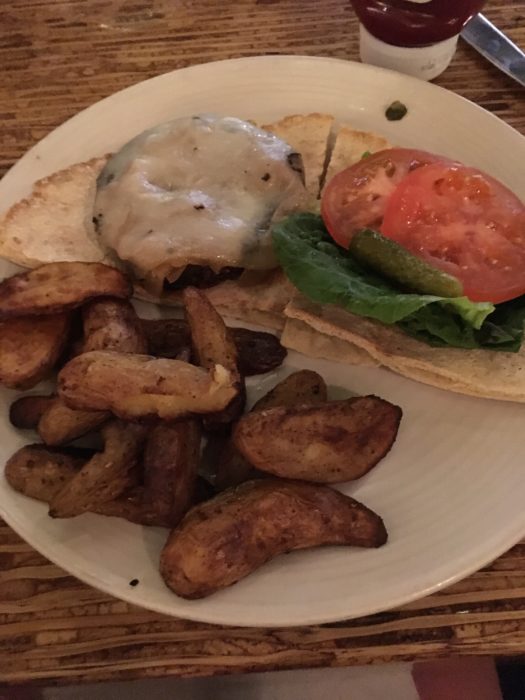 For dessert, my mom and I shared a beet chocolate torte. This was really delicious, and I couldn't exactly taste the beet! It seemed a tiny bit earthy, which did a grey job counteracting the rich chocolate.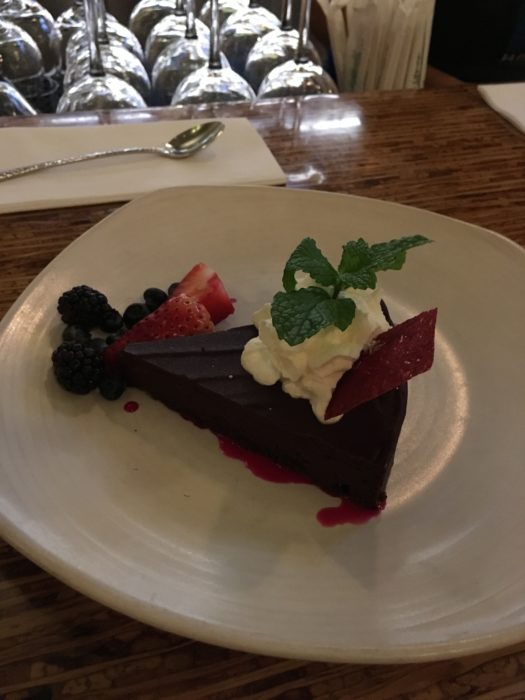 And with that, 17.2 is a wrap!