Happy Wednesday! Let's get straight into WIAW, shall we? Thanks as always to Jenn for starting this linkup!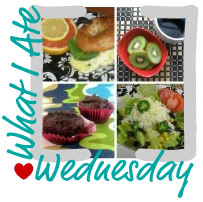 Breakfast: I don't know what it is about my days off, but it seems like every week I reach for a Flapjacked muffin. I had a chocolate muffin with one of the season's last nectarines. Sidenote: I always add a little extra water and a little yogurt to the muffins!
After breakfast, I started prepping my dinner since I knew I'd be around the house for a bit before leaving for the morning. I made vegetarian chili, and just winged (wing?) the recipe.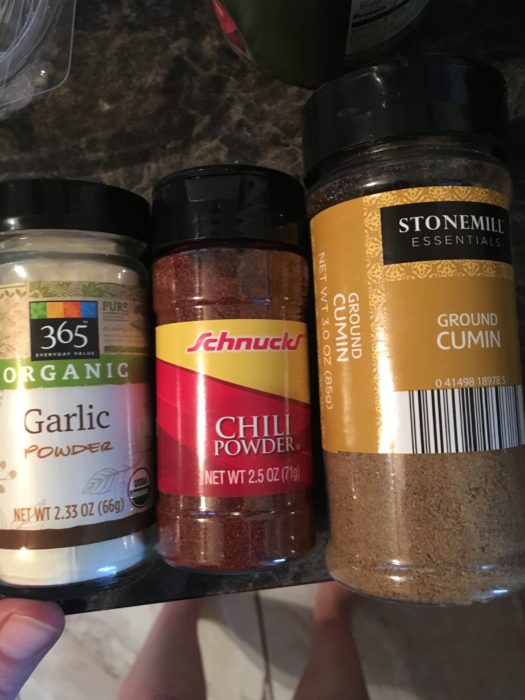 I started with a can of diced tomatoes with onions, and added a bag of butternut squash (the only shape the store had left was zigzags….), a bag of carrots, salt, and the above pictured spices.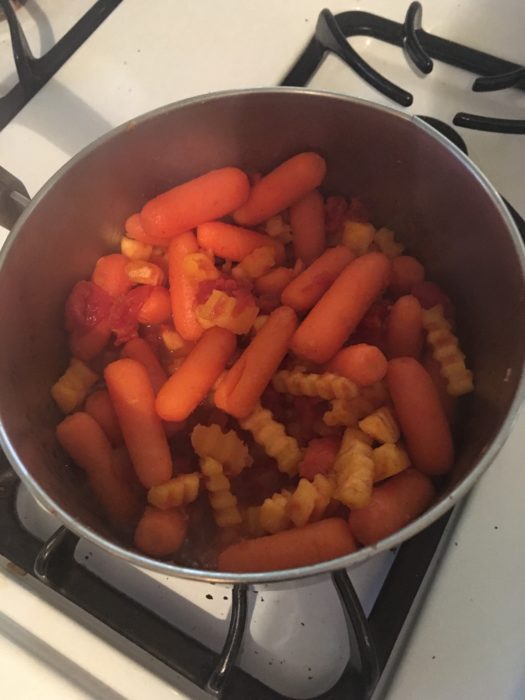 While that was cooking away, I did a short ab workout (Blogilates). It's been a while, and I was definitely feeling it more than normal!
My chili was looking and smelling good, and I was watching it carefully. It was nearly done, but the carrots were still pretty solid. I left it for a few minutes, and when I returned, I smelled burned. UGH. Luckily it was almost entirely salvageable, just a little dry. The real tragedy was the state of the pan. The entire bottom was burned. I scrubbed and scrubbed and scrubbed. I soaked it in water. I soaked it in dish soap. Finally I turned to the internet. Apparently this is what you do: cover the bottom of the pan with water and bring to a boil. Add 1 cup white vinegar (I didn't have a full cup, and I only had red wine, but you have to work with what you've got) and let it boil. The burn should start to look different (not much for me). Then, add 2-3 tablespoons of baking soda.
Pro tip: do this over the sink. Yeah. The stovetop got a little extra cleaning today…Let sit. Then scrub off.
Did this work? Sort of. It helped loosen it, but I had to really scrub and even scrape the bottom with my nails…
I spent probably an hour on this. I left the house in the worst mood. Plus, I started to feel a little bit alone in St. Louis. I feel like there are so many things I want to do with people, and I was trying to figure out what I would do with my weekend.
The weather today was perfect though. I wore long sleeves! With shorts, but whatever. I'll take it. It turns out my bad mood was nothing a cappuccino couldn't fix. I tried another coffeeshop on my list, Foundation Grounds in Maplewood.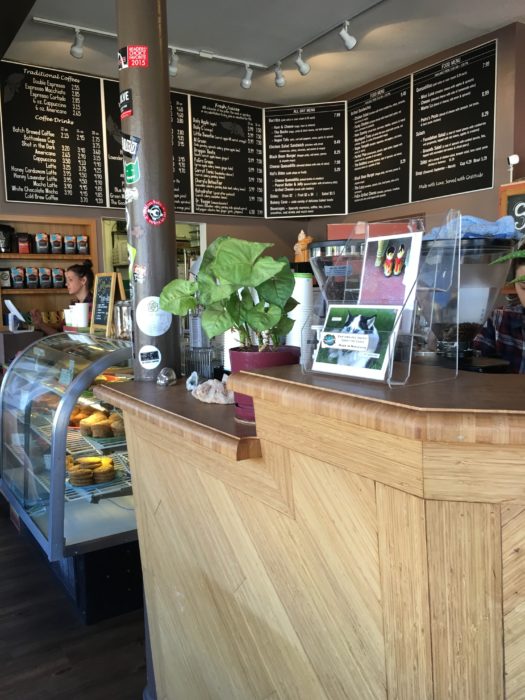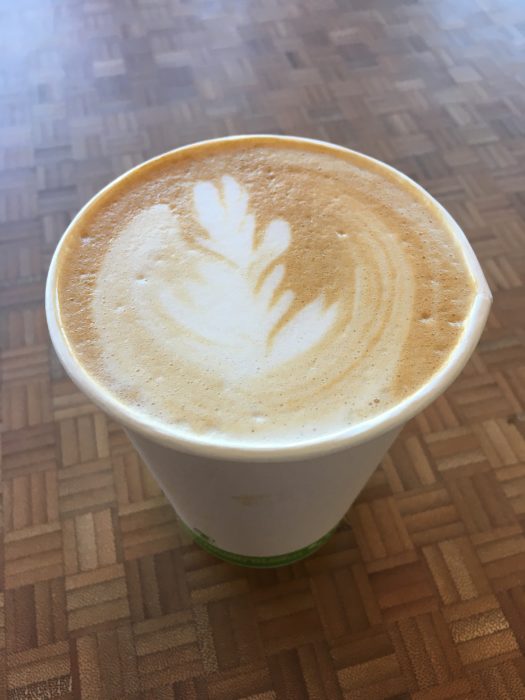 As per usual, I had a decaf cappuccino.
This is my favorite coffeeshop thus far. I loved the ambiance—it felt really cozy and friendly, and was a great place to spend the morning studying. The coffee was good, and for some reason tasted like fall. I got briefly homesick when I realized the cappuccino reminded me of my favorite coffeeshop on campus in CA. A lot of my friends are staying at Stanford for their graduate degrees, and they all started this week. It's so weird to be thousands of miles away.
While this was my favorite coffeeshop and the coffee was really good, it still wasn't at the very highest level, so while I plan to be back frequently, it will land in the #3 spot, behind Blueprint and Comet Coffee.
Another plus? This coffeeshop has food! There were lots of delicious baked goods as well.
I stayed for lunch, which I figured earned me another hour or so time studying there. I got a salad with red onion, dried cranberries, apple, and gorgonzola, dressed with balsamic vinaigrette.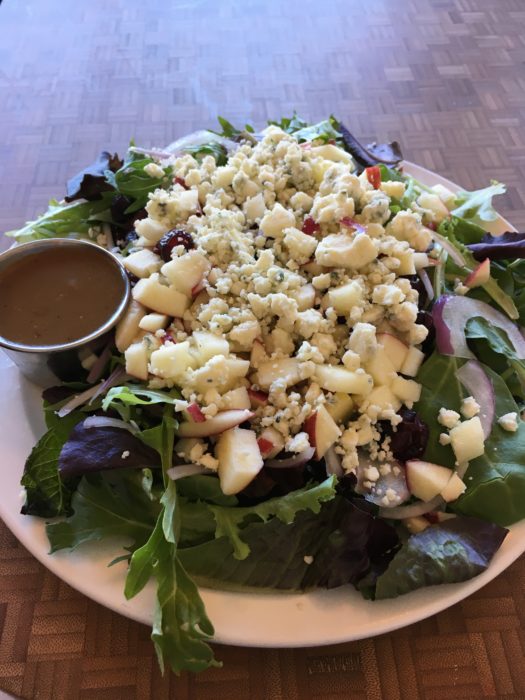 It was good, but kind of pricey for what it was. They also have a soup of the day, so in the future I might go in that direction.
After the coffeeshop I went for a much needed haircut. I always chicken out and never get quite enough taken off, so I committed to 3 inches off and I LOVE it. I feel SO much better. I actually hate when my hair gets long.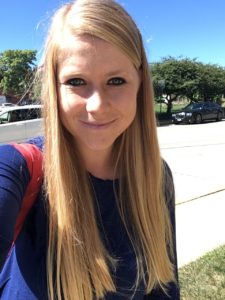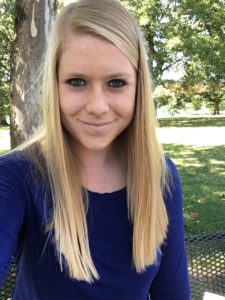 These pictures don't really show it very well, so here's a pre-Crossfit shot.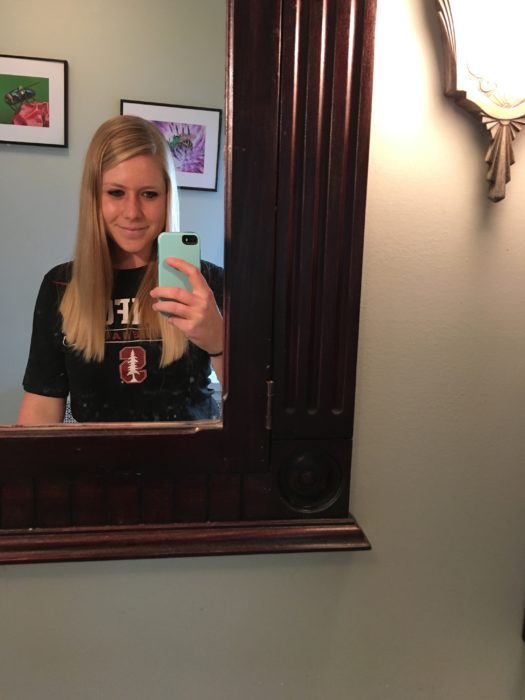 I was trying to figure out where to study next, and since it was so beautiful, I decided to go to a nearby park to enjoy the perfect weather (because I know it won't last!)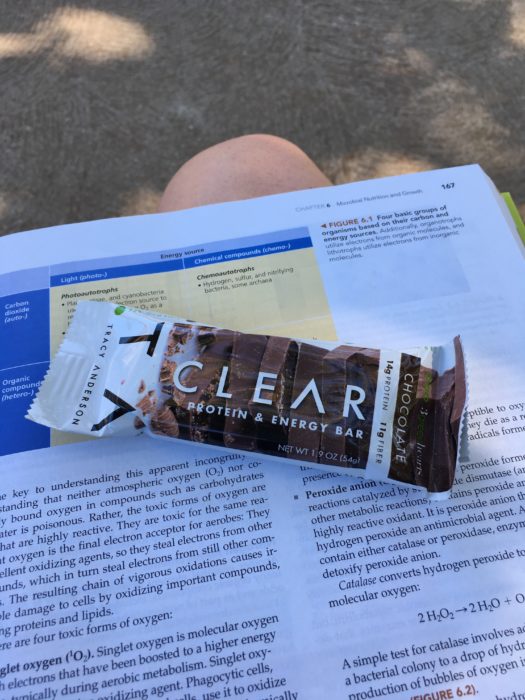 I had one of these bars as a snack. They're sunflower seed based!
While in the park, I came up with some plans for the weekend, as well as plotted a potential next trip. <-very potential but would be awesome if it worked out!
Crossfit destroyed my arms. We did lots and lots of bench. 6 sets of 3 to start. I worked my way up to 100# for a set of 3. I'm pretty sure I've never benched 100 at all, so that was exciting! I've never actually done a 1 rep max though. THEN we did 3 sets of 8 close grip bench. These stink.
And because we didn't push enough, the WOD was lots of push ups. Cool. We did 5 rounds of 15 push ups (I had to scale most of these because #dead), 20 lunge jumps, and 25 sit ups. Lunge jumps are actually the one thing that I sort of worry about with my foot at this point. By the end, I was feeling my foot a little bit so I eased up. It wasn't pain, just that overworked feeling I haven't gotten in a while.
Dinner was a breeze, thanks to my meal prep. I topped my chili with fat free cheddar (honestly the fat free aspect…probably not worth it for rubber) and avocado, and has some sweet potato tortilla chips on the side.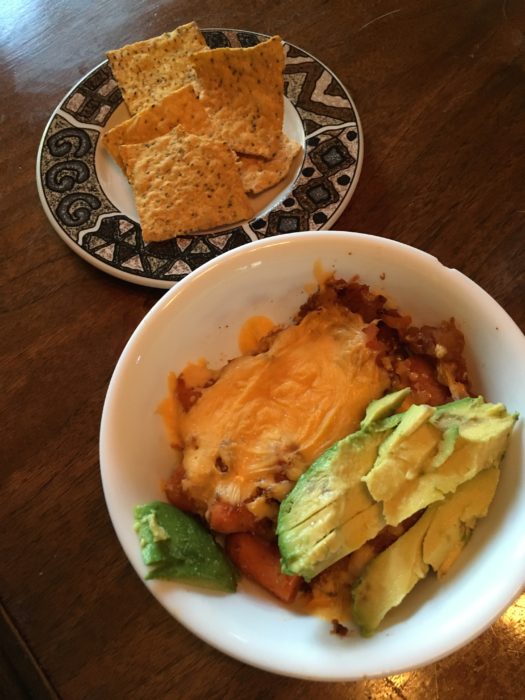 While I was eating, my parents were sending me pictures from Hawaii of their amazing desserts. Sadly, all my amazing pumpkin cookies are gone (oops), so I tried to make my little single serve ice cream a little more exciting with whipped cream.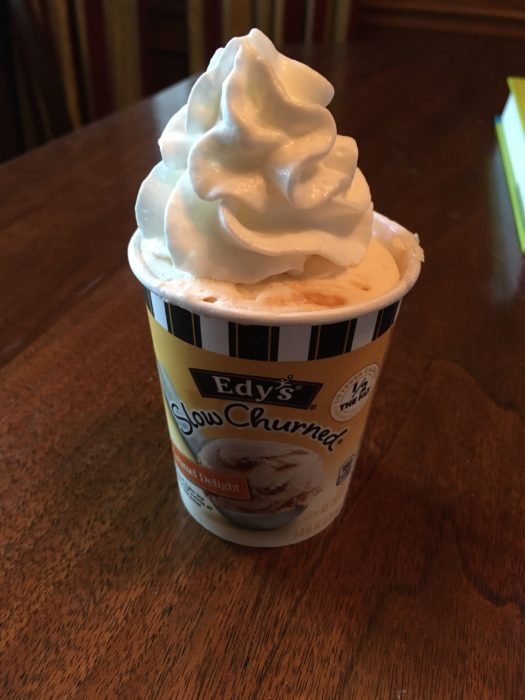 This ice cream was actually super disappointing. These was like ONE caramel swirl. I'll stick to my Yasso salted caramel bars from now on!
That's all for today—I might grab a bite of something a little later (maybe pineapple) but for now, I'm off to Skype a friend!
What is your favorite ice cream topping?
I don't think you can beat hot fudge.