Happy Friday friends!
I have to say, I'm pretty beat. I have been staying up late to watch the Olympics. But man, has it been worth it to see the Women's Gymnastics finals!
Every Olympics I get really into the really long events; after planting myself on the coach all of last weekend watching the 6+ hour men's and 4+ hour women's road races, I wanted the time to count for something, so I made an Olympics-themed spin class for the class I was subbing Thursday. Details will be at the end of this post! Before then, I want to catch up on some food+fun. (Spoiler alert: I baked a cake!)
Wednesday morning I went to Crossfit and was the only one in the class! The strength was backsquats. After my foot issue, I'm trying to build up my strength again. I did 5 sets of 5 at 155#. Last week I did 5×5 at 145#. This is kind of a big deal because a few weeks ago in Tennessee, I was using 155# for 8 sets of 1. Granted, having my lifting shoes again helps tremendously, but I've gotten a lot stronger since coming to my home Crossfit and lifting heavier.
Post Crossfit was my new favorite breakfast: a smoothie bowl!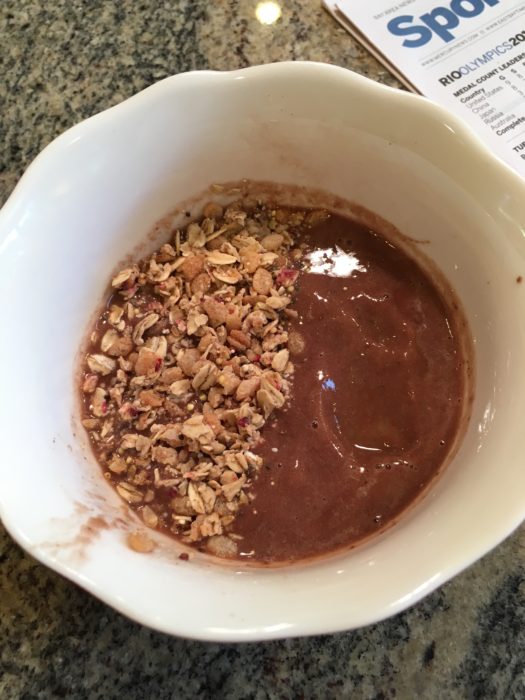 These have been incredibly frustrating to make because our blender is too big, so everything gets stuck on the sides. But this is 1 frozen banana, milk, and cocoa powder, topped with raspberry KIND granola.
Lunch was leftover chicken, avocado toast (every. day.), and leftover watermelon, mint, and feta salad. Love this salad—it's so simple and screams summer!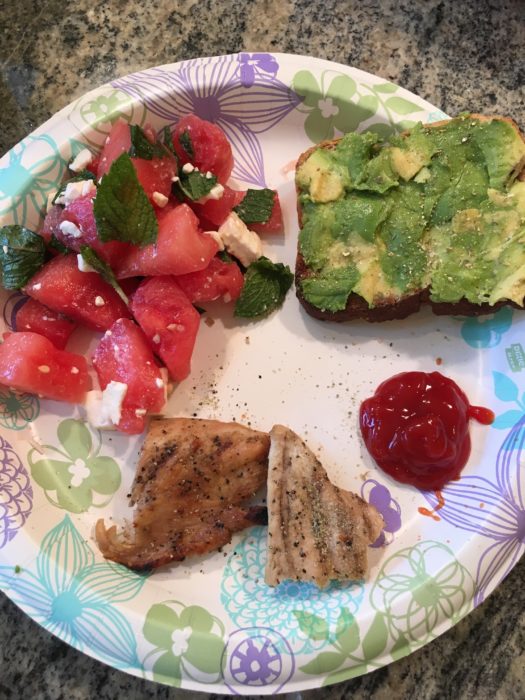 I spent the afternoon working on my vet school essay. I finally have a working draft that is somewhat close to where I want to be!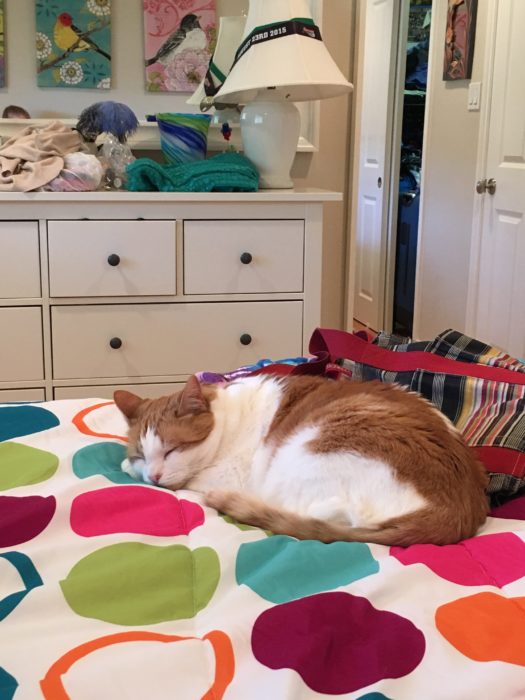 This is my little helper!
For some reason, my essay pump up music was the song "Panda," but hey, whatever works, right?
I actually documented my snack, but this is pretty typical for me: plum+Luna bar. I'm nearing the very end of my stash of the old formula S'mores bars. My biggest complaint about all the new bars is they don't have enough coating.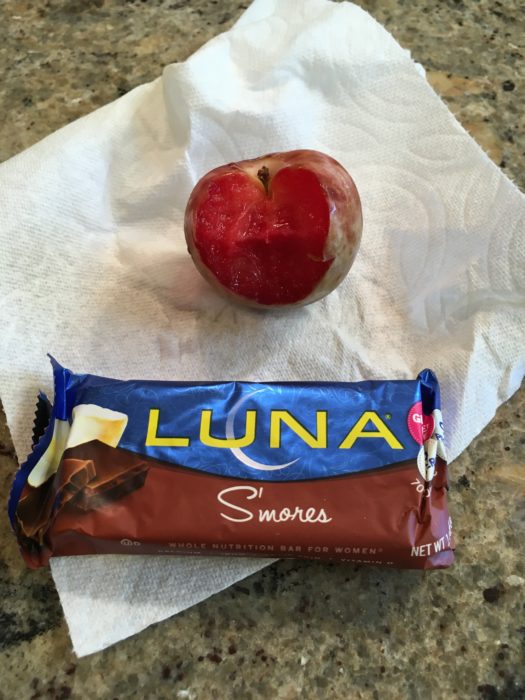 And for dinner, we brought back the soup. We made Cooking Light's Avgolemono soup (Greek style lemon rice soup). I added a little spinach to my portion, and then topped it with fresh parsley and basil, plus feta.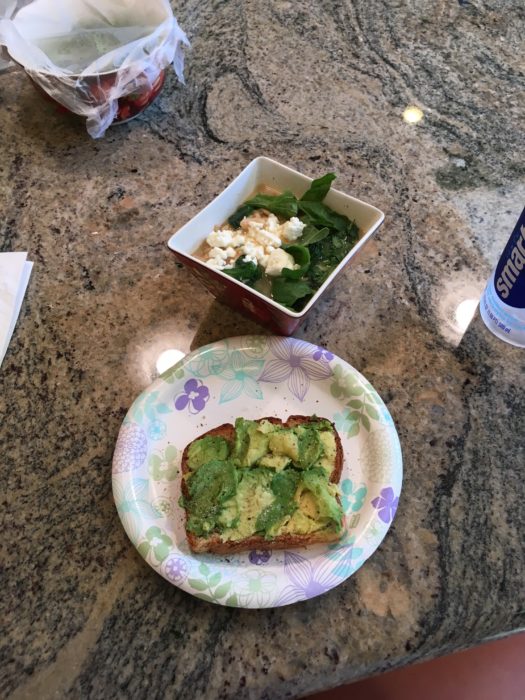 Shockingly, with a side of avocado toast. This time, just the classic salt and pepper on top. I don't know why it took me so long to discover avocado toast, because now I am OBSESSED. If that wasn't clear already! It's the perfect fat source to round out a meal.
That evening, I went up to San Francisco to see a concert with an old friend that I haven't seen in YEARS. The venue was really cool (and felt very SF to me). It was a small bar, but it boasted a long history of up and coming bands. Green Day performed there 20 years ago, as well as Blink-182! I didn't actually know any of the bands playing (they were Indie, of which I know almost nothing), but it was really fun to see live music, and all the bands playing were great performers. Plus, it was such an intimate venue!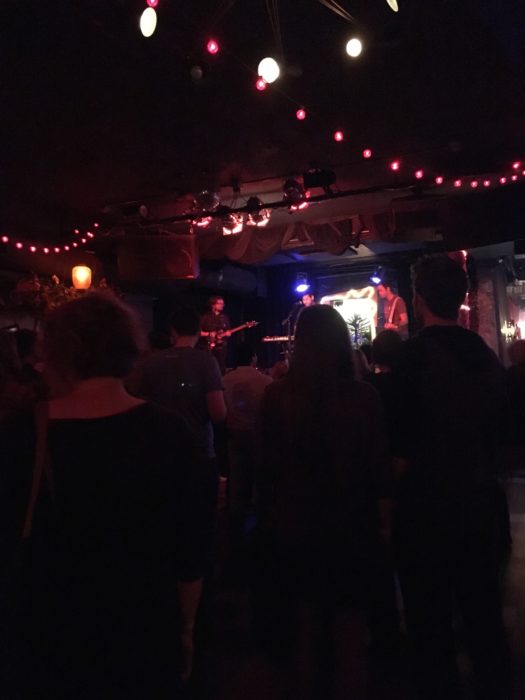 It made for a late night, but it was a blast.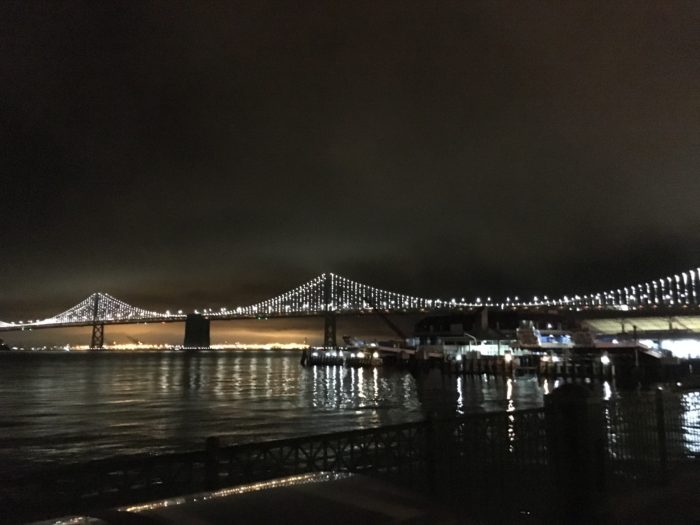 Thursday, my main event was subbing spin (and catching up on a little sleep).
Breakfast was another smoothie bowl, this time with banana, milk, blueberries, cherries, and watermelon. One of my favorite smoothies is banana+strawberries+watermelon, but we didn't have any strawberries on hand. I topped it with Cinnamon KIND granola.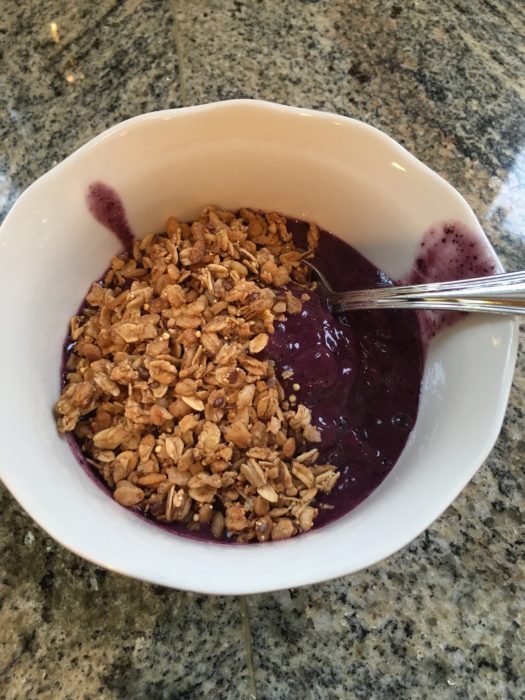 This fueled me surprisingly well through my noon spin class, but I was ready to dive in to lunch afterwards!
You guessed it…more avocado toast! Plus soup.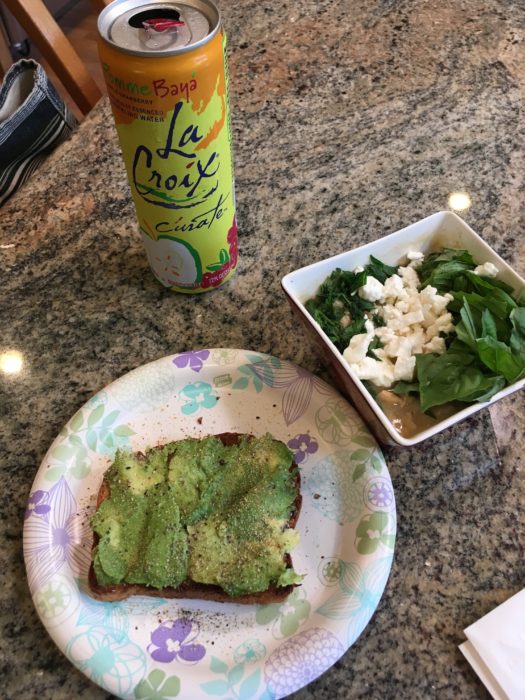 The main event of the afternoon was cake baking. Thursday was my sister's fiancé's birthday, so I took to Pinterest to find a cake recipe.
We ended up choosing Chocolate Buttermilk Cake with Earl Grey Frosting and Salted Caramel Sauce.
This was definitely unlike anything I've made before. My "specialty" difficult cake is Boston Cream Pie, but most of the time I'm making quick breads where I'm improvising, or using a dummy proof recipe. I had to be super careful about measuring everything perfectly for this!
The cake part itself was pretty standard. The icing was unlike anything I've had or made before. I started by whipping up egg whites, and then melting down brown sugar and some strong Early Grey tea. Once the sugar mixture was hot, we poured it into the egg whites, which cooked them as they blended. The texture of the icing was sort of meringue-y but thicker and a little stickier. I liked it a lot. I could see myself making this again with different flavor profile. As I've mentioned before, I don't do well with fat so frosting on cake often make me ill. I love that this is fat free (aka mostly sugar), but you'd never know it!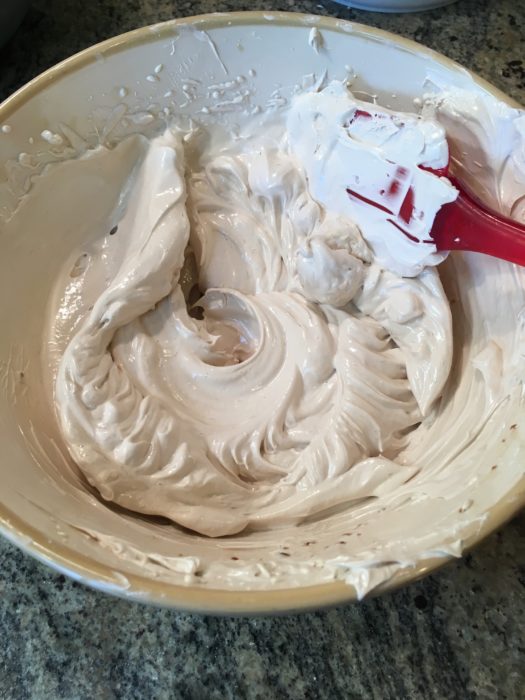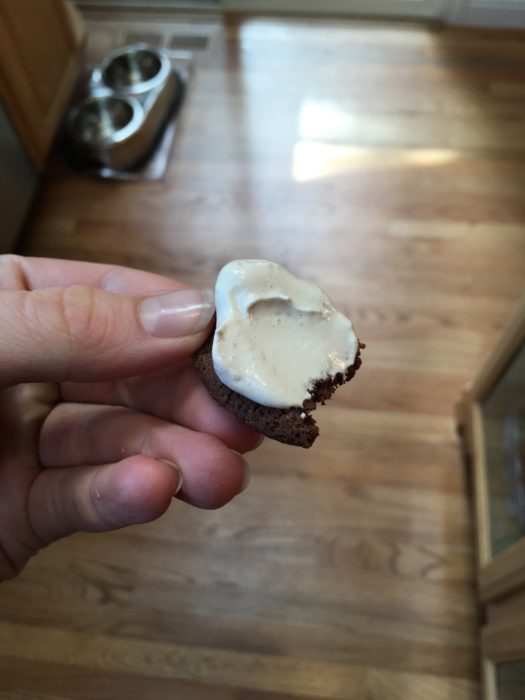 Of course I had to taste test it, on a chocolate GF cookie. And on a finger. And a spoon. And a beater. It's part of baking; it's what you do, right??
The next step was making salted caramel sauce before. I have never done anything like this before, and my mom and I were both worried we would burn it! Melting the sugar down was a really cool and fun process.
And the end result?
INSANE. This sauce was SOOOO good. I had some on a spoon. And then with crackers. And then I licked the spoon, pan, and anything I could find.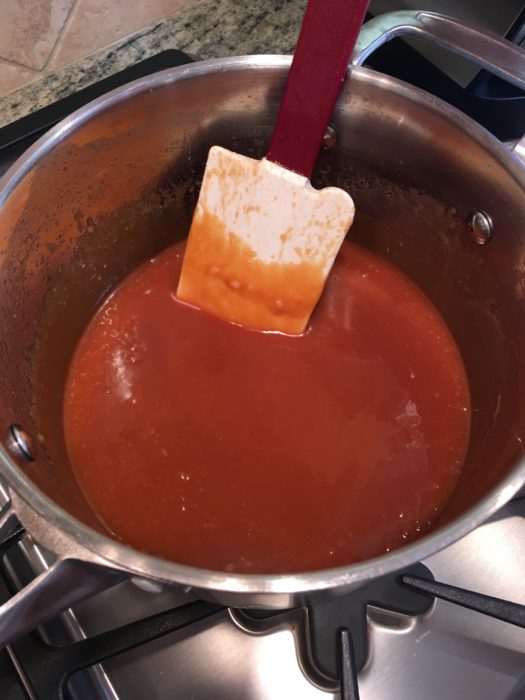 Here's a look at the finished product. You pour the caramel sauce on upon serving.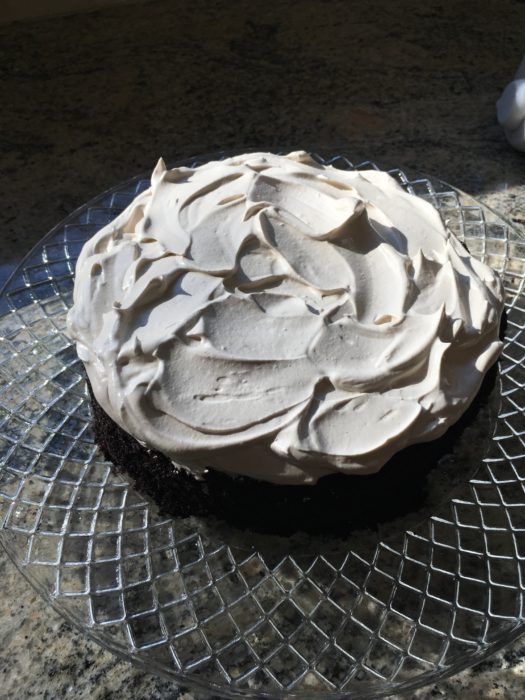 I couldn't actually eat the cake because of the flour (but the frosting+caramel were well enjoyed), but I had a little piece of GF chocolate cake left in the freezer, so I topped that with the Earl Grey frosting and salted carmel. The verdict? DELICIOUS.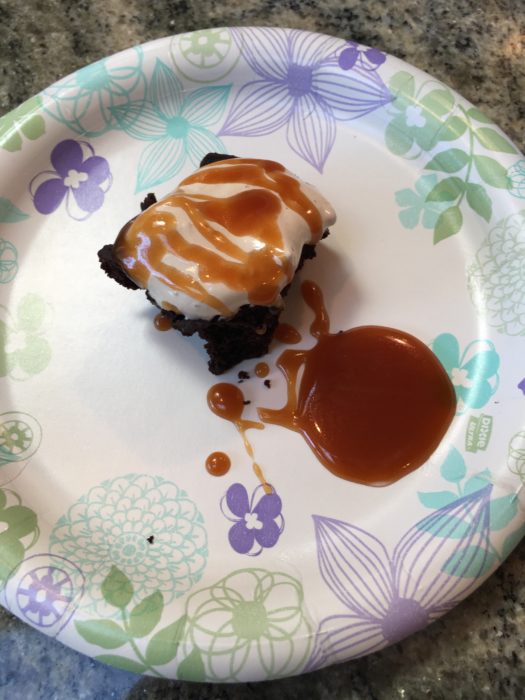 Because I was eating straight sugar all afternoon, I wanted a vegetable heavy dinner. I lightly roasted some kale with nutritional yeast, and then made a pizza omelette. I opened pizza sauce the other night and need to use it; I thought about making a tortilla pizza but I accidentally separated out 2 extra egg whites when making the frosting earlier, so I made an omelette with pizza sauce, spinach, and mozzarella.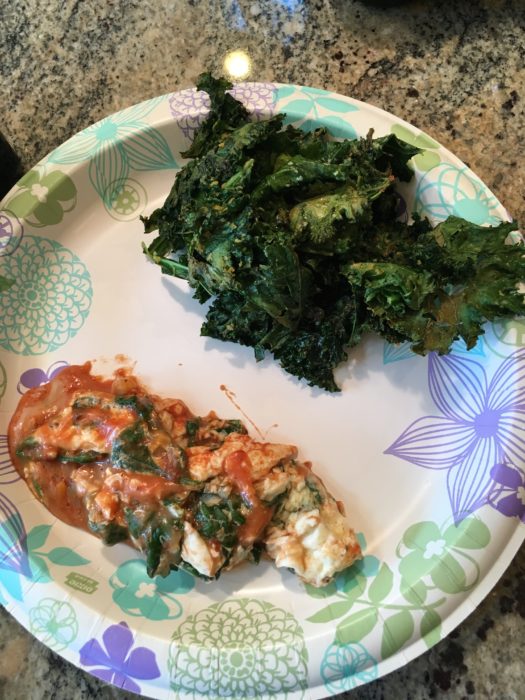 And finally on the food front, I went out to frozen yogurt with one of my best friends from high school. It was great to see her, as always! I stuck to tart+pineapple tart yogurt with fruit toppings, because I didn't want anything too crazy sweet after copious amounts of salted caramel.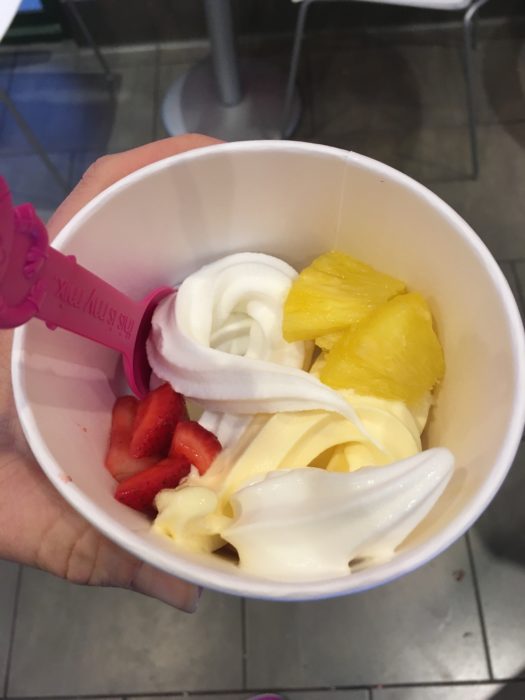 And onto my Olympic spin class! I should preface this by saying, while this is only, my second themed spin class, I LOVE doing them. (Do you remember the time I taught in a turkey hat?)
So a little preface: the men's race course was 150 miles, with 3 loops up and down a hill with 2000 feet of elevation gain. In the men's race, there was a 3 person pack of leaders, with the chase group decently far behind—about 30 seconds maybe? Still within striking distance, but the leaders had pulled away and it felt like a foregone conclusion. This course was super dangerous going downhill, one of the most technical ever. Towards the bottom, the 2 men in the front of the leader group both crashed in the same place. It was heartbreaking—they seemed shoe-ins for medals, and they didn't even finish. One guy left in the leader group rode on, with still a sizable lead. Then, on the final flat road, he was passed by 2 other riders from the chase group who worked together to catch up. He got a bronze. The women's race was similarly heartbreaking—there was a leader group of 2 and one was pulling away by a lot going down. Then, she had a horrific crash (that fractured her spine). An American was left in the lead. She had over a minute between her and the chase group, but was passed by 3 riders in the final 500m, and finished in 4th. Wow.
So with that in mind, here's the playlist.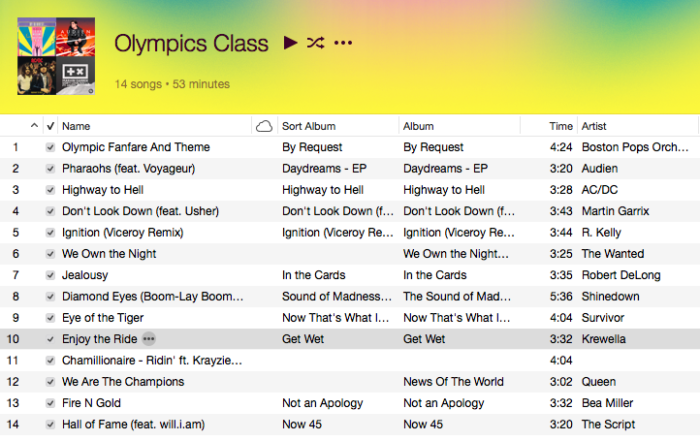 Here's my notecard, but I'll explain a little bit further.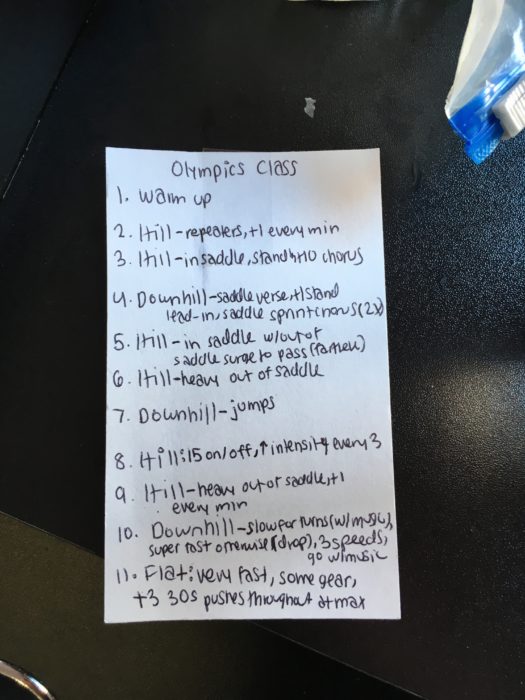 Warm up, explain the course. Leg speed 90-95.
Hill: repeaters (1st position saddle, standing 2nd, standing 3rd, for 20 seconds each), add 1 gear every minute
Hill: in saddle, leg speed 60-80, on chorus, stand to position 3 and add 10 rpms
Downhill: saddle for verse at 100, +1 gear and stand for the lead-in, and sit and sprint the chorus (115)
Hill: 60-80 seated climb with out of the saddle speed surges to pass the other riders (we started this song at the back of the chase group) (This is essentially a fartlek drill.)
Hill: heavy climb out of the saddle in position 3, trying to bridge the gap between us and the leader group
Downhill: jumps, counts of 8 and 4. Since we're a little tired, the downhill gets a little more difficult technically so the movements are a little more refined!
Hill: Staying with leader group of 3: little pushes, 15 seconds on/15 seconds off, increasing the intensity (rpms) every 3 pushes
Hill: HEAVY out of saddle climb in 3, +1 gear every minute. It's a steep hill and we've been cycling for nearly 6 hours so it's gotten tough!
Downhill: We're in the leader group, but we are going to be conservative going downhill. Our legs are tired, and it's technical. This is where it gets dangerous, so we're going to play it smart: take the turns slow and draft off the other riders. Let a leader pull away, plan to catch on the flat. Peddle with the music. When it is slower, 100. When it speeds up a little, 105. When it drops, it's a straightaway, 110-115.
Flat: Coming through the streets with crowds, making our way to the finish at Copacabana. Decent sized gear, holding a difficult 100 rpm. 3 30 second pushes to make our move. This is the end of our Olympic race, so each push is a max effort—add gear and RPM to make it so!
And of course, we snuck in at the very end for the gold.
It was a freaking BLAST.