Hello again! I'm currently enjoying my only day off in 8 days-to be fair, it's because I'm traveling later this week, but it's nice to get a chance to relax for a little bit!
I was just thinking about one of the things I like the most about blogging-the order. I'm naturally a person who likes neatness and order-not to say that I always succeed in the neatness and order, but I thrive off the routine and feel better when things are organized.
I definitely have a habit of grazing on food throughout the day, but I would love having all my food organized and captured in one place-I think this is what I liked so much about blogging, especially day to day.
Another thing-I feel like I actually enjoy things that happen in my life more when blogging because it gives me a chance to reflect on them and put the memories down and make them into something tangible.
So-today I'll go through a couple of days of nearly complete meals, and talk about some life stuff.
1. I went on a run this morning with Crossfit. It was so fun-I actually felt pretty good, and it's my favorite trail!
2. I finally went to the farmer's market today and it was glorious. I stocked up on figs. YUM.
3. I'm in 2 slow pitch softball leagues. One league finished last week, and we won the championship! It was quite the stressful game, but a big rally at the end secured us the victory. In my other softball league, I got to play in the all star game (like I did 2 years ago) and it was awesome as well! I got the chance to make some plays and had a big hit. Playoffs for that league just started and unfortunately we lost our first game-but it's double elimination!
4. I like reading old blog posts. I miss writing like that and I feel like my posts have kind of gone downhill-partly because I'm always catching up, I kind of breeze by the interesting details.
5. Not to brag, but I think my puppy is the prettiest Aussie on the Internet.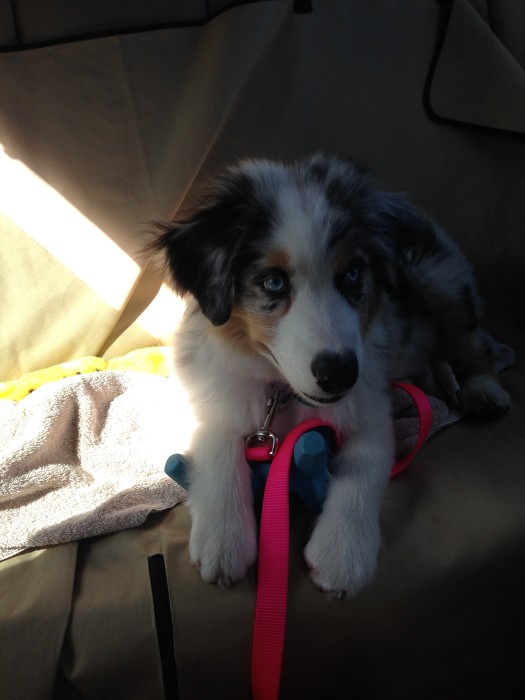 So here we go!
Pre-workout: part of a BoBo's Oat bar. I freaking love these.
Breakfast-Siggi's 4% vanilla+figs. I'm currently obsessed with summer fruit. I really liked the 4% too! It was smooth and not super sweet. I also like the smaller size because I can never finish a big yogurt.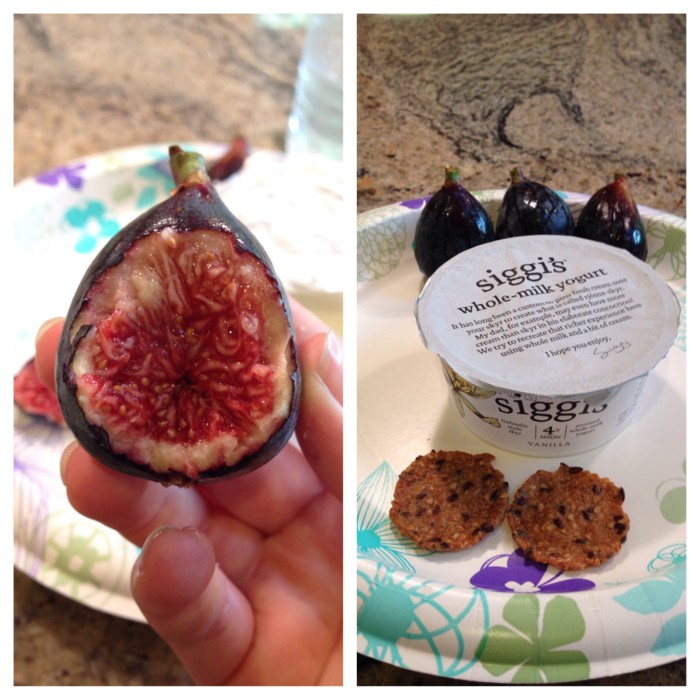 Lunch-my typical salad (minus the bar-my picture from this day wasn't as pretty). My salad is chicken, goat cheese, date, nectarine, and champagne vinaigrette. Plus some Mary's crackers. I have this most days of the week.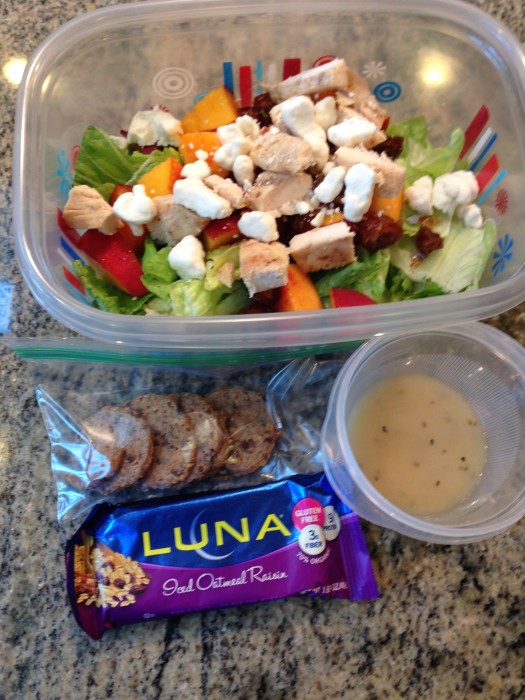 Dinner: Quesadilla on a gluten free spinach tortilla-stuffed with mozzarella, broccoli, corn, and a sprinkle of garlic powder. Plus carrots and guac.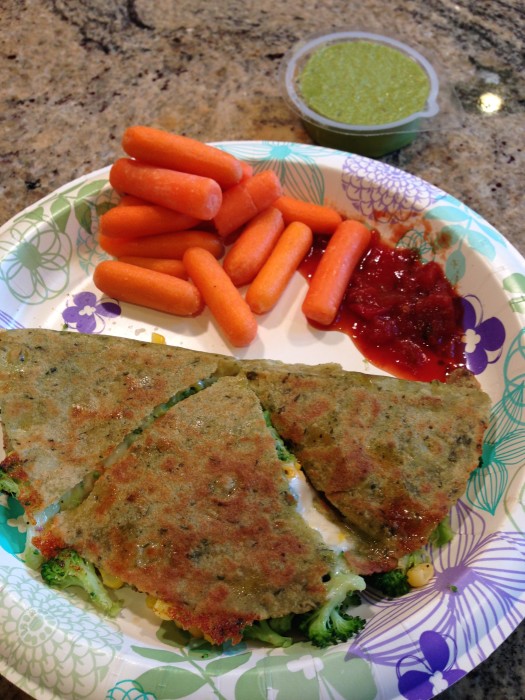 Dessert: Cinnamon pie. My mom made this once a few years ago after watching a Psych episode featuring cinnamon pie. It's a custard based pie.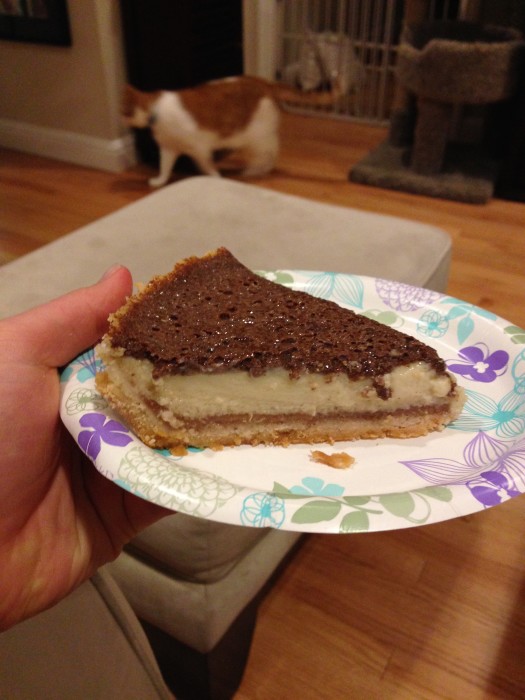 I love this picture because you can see Charlie sneaking around the background!
And here is a second day of food (Saturday):
I started work at 7am, so no workout, and no cooking!
Stonyfield blueberry fruit on the bottom yogurt, a banana with sunflower seed butter, and some more oat bar.
Lunch: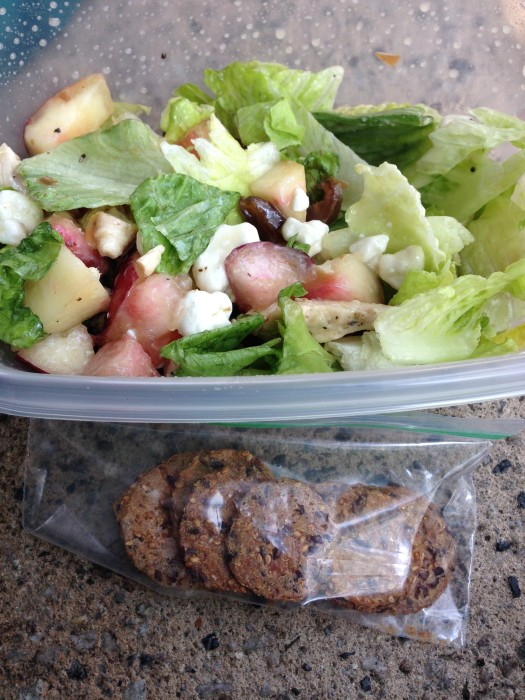 Same old, same old. Salad+crackers.
Snack: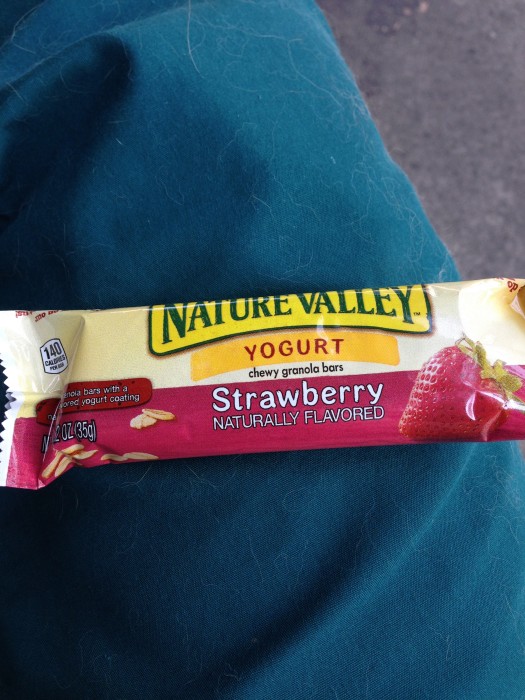 Dinner: Chipotle! I've only been a handful of times for some reason, and I met up with a friend there so I was looking forward to it all week! I got a salad with chicken, and of course guacamole!
For dessert back home, I think I had some chocolate, and maybe either a granola bar or ice cream?
Since Chipotle was next to Petsmart, we made a trip in. My friend recently got 2 adorable kittens, and with all the babies (kittens+puppy), we pretty much always need supplies! Here are her kittens: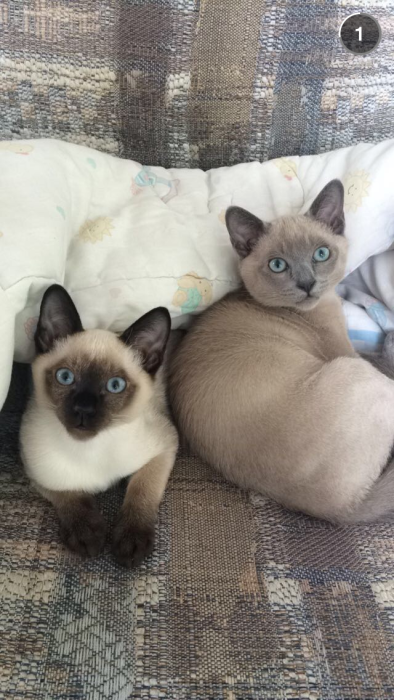 (Picture shamelessly stolen from my friend's Snapchat.)
My puppy Chloe is…difficult. She's really high energy, really smart, and very nippy. We constantly are on the lookout for new, interesting toys-anything to keep her amused! I got the green light from my mom to get anything that might keep her occupied. Needless to say, I ended up with an armful of squeaky and adorable dog toys.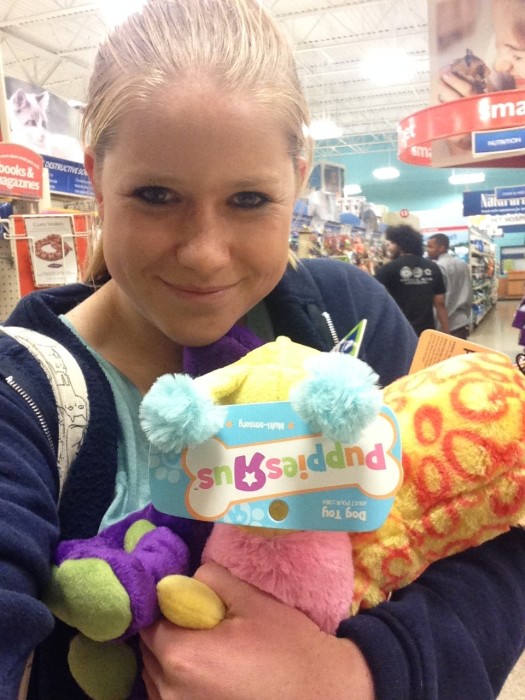 I felt like quite the crazy puppy lady walking around the store with all that!
So far, the new toys have been a hit though!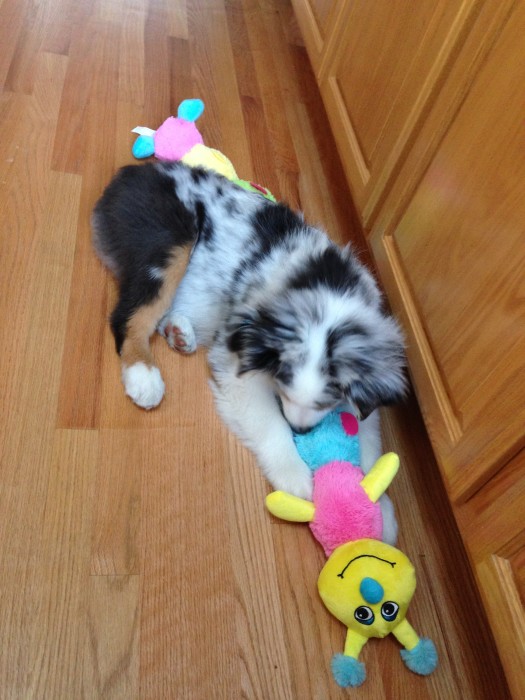 What kinds of toys keep your dogs amused?