Fellow spinners-do you remember your first spin class? I was thinking about this today as I was trying to convince my mom to come to a spin class (it's not going to happen). It was the summer after my sophomore year in high school and I had just gotten my first gym membership at the same gym my friend went to. I was always intimidated by spin classes-they looked so crazy and intense! But one morning my friend convinced me to go with her. I remember sort of struggling to figure out how to set up the bike, and not really knowing how to use the resistance knob. But mostly I remember how much sitting in that bike seat for an hour hurt! I remember sitting down talking to my friend outside after class and just being in so much pain from the seat! Thankfully that problem went away quickly with more classes! Now I know though that the sore butt thing gets worse if you don't have enough resistance and are bouncing a lot in the saddle. Another learning curve is figuring out how to use resistance. It took me a while to realize I need to adjust the resistance at the beginning of the class-at first, if the person on the bike before me left a lot of resistance on, I would leave it on and just start super heavy!
Food+Fitness
Breakfast:
I've had nearly the same breakfast every day of break-sunbutter on toast plus fruit of some sort. We're sort of overloaded with fruit right now! I still have persimmons from my roommate, plus we got shipments of both pears and oranges! For some reason, I always want sun butter on toast when I come home, but I NEVER have it at school!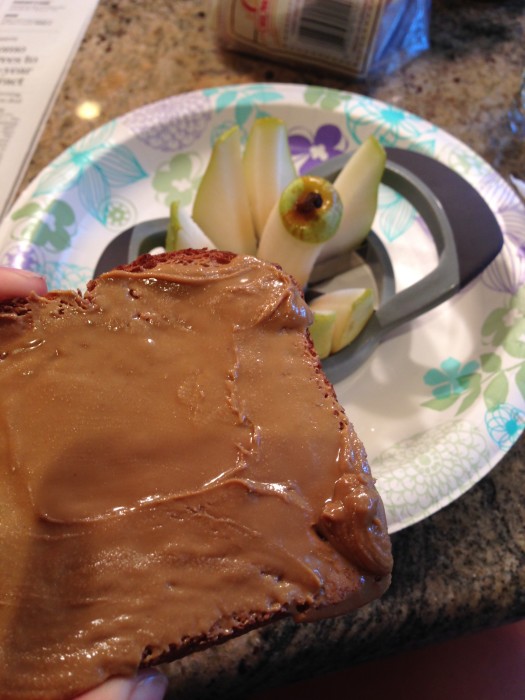 A little while after breakfast, I went for a 6 mile run around my neighborhood. Here's the thing. I live on a hill. There are no flat runs around here; it's just a question of which hill I want to run up! This run was definitely hard. The last mile included a STEEP climb! And the last hill run I've done was….my SF race in September. Whoops. So something to work on!
I refueled with leftover chicken and roasted cauliflower, and then whipped up some more holiday cookies.
I made my healthy polka dot cookies again, but instead of using mint chips, I split the dough into 2 parts and added chocolate chips with a mint center to one part, and chocolate chips filled with caramel (these things are crazy good!) to the other half. It was a nice change!
It's really nice to have some healthy holiday cookies around for when the sweet tooth strikes!
This evening, I taught another spin class! It was a great class-everyone had great energy and it was a lot of fun! I did run into an….interesting…problem in the middle of class. The gym I teach at is a sort of warehouse with a big open garage door type thing. Apparently there were some people in the park right next to the gym smoking an…inebriating substance…and the smell was pretty strong in the gym. I was going to close the big door, but before I could a lady got off her bike and took care of them! So that was a new experience to have while teaching a class!
I definitely felt the morning's run while I was teaching though! I haven"t done double days in a while so I'm not quite in that kind of shape I guess! On the first hill, I was a little overly ambitious with my resistance and it was killer! I didn't want to obviously drop my resistance while encouraging people to keep going, so I was pretty out of breath for that part of the hill! Lesson learned.
After class, I was more than ready to dive into dinner. We made my Guacamole salad with some chips and salsa, plus a few cookies for dessert!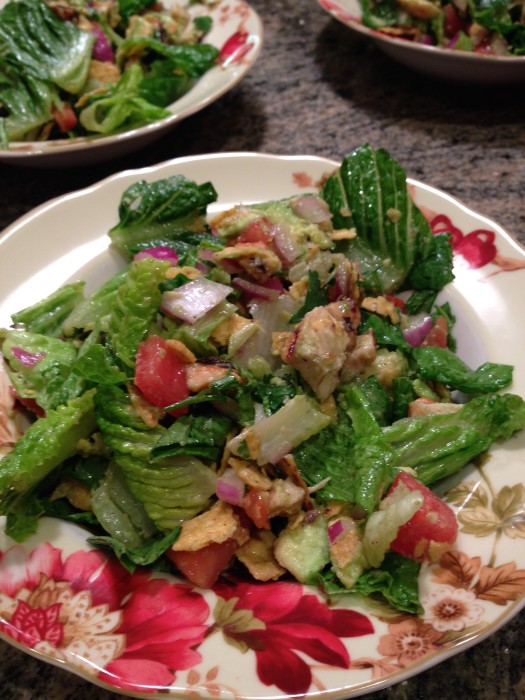 Me legs are so shot now though! You know that feeling after a really hard workout where your quads just ache? Yeah…
Have you ever taken spin? How was your first class?