This post is definitely a bit late. Also, I'm entering Day 4 without a voice. I think that's impressive! Anyways, the party! I'm obsessed with holidays, so I was really excited to be hosting a party this year!
In all honesty, I had no idea how many people would show up. We ended up having a great turnout! I mostly want to blog about the party because of the awesome refreshments.
In terms of snacks, the only think I made from scratch was popcorn balls. This was SUCH a struggle. The balls are made of popcorn, vanilla, marshmallow, and butter, plus some candy corn, just for fun!
The first batch of popcorn I burned. Fail. No fire alarms were set off at least! Then, the only microwave safe bowl we had was a cereal bowl…to melt an entire bag of marshmallows. I also had the worst time forming the balls-you have to grease your bands before forming them, and while I did do this, I guess I didn't do it enough and I COULD NOT get the marshmallow off my hands!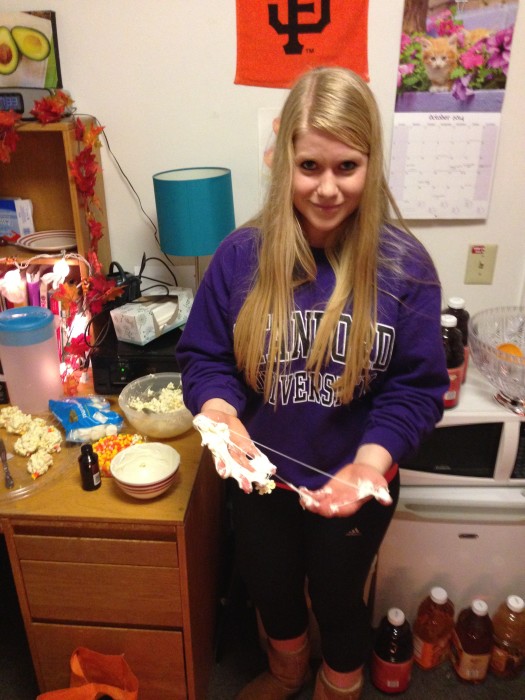 And then I made the mistake of using said hands to pick up candy corn…and then the candy corn completely stuck to my hands too! Despite the difficulty, the end result was delicious!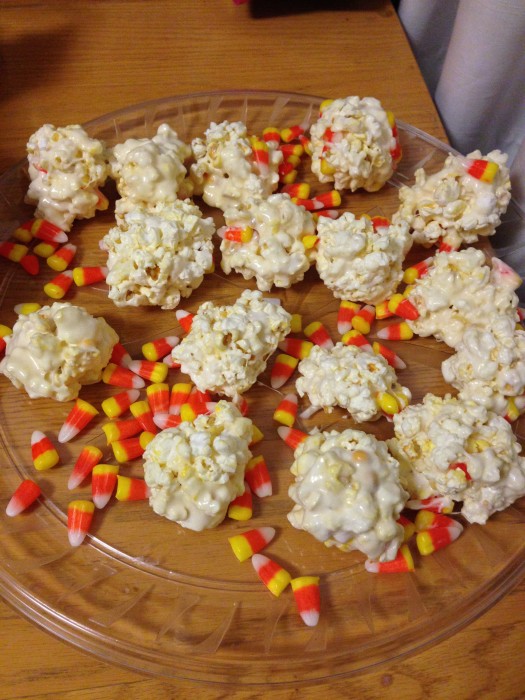 And now the rest of the food. We had ghost shaped chips!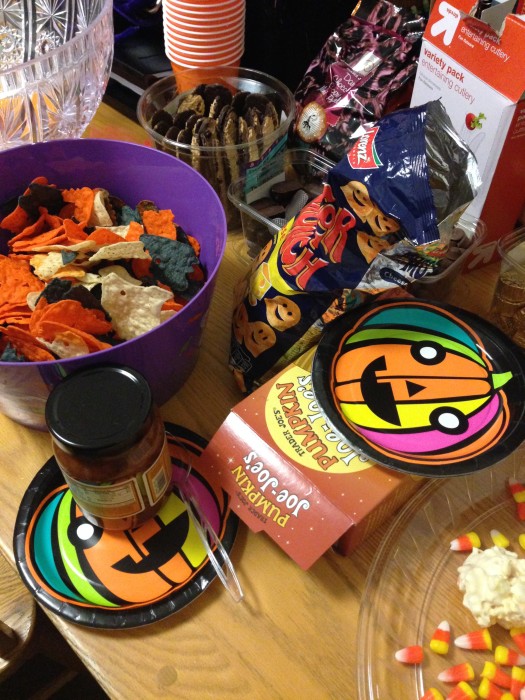 And of course plenty of candy.
Here are some pics of the decorations. Excuse the blur, but you get the idea!
I think the most exciting part though was the punch. Of course, I had to go all out!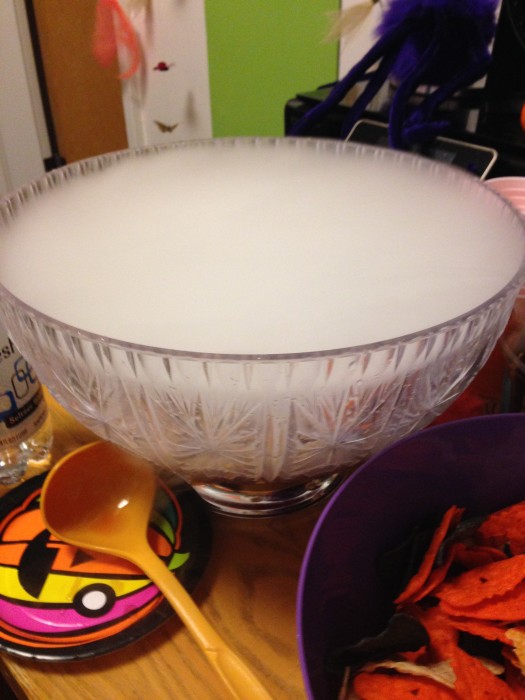 I wish I had gotten a better picture, but we had dry ice for the punch bowl! FYI for anyone doing something similar-the dry ice freezes over quickly. And then the entire punch freezes over. The punch ended up being a slushie which was cool, and I had to intermittently put in and take out the dry ice. So fun though!
So what was I?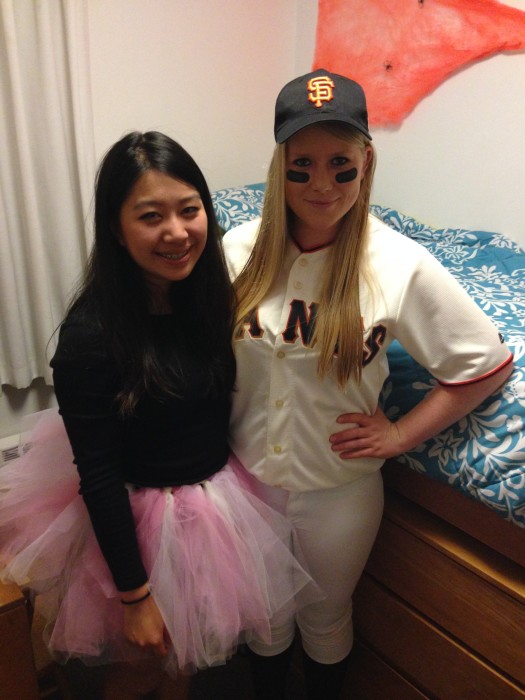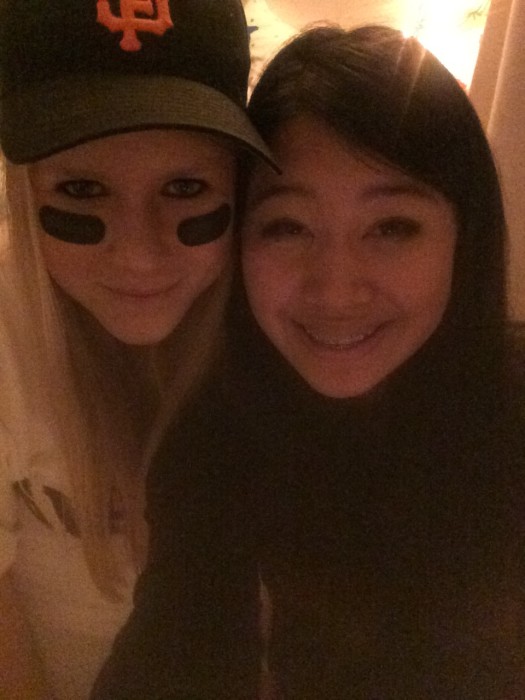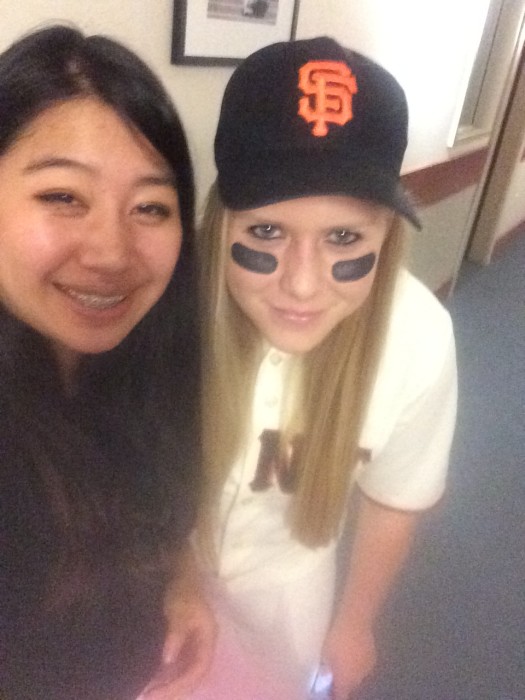 I
I know, shocking, right? I was in full Giants-spirit mode on Friday!
Here's my sis and her bf in their pirate costumes.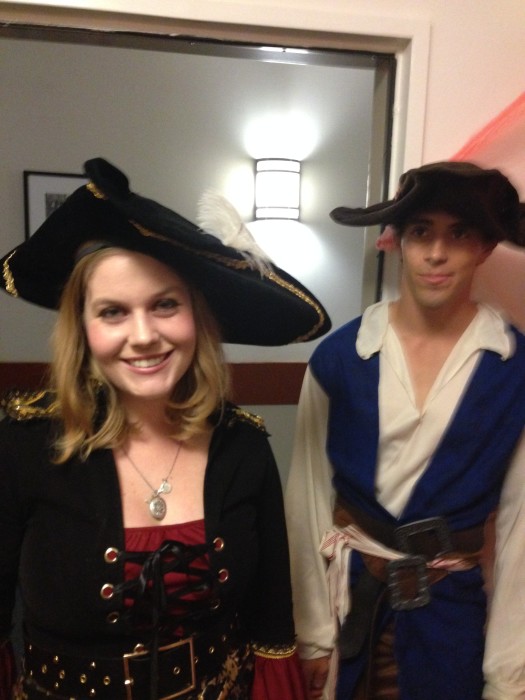 So adorable.
The party was so, so much fun. My best friend from high school visited me too, so I ended up seeing almost all of my favorite people! Another fun tidbit-I made a playlist for the party that included a random Halloween themed CD to which the track names didn't appear on iTunes so I had no idea what was really on it. The Scooby Doo theme song is great party music, right? Haha, totally was not expecting that!
Overall, I could not have asked for our little Halloween party to have gone any better!
What did you dress up as for Halloween?