Hey guys! I want to talk about something a little bit different today. My Crossfit box is putting on an amazing event called Crush Cancer.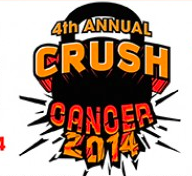 This event utilizes the great community of Crossfit to raise funds for an amazing cause. Cancer affects so many people's lives. According to the American Cancer Society, over one million people in the United States alone get cancer every year. (Source.) Crush Cancer is a fundraiser in its 4th year that brings Crossfitters together to raise funds through a friendly competition. All funds raised go directly to Stand Up to Cancer, a charity that funds cancer research.
Crush Cancer was started by DogTown Crossfit 4 years ago, and this year gyms all around the world are participating. The WOD for the event offers scaled divisions as well as Rx (advanced) so everyone can participate. It is as follows:
3 rounds of 1 minute each exercise, with one minute rest between rounds of:
Burpees
Shoulder to Overhead (65/95#)
Power Cleans
Kettlebell Swings (16/24#)
Double Unders
The event takes place in October, and if anyone is interesting in getting their gym involved, check out this page here.
If you are interesting in donating to an important cause, you can find my fundraising page here:
https://www.crowdrise.com/CrossFitVISPerformance/fundraiser/aurorastottler
Remember, every little bit helps to fight this terrible disease!
Thank you!