WHEW. What an absolutely insane couple of days! My schedule was insane and I'm still running around a bit like a crazy person but it's whatever. Since I haven't posted food in forever, this will double as WIAW!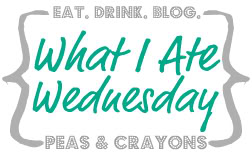 Things didn't get too super crazy until Friday. Thursday I got sound wave treatment on my Achilles. It was kind of strange, kind of painful, and extremely short. I have to go back 2 more times. I think it helped? I've been on my feet ALL weekend which normally KILLS my achilles, and I have been able to walk so I'm taking that as a good sign! Here's some Thursday food: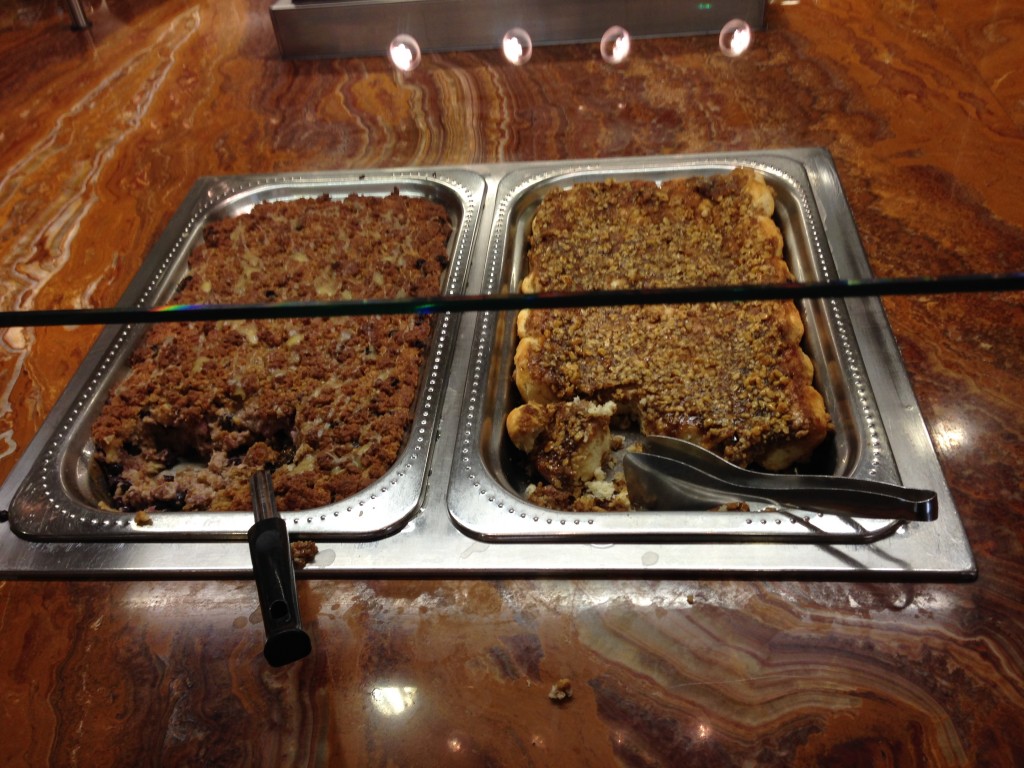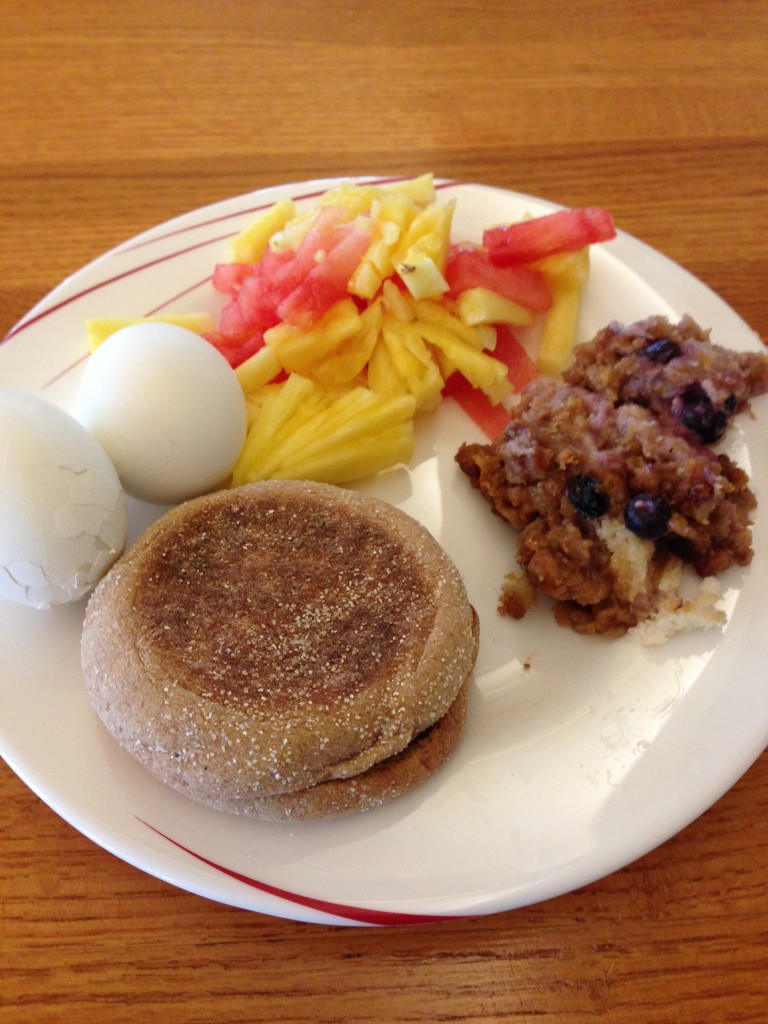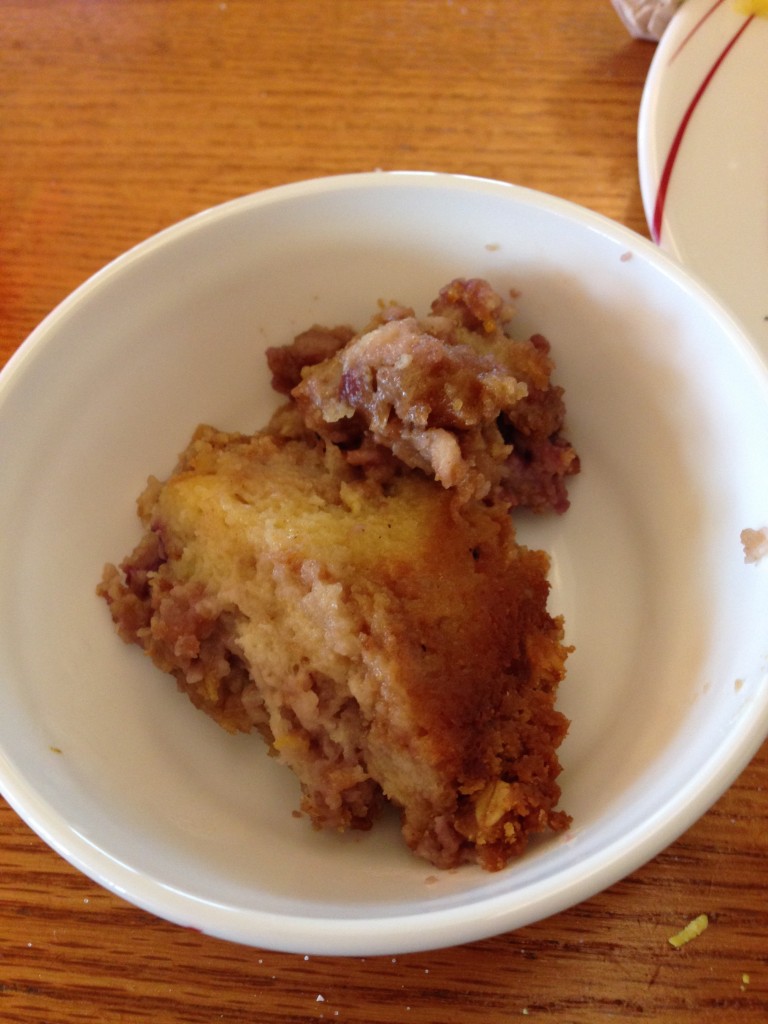 So, the dining hall has been stepping up breakfast lately. Bread pudding? Of course I'm going to try that! I'm kind of in love with the blueberry bread pudding. SO good. But really sweet for breakfast! Next time I might bring some back for later! They also had sticky buns.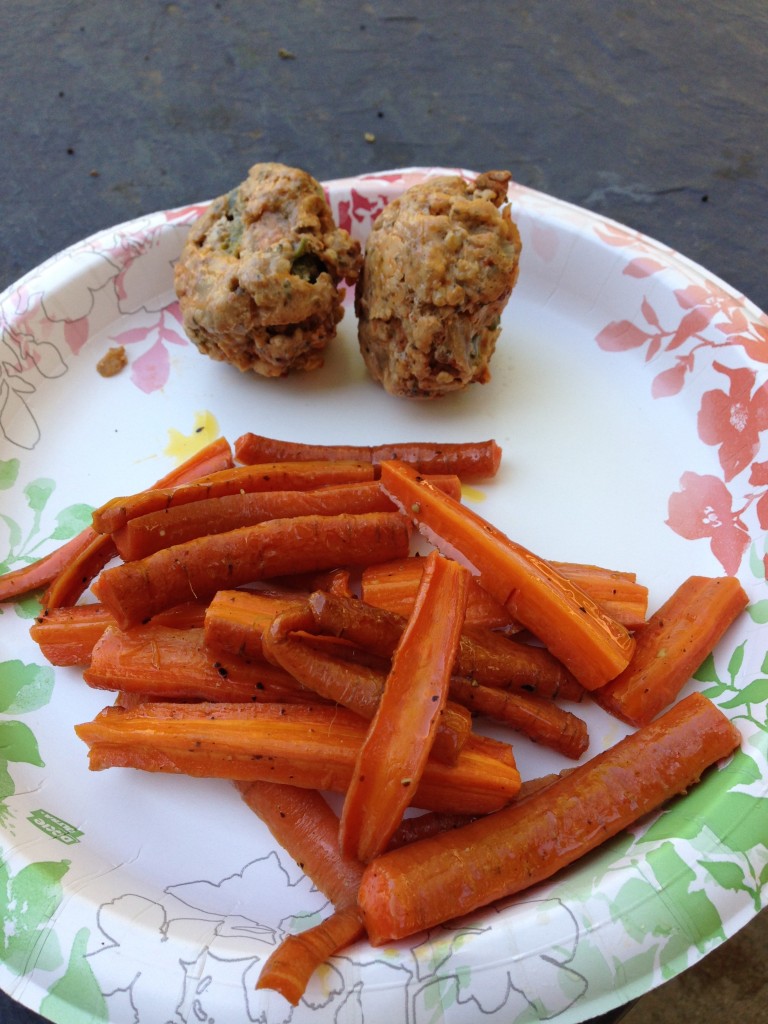 Lunch-carrots and meatballs. With a side of finally declaring my major! Bio all the way!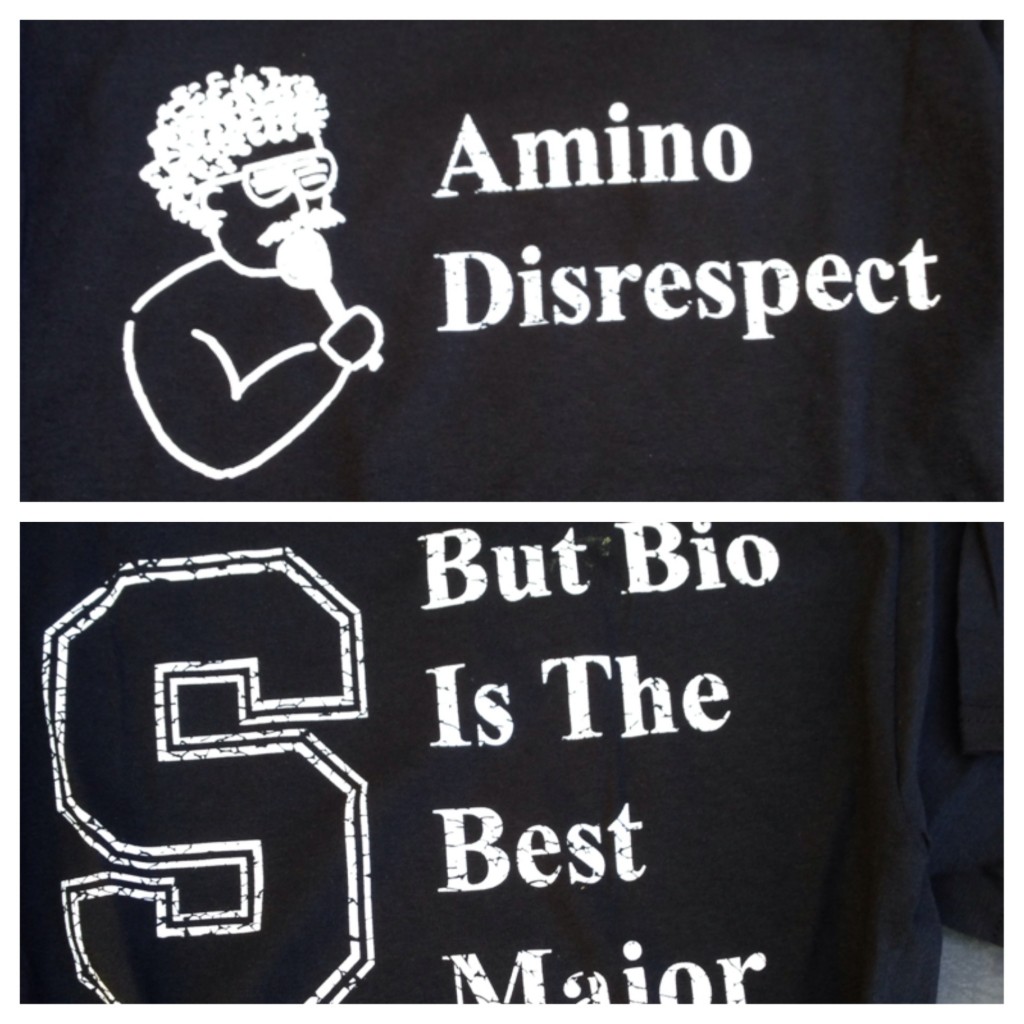 I love the shirt, haha!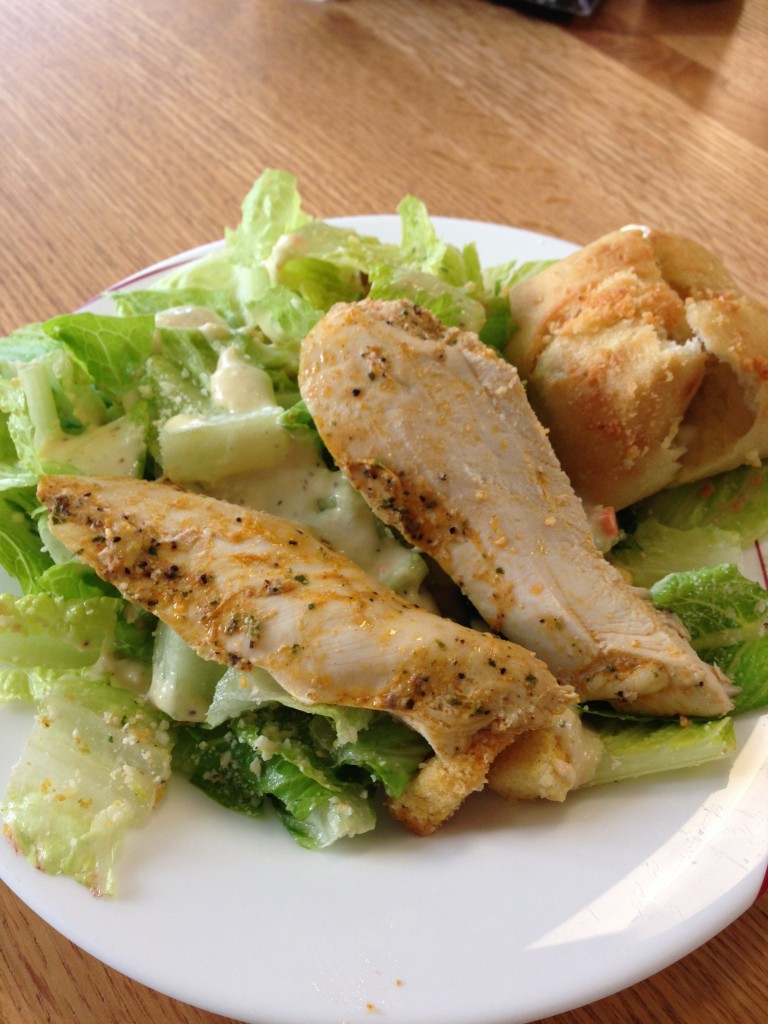 Super simple dinner-chicken caesar salad and a warm, buttery roll. Sometimes the simplest things are the best. This was followed by a treat thought-the dining hall had a big fat of HOT brownie!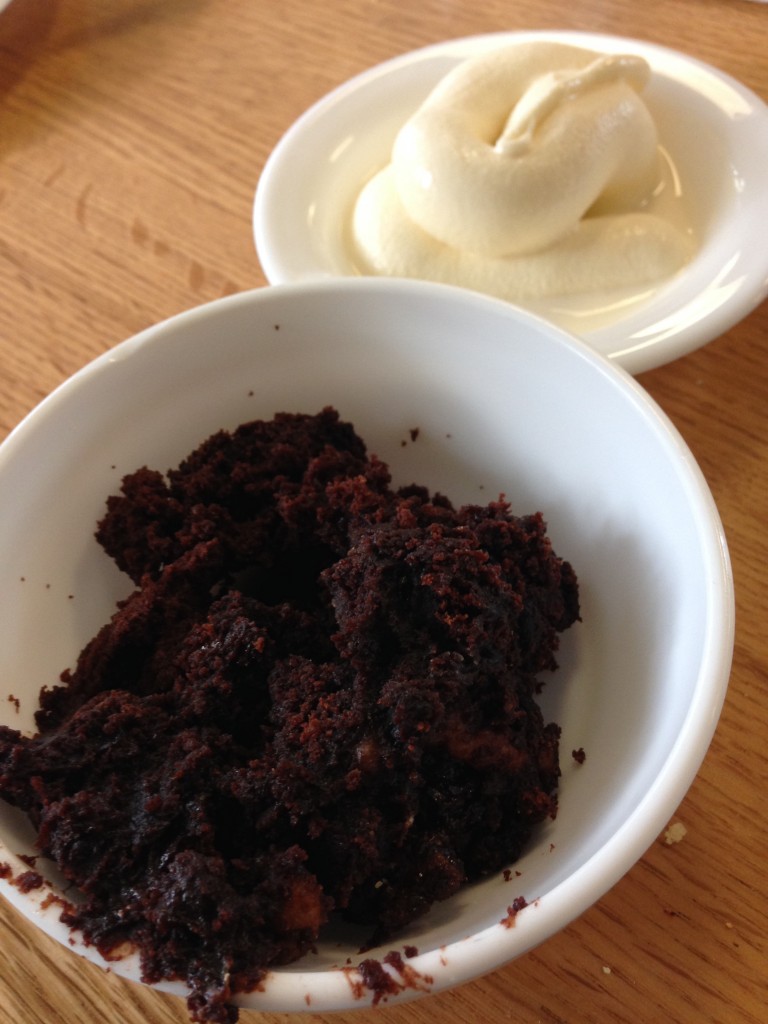 Umm YUM. Friday morning I did a weight lifting work out that didn't use my achilles so it could rest after the treatment. I did front squats, good mornings, back squats, and RDLs, and then finished with abs.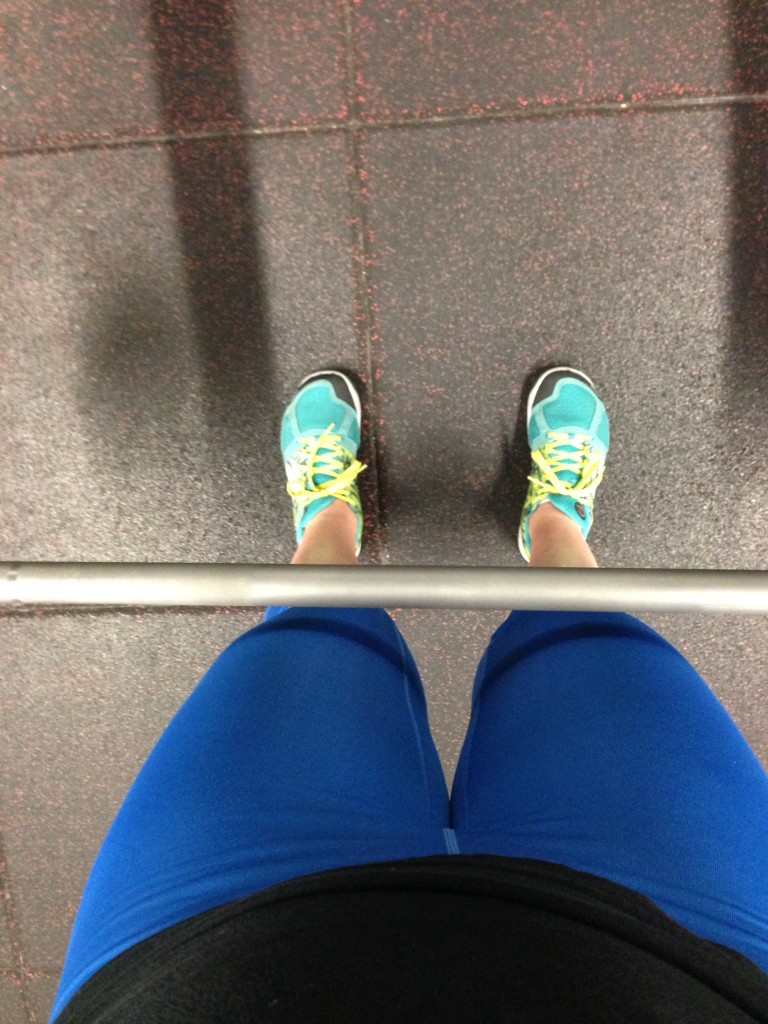 Breakfast was actually in the dining hall! I tried a weird mixture of steel cut oats, cottage cheese, golden raisins, and later banana, and really wasn't feeling it. Also pictured is blueberry bread pudding. 🙂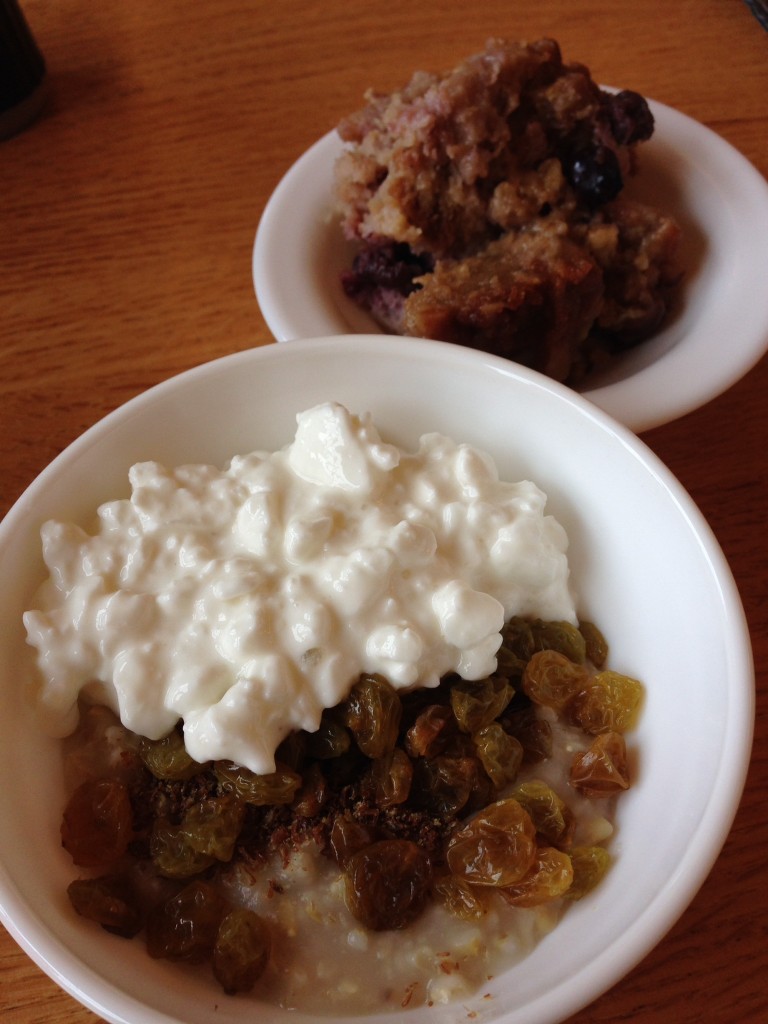 Hey, you can't win them all! So, the craziness REALLY got underway. Friday I met with a girl in my sorority for dinner….at 3:45….to talk about her experience abroad in Chile. We had to meet to start prepping everything at 4:30. Last weekend was formal recruitment for my sorority. The way my school handles this is that every girl has to go to these little "parties" with every chapter. So Friday we were there 4:30-12:30, and I didn't get in bed until 3. My entire Saturday consisted of sleeping ish in, Crossfit, a quick trip to Whole Foods, a nap, and then returning for night 2 of recruitment. I went to Whole Foods for one reason: it's the absolute best time of year.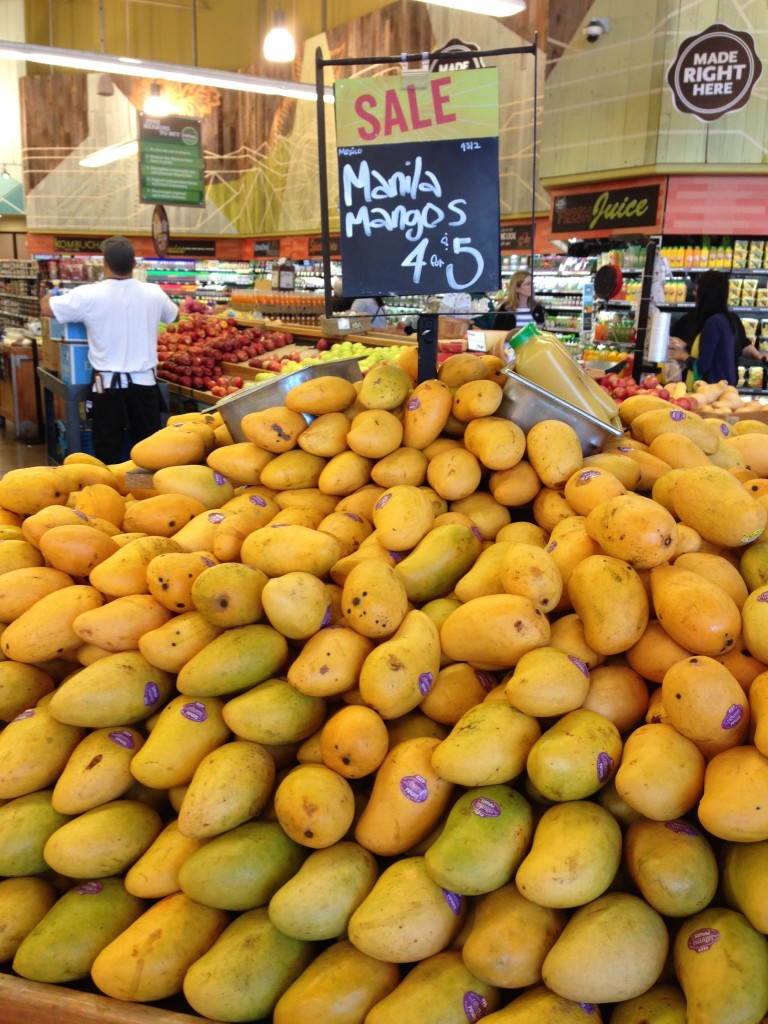 MANGO SEASON. When they start going on sale is when they really start being great. I bought 8 mangoes. Which I will admit is a far cry from the 29 I had last year… I also picked up a quick lunch. Brunch? Dinner?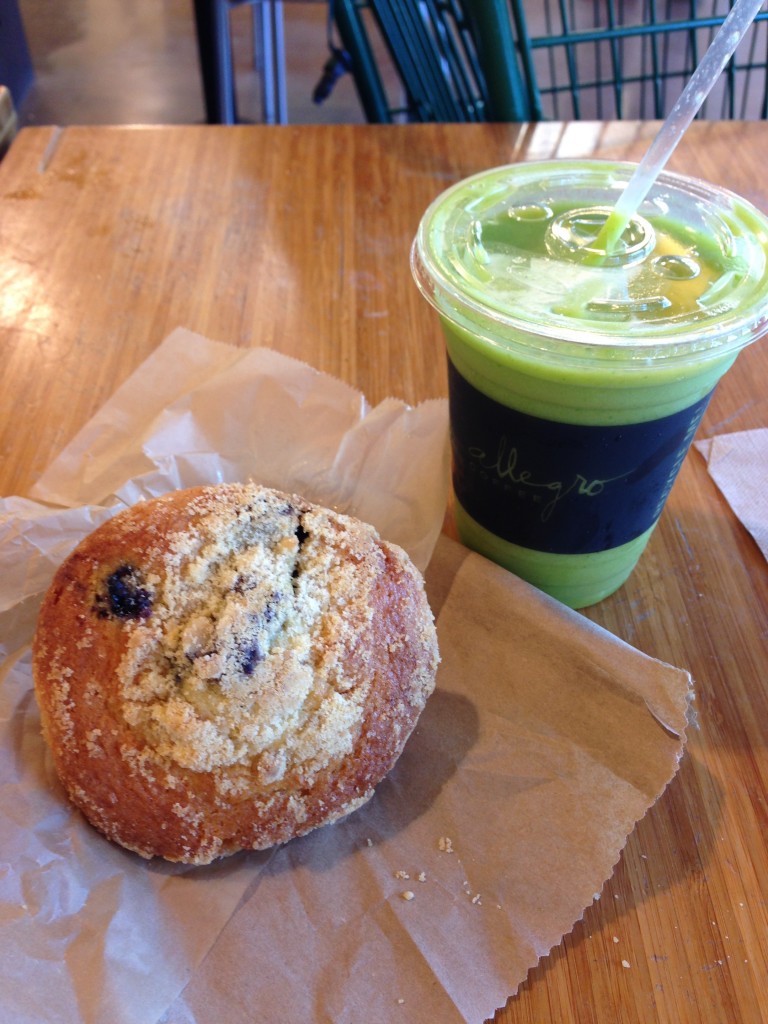 A green smoothie and a blueberry muffin. My meal schedule was so weird. I had very few actual meals. Saturday, we were there from 5pm-2am, when we were physically kicked out of the building. Sunday, unless you count the pb&j (ish) tortilla at 2, my dinner consisted of animal crackers. So there's that. I was really dreading rush, I must admit, but it ended up being pretty fun. I met and talked to some pretty cool people, and had a shockingly good time performing a ridiculous dance for all our potential new members. There is a video, but I'm pretty sure the Internet does not need to see that. I also developed some bizarre allergy thing on Friday, AKA right as all this craziness started. I must be allergic to something that was blooming, because it's a lot better now. However, my weird allergy thing plus talking to people for 7 hours a night, plus screaming and singing insanely, my voice has been GONE since Saturday. By the end of the night, I could barely make a sound. The last girl I talked to was legitimately concerned for me! The craziness continued after rush for me-I got out at midnight on Sunday night, and had the pleasure of going home to write and prepare an oral presentation for the next day, as well as write a Spanish paper.  Monday was filled with class and meetings, and a bid day party for our new members. We didn't get as many as we would have liked, especially given all the time and energy we put into the process, but it is what it is.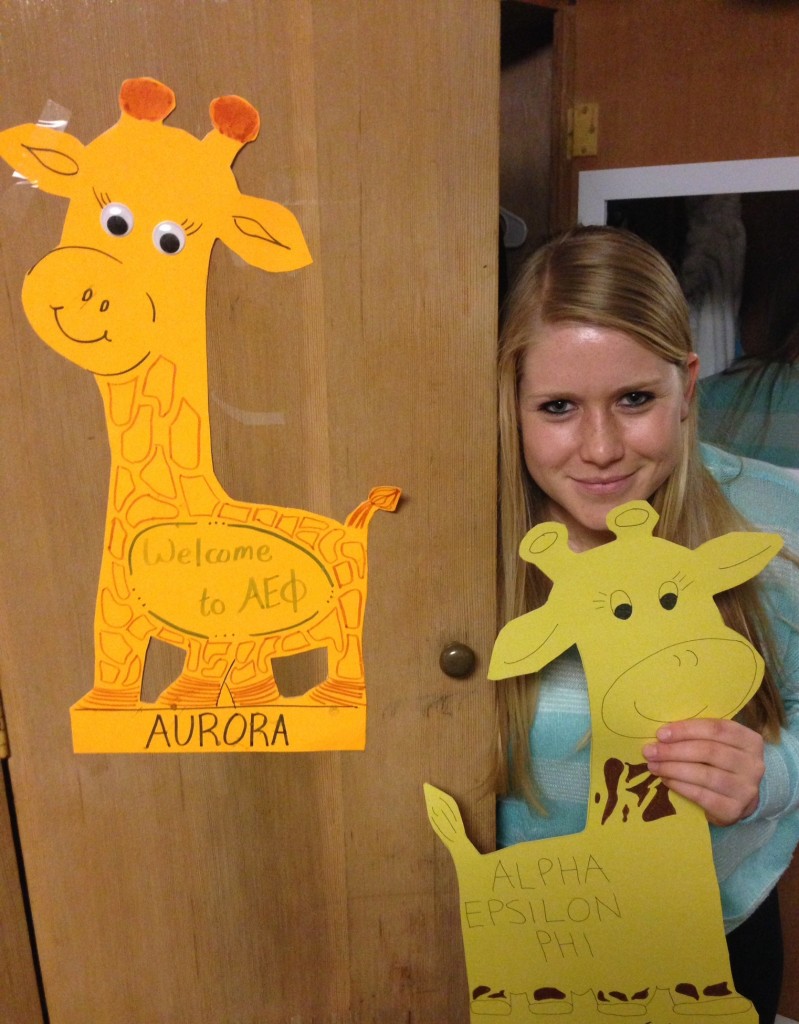 Me plus my giraffe, and a baby giraffe for a new member. The craziness continued through this morning. We hosted a breakfast for new members…in my dorm room at 7am. So my room needed to be clean, and I needed to be awake. I didn't get a chance for a workout at all yesterday, and the day before all I had time for was 20 minutes of HIIT on the Spin bike! Craziness!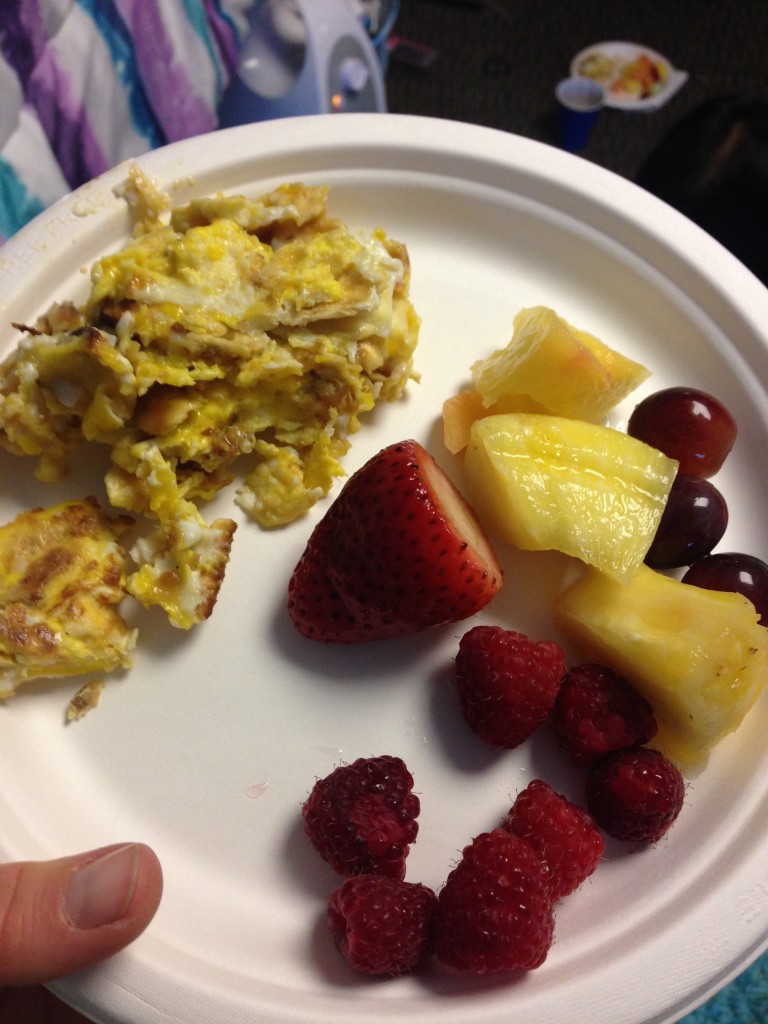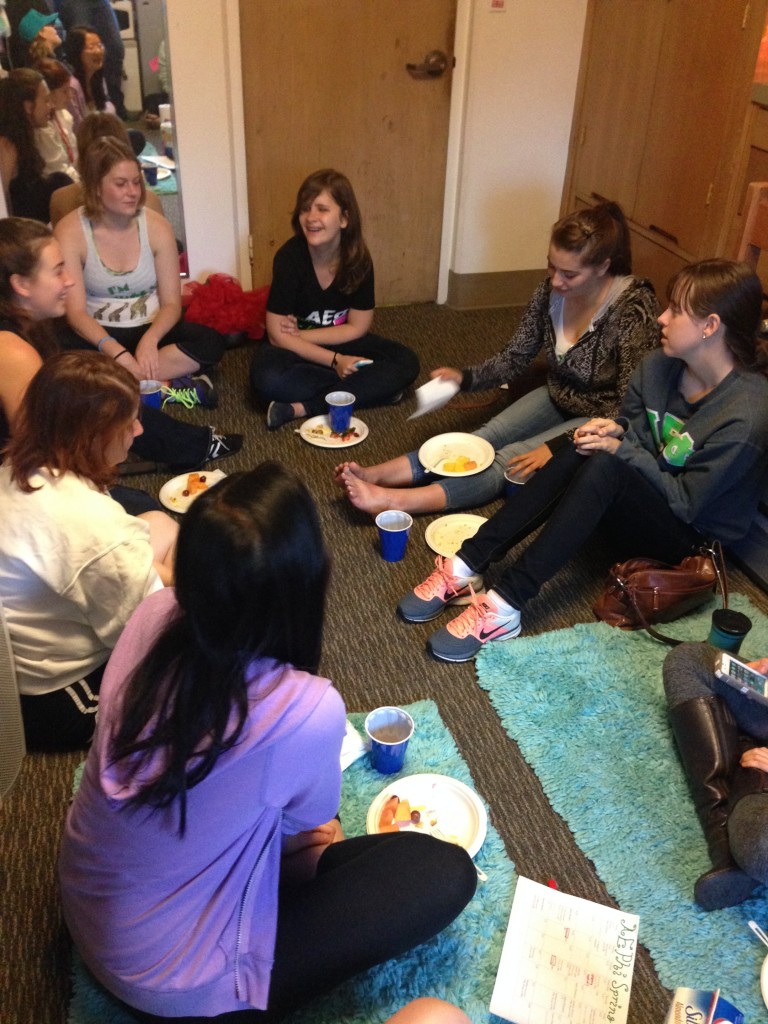 Breakfast was matzah eggs and fruit, since it's Passover and we're a historically Jewish sorority. And before class, I made sure to grab coffee. I actually went with my sister! My real sister who despite the fact that she goes to the same school as me, you never see her pop up on here because I never see her!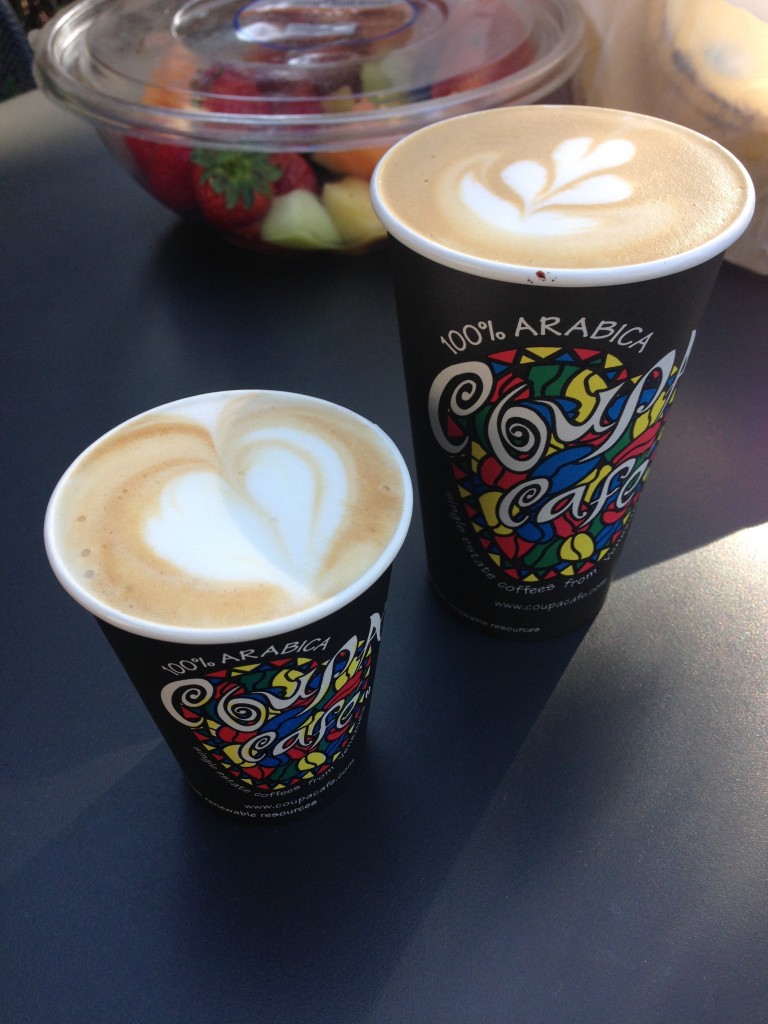 Big sis and little sis coffee. I will never understand how she can handle so much more caffeine than I can! Ok-WHEW. We're almost caught up. On the workout front, I decided to run TO Crossfit today. It's just over 2 miles each way, so it made for a good first run post-half marathon. It was definitely more difficult on the way back though! And LASTLY (I promise, I know this has been a marathon post), dinner tonight: a beautiful avocado atop sweet potato, turkey meatball, and salsa.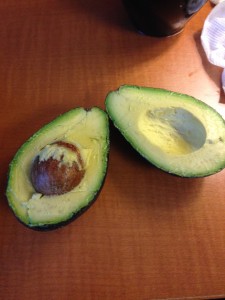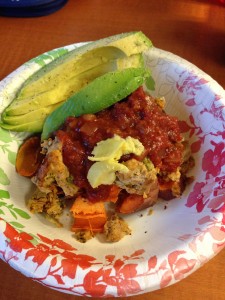 And now, I'm off to get a start on the million and one things I need to do today!
Catch me up on your lives-what's new?