We're coming right up on the holiday season. If you're reading this, chances are you're either interested in your health and fitness, or you're my parents.
For those interested in health, the holidays can be a tumultuous time. There are conflicting tensions between the desire to maintain physical health while still enjoying holiday foods and festivities.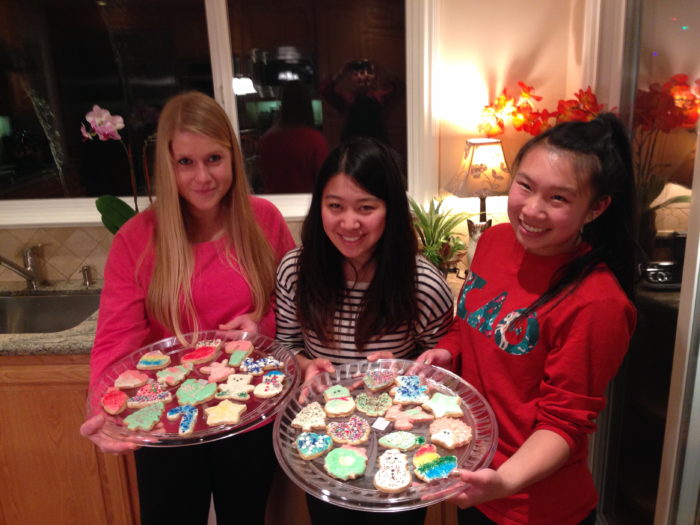 I knew in the past this has been an issue for me. I LOVE LOVE LOVE the holidays. I love the traditions, the food, the special events. But I also value my health. In the past, this tension would make me crazy, anxious, and angry around the holidays. I was always trying to avoid sugar, resist the goodies. But I would be miserable and feel like I was missing out. And I would inevitably give in and eat all the foods anyways, eat a ton of them, and feel terrible.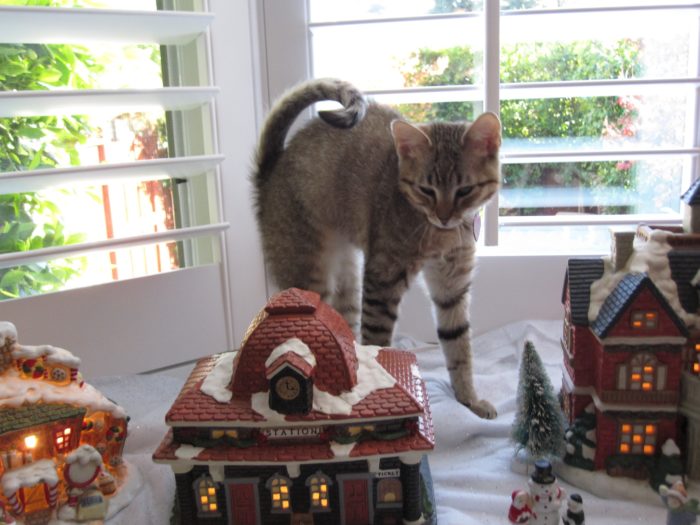 By the time the actual day of Christmas rolled around, I would be a mess. And every year around the holidays I would gain weight.
Last year was the first holiday season in many years that this didn't happen. It was partly because I was still so sick then with my chronic stomach issue. I physically couldn't go crazy eating things without my body turning on me. But that changed my perspective, because I appreciated what I could and did eat more. I think that experience, plus some maturity and changes in values, has shifted how I look at food and the holidays. That being said, I wanted to share some of my thoughts on how to stay "healthy" throughout the holidays. (Note the quotations).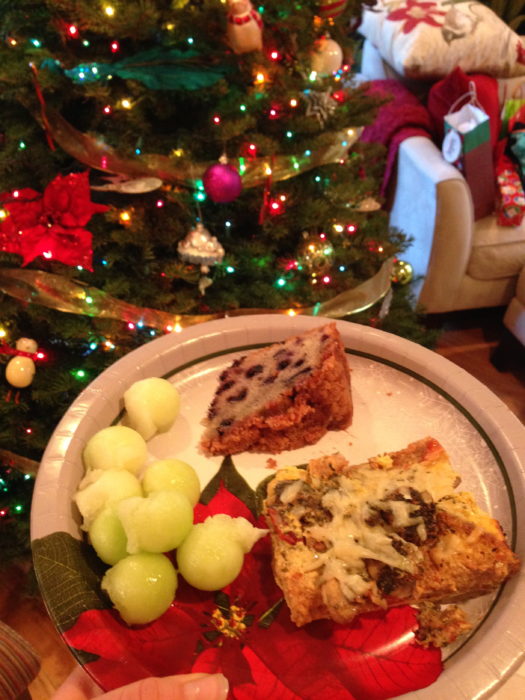 Don't think of it as "surviving the holidays." Think about "enjoying the holidays." I know it's easier said than done, but the holidays are not about dieting and resisting delicious food, they're about family, traditions, and joy.
Similarly, I really don't recommend trying to avoid all the holidays foods. In my experience, that leaves me miserable and craving them even more. Life's too short to not enjoy eggnog, or a Christmas morning mimosa, or your Grandma's special homemade pie. Letting go of that restrictive mentality isn't easy, but it's freeing.
Trust your body. Don't stress the changes. Here's the deal. No one is going to wake up every single day weighing precisely the same amount. So many factors go into play. We see these stats everywhere: "Americans gain an average of 5 pounds every holiday season." Here's the deal. I guarantee that is not 5 pounds of pure fat. Carbohydrates hold 4x their weight in water. If you eat a lot of sugar or bread products over the holidays, your body will retain water. But guess what? That will disappear when you return to your normal routine. I finally started trusting my body. If I eat a big, delicious meal and lots of sugar, I realize that I might gain some weight but I don't freak out because a) it's not that serious and b) I trust that when things return to normal my body will too.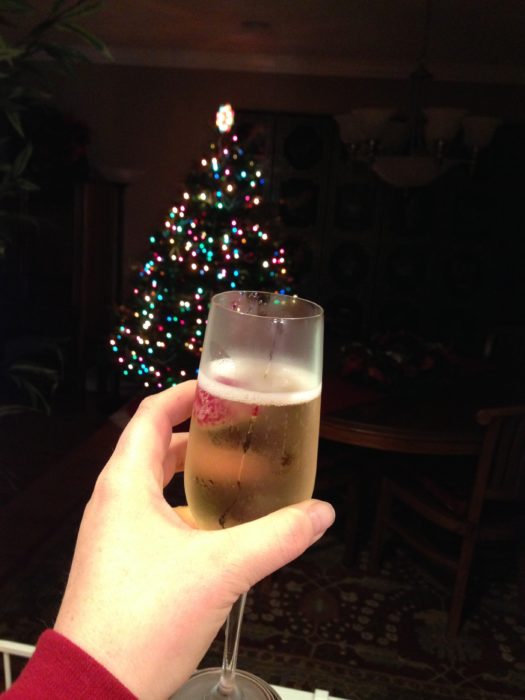 All those were more ways to mentally approach the holidays. While I definitely preach enjoying everything, I also want to make it a priority this holiday season to still feel good so I can fully enjoy everything. So I do want to talk about some ways to do that as well.
Maintain your normal routine as much as possible when not at events. Go to holiday parties on the weekends, have a good time, and enjoy good food, but eating cake and cookies at a party on the weekend doesn't mean you have to say "screw it" and eat junk all week. Stick to your normal workouts, eat your normal meals. I guarantee you will feel better.
Make some healthy holiday treats. Some healthy swaps you won't even notice. If you're making gingerbread, why not look for a lower sugar recipe? If you're making your own treats, why not make some healthier ones to have on hand? I personally plan on making some healthier treats that I don't feel bad about enjoying on a regular basis. That way I never feel like I'm missing out on anything (And check back here for some recipes!)
Get physical. No matter what I'm eating, I always feel 100x better when I get some exercise in.
Start some new fit traditions. One of my favorite traditions that my family and I started doing was the Santa Run. It's a 5k that finished at Christmas in the Park, a little Christmas village in downtown San Jose. It gets us in the holiday spirit! Last year on Christmas day, my family started our morning with a dog walk/run along the bay, followed by festive drinks, and it was an absolutely beautiful morning. Plus, Chloe got to join in! Take a night walk to look at lights (especially if you live in CA like I do and it's not freezing!) Not every holiday tradition has to revolve around food.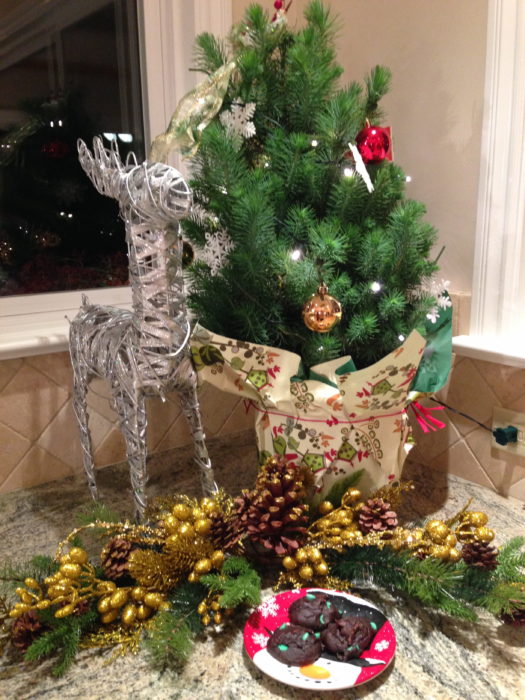 Those are my thoughts for how to approach the holidays. Trust your body, and just think about trying to feel your best to enjoy the season. Again, it's not that serious.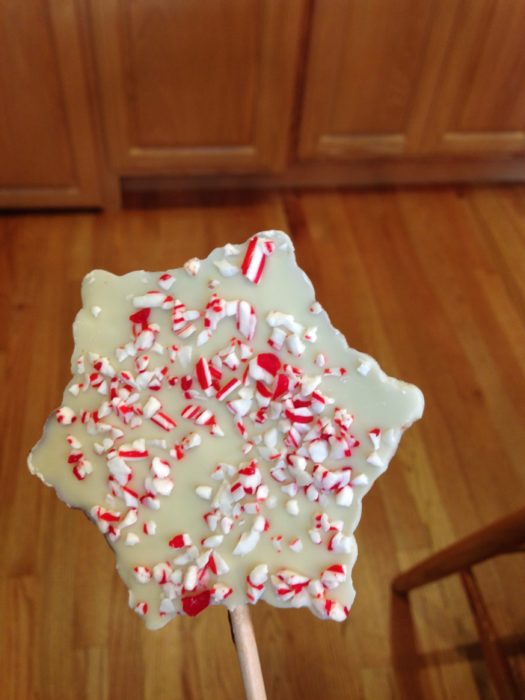 On that note, let's finally dive into WIAW, Jenn's baby! Now that I'm home, my food is a little bit more interesting so I want to share it more!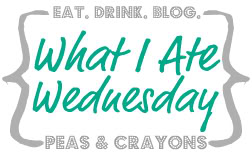 Pre-Workout:
My new favorite pre-workout food is Cheerios. I don't even know what time zone I'm on right now, but I had plenty of time before morning Crossfit to eat! I had a bowl of pumpkin spice Cheerios. (We ordered a few boxes online from Target because they were getting hard to find!)
Workout:
I did some technique work on snatches. I used 65# for a complex of a power snatch, overhead squat, and full snatch. Then we worked on bar muscles ups (LOL). I practiced some turnovers (assisted) and worked on negative pull ups. The WOD was a 7 min AMRAP of 5 power cleans and 10 toes to bar. I have toes to bar, but the coach and me do knees to elbow instead so I could really focus on getting into a good position that should later help me string together toes to bar. It was a lot more shoulder intensive the way he had me doing them! I used 85 for the cleans.
Breakfast:
I had the same breakfast most days in St. Louis and I'm finally sick of it. I discovered some chocolate KIND granola in the pantry, so I centered my breakfast on that. I made a yogurt with with Fage 2% a little bit of maple syrup, and cocoa powder. Topped with granola and crunchy Sunbutter. I had jumbo blueberries on the side.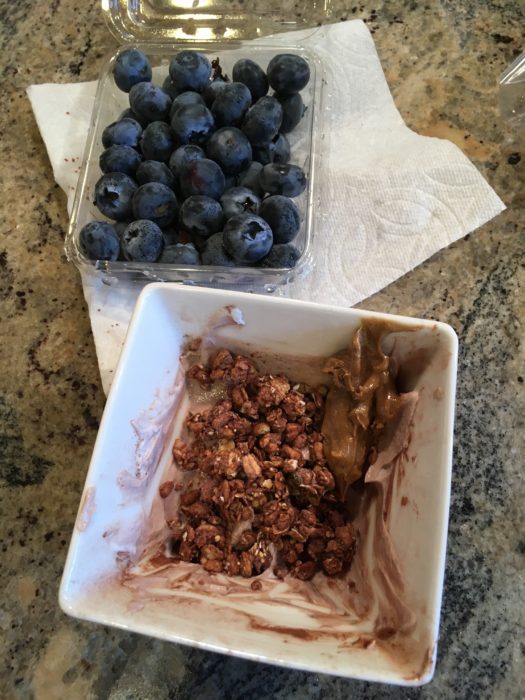 Lunch:
I had more leftover lemon chicken rice soup, with added spinach. I also seasoned it with thyme lemon bay sea salt, and topped it with feta. On the side are leftover roasted shaved brussels with truffle salt.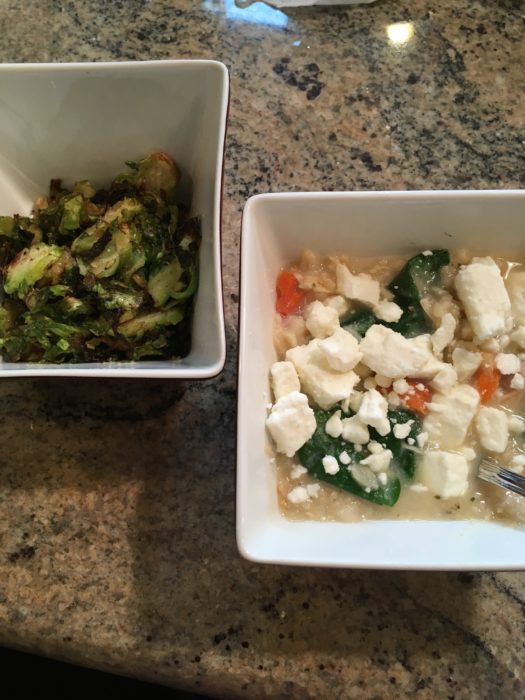 Snack:
I had another sea salt chocolate bar from 88 Acres (more info here) as well as a Medjol date, since it had been so long since I had one strangely enough. So good!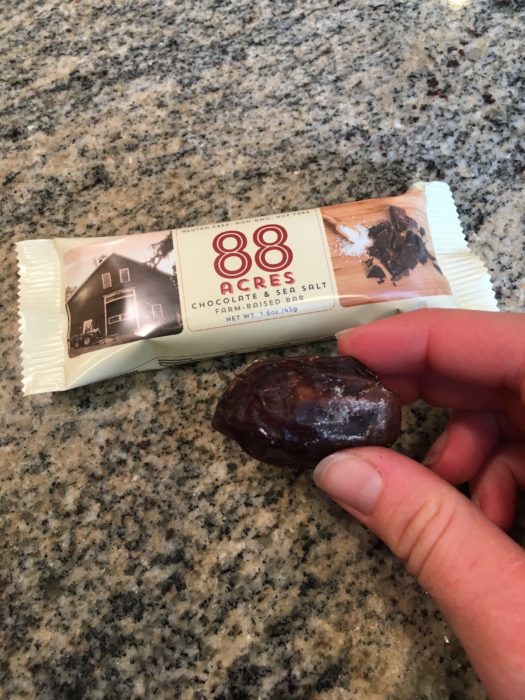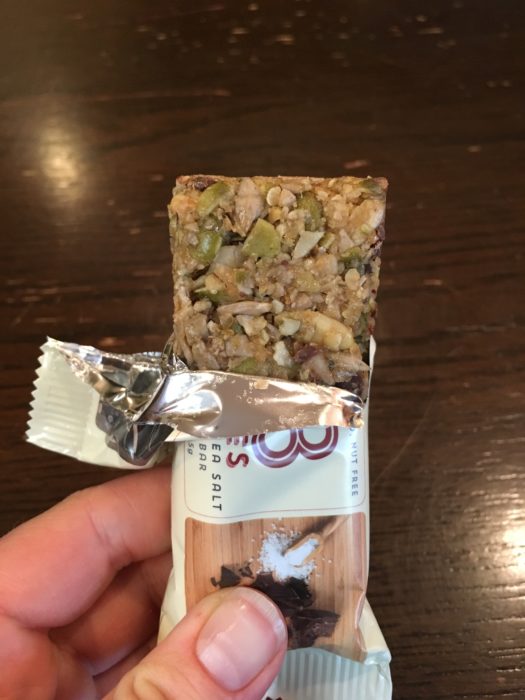 I also nibbled on some Cranberry Orange bread while cutting up some slices for the freezer.
Dinner Part 1:
I volunteered to sub a 7:30pm spin class this evening which is a super awkward time for me, especially since I'm still sort of on St. Louis time. I decided to eat a light dinner pretty early.
Trader Joe's GF cornbread with a little whipped butter.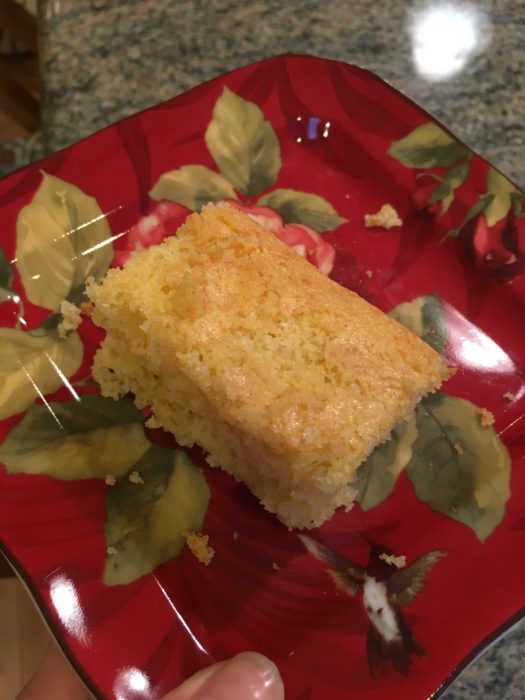 And a small bowl of butternut squash and chicken soup.
To be honest, I wasn't sure if anyone was going to come to a spin class that late, the week of Thanksgiving. Since it's at the university, most people are gone for break. Luckily, I had a few people, and had a blast! It's different teaching here, and it's good to be back.
The rest of the evening didn't go as planned. I drive an older car, and it can be pretty finicky. I had a lot of issues with the engine when I first started driving it a few years ago, but since then it has been fine. It didn't appreciate not being driven too much while I was gone, it turns out. It took a while to start driving there, and when I got in to drive home after spin, the engine started shaking like crazy and then just died. Thereby stranding me 25 minutes from home. The worst thing was I was able to get out of my parking spot before it died, so I was directly blocking in a few cars. I called Triple A to get it towed, and my mom came and picked me up. Thankfully the process was relatively painless all things considered, and I'm grateful I didn't even make it out of the parking lot and it didn't die on the highway. That being said, I don't have a good feeling about what may be wrong with it.
When my mom and I drove off around 9:30, we were both on the exact same wavelength: froyo. When I had mono freshman year of college, I ate mass quantities of froyo so I still remembered more or less what places were open until 10! We stopped at Yumi Yogurt, which is pretty big in my area. I got a butterscotch flavor burst with mini m&ms. Sadly, aesthetics were sacrificed in favor of more toppings but this was delicious, and the perfect post-workout refuel!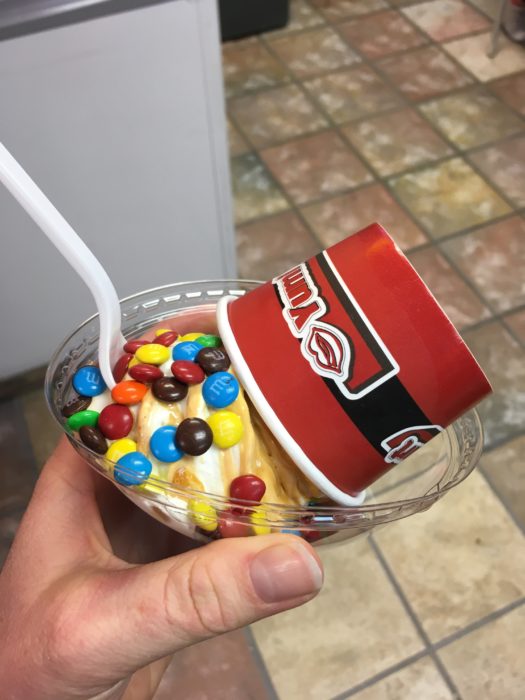 While it's never fun watching your car get towed, I'm thankful the situation wasn't worse. A
And on that note….
How do you approach the holidays?