And it's almost Wednesday again. GUYS. I am halfway through my last year of college. (Well, undergrad. Plenty of schooling left for this girl.) How crazy is that? I'm trying to make each moment count, and I am actively trying to remember to enjoy myself each moment because there's not much time left here! I'm trying to get away from watching the clock until X or Y is over, because then time is passing that I will never get back.
Well, that wasn't where I was planning on going with that. Where I was planning on going with that was WIAW with Jenn (and friends).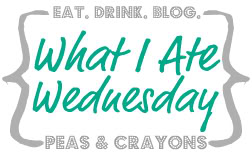 Pre-Workout: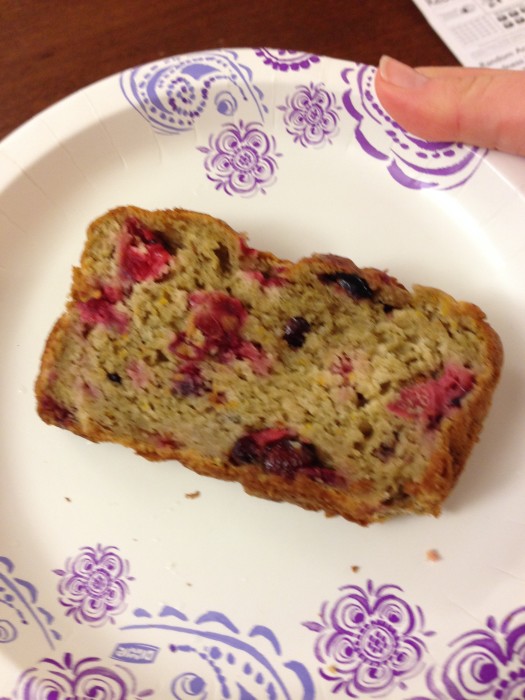 Cranberry-Orange bread from the freezer. Currently my favorite pre-workout bread, and also the only one I have in the freezer right now. I have my eye on this recipe though for possibly the next one, although I usually like to keep the pre-workout breads a bit lower sugar.
Workout:
UGH. We've been doing these yucky sprint intervals at Crossfit that I'm pretty sure are really good for me but they stink.
We started out with 5×3 power snatches. I did those at 55#, and then a set at 65#. I'm pretty sure that's the heaviest I've gone overhead since my shoulder injury! The weight felt easy, but I'm still weak stabilizing at the top so I'm definitely not going to push the weight anytime soon.
WOD:
Every 3.5 minutes for 5 sets:
200m run
7 push press (I used 55#)
5 over bar burpees
7 push press
I actually really enjoyed the running portion, because I felt fairly fast compared to other people, especially by the end. In general, I'm definitely not the fastest but I'm pretty consistent! Every set was within 3 seconds of the others.
Breakfast: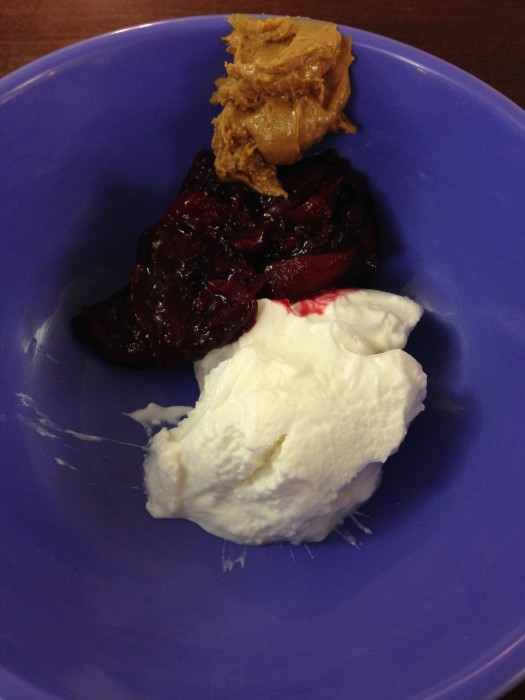 I've been really loving my fruit compote with yogurt again lately. This week's combo is a real winner: cherries+peaches. On top of full fat yogurt and a side of sun butter. In terms of yogurt, I basically just eat whatever my house/dorm buys. I much prefer Greek plain, but otherwise I could go either way full fat vs. fat free and tend to switch week to week.
Lunch #1: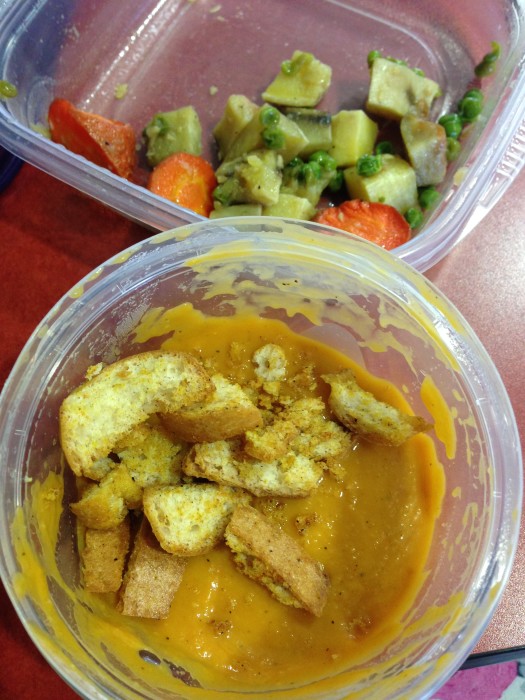 Leftover sweet potato, pear, leek soup with GF croutons, and a side of roasted veggies, mainly sweet potatoes. I think those were leftover veggies from diner at the house last night, and I was able to snag the last bit!
Lunch #2: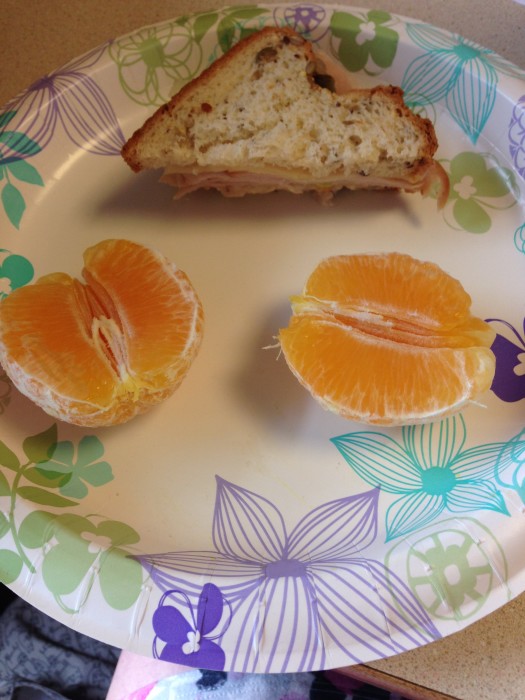 A turkey sandwich on GF bread that was from lunch at the house (which I missed due to class) and a Honeybell. Honeybells are a cross between a tangerine and grapefruit, and I've been really enjoying them this past week!
I also had a few bites of other things—some snap pea crisps and granola, and a Ghiradelli raspberry dark chocolate square.
My gastroparesis has been better lately (knock on wood), but even when it's not flaring, I have to be really careful about how much I eat at once or I'll get a (moderate comparatively) stomachache. I think I'm finally honing on what this amount actually is, although the content of the food also has a big effect! After lunch #1 today, I actually felt really good. Like, normal. Perfect even. Lunch #2 ended up being a little too big (with the random bites). For the most part, I think the magic number is 400 calories. 400 calories and below for a meal, and I seem to be good (assuming I'm not in a bad flare). 400-500 is usually okay, but I don't feel as good. Over 500 and I'll have some problems. 600 or significantly above and I start risking a flare up.
Obviously, that's not very much in one meal, hence why I have lunch #1 and lunch #2 (and the same for dinner). I honestly think I can get a lot healthier as I start to figure this out more, but it can be really difficult to stick to, especially when the food is especially delicious, or if I'm at restaurants. It's going to take some practice, as well as remembering that I CAN eat everything, I just need to come back to it in a few hours. It's also difficult if I get a lot of sugar/carb cravings, but the more I stick to what makes me feel good, the fewer I have (because my blood sugar is much more regular).
Workout:
Teaching spin! Lots of hills today, including a 4 song hill (I normally do 3 song hills). I also wrote tomorrow's class this afternoon, which includes HIIT in place of a second hill. We're going to do 5 rounds of 1 min max effort on/1 min recover.
Dinner #1: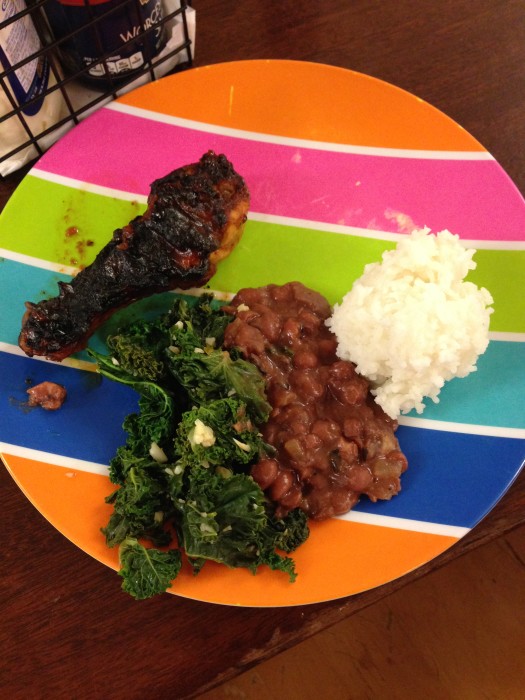 BBQ chicken leg, red beans, rice, kale.
I also had some frozen mango and another Ghiradelli raspberry square.
This dinner comes back to the perfect number theory. Unfortunately, I was a little over the magic number and am feeling it a bit. But it's all a learning process and I do think I'll get there!
Dinner #2: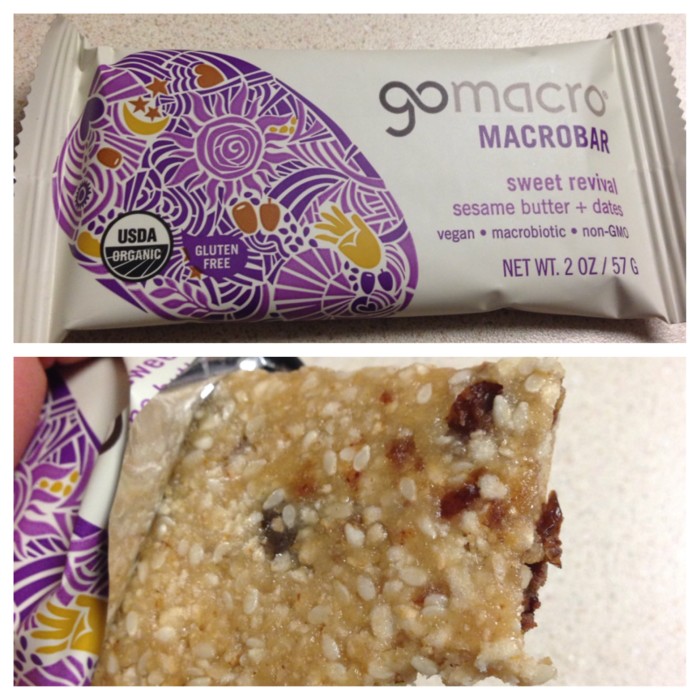 A new to me bar. Sesame products can be really hit or miss but this was good!
Do you eat 3 square meals or more snacks/mini meals?