It's my first full week of break! The first part of this week has been spent doing not so fun things (I was on call for jury duty today), but this weekend was fun and definitely put my in the holiday spirit!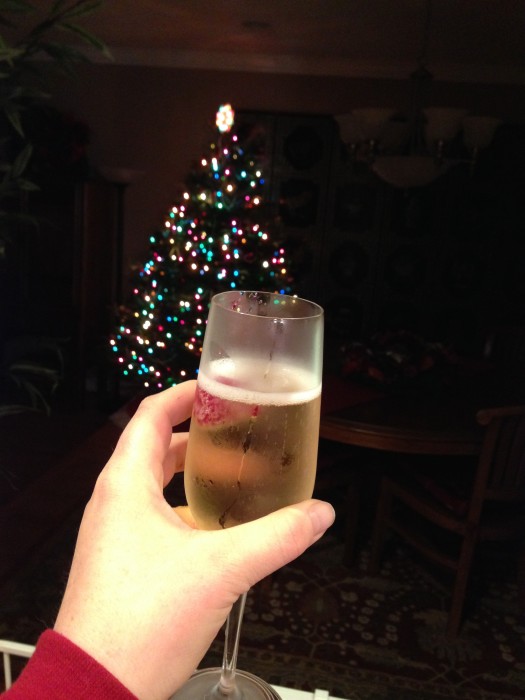 Finals over=champagne.
Friday night I went to my dad's company Christmas party. I've actually been to more of my dad's company Christmas parties than anyone in the company!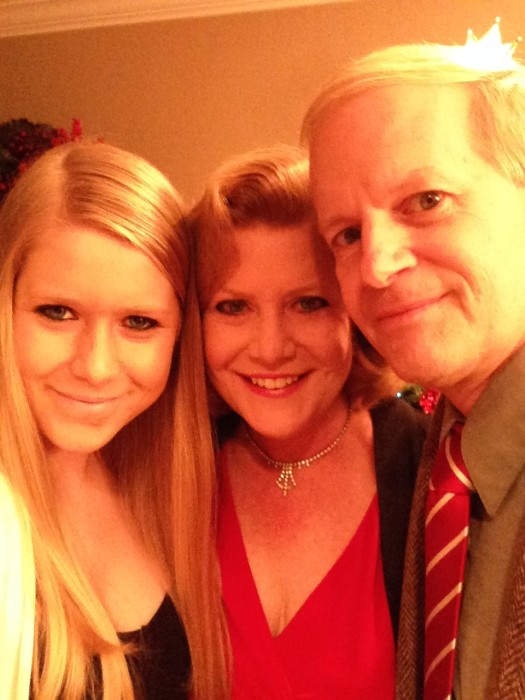 It was a lot of fun and the food was of course delicious! After appetizers and drinks, we had salads and then a family style meal.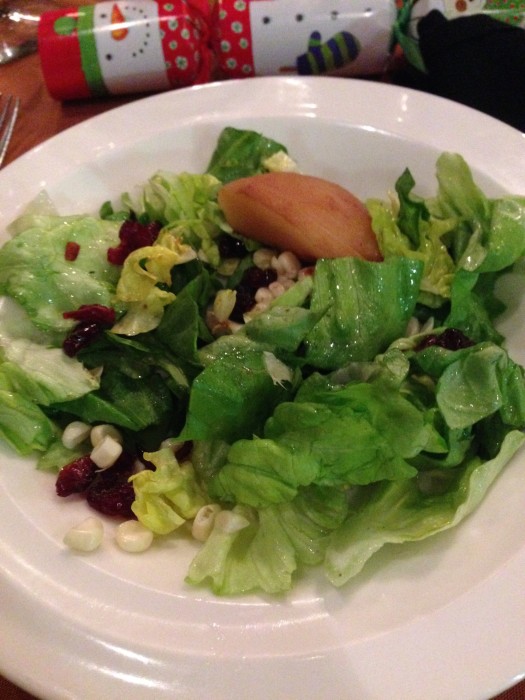 I apparently missed snagging a picture of the meal, but of course I captured the flourless chocolate cake for dessert!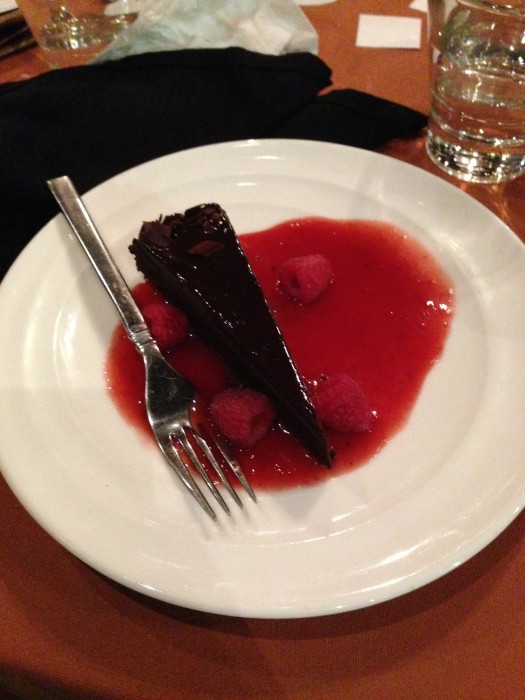 And then Sunday was the day of the Silicon Valley Santa Run! This is my 4th year doing it, and the race's 5th year.
The race was at 3pm so eating beforehand was different. I had my typical yogurt bowl for breakfast.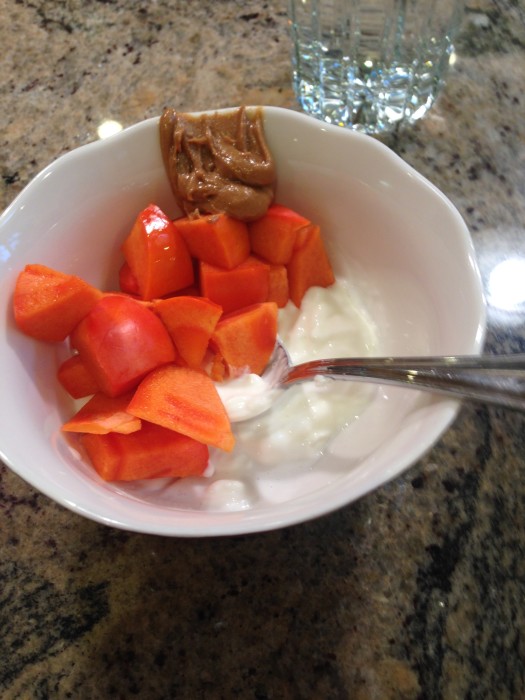 And then oatmeal plus some chicken for lunch. Plus a couple of these guys: AMAZING. I'm obsessed with glutino's regular yogurt covered pretzels and the peppermint ones are just perfect.
Then it was go time!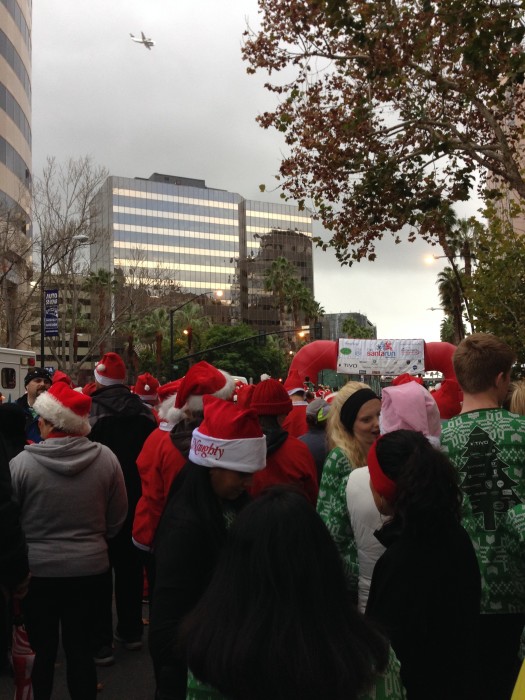 The weather report was not too promising, with rain threatening at the start.
We also brought psycho puppy for her first race experience!
It was maybe a bit cold.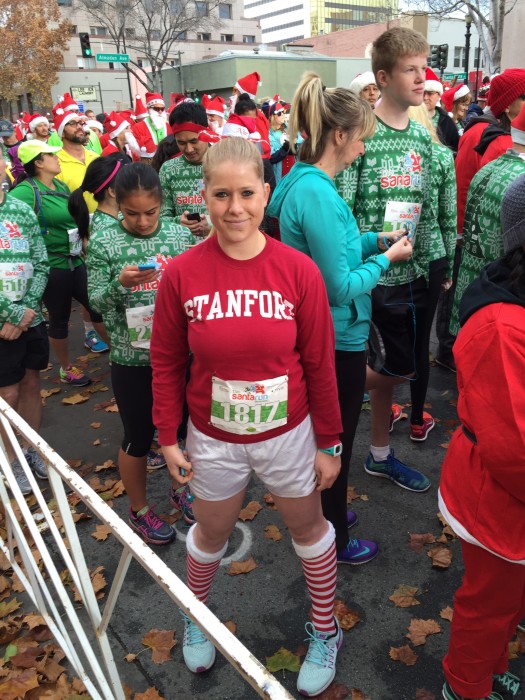 I goal time was under 27:00, which I knew was very doable given I had hit that pace during a longer run earlier in the week. Unfortunately, my garmin couldn't find me! I was running blind. In multiple senses, as about 5 minutes into the race the sky just opened up. It started pouring like crazy, and given it was already so cold, I couldn't feel my legs or hands! And then the rain started to hurt more as it hit my skin than it should have. I couldn't tell if there was hail on the ground or not, but then I noticed there were little balls of ice all over my shirt. There was nothing I could do but push through it; it was definitely the crazier race I have ever done because the weather just felt insane. Meanwhile, I had no idea of my pace but I think I was around where I wanted to be. From the ice, I couldn't feel most of my body! My garmin finally found me with just over a mile to go, and the mile it clocked was right where my pace needed to be.
Unfortunately, I don't know my actual finishing time. I'm 95% sure my official time was wrong because it clocked me crossing the start line 6 seconds after the gun start, and there's no way that is possible. I would guess it was at least 30 seconds, as the start was super slow. It was an especially small race this year thanks to the weather, and since it was small and the start was slow I'm wondering if it picked me up too soon. Ah well. It was still fun!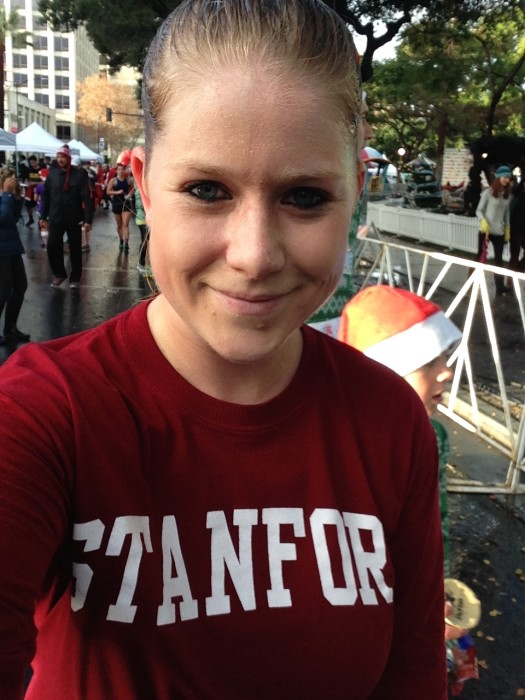 There's definitely something to be said for shorter races, especially when braving the elements!
After the race, we bought a cheese tamale and walked through the Christmas display.
Then it was time to go home. On the drive back I tried to take a selfie with Chloe but all she wanted to do was a) sleep or b)lick my face.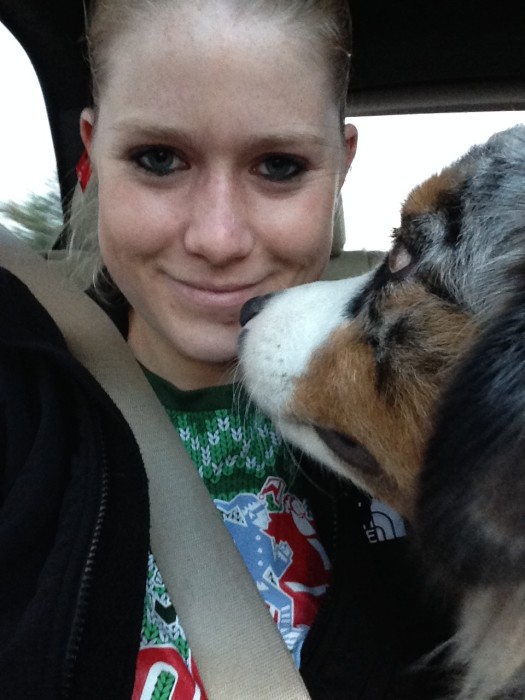 Now I feel in the Christmas spirit! In other news, I just found out that I got into the Cherry Blossom 10 miler in DC in April! It's a capped race, so there's a lottery to get in. I missed it last year but I got in this year and am SO EXCITED!
How do you get into the holiday spirit?