Hi friends! Welcome to another WIAW.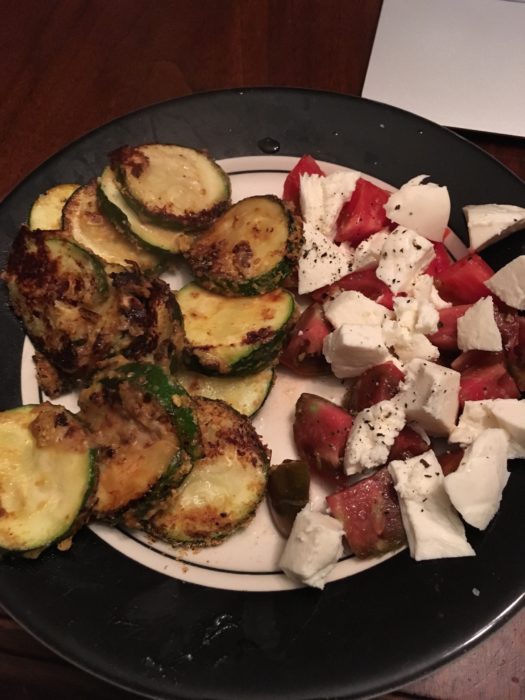 Before we get into my full day of eating, I wanted to show you guys what I did with my Soulard Farmer's Market haul. I sautéed the zucchinis in garlic and nutritional yeast, and served them with fresh mozzarella and some of my mini heirloom tomatoes. Cookies were an appetizer because I stopped at Target after spin to pick them up, and it was late, and I was about to eat my arm, and if you thought I'd make it the mile home without breaking into them….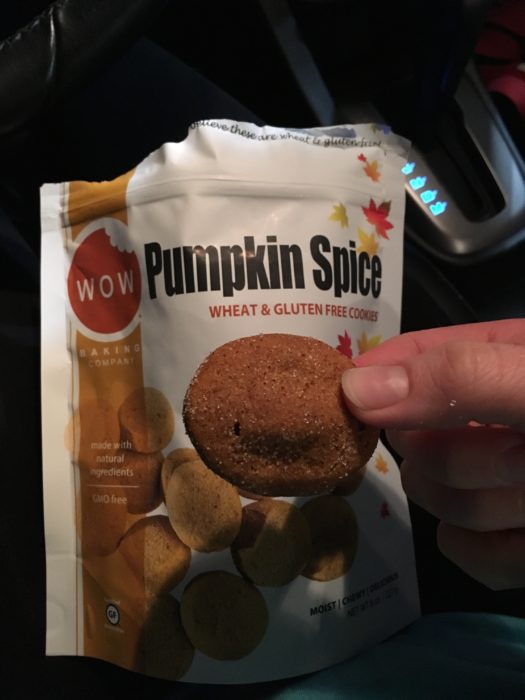 Ok, time for WIAW!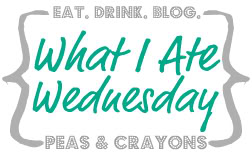 For some reason, I've gotten in the habit of having a flapjacked muffin on my days off. We'll go with it. This is only my second time having the apple cinnamon, but it's good! For some reason it's hard to find. The other day, I was wondering if, since I hadn't known this flavor existed, there were other flavors I was missing out on?
The answer is yes. There's a S'mores flavor! I ordered a 4 pack online to try, so I'm excited for that! Plus packages are awesome. But food packages? Amazing.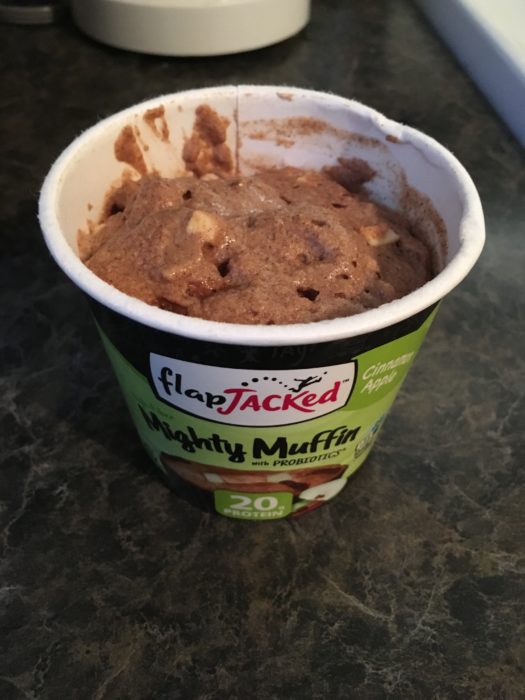 I also had a few snap pea crisps (I often randomly have a few of these at meals) and half of a mediocre peach. Target has has awesome nectarines, but I didn't see any when I went so I got these. They're fine. Not amazing. The season is ending, I suppose!
Before getting ready for the day, I did half of a Blogilates ab video. I've neglected these. They've gotten so much harder haha. Sidenote: I got a yoga mat to do at home ab workouts and hopefully some yoga classes. I didn't realize until rolling it out in class for the first time that it has a rocket ship on it. It's pretty cool! But I think it might be meant for small children…it's also sort of short, but good enough for me!
My coffeeshop of the week was The Mud House in Cherokee. This is my second to last one on the list!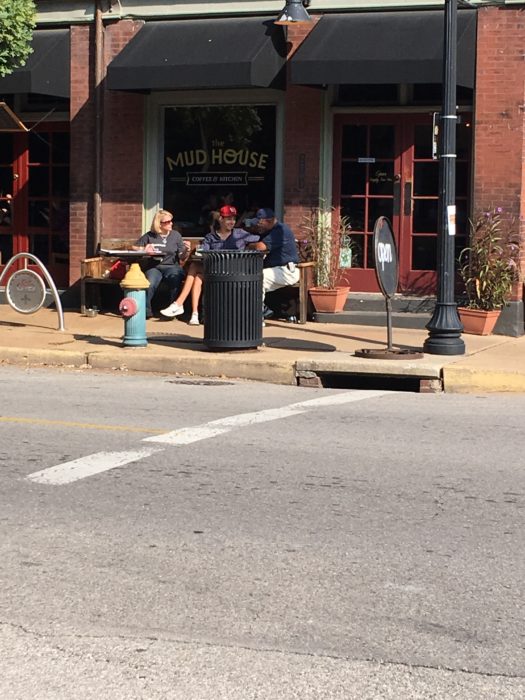 As per usual, I got a decaf cappuccino.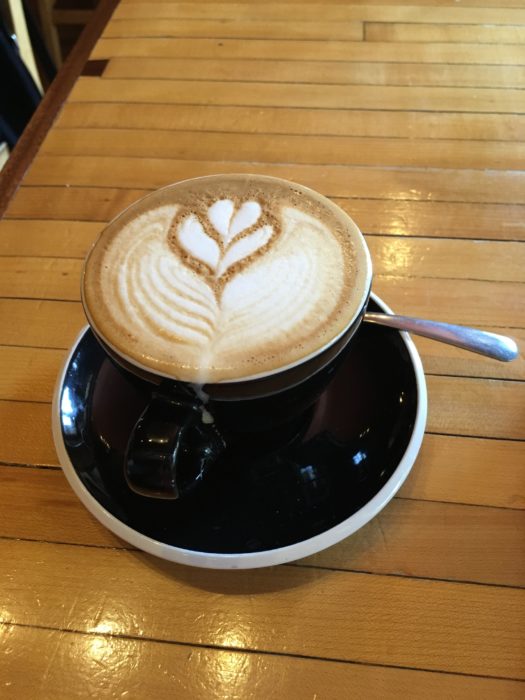 I liked this a lot! It had that bitter/rich high quality coffee flavor. A little darker than some, which I would say is not quite as much my preference. I would say this falls about at the same level as Rise, but I might rank it a hair above because they had food!
They had amazing sounding grits, and an amazing sounding goat cheese sandwich (and they had GF bread), but after much deliberation, I went with the soup of the day, which was vegetarian split pea.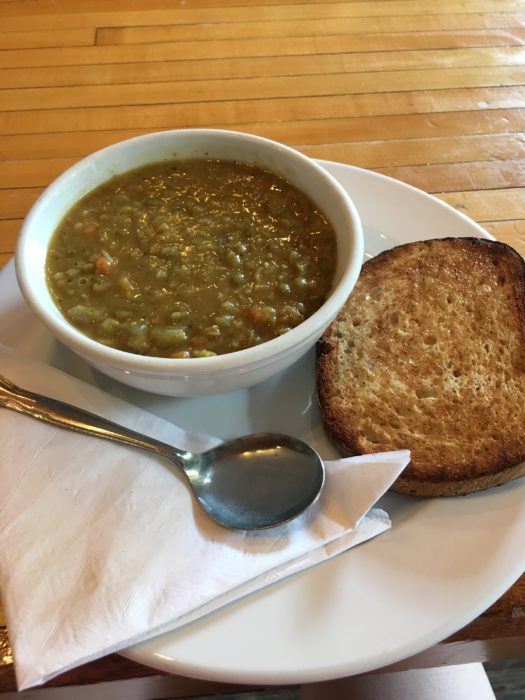 It was definitely a good call. I swear, my entire diet could consist of soup, salad, and sandwiches, and I'd be a happy girl.
I actually had a pretty productive day, school wise. I was dragging a bit in the morning, but with my low caffeine tolerance, the decaf was enough to make me WIRED. Not bad wired, but wired to the point of happiness and productiveness. (Note: I'm very certain I didn't accidentally get full caf because that actually would kill me.)
I did a little bit of coffeeshop hopping today. Actually, I planned my entire day around visiting the other coffeeshop. Why? It's trial day.
I haven't had gluten in over a year. Not exactly at least. I accidentally had a tiny bit twice (that I know of): Thanksgiving (eating the top off of cheesecake and getting some of the crust) and a mislabeled turkey meatball. Both caused flares, but not terrible ones. (Thanksgiving wasn't great partly because the excess of other things that make me flare.) The last time I intentionally ate gluten was a few crackers the night before my endoscopy. I spent most of the night lying on the floor, super nauseous, feeling like death.
But it's been a long time. My gastroparesis is so much better. I don't have to take stomach meds daily in order to function anymore. The fear of a flare is not constantly on my mind. Part of this is managing what and how I eat, but I honestly think my stomach has healed a lot, even since the spring. I'm not going to take over this WIAW with talk about all that, expect another post soon, but the sum of it all is that it was time.
I couldn't think of anything that I wanted enough to test for a long time. But I don't envision myself having to be meticulous about gluten long term; it's a pain, and I hate the social situations I find myself in (I know it really isn't a big deal to have to avoid a food, but for some reason I'm really self conscious about this.) But then I discovered a true St. Louis staple, and I could not find anywhere that had it gluten free: Gooey Butter Cake. After much research, I learned that Park Avenue Coffee had some of the best gooey butter cake, so this afternoon I stopped by to pick up some of the original (they have tons of other flavors too).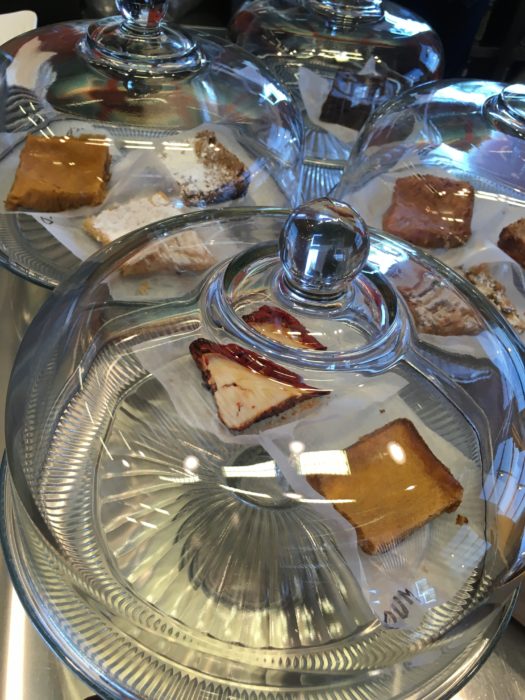 I decided to plop down there for an hour or so with my textbook, so I got some peppermint tea (#nomorecaffeine).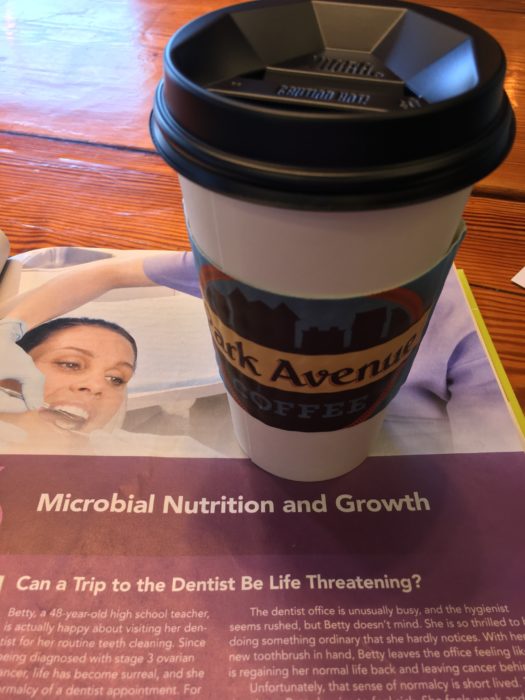 For a snack pre-workout, I had a Luna bar and the rest of my peach from earlier.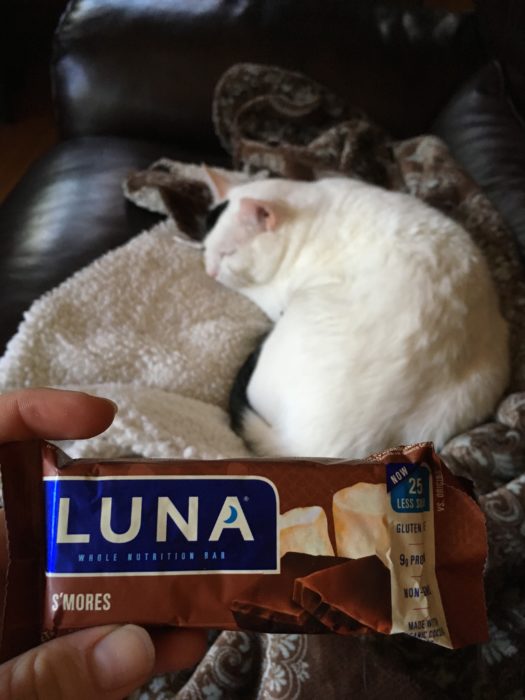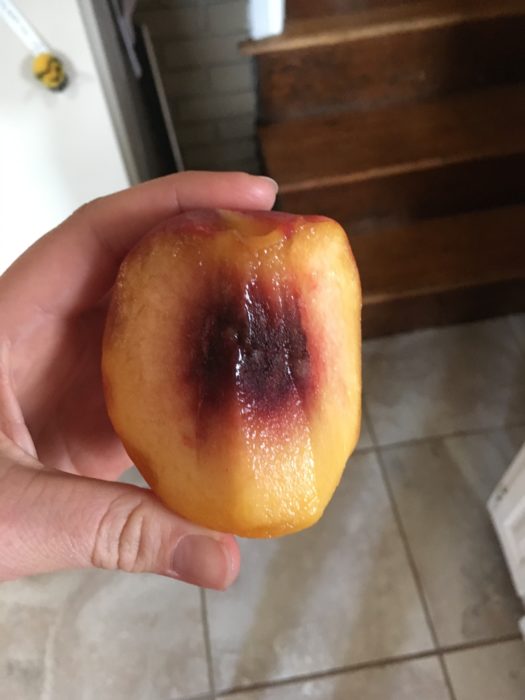 Around this time, I started feeling off. (I should note I started this post earlier in the day.) I was feeling pretty wired earlier in the afternoon, and I thought I was just really sensitive to even decaf, but then I started to feel a little like death. I think my cappuccino must have accidentally been full caf. To preface, I'm super sensitive to caffeine. It runs in my family, but when I developed my stomach illness my caffeine tolerance dropped to zero and it makes me really sick now. I started to feel really sick and shaky. It felt exactly like one of my flare ups. I hoped that Crossfit would make me feel better. I walked up and almost turned right around because I felt so rough. Luckily, copious amounts of stomach meds and some movement helped me feel a little better.
The workout started with an EMOM for 10 minutes of 3 burpees+1 deadlift+hang power clean+jerk. I stuck with 85# because I was still really shaky and didn't want anything too heavy overhead.
The WOD was 2 8 minute AMRAPS of 200m run, 10 russian kb swings, 10 overhead lunges at 55#. Lunges are still a little hard for me with my foot. I can't get my knee to the ground on one side without over stretching it.
After my workout, I did feel better but still rough. I decided that there was no way I could do my cake trial. I decided to take it as a sign from the universe that maybe I'm not ready, and not as healthy as I thought. Plus, when I got back to my car, I heard a commercial about all kinds of GF products, which I've never heard anything like before. Another sign. I don't normally believe in non-baseball superstitions, but come on.
On the plus side, from an academic perspective, it's very interesting to better realize that too much caffeine feels the same as a flare up, and my flare ups probably involved over activation of the central nervous system. Huh.
After my workout, I knew I needed to get some food in. This WIAW sure didn't go as planned, but that's life.
I knew I was low in calories for the day (I don't think I got nearly enough food in after cycling last night) and needed to make sure I got something in without making myself feel worse. I had some GF crackers and a plain piece of GF bread while I started making soup.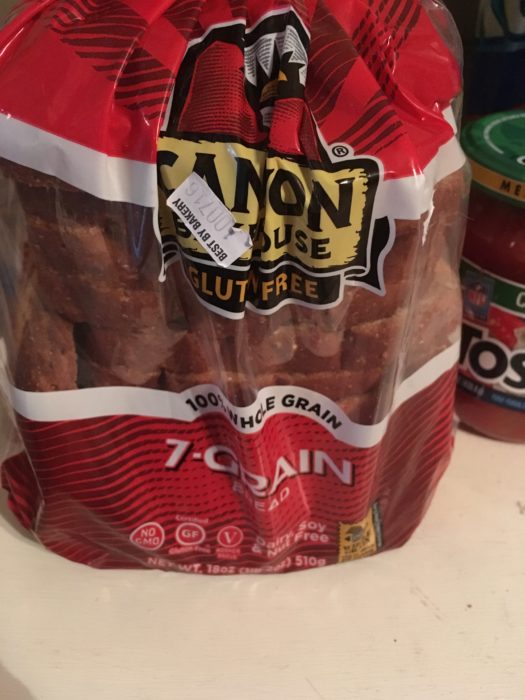 What made the biggest difference in how I felt was making some hot ginger honey water. Discovering how much ginger helps has been life changing.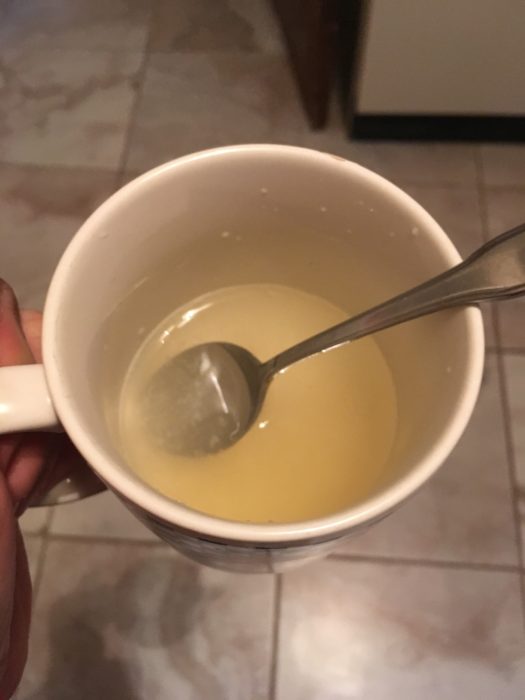 It's funny, the soup I was making I used to consider my "magic soup" back when I was really sick this past winter. It cured several flare ups. I was actually planning on making it before I even had wanted to do a trial, so I guess it worked out! I did it the lazy way though. The recipe for sweet potato, pear, and leek soup is here. I cheated.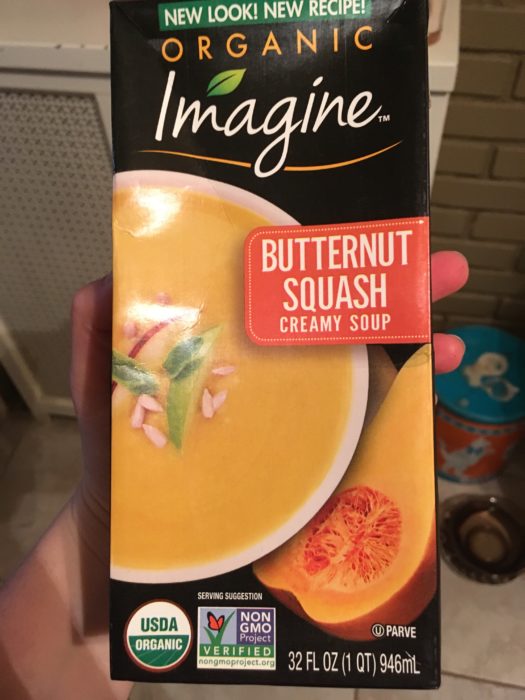 I wanted to use sweet potato soup, but couldn't find any. the butternut squash worked out perfectly though! I took the boxed soup and added the pear (I cooked it then blended it in to a little of the soup before stirring everything together—it's a small blender), and then adding all the flavorings. I halved all the spices because I was making a smaller volume (except ginger because #magic). And then made the croutons.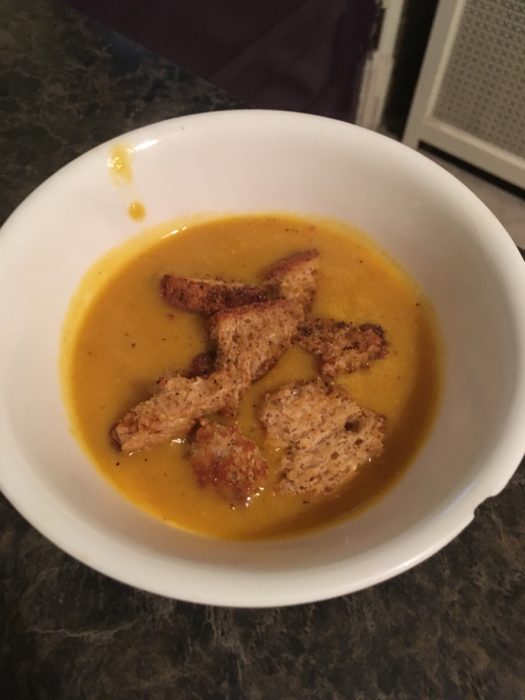 I swear I felt better with each bite.
Finally, a little bit later, I had a Luna bar because I needed more gentle food.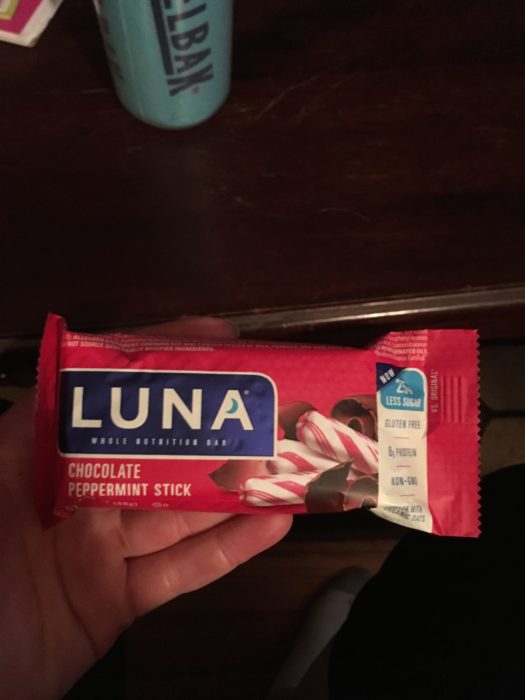 As for the gooey butter cake? It did not go to waste. My intern buddy came over to take care of it and watch baseball with me 🙂
So was I a guinea pig today? Not in the way I was expecting. But seriously, what are the odds the one day in the year I got caffeine was the one I had planned on trying gluten for the first time in a year? Unless the act of buying gluten caused me to flare? haha. Honestly I felt like I was doing something illicit, buying the cake.
So I guess my trial is on the shelf for now….
I apologize for the depressing health-related turn this post took—it was definitely unexpected!