I know, I've been a bad blogger. But I did want to squeeze in a day in the life post, so here it is!
5:30am: Kittens don't understand the time change and start wrestling on my bed.
6:05: I finally get up.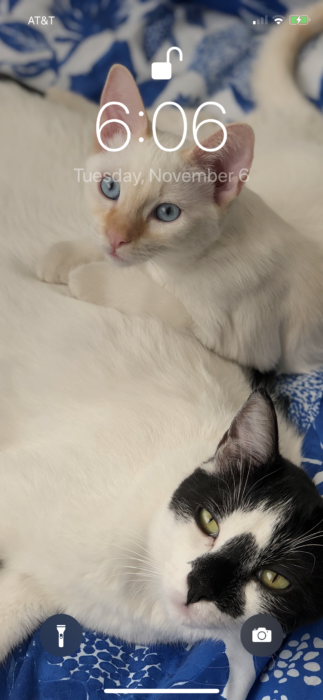 I get ready for morning Crossfit and eat some Cheerios.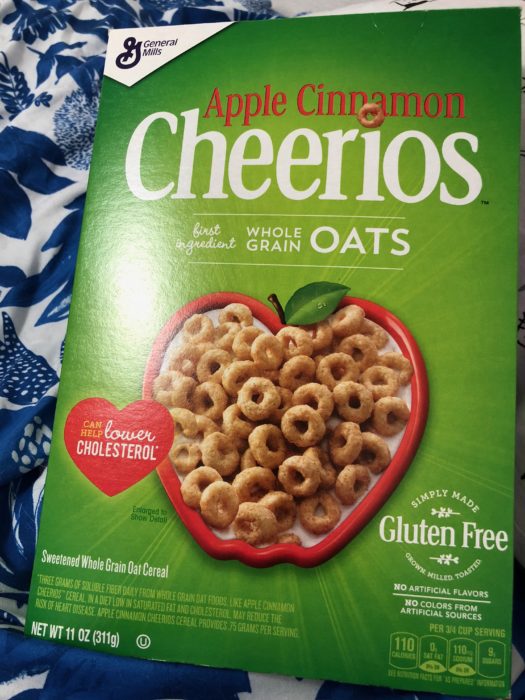 I was up earlier than I needed to be so I had plenty of time to snuggle kitties.
6:45am: Leave for Crossfit.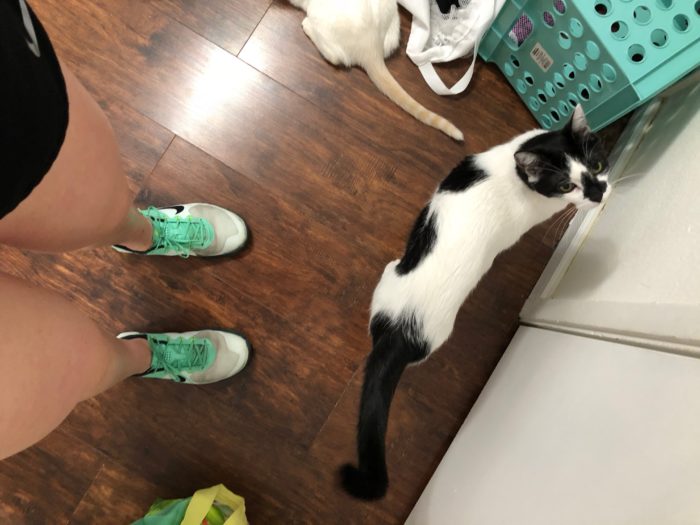 7:00: Crossfit. For strength, the rest of the class did cleans and I did snatches. My wrist has been feeling a ton better but cleans are going to be the last thing I'm able to do. The WOD was a long one.
100 sit ups
400m run
75 push ups
400m run
50 box jumps
400m run
Oof. I did push ups on a box because I am not strong enough and it's easier only wrist! We ended up finishing class a few minutes late, and then I hit really bad traffic going back, so I was fairly flustered and rushed when I got back!
8:20: Arrive home.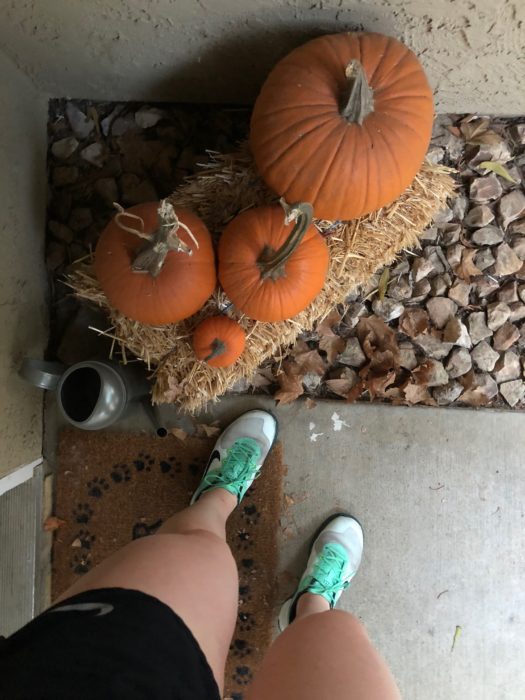 8:25: Sit down to breakfast. I did a 9 mile race this past Sunday, and ever since then I have been so hungry! I was starving and had a few bites of chicken from soup that I made the other night because I knew my breakfast wouldn't hold me over. This hunger will be a theme of the day, haha! Breakfast is cottage cheese with an apple from my Apple Hill weekend (where I did the race) with sunbutter.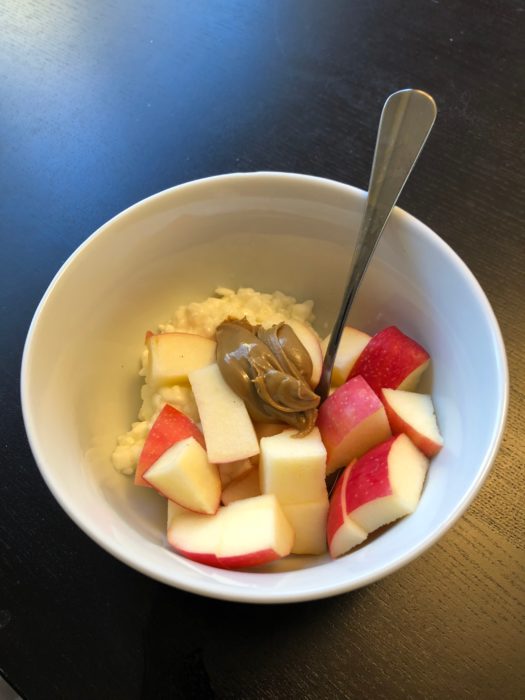 8:45: Leave for class, more or less on time. We have lab today so I'm in scrubs, so thankfully getting ready is pretty quick!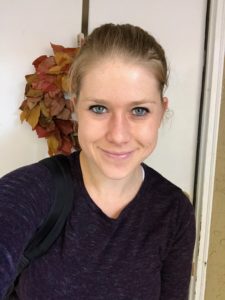 9:00: First class of the day! We just started Reproduction, so I'll spare you guys pictures.
After my first class, I actually ate a full size 3 Musketeers bar. Someone put out a big box of giant candy bars and I haven't eaten a full sized candy bar in years, plus I was quickly burning through my breakfast so I just went for it. I only intended to have half but ate the whole thing and don't regret that at all. I was expecting to feel sick afterwards, but again, my metabolism has been on fire since the race so I was more than hungry at lunch, after another couple of lectures!
12:00: Lunch at home. The handyman was supposed to come and I had a big gap between classes so I went home. On the menu was a big salad with persimmon, deli turkey (I recently started buying nitrite free deli turkey), cranberry goat cheese, and balsamic vinaigrette.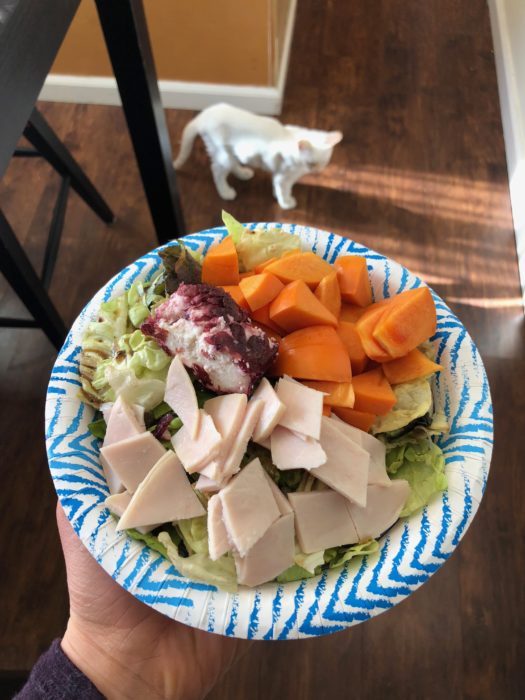 I also had a square of dark chocolate.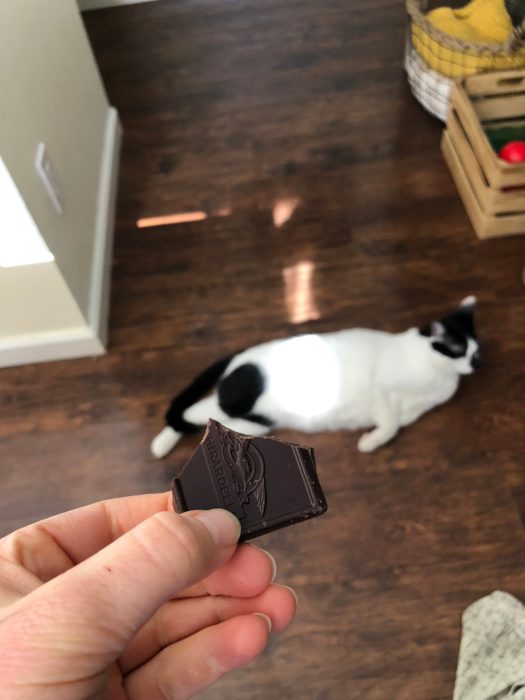 I watched an episode of Parks and Rec while eating. I don't love it yet, but I'm still giving it a chance, and I needed a shorter show.
12:30: Study! With a side of wrestling kitties.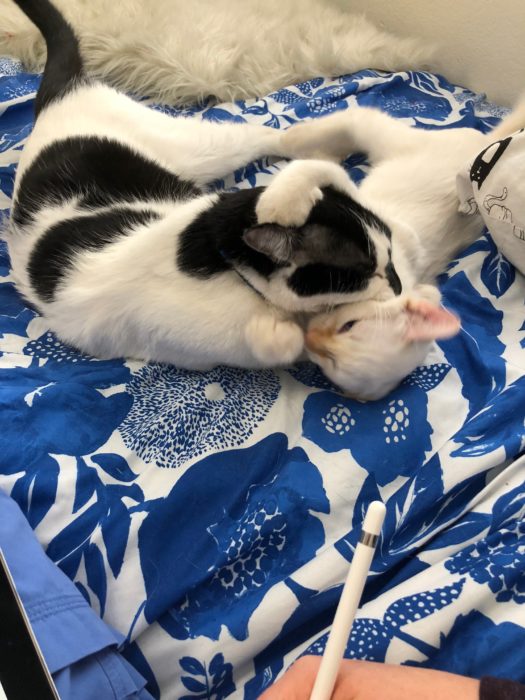 Marie's current obsession is to climb on my shoulder and bite my hair.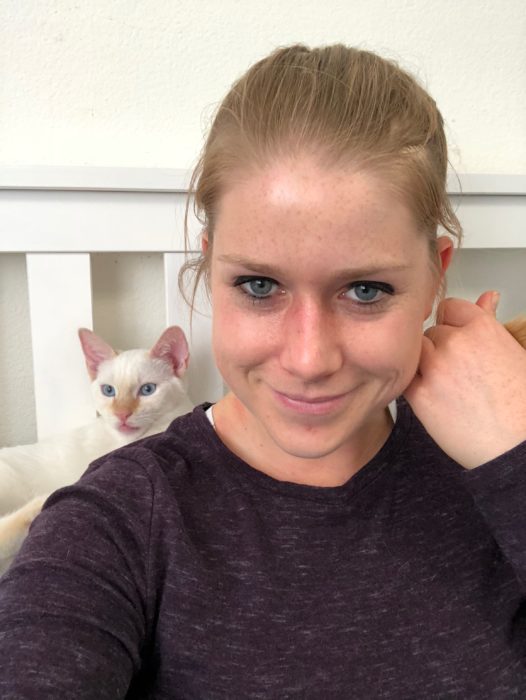 Which usually quickly progresses to this: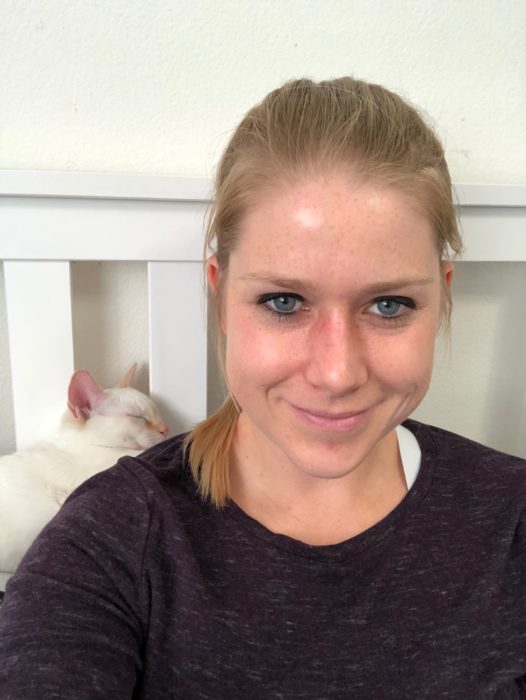 1:45: I'm hungry (again) so I have my afternoon snack.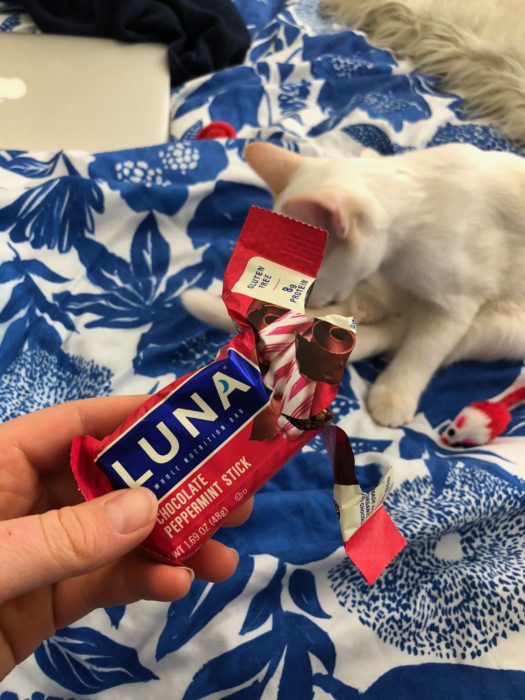 2:20: Take a short study break to start typing up this post.
2:35: Leave for lab.
3-4:30: Anatomy lab! Today is male reproduction.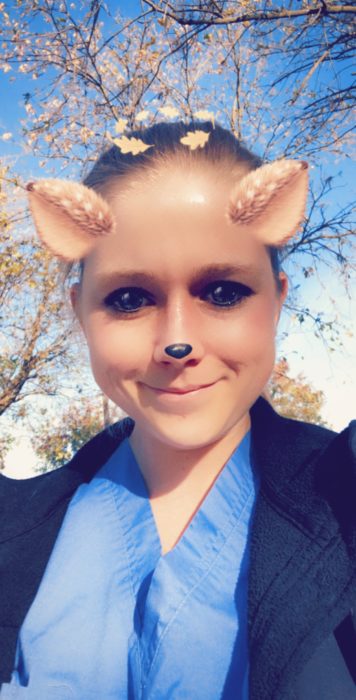 4:30: Out of lab a little bit early, but it's already getting dark!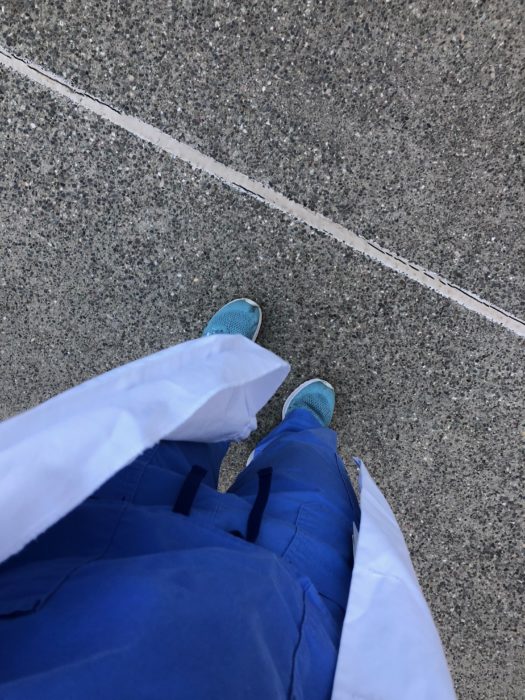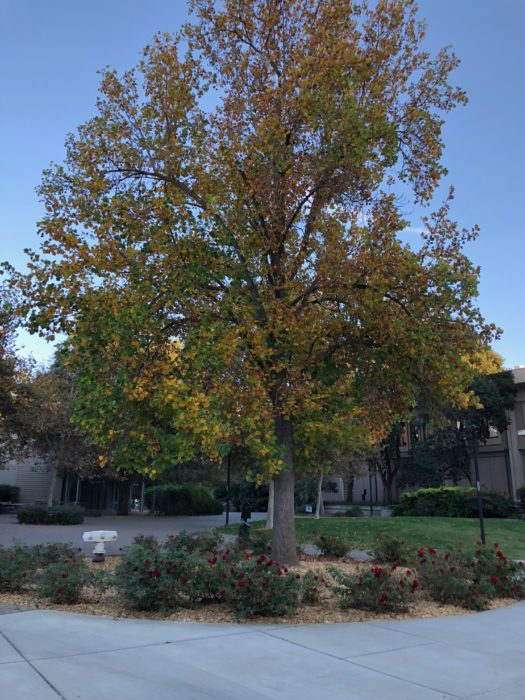 4:45: Arrive home. I'm hungry (shocker) so I pick some veggies out of the soup I made.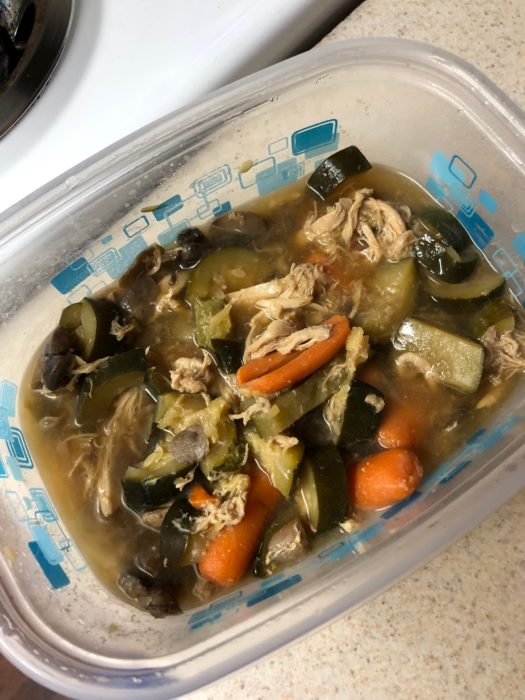 Then it's study time with the two babies!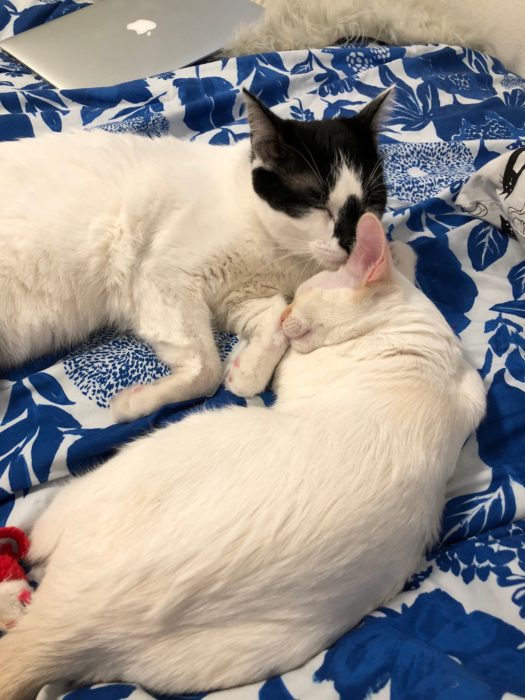 5:45: Leave for soccer! We have a vet school team in the intramural league. Today's game was against the 3rd year vet students and we sadly lost in penalty kicks! I still had fun and my ankle is not thrilled with me.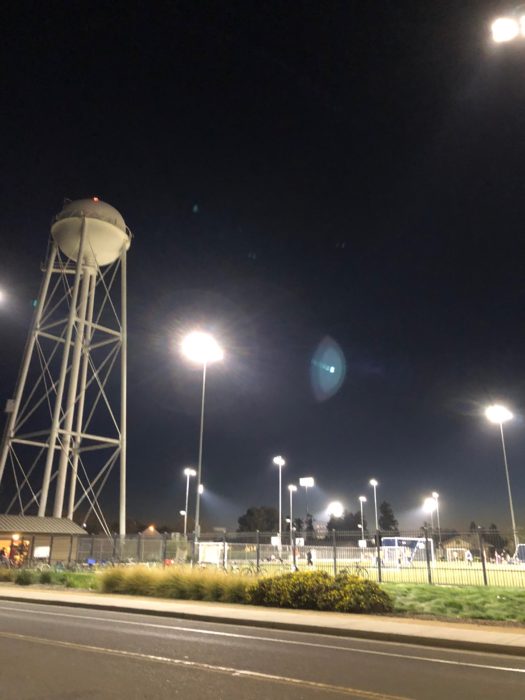 7:30: Finally sit down to dinner with an episode of Netflix ( I just started Riverdale). No matter how busy I get, I consider my Netlfix and dinner time sacred! On the menu is a stir fry of sorts. I microwaved some frozen stir fry veggies and then sautéed up tofu and spaghetti squash (Kind of weird, but sort of like chow mien!) with GF teriyaki sauce and served that on top of my veggies!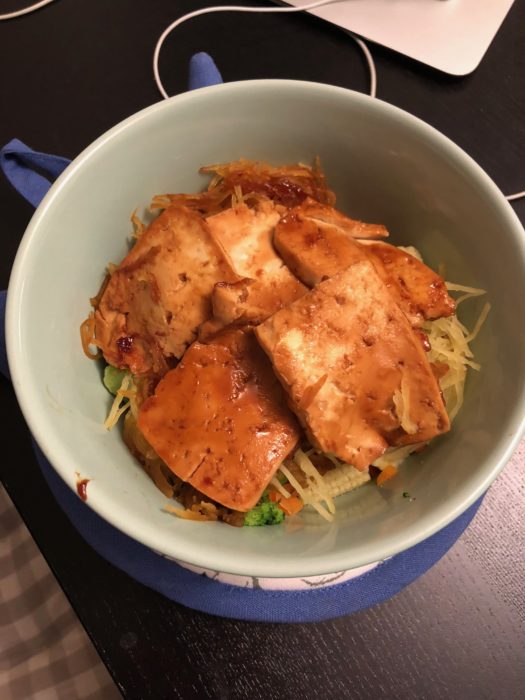 For dessert, I had a mini sunbutter cup and a GF snickerdoodle.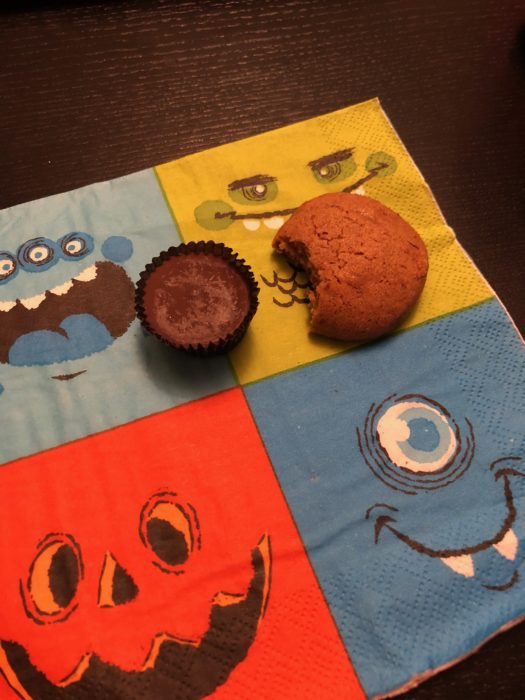 8:00: Have a few more Cheerios while icing my ankle.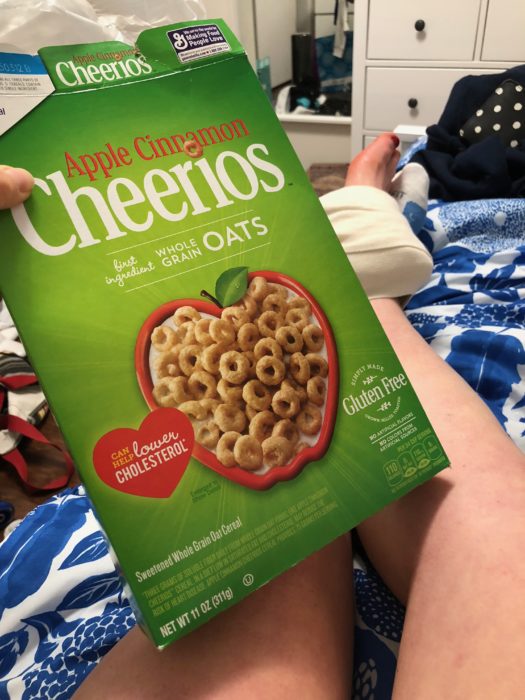 8:20: Pick out an old spin playlist to teach tomorrow for Sunrise Cycle at 6:15am! I have actually a million old playlists to choose from. I teach 3 classes a week so I definitely don't make a new playlist each time, but I have so many from years of cycling that no one will ever hear repeats!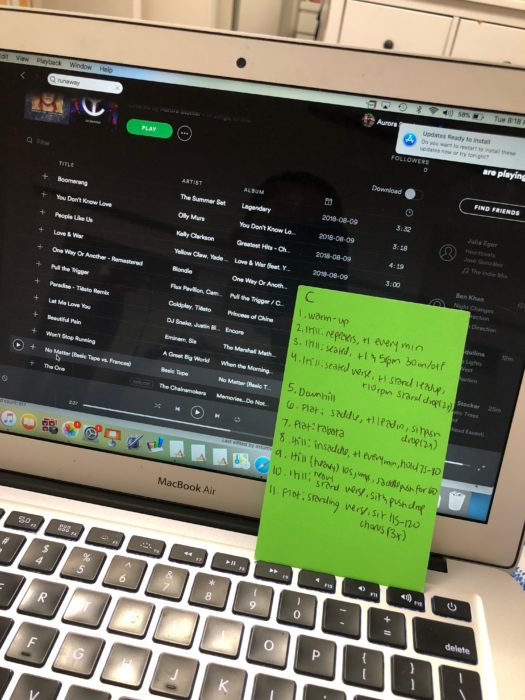 8:25-8:30: Finish up this blog post. Before bed I'm going to try to squeeze in a little bit more studying or work on some emails, but on nights before I teach early morning spin, I try to be in bed reading a book and getting sleepy at 9, and asleep before 10!