Hello, hello! It's Friday night here, or so I'm told. I honestly have been really struggling to know which day of the week it is with my schedule! Today is technically my Tuesday? I think? I start late tomorrow though, so I thought I would take some time tonight to recap what I ate today!
Pre-workout: Handful of Berry Cheerios
Workout was 6am Crossfit. We did shoulder presses, and then a WOD with lots of dumbbell snatches and toes to bar. Big progress for me was having no issues with the snatches. Doing these last back home in California, the extra couple of inches closer to the floor with the dumbbell versus the barbell was a big problem, so that's good!
Post-workout breakfast eaten in the car: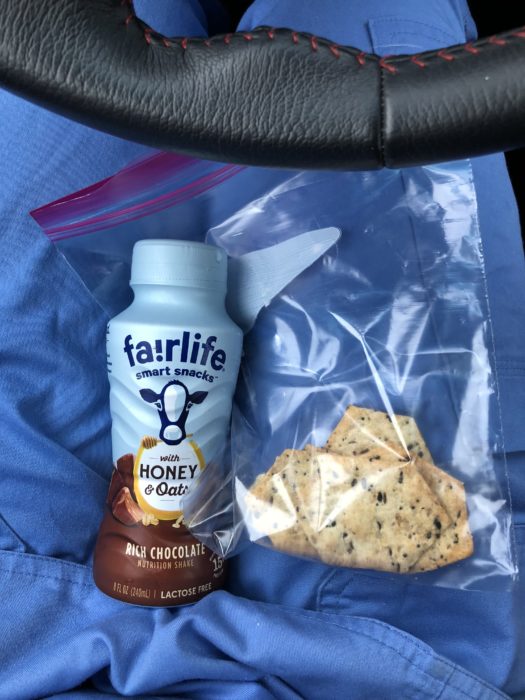 Chocolate milk drink plus some crackers. Can we talk for a second about that fact that Crossfit ended at 7, and I started work at 7:30? I got showered and totally ready to go in 10 minutes. One trick is to do (minimal) eye makeup that's waterproof before Crossfit. It helps me look somewhat put together!
Lunch:
I've had roughly the same salad every day at work, but this was especially amazing. The nectarine was perfectly sweet and ripe, I used the last of my delicious fig balsamic goat cheese, and the chicken was amazing. It's leftover grilled chicken from Hattie B's; the original meal will appear in a later recap post but this was awesome.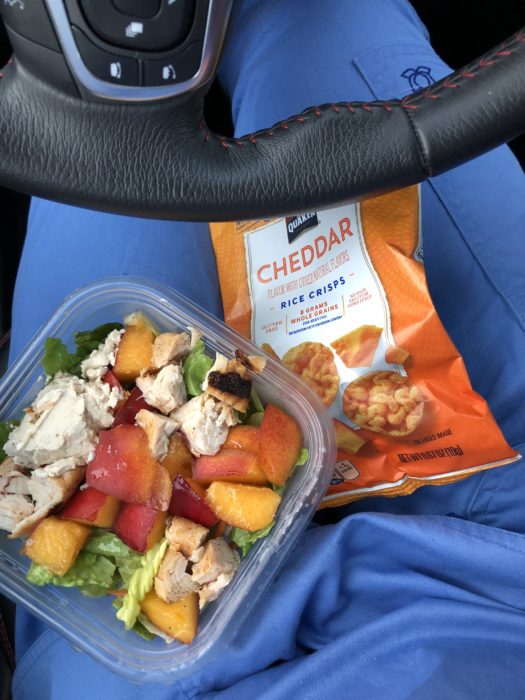 I also had cotton candy grapes. I first tried these in St. Louis almost 2 years ago and became obsessed. I've never seen them in CA. I thought that they MUST have them somewhere here, and went to every grocery store until finally I found them at Publix!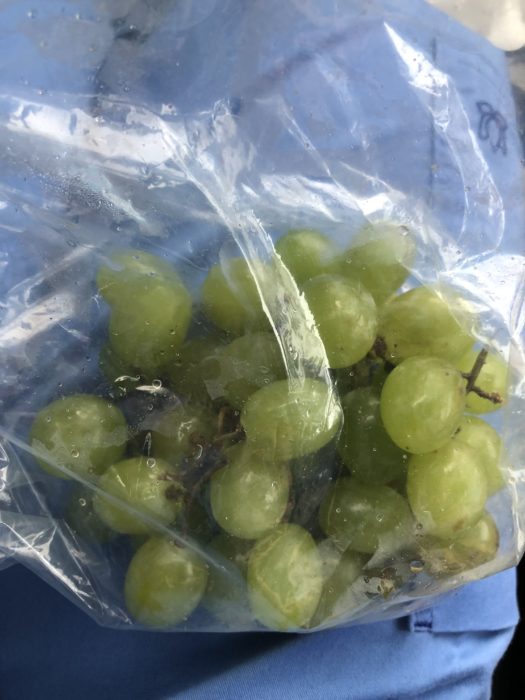 I had to stop into Target to pick up a few things on my lunch break, so I had a few pieces of this:
Snack: I've been having a Luna bar every day. I haven't had the Lemon flavor in a while, and after having it today, I realized that the last few of the Lemon bars I had months ago were probably stale because this was so good!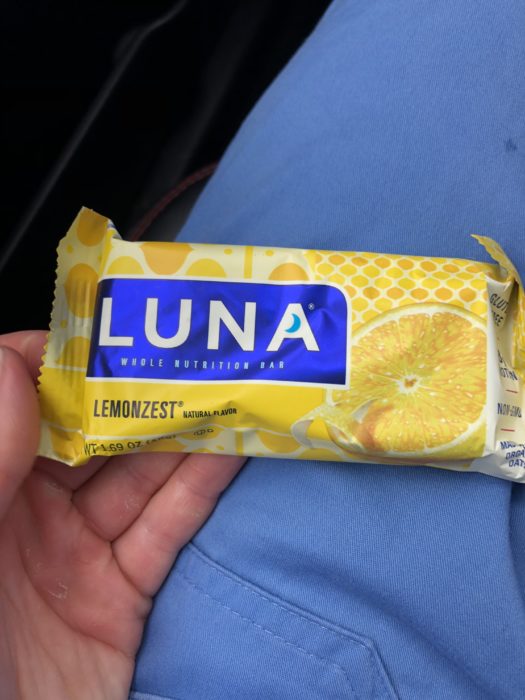 I was actually really hungry today, so around 4:30 I broke into another Target purchase, one of these new protein bars I found. I used to love ThinkThin bars in the days prior to my weird nut allergies, so I was excited to find a kids bar that didn't have any! I actually liked this a lot. It didn't have the weird fake sugar taste of some of the other ThinkThin bars I remember. This reminded me a lot of the Balance Cookie Dough bars I used to like when I was younger! Plus I love having a smaller bar option for when I want just a little something.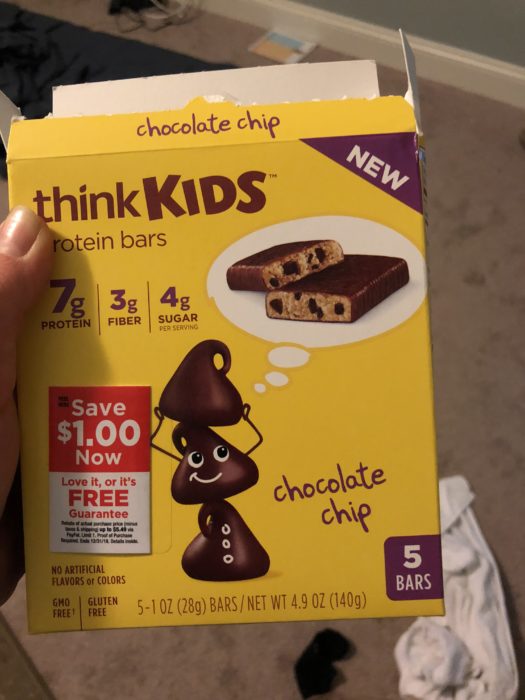 Dinner:
Since I'm impatient, I often snack while cooking. Today's snack was some tzatziki sauce from Taziki's leftover from some takeout I got earlier in the week, with some crackers.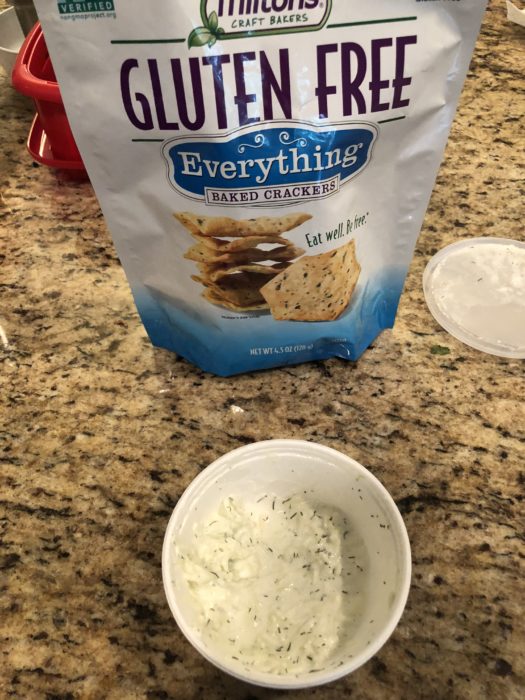 Dessert:
Mint chip Halo Top.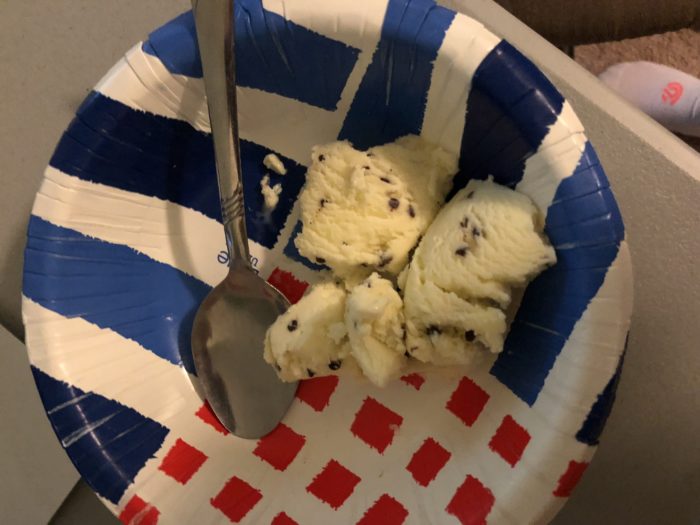 And then a little bit later, I had some GF crackers with sunbutter.
And that's a wrap!