Hello! I feel like over the past few months I've started out every single post with "it's been a while," so let's just skip that and dive right in. I'll say now that I'll just put all the kitten pictures at the end 🙂 I figured this would be a good time to catch up on food, and some fitness, per the name of my blog.
I'm now a little over a week into school after break, to put things in perspective.
Fitness-wise, it's the usual per my injury. Crossfit. Spin. Some yoga. No running. I tried Core Power Yoga over break with my friend. First week is free! I liked it but didn't love it, but I'm proud of myself for acclimating to a hotter room. I don't really like hot yoga, but I tolerated the heat. For the hotter class I went to, I tried to stay by the door where it was cooler but got moved right under a heater. I survived.
I really enjoyed being back at my home Crossfit over break. It was nice to do a slightly different style of workout. They just started the 20 reps of press/squat in preparation for the Open, so I've decided to do a little bit of that on my own. I actually thought to come to my blog today because I'm going to do my own little weight lifting workout, which I try to do once a week to work on strength we don't do as much at Crossfit. It almost always involves squatting.
An update on my bone bruised ankle: I think it is getting better. I've been mostly sedentary since coming back to school, and I've been trying to be good about icing+electric stim daily and I think that has been helping! Still a ways to go, but progress is progress! We're currently learning all about bones and bone injuries in school, so that's also been something interesting to think about.
Ok. Food. It's been a while. (I know I said I wouldn't say that!) Note: Jackson is featured somewhat heavily because he wants everything I eat. I'll do a full Jackson update at the end of the post.
Spaghetti squash tossed with parmesan and topped with spaghetti sauce, fresh mozzarella, and basil.
My favorite ice cream shop from undergrad just opened up right next to my hometown, and on the final weekend of break I finally made it over there! I got chocolate.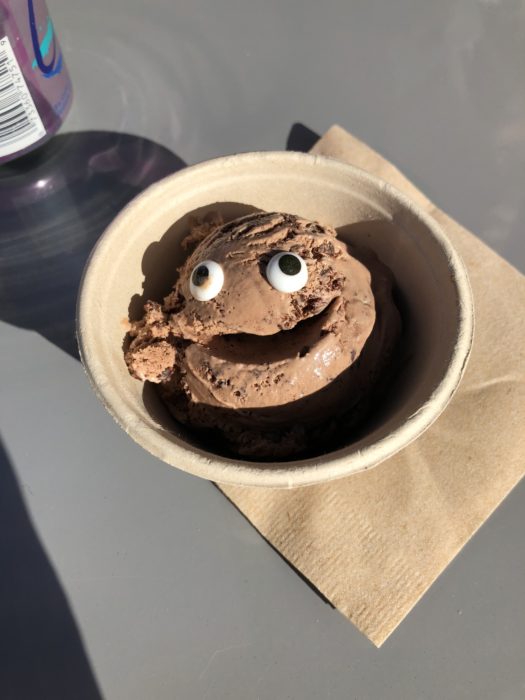 Also new in town at home? A restaurant called Avocado Toast. You know I had to try that out. I got avocado toast, and a salad to split. It was good, but not anything you couldn't do at home. But worth it for the spectacle.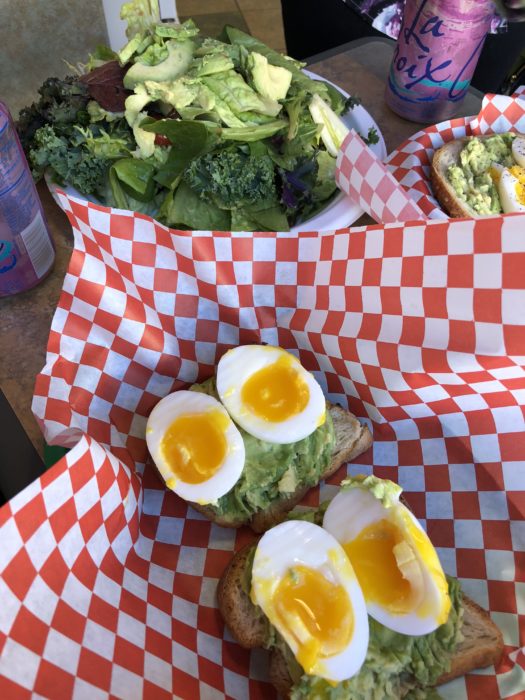 One final night of break with my best high school friends, beer, and Chloe.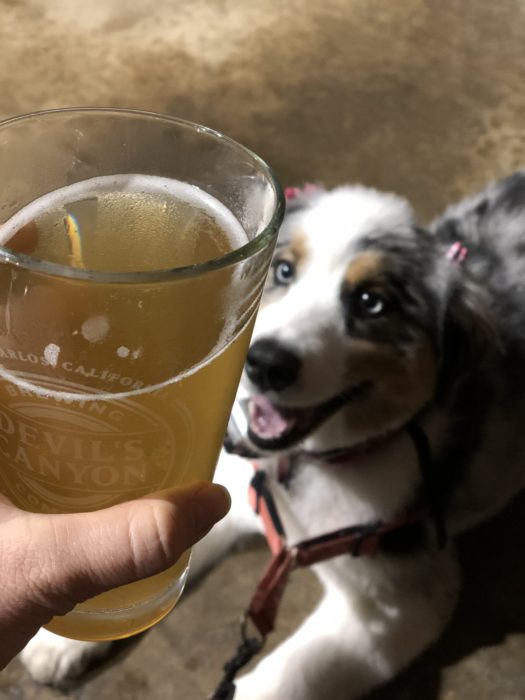 Gluten free chocolate chip bundt cake.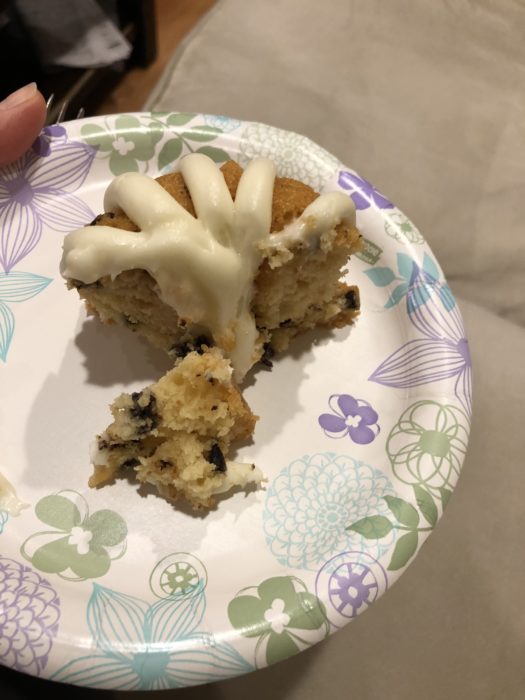 This recipe is for a quinoa, chicken Tuscan style stew. No idea where we got the recipe from originally, but it's really interesting because it has olives in it! Gluten free biscuit on the side!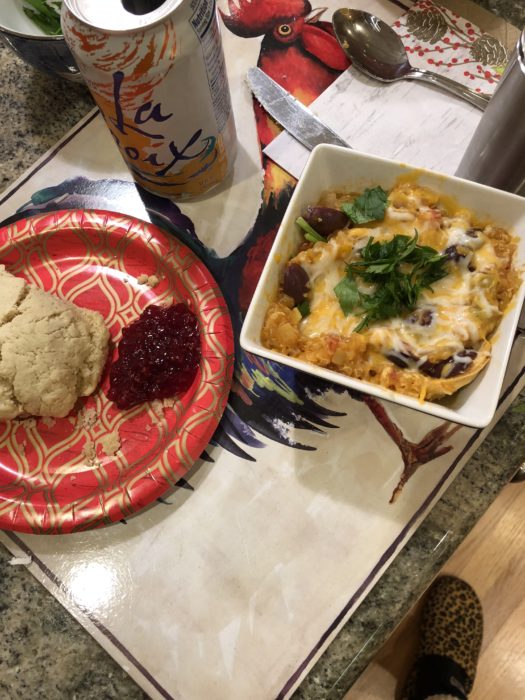 I had this salad for lunch one day at home and felt like straight up health. Kale massaged with balsamic vinaigrette, warm spaghetti squash with garlic, salt, and pepper, and fresh mozzarella. Seriously, I feel like kale energizes me!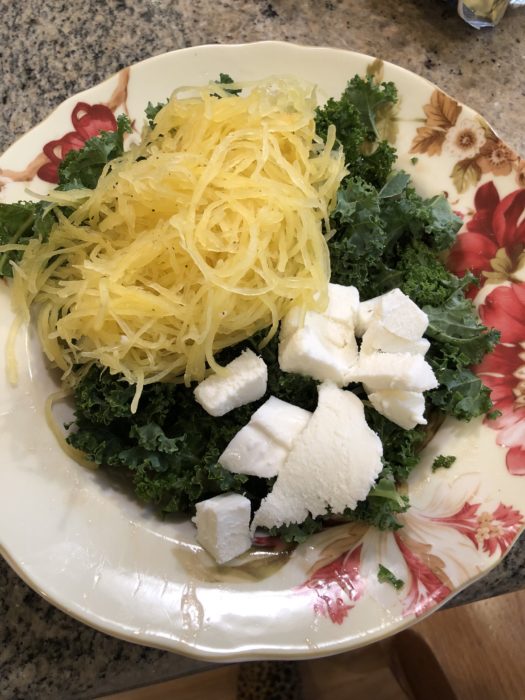 Lunch at my family's favorite Chinese restaurant at home (you know everyone has their favorite Chinese restaurant). Vegetables and chicken with fried rice.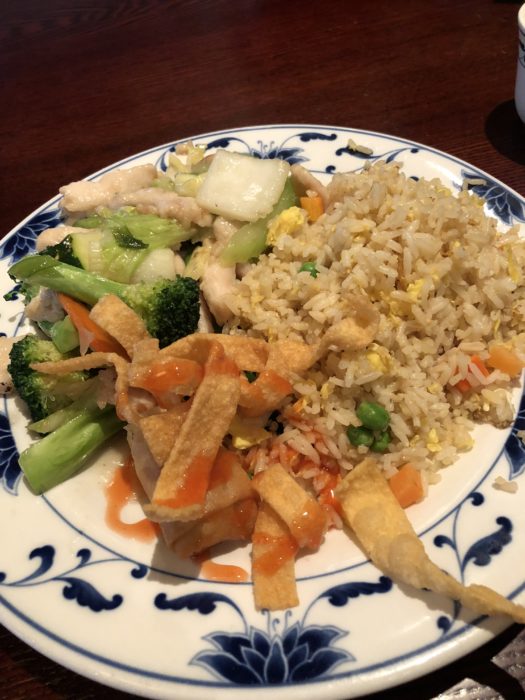 Flourless banana bread (with oat flour). This was one of those things that I didn't love at first bite, but I loved it as a healthy breakfast throughout the week (especially when I had early physical therapy every morning of break). I'm super into oat flour right now, and I feel better when I eat quick bread with oat flour vs. regular gluten free flour.
.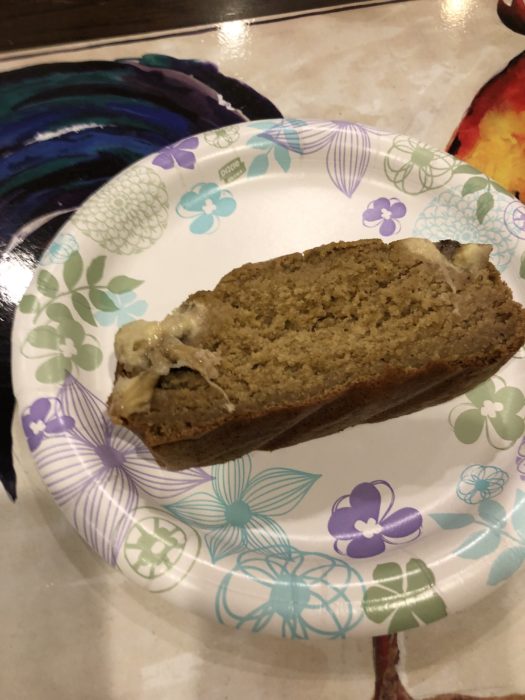 If there's ever a recipe you need to make, it's this one. It's Cooking Light's Light Macaroni and Cheese, but the awesome part is it gets a lot of the creaminess from butternut squash. It's delicious. Even my picky foodie of a sister makes this (with truffle oil though, of course). Served with roasted brussels sprouts.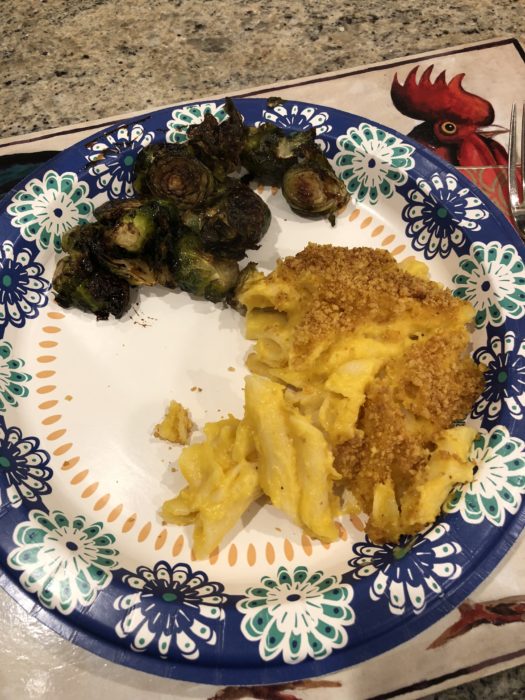 Cranberry orange bread. I used this recipe, but actually un-veganized it (because allergies). I added chopped chocolate orange to the top. I actually over-cooked this a little bit, and my mom ended up making me another loaf, but with oat flour, before I went back to school. It came out absolutely amazing. I was planning on freezing some, but I ended up eating a generous slice for breakfast every day that week. 100% obsessed with oat flour. It was super moist, and I was smart enough to stick it in the fridge so it wouldn't get moldy.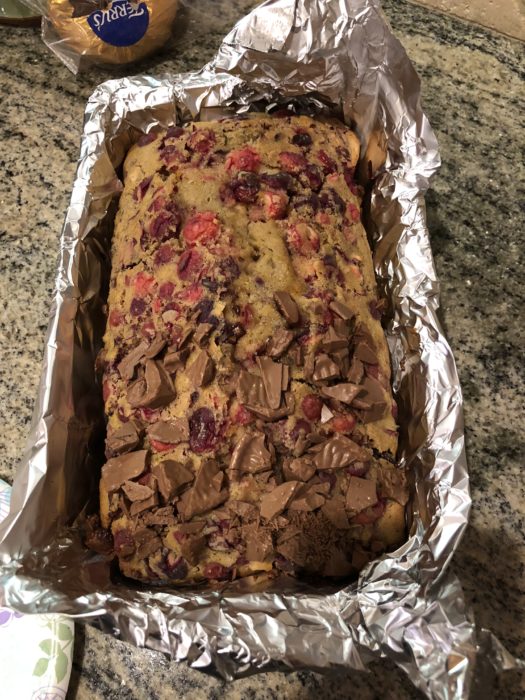 Teriyaki chicken taco from our favorite Mexican restaurant at home right before driving back to school.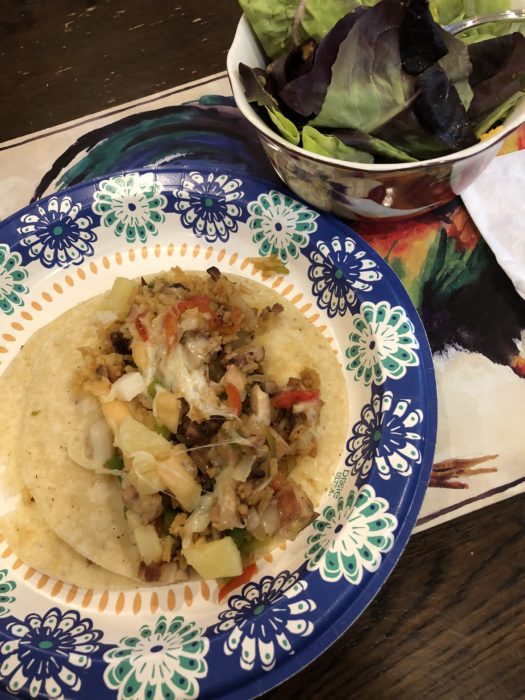 Breakfast all of last week: cranberry orange bread with oat flour, and an orange. And Jackson.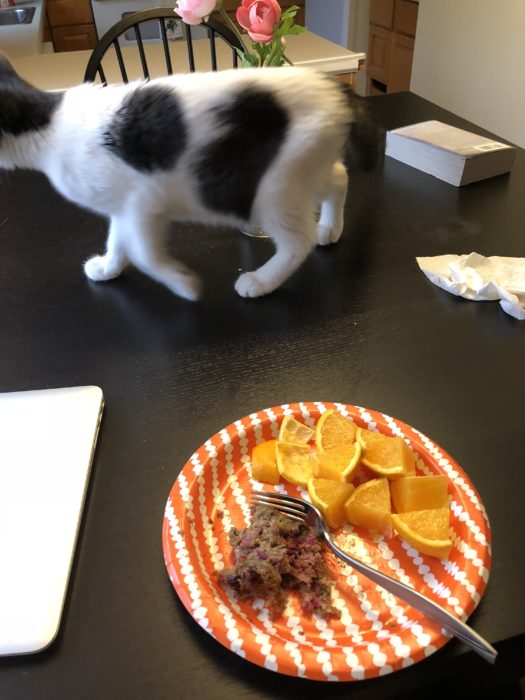 Out of my 40+ pounds of persimmons, I'm down to my last one! This salad was the usual persimmon, goat cheese, and grilled chicken. And again, Jackson.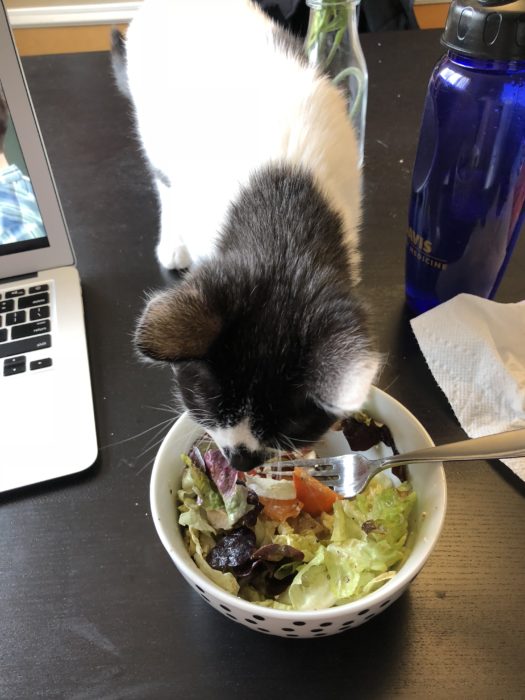 Same salad as before, but with Pirate's Booty. Which Jackson apparently likes as much as Chloe!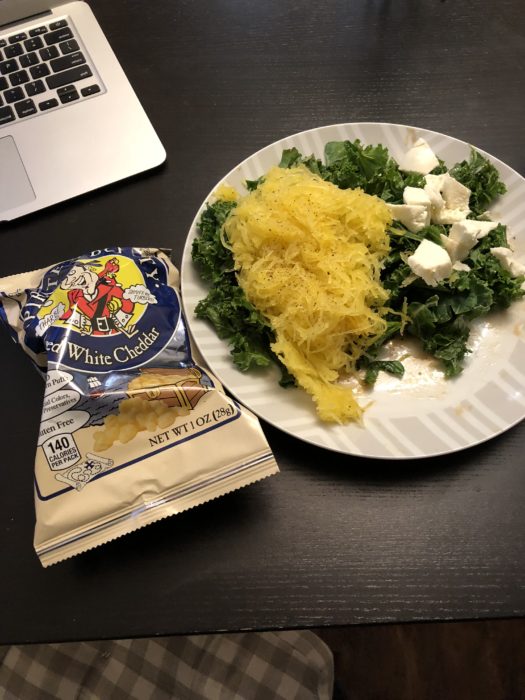 Same persimmon salad.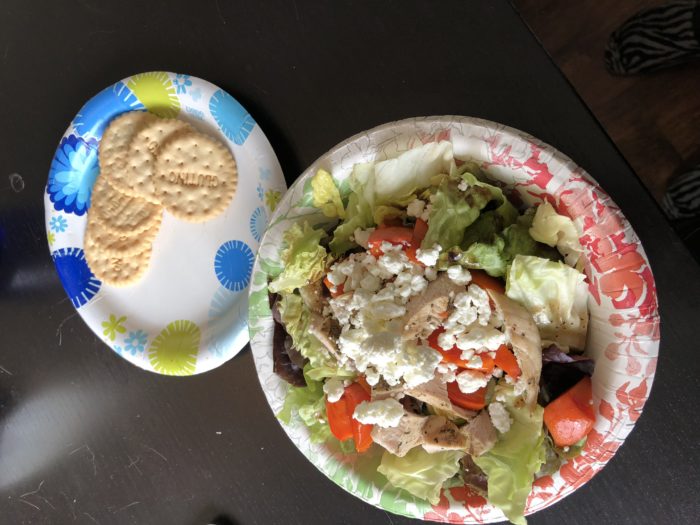 Leftover macaroni and cheese with a side salad. This was on a day where I couldn't help but think how much easier it would be a human doctor, and therefore how nice it was to just pull stuff out of my fridge for dinner. We had a lab with every bone of multiple species, and it was a lot!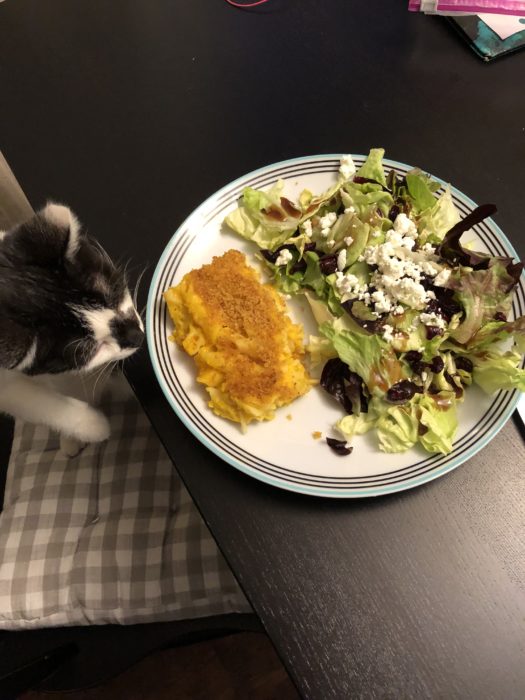 Finally trying the elusive 4th Davis brewery, which is lesser known, Dunloe. It was good! I had a delicious Saison.
Last weekend, my friends and I got together for a vegetarian potluck. I made the salad with apples, dried cranberries, aged cheddar, and balsamic vinaigrette. My friend made a delicious zucchini and eggplant lasagna, another made a carrot tahini soup, and there were tons of chips and dip. Plus pie! Even a GF one!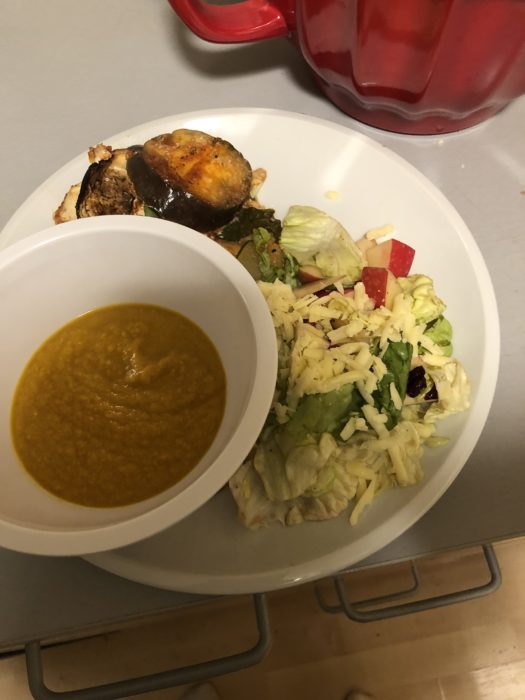 My parents came to drop off Jackson's cat climber, so we got lunch at the local salad place. This featured beets, butternut squash, apple, grilled fennel, roasted turkey, and a Dijon dressing.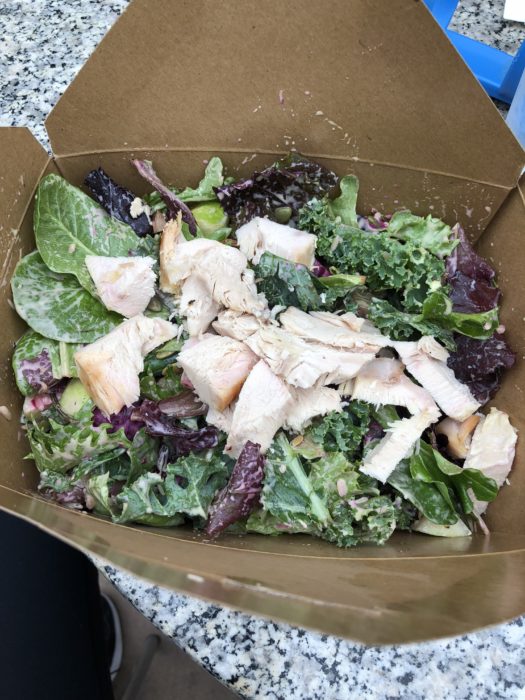 Dark beer+pup with my parents.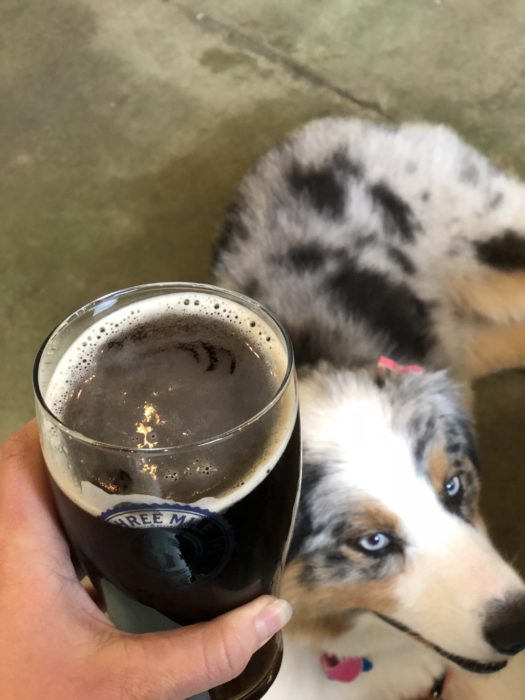 I actually managed to flare my stomach yesterday which was annoying. Especially since it was the day before our first dissection lab.I've gotten really good at managing it though, and took the necessary steps. By the end of the night, I was feeling basically 100%! Steps: exercise, kombucha, and magic ginger soup.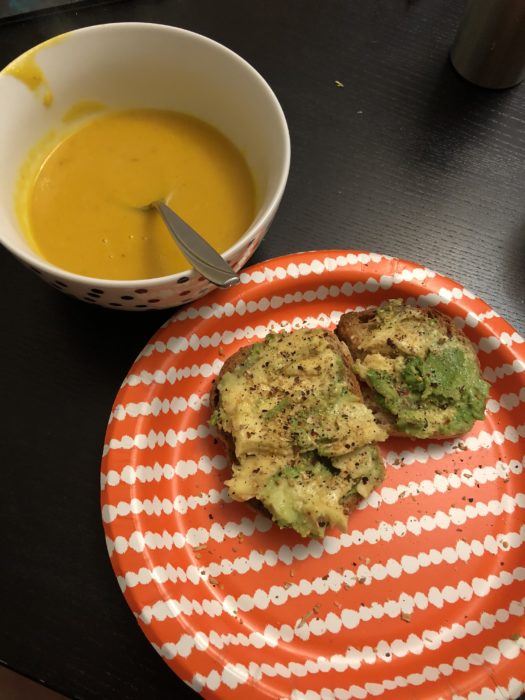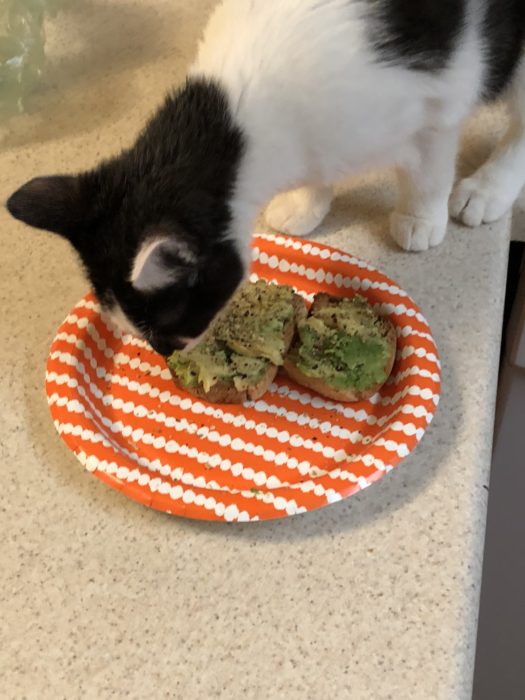 I made berry compote, and put it on top of yogurt with a banana and a little honey.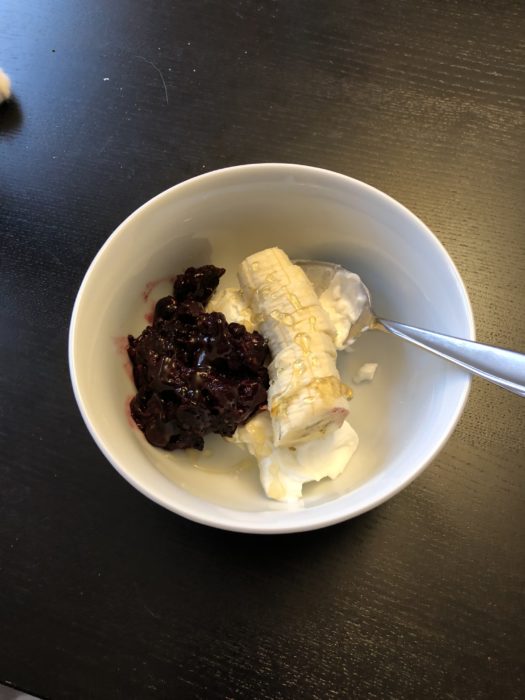 Apparently Jackson loves yogurt. This breakfast was really hard to make because every time I turned around, his tongue was in my bowl.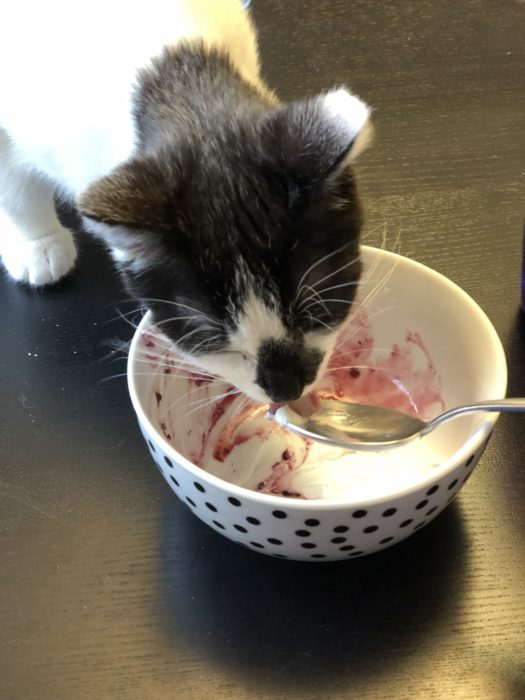 And finally, avocado toast and a salad with sautéed butternut squash, kale, lettuce, aged cheddar, an egg, and balsamic vinaigrette.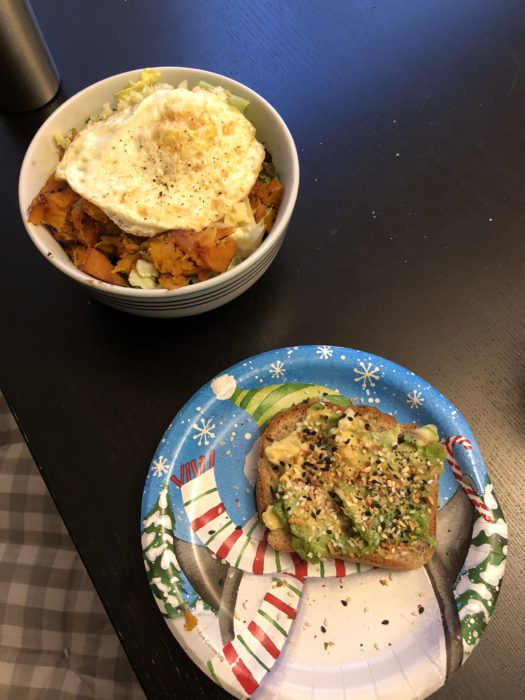 Phew. Ok. So,  Jackson Update. He adapted remarkable well to living at school with me! He hid for about a day, but then around his wild time he was walking around and exploding. Now, he's a little ball of energy. The first few days were rough because he was locked in my room, so he didn't get his energy out before bed, resulting in early, early morning wildness that woke me up. Since getting full run of the house though, he gets his crazy out before bed.
He's growing quickly. He was 5 pounds when I weighed him his first morning here. For reference, he started out as 3.4 pounds. He still has very prominent pelvic and shoulder bones, which is fantastic for me to practice palpation on since we're learning about those bones. I can feel everything! He eats lots, and always wants what I'm having, to the point it's difficult to cook anything without him sticking a tongue in my food. The other thing that is driving me crazy is he's developed a weird obsession for getting into the kitchen sink, licking dishes and then tracking wet paw print everywhere. I think as I made/ate dinner tonight, I probably threw him out of the sink 15 times.
He and Rina are not friends yet, but she seems to be hissing/growling less. He keeps his distance, and she doesn't seem stressed, just annoyed that he's here. Jackson currently has 1 adult fang, 2 baby fangs, and 1 with and adult and a baby still there. He was in a crazy bitey/playful in bed phase a couple of days ago, but it seems better the past couple of days! One of his favorite toys is a mouse attached to a string and stick, and he pulls the mouse around, dragging the stick. It looks so silly! Ok, photo time! Some of the pictures are back home with the other kitties as well.