It's totally normal to celebrate the end of a test by buying 5 pounds of zucchini, right?
This time I didn't even try to get a smaller bag because I'm confident I'll go through it!
Today, I'm going to catch up on all the delicious (often zucchini-based) meals I've been eating, and also talk about a little fitness!
The fall weather has me craving longer distances, running-wise. My foot (post stress fracture a year ago) is starting to feel really solid. My tendonitis is feeling better….although it seems to have been replaced by my old plantar fasciitis….
Anyways, I think I'm going to slowly and carefully start building a little more distance. Maybe do another half, if everything feels good. Not soon, I'd be shooting for the spring or even next fall. But for now, I would love to do a 10k! I'm a faster human than I was before when I was doing more runs. So I'm going to play around with it, and see what happens! I miss my Sunday morning long run tradition! I actually don't think I've really run more than 3 miles since last November, when my foot got pretty sore for a while after a 5 mile run. So we shall see!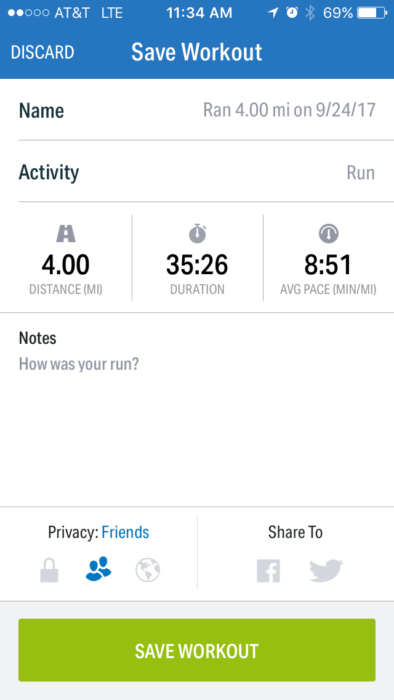 Otherwise, I've been doing basically all Crossfit lately. I need to get back to spin classes, and yoga. While Chloe was here, I didn't run at all (just walked a ton!) in an effort to get my plantar fasciitis to feel better. It's not bad, but I'm trying to really take care of it!
So let's go through, shall we?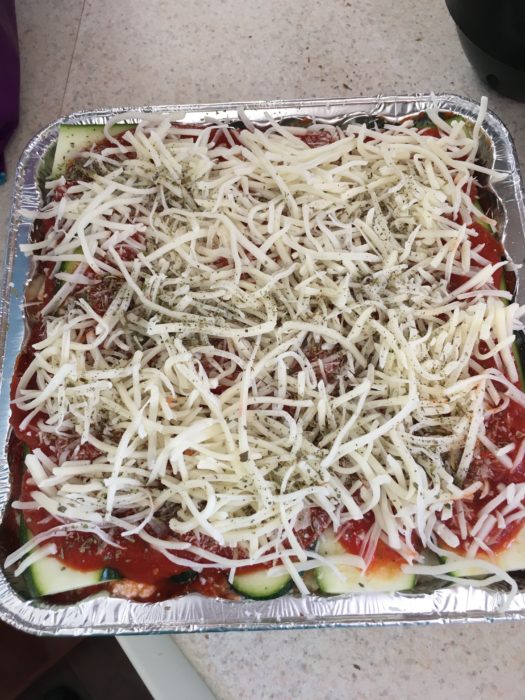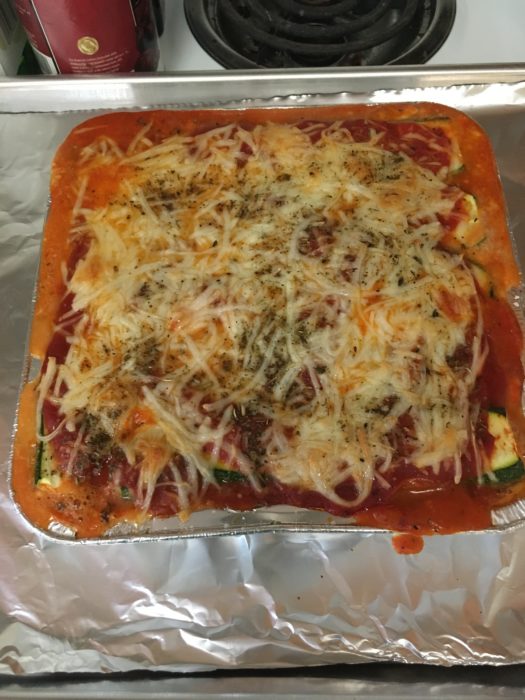 I finally made zucchini lasagna! It tasted great, but presentation left a little to be desired.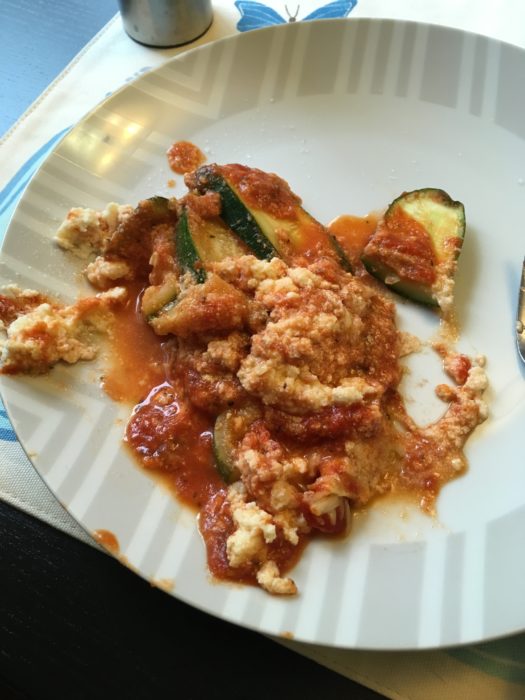 I had 2 layers of zucchini noodles, with a ricotta-parmesean-+1 egg in the middle, with tons of pasta sauce, and topped with mozzarella. I froze most of it for when things get crazy (or I get lazy).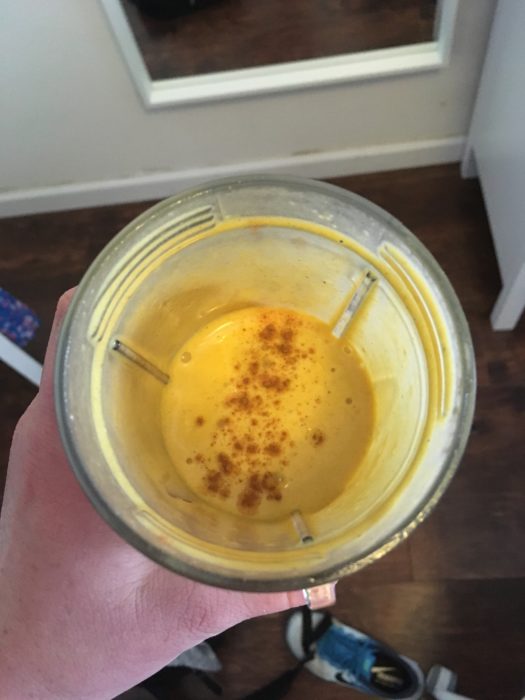 Pumpkin smoothie! I genuinely thought this was going to be disgusting, but it was actually delicious! I blended up half a packet of Flapjacked vanilla smoothie mix, half a frozen banana, half a cup of milk, half a cup of canned pumpkin that I had leftover, plus tons of cinnamon and pumpkin pie spice. Yum!
In other zucchini news, once I bought another large batch of zucchini, I invested in a more legit spiralizer and it was the best decision. 100% worth it, and I love it.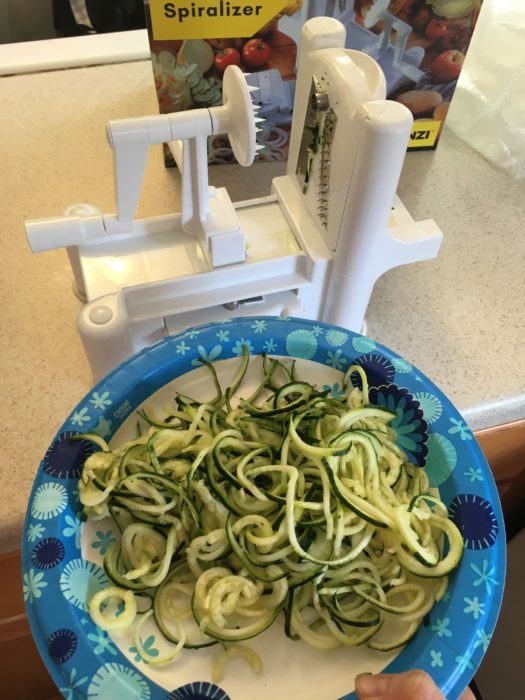 SO I've been making tons of zoodles.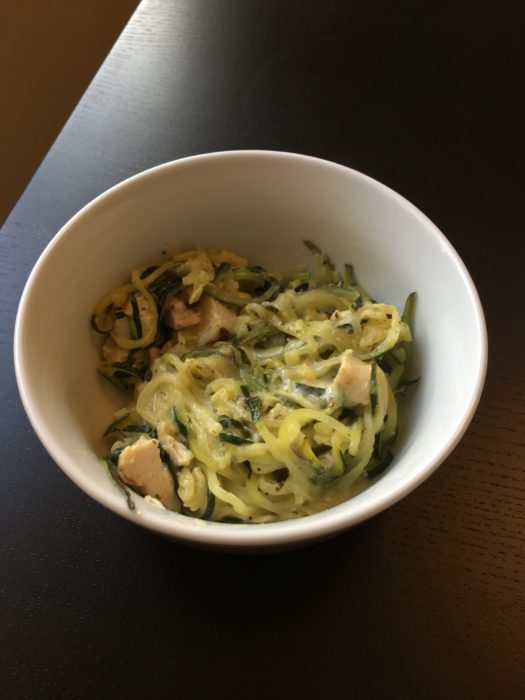 This was a great combo: parmesan, mozzarella, chicken, garlic, lemon juice, and salt and pepper.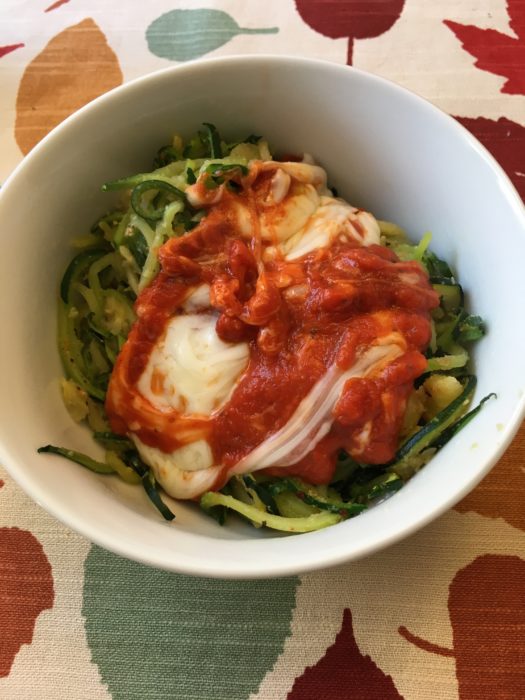 And then there's the classic marinara. Similar to spaghetti squash, in my opinion the key is to get the squash tasting good before you put sauce on. I used various seasoning blends and salt and pepper.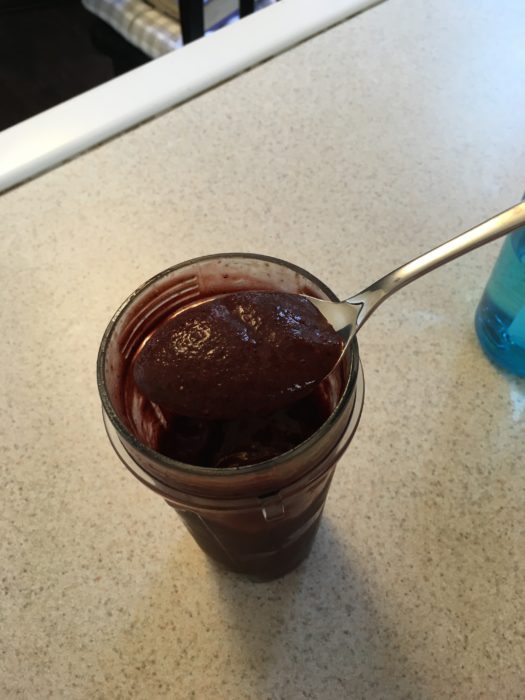 I've also been into non-green green smoothies lately. Mango juice, frozen berries, and spinach.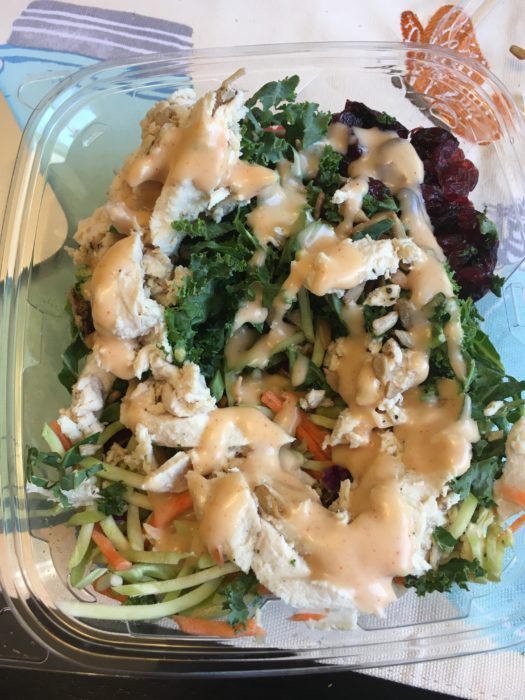 When Chloe was here, I got a few Trader Joe's salads because cooking with her was hard, and she was time consuming, and I had to run home in the middle of the day and shove food in my face while entertaining her. This one is my favorite. I used to eat it a lot in undergrad, especially when I was sick because it doesn't have anything I'm allergic to. Broccoli slaw, dried cranberries, sunflower seeds, kale, chicken. YUM.
More healthy pumpkin bread from the freezer. I think I'm going to make more soon because I have a lot of ripe bananas.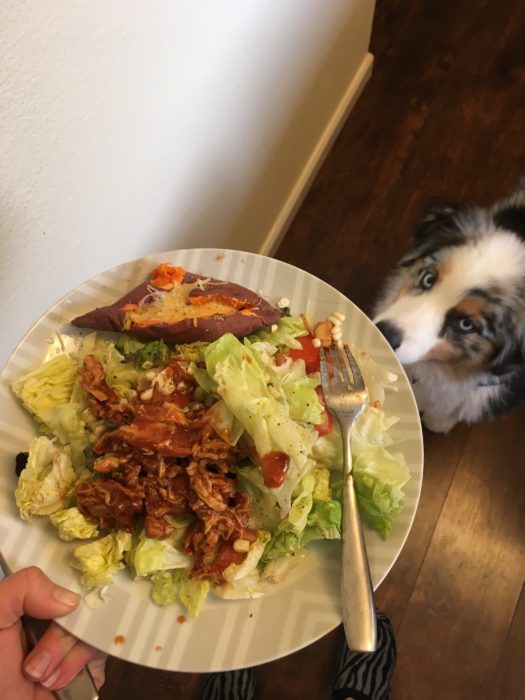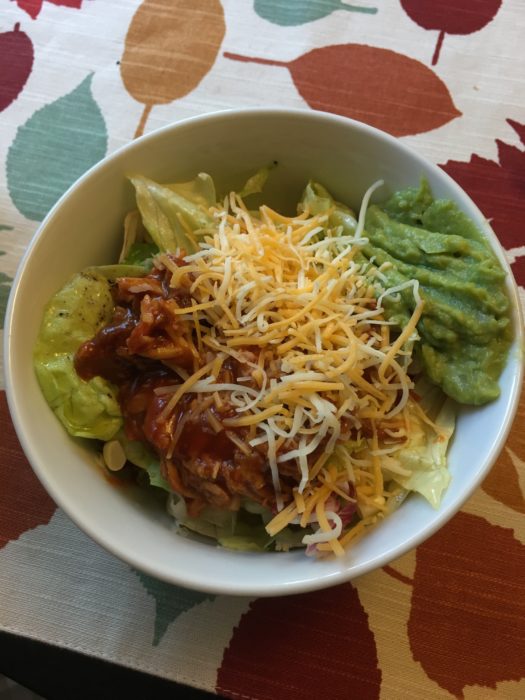 My go-to BBQ chicken salad has been making a comeback! Dressing is just salt, pepper, olive oil, and lime. Then I tossed together corn, tomato, and lettuce, and topped it with BBQ chicken, cheese, and guacamole. A break from zucchini—what??
I love the pumpkin yogurt-fig-sunbutter combo. Plus a peach. The peaches are good, but I can tell they're reaching the end of the season. Apples season is coming, my friends!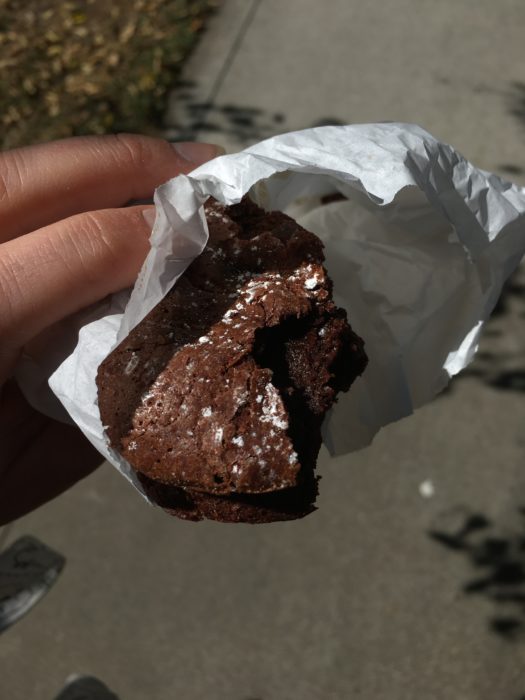 I went to the weekend farmer's market, and they had a gluten free bakery that comes to our market back home! The best part is I already know what things I'm not allergic to. Naturally, I had to pick up a flour less chocolate torte.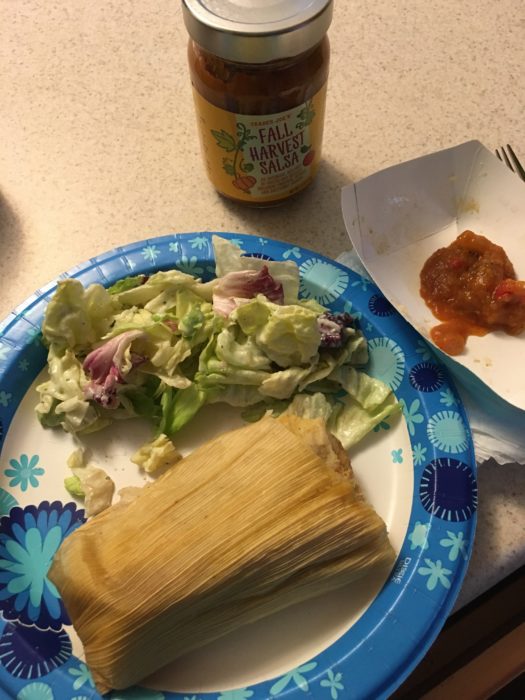 I did my Wednesday night farmer's market thing as well and of course picked up a tamale. This week was chicken! I had some of my favorite fall harvest salsa on the side, plus a salad tossed with Bolthouse cilantro ranch.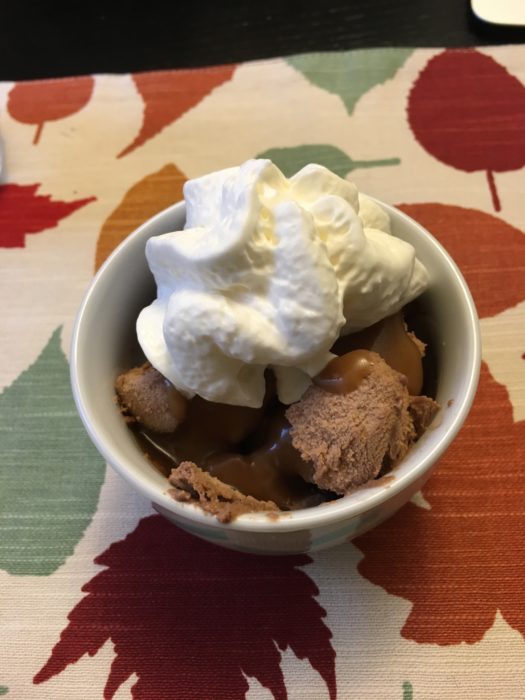 Dessert of chocolate Halo Top and fancy caramel sauce.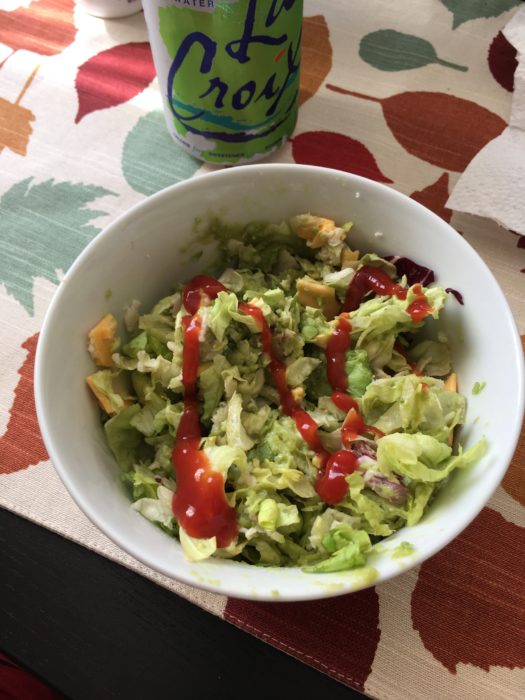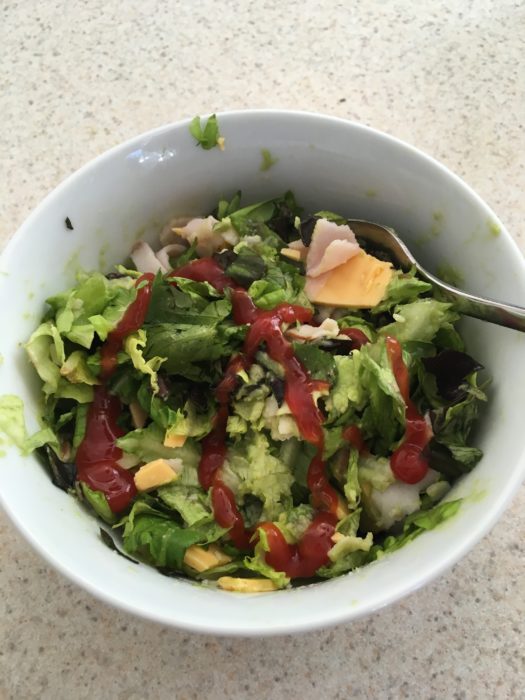 I ate the same breakfast, lunch, and dinner Saturday and Sunday without even realizing it! For my lunches, I had my favorite salad. I admit this is super weird, but I like it and it's quick and easy. Lettuce, American chess,e deli turkey, chopped with scissors, and then dressed with guacamole and topped with ketchup.
Dinners were a zucchini scramble with reduced fat alouette. I realized that it is going to expire extremely soon, so I repeated the meal Sunday.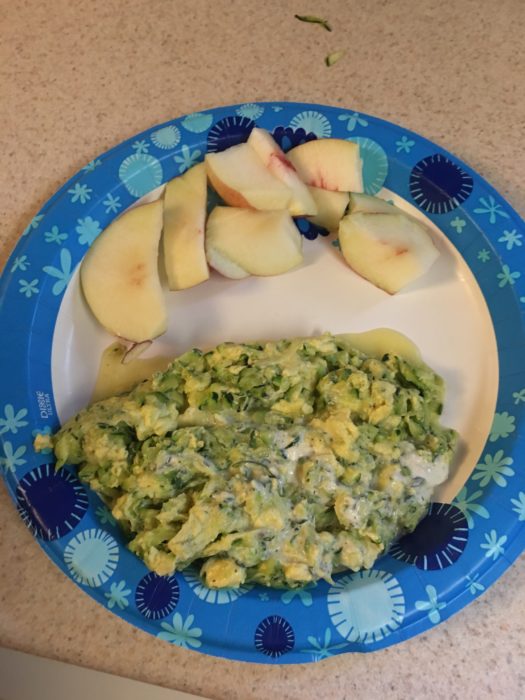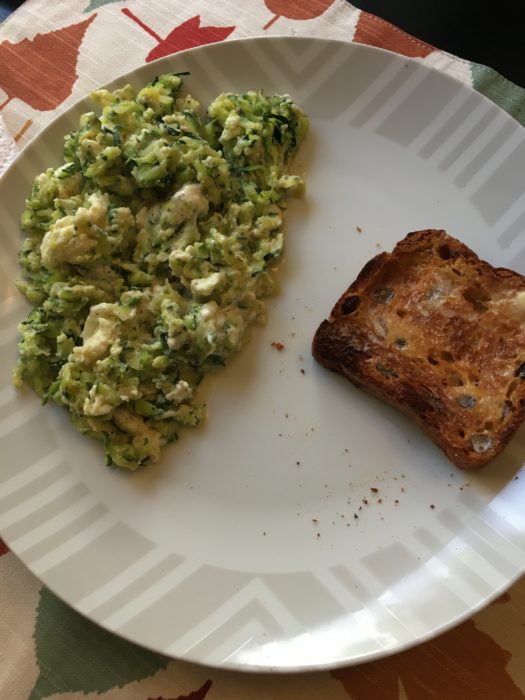 Served with a peach one night and GF cinnamon raisin toast the next.
Here are a couple of other fun (seasonal!) things from this weekend: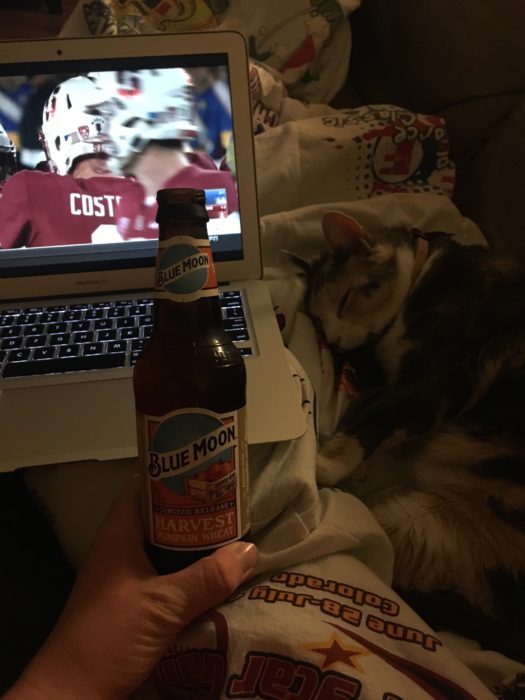 I found this pumpkin wheat beer and of course had to try it! Sipped while cuddling with the cat on the couch and streaming Stanford-UCLA football. Fall feels like football season, and I hadn't caught a game yet. It was a good one! We came out on top! It made me nostalgic for my alma mater for sure though!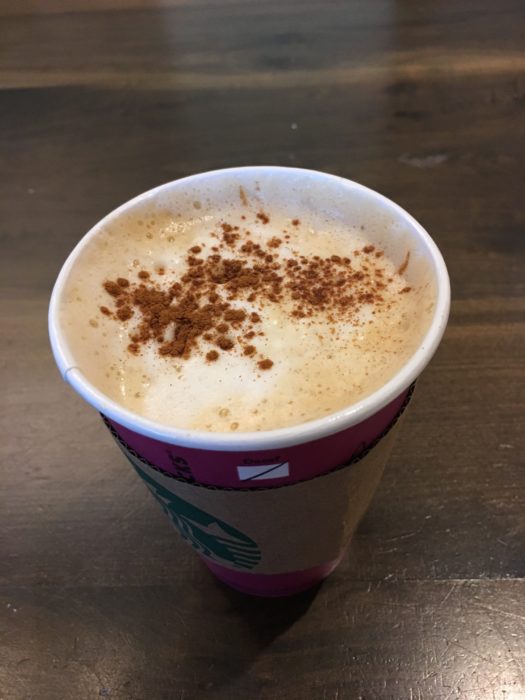 My Starbucks fall drink of choice: decaf cappuccino with one pump pumpkin spice.
And FINALLY. FINALLY, I made zucchini bread. After buying probably 20 pounds of zucchini over the past month and a half. I made pumpkin-zucchini chocolate chip bread, so it's also seasonably appropriate! I love this recipe: just 1/3c honey as the sweetener!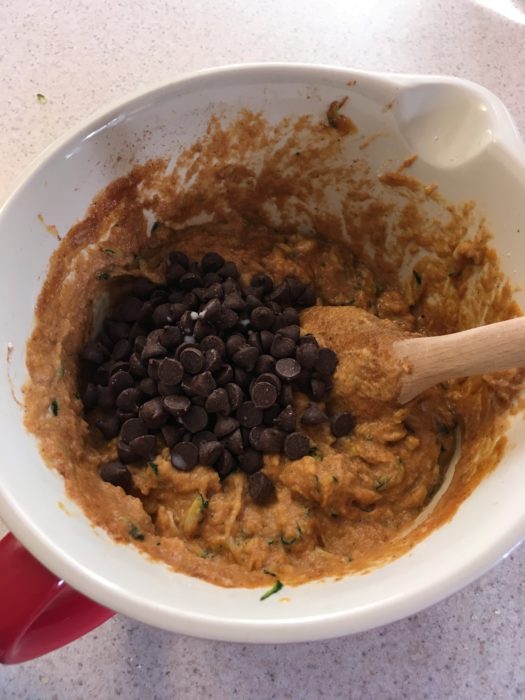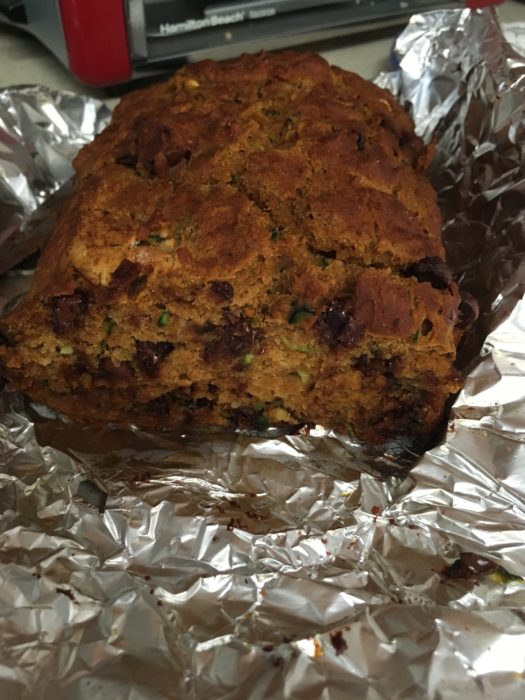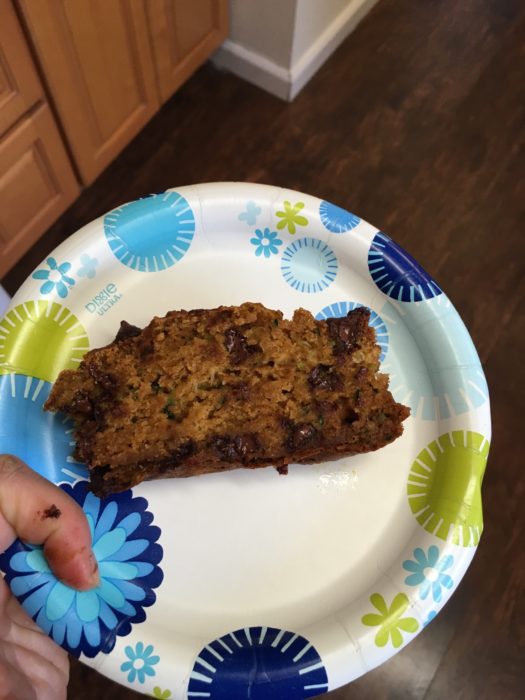 Check back in next time for more zucchini adventures. I probably have at least 3 pounds left! I'm trying some different things this week. I'm thinking teriyaki stir-fry, Mexican style, and pad thai!