Hello friends!
Wow. I can't believe I leave in less than a week. How crazy is that? I have one more adventure to share with you all, as well as an awesome new recipe from Cooking Light that we tried out last night!
So….what do I meant by the title??
Monday night, my friends and I went to the Giants-A's game up in Oakland. I don't think I've ever been to the Coliseum.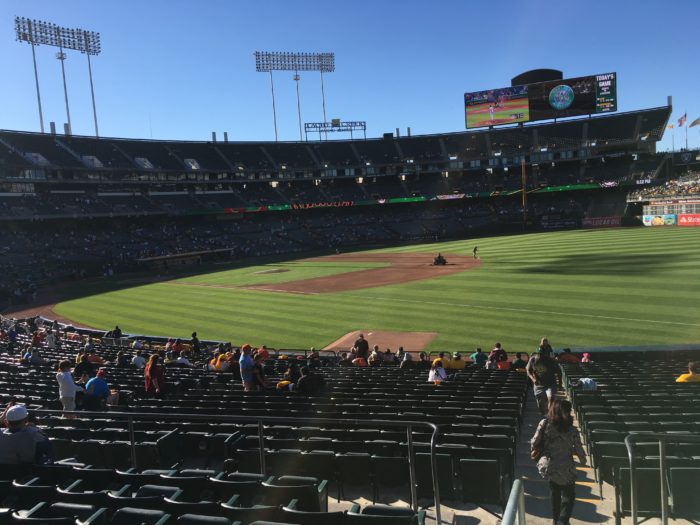 For those that aren't familiar with the sports culture here in the Bay Area, I would call the Bay rivalry more of a fun one. There's no hatred between sides, and I always root for the A's as my second team. I think the rivalry is best summed up by the twitter burns being exchanged between both sides' news teams. Fun-hearted.
Our seats were far better than I realized, so that was a nice treat!
We walked the entire way around the ballpark in search of the food trucks that come out, but couldn't find them and gave up, so I settled on an easy salad for dinner.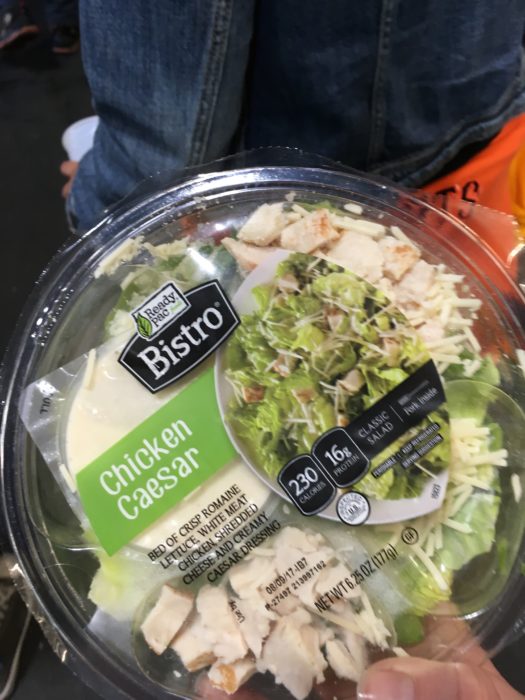 I appreciated the ballpark's beer selection. I got a Kona Longboard Lager.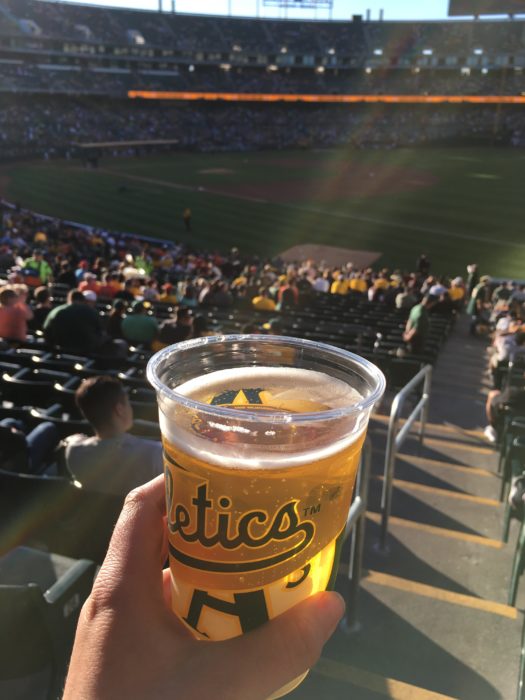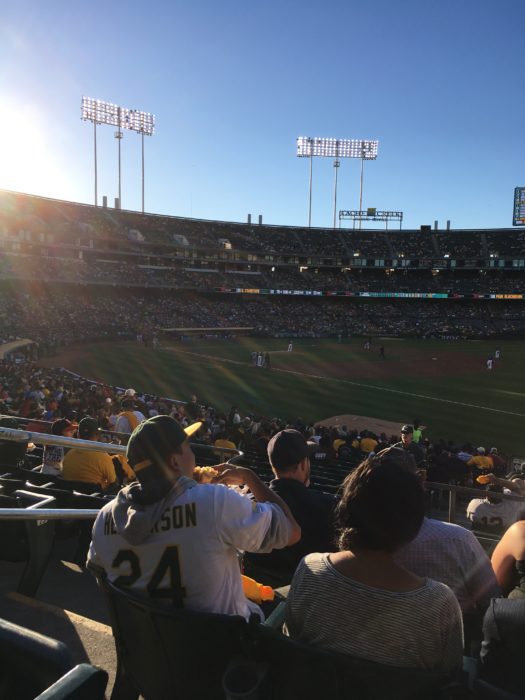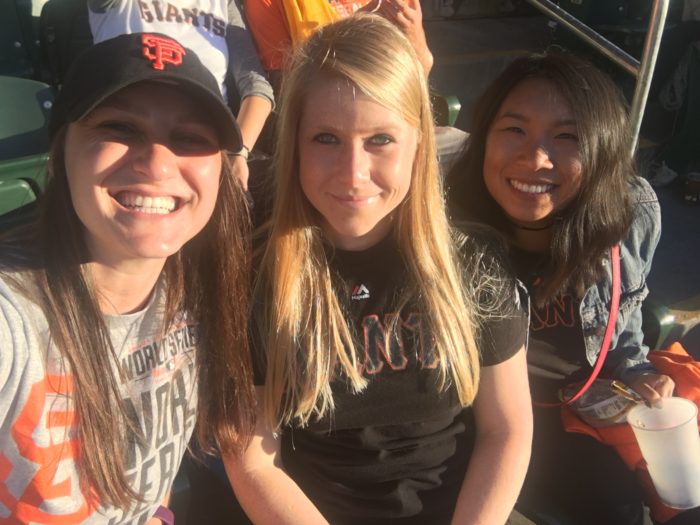 The A's had what I thought was a hilarious promotion where they would exchange any old Giants hat for a brand new A's hat. I actually felt pretty conflicted this game, and decided to bring my worst Giants hat (I had 3 at the time, and one was brand new!) and just go for it.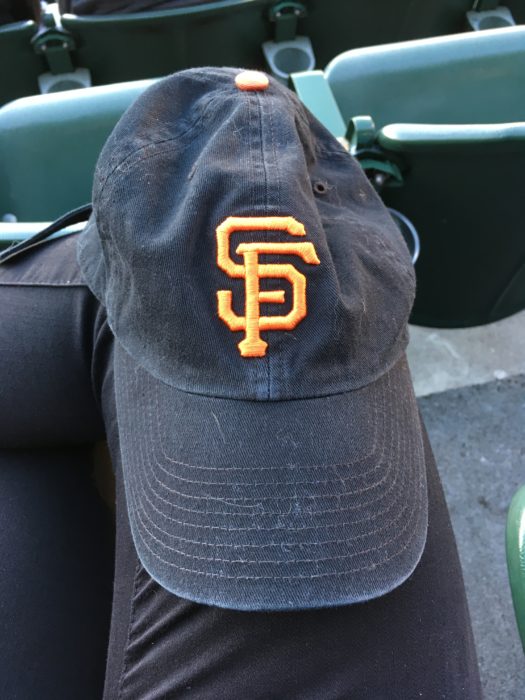 I bought this one in St. Louis to wear to the playoff games in Wrigley. It's not the nicest hat, but it was the only one I could find in STL. It also didn't have any wins in it; we didn't do so hot when I wore it in Chicago! I think it was bad luck anyways.
So i sent off a tweet, and sure enough….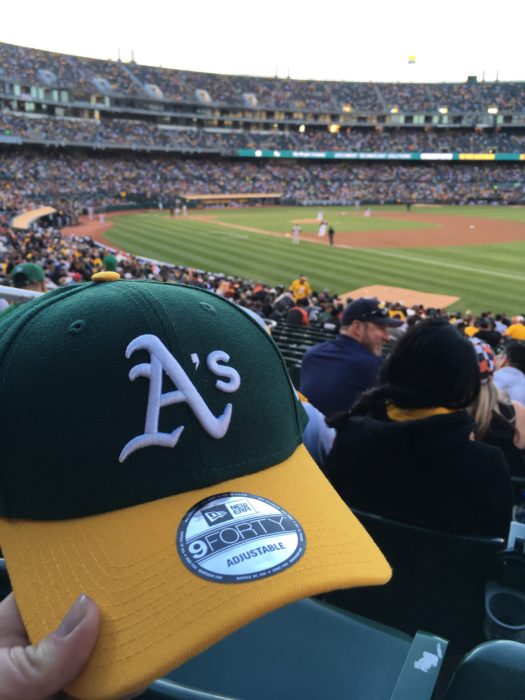 I felt like a little bit of a traitor, but I have become more of an A's fan this year. They don't lose quite as frequently as we have been.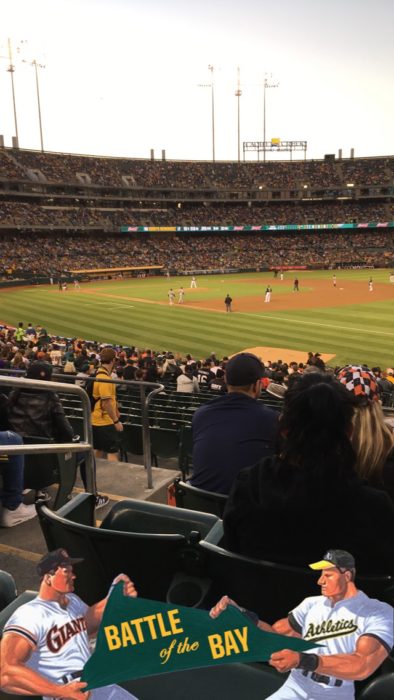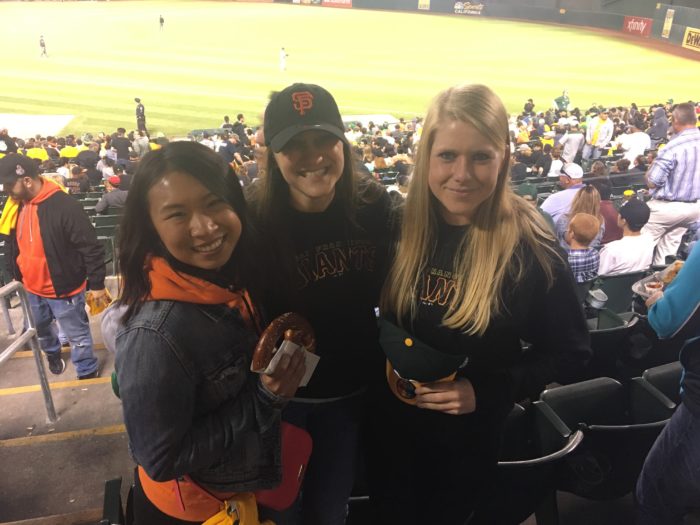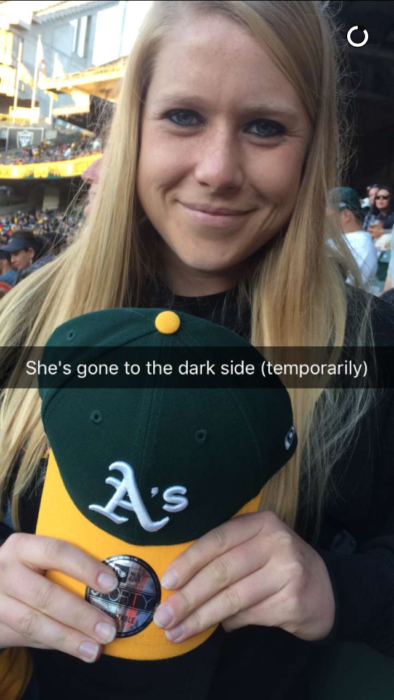 Just temporary dark side. The Giants were ahead until our notorious bullpen came in. I decided to switch loyalties and put the hat on, and literally the second I did, the A's hit a grand slam (ouch).
Later in the game, I got my sodium and carbs in in the form of cheddar and caramel corn, which was delicious.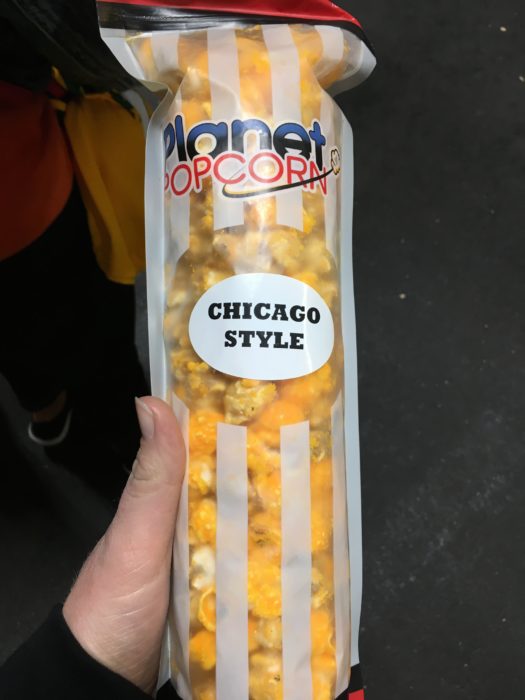 The Giants lost, but it was a really fun game. And, I can't say I minded the weather! I only left wearing one jacket, which would be unheard of for the icy games in San Francisco.
In other life happenings, after staying up until midnight on Monday, I decided I really hated myself and went to 6am Crossfit for a really stupid workout. It was this:
100 pull ups
80 sit ups
60 pistols
40 calorie row
20 push press
I did Murph for the first time with unbounded pull-ups this year. This was far, far worse. I spent 15 straight minutes doing nothing but pull ups. I started with sets of 5, and lasted decently far, nearly halfway with that. Then I lost my sets of 5, then my sets of 4, and quickly I lost my sets of 3 and was doing doubles for probably the last 20 reps. This was miserable, and I was the last by far to get off the bar. To make matters worse, around rep 92, I could feel my hands start to rip. I was going to be SUPER mad if I ripped on the LAST couple reps, but thankfully I just finished with hands on fire and a few minor blisters.
We had a time limit for this one, so I figured I wouldn't have to do the last parts. Well, the coach oh so kindly extended it. Honestly, everything post-pull ups was fine though. I did the sit-ups straight through, and assisted pistols. I was very happy, however, when I made it to the push presses and blasted through them because I chose a pretty wimpy weight. No regrets. Let's not even talk about how my arms feel today.
In the evening, I had my LAST softball game before I move! It was a tough loss, and I did get totally slammed into while I was playing first, but I did hit a home run my last at-bat after being hitless earlier in the game. It felt so, so good off the bat. It's hard to explain the sweet feeling of a ball hitting the meat of the bat like that.
For dinner, I searched through August Cooking Light and found a delicious looking recipe that I had bookmarked. Zucchini-Ribbon Pizza with chicken! We actually found the Mama Mary's brand crust it called for in gluten free! I actually loved the crust; it was soft and chewy, and reminded me of the crust in the flatbread at the ballpark. I honestly think I prefer the gluten free for the texture.
The pizza came out awesome; the tomato-less pizza had strong coriander notes, and had lots of rotisserie chicken, topped with zucchini ribbons and feta.
One modification I made that I would highly recommend is that I added salt and lemon juice to the zucchini ribbons before putting them on the pizza.
We served it with garlic and lemon roasted green beans.
And that's all I've got for you guys today!