Day 3 of my full week of eating; let's go!
Pre-Crossfit was the same-old, same-old: Strawberry Cheerios.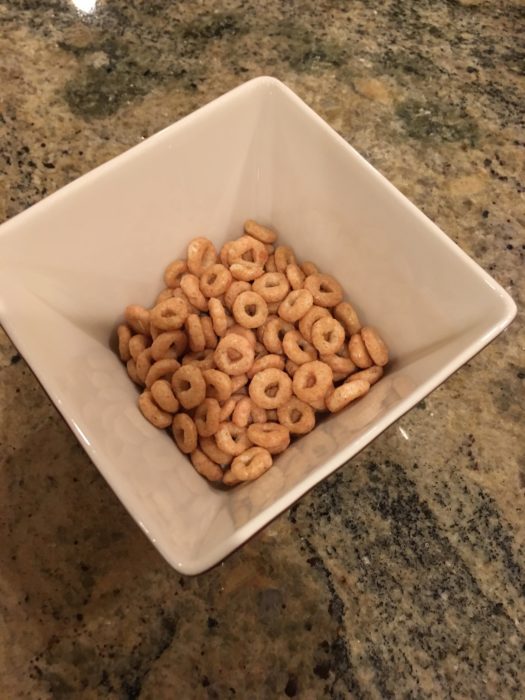 I was actually really hungry at 5:30am this morning, so I grabbed a bite of this banana cocoa bar on the way out the door.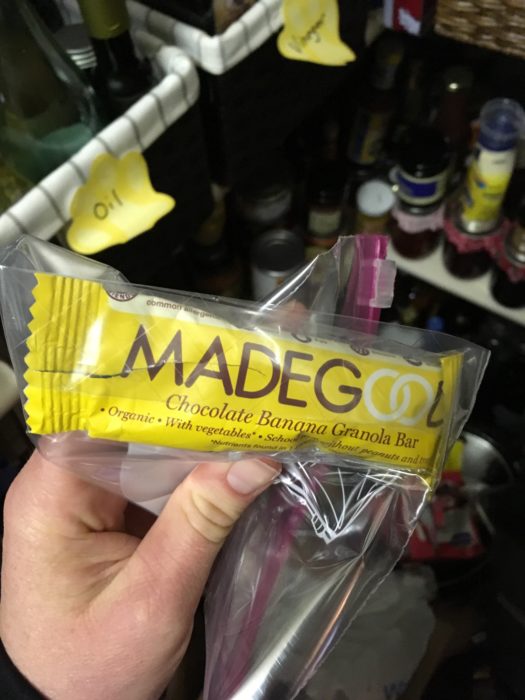 Crossfit was pretty good, but shoulder heavy. We did presses which I sort of hate but know I need to work on , followed by a WOD that included clean and jerks, rowing, and pistols. My coach actually started having us do a cool scale for the pistols. We put a band between lowered squat racks and do a pistol onto that.
I actually started work at 7:45am today, so I changed into my scrubs at Crossfit (I don't feel bad about not showering post-Crossfit because I am going to get infinitely grosser at work than I possibly could get at Crossfit). I packed a breakfast of half a piece of GF bread with sunbutter and a dark chocolate protein shake.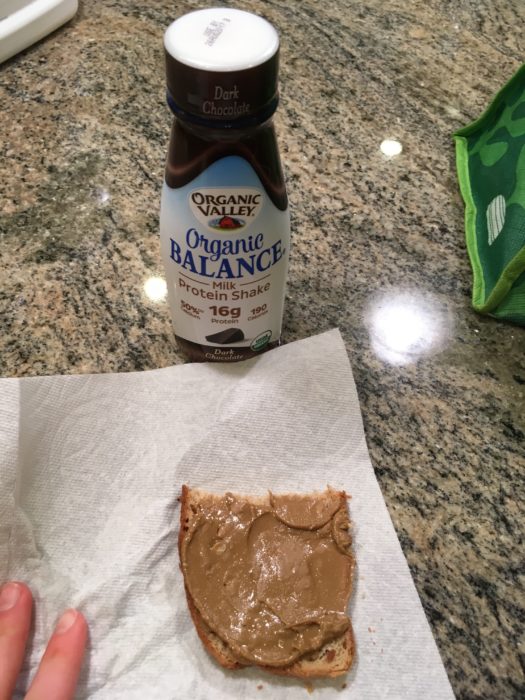 This protein shake gets an A+ for me. A lot of protein shakes tastes artificial and/or are overloaded with sugar. This one had a very simple ingredient list and tasted fantastic.
Lunch: I packed a salad with leftover grilled chicken, apple, shredded aged cheddar, and champagne vinaigrette. GF crackers and a ginger chew on the side.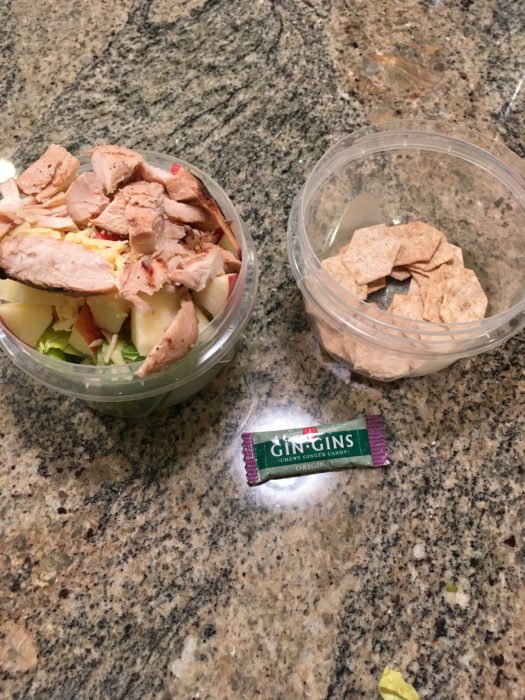 Afternoon snack: Luna bar.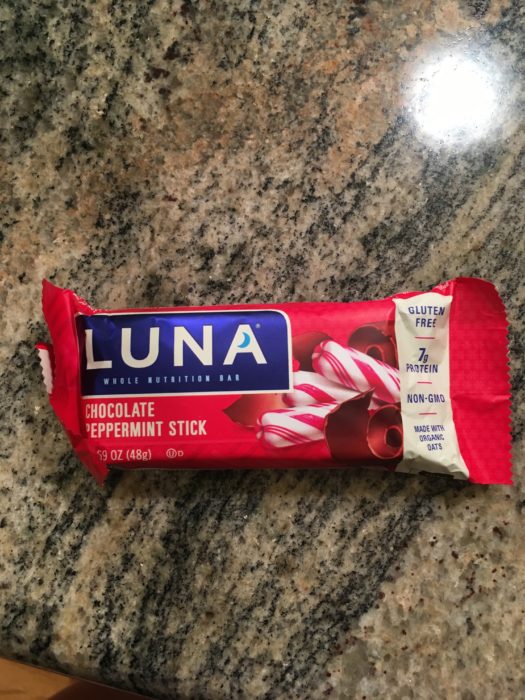 While we're discussing work, I want to talk a little bit about why I'm getting really excited to get into veterinary medicine. Now that I've gotten my bearings back at the vet, and most days are crazy-crazy, I'm falling back in love with being in a clinic. The other day we had an emergency come in. The symptoms were sort of general, but serious. My untrained eye had no idea what was going on, but the veterinarian was able to figure it out and treat the pet based on some test results. This was such a great example of the beautiful process of medicine; the problem solving, finding a solution based on data. It's awesome. Now that I'm back in the trenches, I'm back to being amazed by how lucky I am to have found my passion and direction, and so excited by the medicine and the animals. The other moment, I was staring at a cat, and had a moment where I thought….wow, it's really freaking cool that we have these amazing animals living in our houses and interacting with us. The human-animal relationship is an incredible and beautiful thing.
But back to the food.
I got off work earlier than normal since I worked the early shift, and had a really long debate over whether or not I should hit up a fun yoga class that I normally have to work during. I literally did multiple u-turns, but ultimately decided to go. The only problem? By the time I arrived at the gym, I was STARVING. Thankfully, my gym sells a variety of protein bars and I knew they had a brand that I wasn't allergic to. This cookie dough bar was literally a godsend, and really good (I've had this brand but not this flavor…this is the best flavor).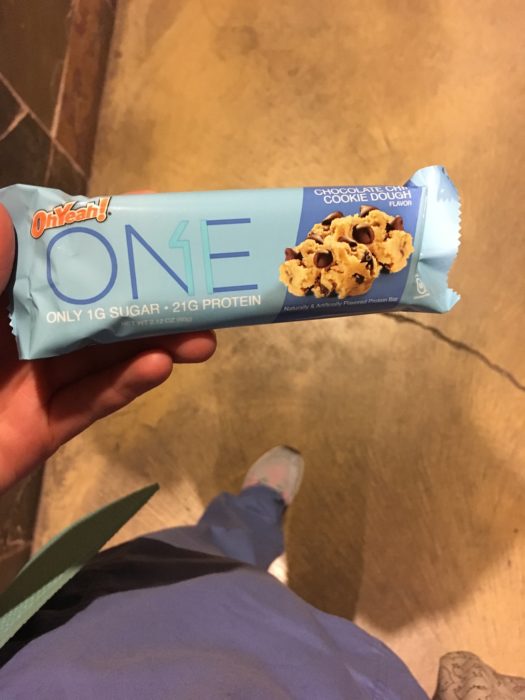 I ate half the bar while changing out of my scrubs.
The yoga class is fun and really different than my typical vinyasa. We get deep into different stretches and positions, and I realized how tight my body was from the past week! Definitely much needed.
For dinner, my dad grilled chicken with BBQ sauce. On the side, we had roasted yams and roasted asparagus.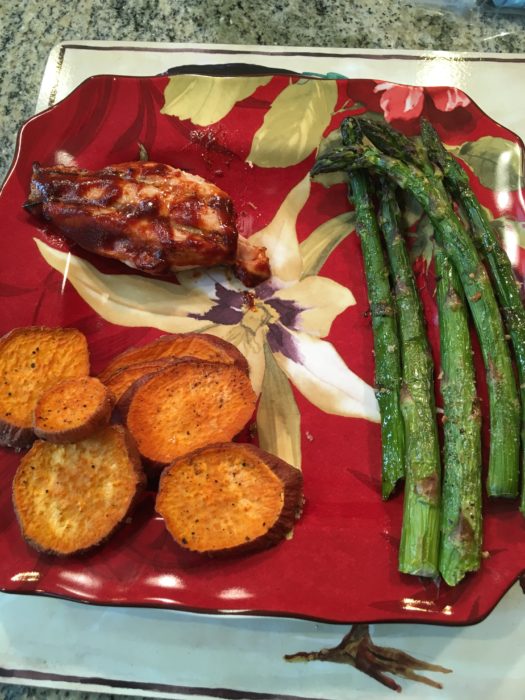 For dessert, I had a couple of strawberries straight from the farm (my parents went on a road trip).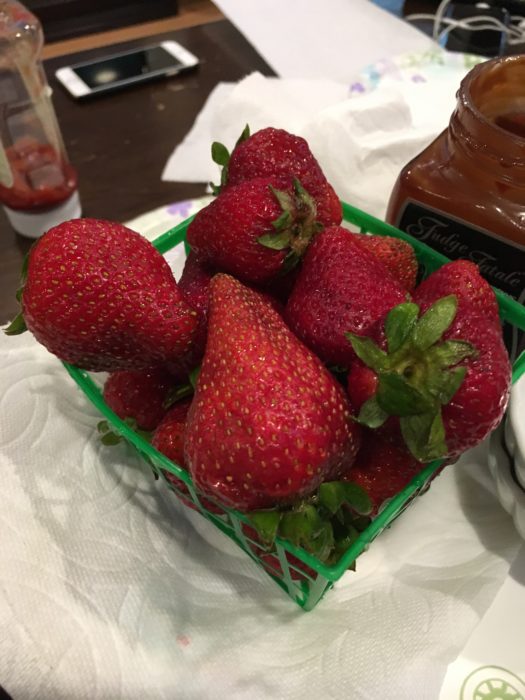 Plus a little Halo Top bowl: vanilla ice cream with half a slice of (formerly) frozen chocolate chip pumpkin bread and some fudge sauce.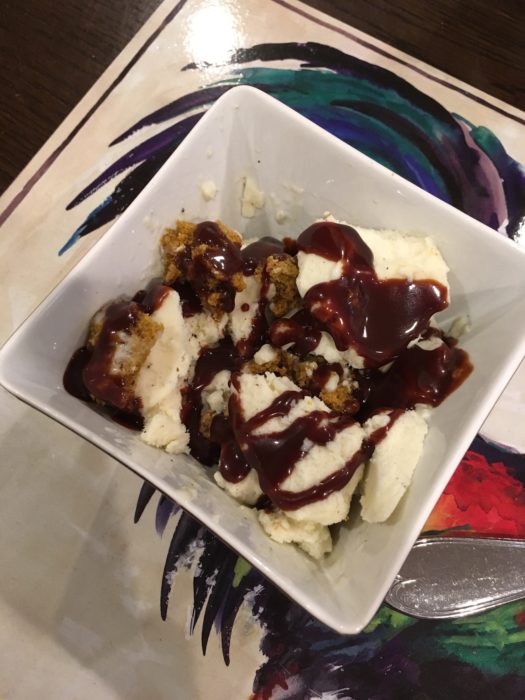 After dinner, I walked to the hallway and saw a loose towel. When I examined further, I found a very guilty looking kitty and several towels that he dug out to make a little nest for himself in the laundry basket.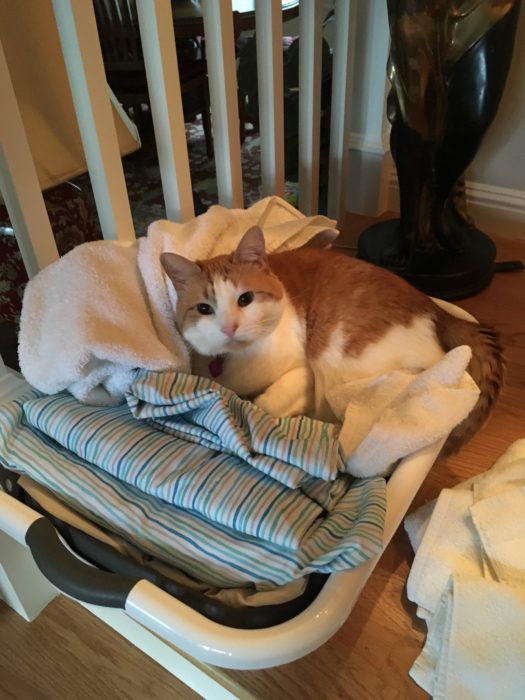 These animals.
My bedtime snack was the usual: brown rice cake with whipped berry cream cheese.