Hello, hello! Here we are on the second day of my full week of eating, still going strong!
One of my goals this week is to eat more protein, and that seemed to be the focus today. Here's a little tip: when packing a lunch or planning out your meals, think about what your workout will be. When I saw what this morning's Crossfit workout was, I knew it was going to be really taxing, and I was probably going to 1. be hungrier and 2. need more protein for recovery.
Let's dive in, WIAW (<-OG WIAW) style, shall we?
Pre-workout: Strawberry Cheerios. The usual.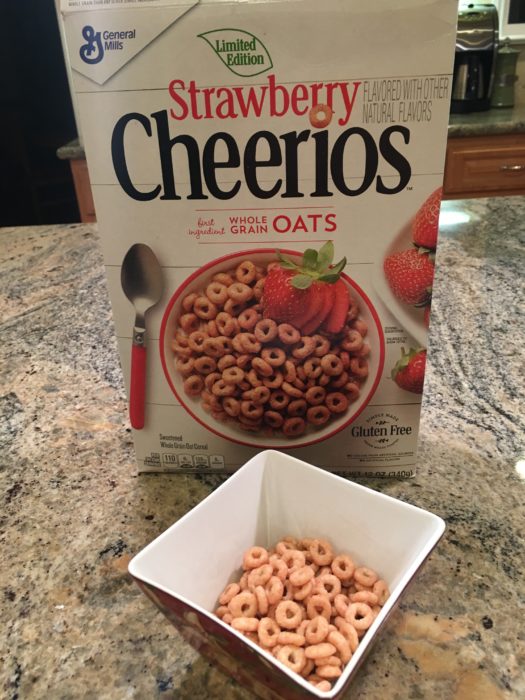 Workout: we did some work on Olympic lifts, before the WOD. It was:
4 rounds
25 double unders
20 wall balls
25 deadlifts (95#)
The deadlifts weren't heavy, but there were a lot of them! This was a fun one. My double unders cooperated for the first set, and then went downhill a bit as my arms got tired. I finished in around 13 minutes, and my shoulder blades were feeling it right away from the deadlift/wallball combo.
One interesting thing I want to say is that my formerly broken foot has been bothering me these last few days which I mentioned earlier. It's been a year since I got the boot off, and while having a little pain here or there for many months afterwards, this was kind of surprising. I'm pretty sure this means I need new shoes, and I think my walking around Nikes are the culprits. In the fall when I had similar pain, I got new shoes and it went away. If the sole near the ball of my foot gets too floppy, I guess it puts too much flection in my foot and makes it hurt after a while. I felt like the shoes were pretty new still, but I realized they are over 6 months old at this point! The last couple months have completely flown by, especially without the school year to mark time. The shoes easily have 200 miles in them already!
Breakfast: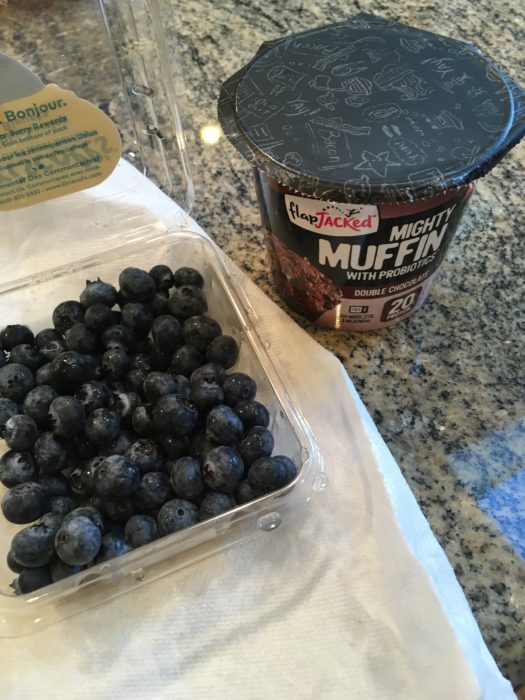 Flapjacked muffin+blueberries (the whole container). For some reason, blueberries are my favorite fruit to eat with these muffins.
Lunch: I had a normal person lunch schedule at work today! I was STARVING by my lunch break. I honestly don't often feel hungry during work, so it must have been the workout.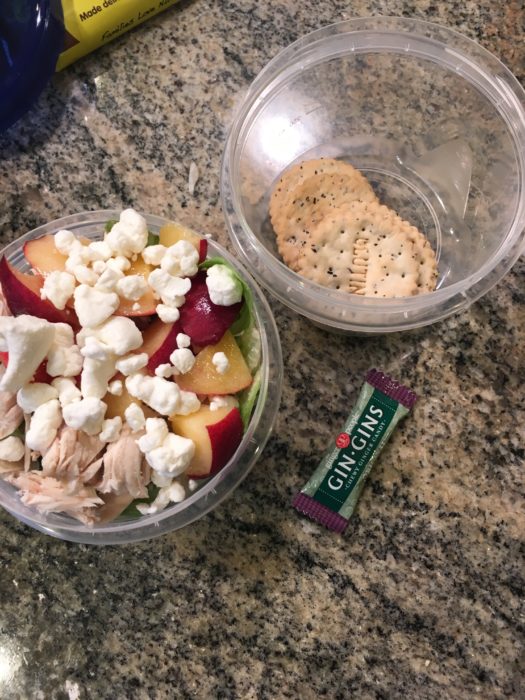 I had a salad with rotisserie chicken, peach, goat cheese, and champagne vinaigrette. On the side I had gluten free crackers and a ginger chew.
Snack: I packed a granola bar, but we had a meeting scheduled. I didn't have a chance to eat my bar, but my boss got everyone Starbucks. I got a decaf iced latte, but only got through about half of the venti.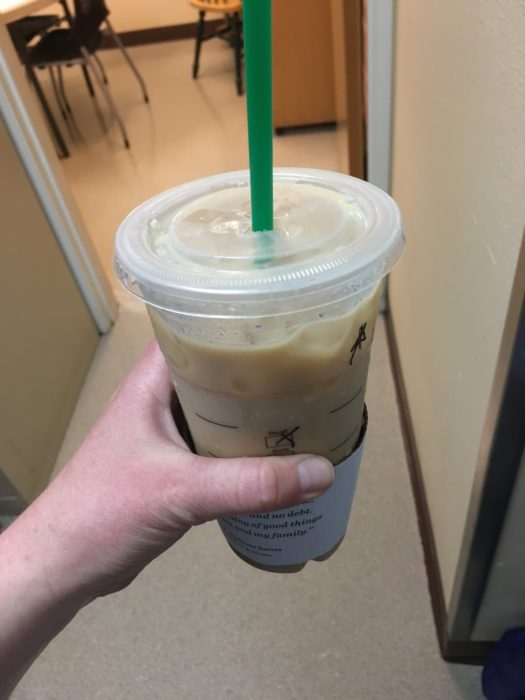 Dinner: After stripping down and throwing my shoes in the wash (a dog urinated all down my leg and onto my shoe today. I switched scrub pants at work but there wasn't anything I could do about my soaking foot all day….), I made a quick dinner. What did I have? Essentially ketchup.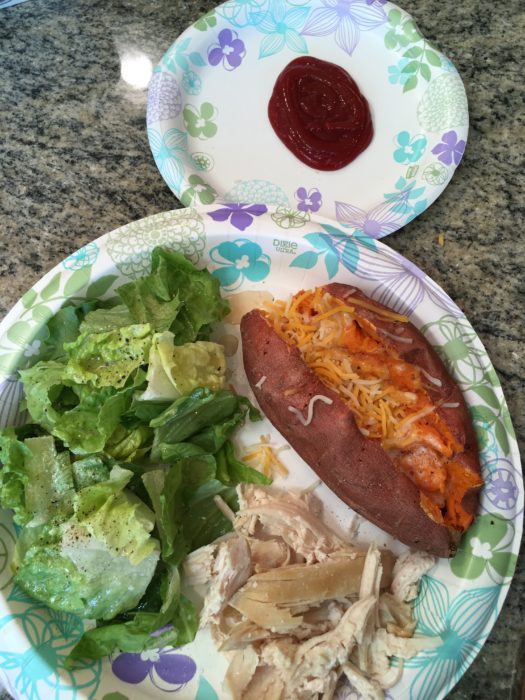 I had more rotisserie chicken dipped in ketchup, and a sweet potato (microwaved) with cheese, dipped in ketchup. Plus a side salad with a light spray of olive oil, super aged (25 years?) white balsamic, salt and pepper.
For dessert, I had a few bites of ice cream while I whipped up some flapjacked cookies. I realized after the fact that they were super similar to my breakfast.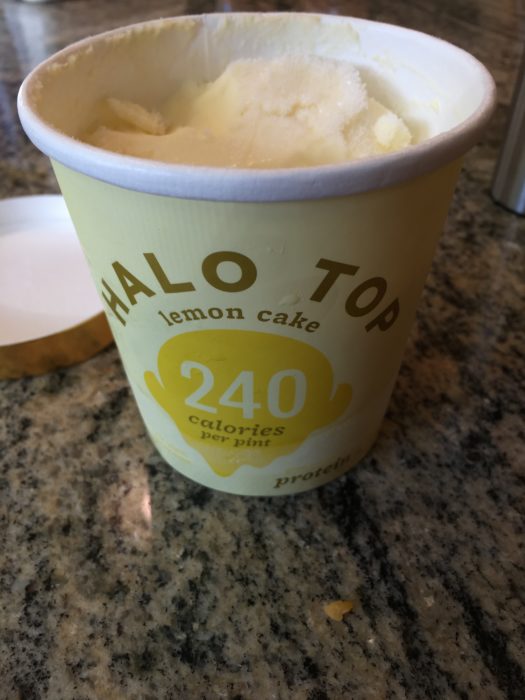 I use the flapjacked mix and use liquid eggs whites and applesauce in place of eggs and butter. Egg whites instead of eggs only because it's a lot easier to whip up a single serving with egg whites, rather than get 1/3 of an egg. I made the double chocolate.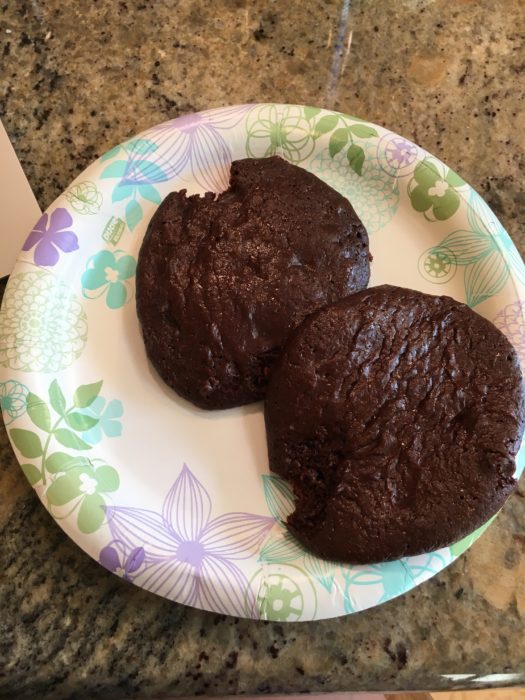 And finally, I rounded out my day with a brown rice cake topped with alouette garlic and herb cheese, plus a few GF crackers while packing my meals for Wednesday!