Hello, hello! Before I get into a full day of eating from yesterday, I wanted to share a frittata we made the other night that was inspired by our CSA box goods.
The frittata had a little spinach, steamed broccoli, sundried tomatoes, mushrooms, garlic, salt and pepper, and some interesting onions from our CSA. They looked sort of like massive green onions, but with red bases. Either way, delicious! We topped the frittata with truffle goat cheese (OMG yum) and served it with basic green beans also from the CSA.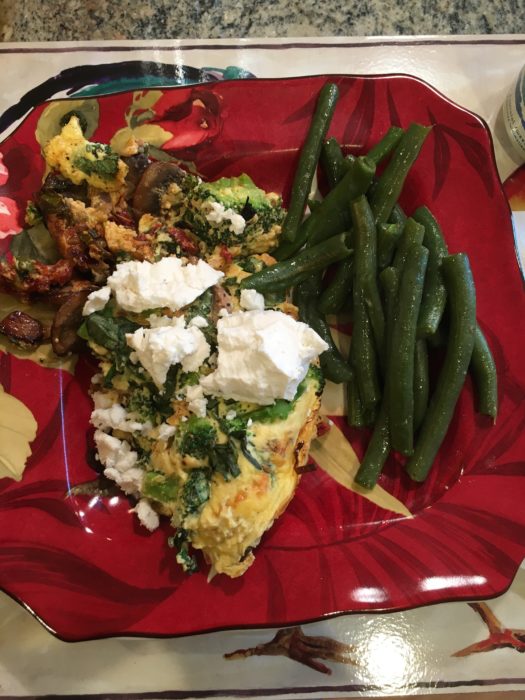 I've mentioned before that with my work schedule, I don't get lunch until pretty late, and what I was trying simply wasn't working for me. I tried to figure out what wasn't working and brainstormed a solution. I think it was a success! Here's a day of eating implementing what I came up with.
I went to a 6:15am spin class first!
7:30am: A more normal breakfast. Flapjacked muffin+amazing mango.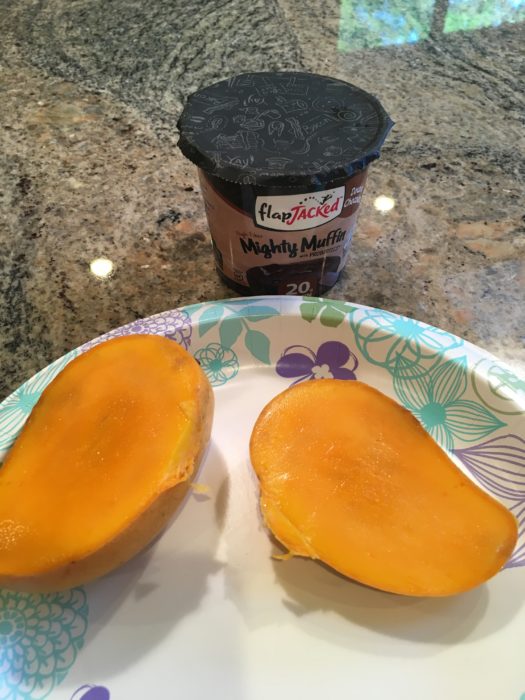 Lunch: 11:30-2 I made a smoothie that I could sip on around lunchtime, which worked out really well because it's hard for me to get a break to eat something but it's much easier to grab a sip of something here or there. The only fail was the smoothie was super thick and hard to drink without a spoon. And I made a giant mess that morning making it.
I used half a flapjacked strawberry banana smoothie mix and added 2/3c milk, half a frozen banana, about 2/3c frozen strawberries and a handful of spinach.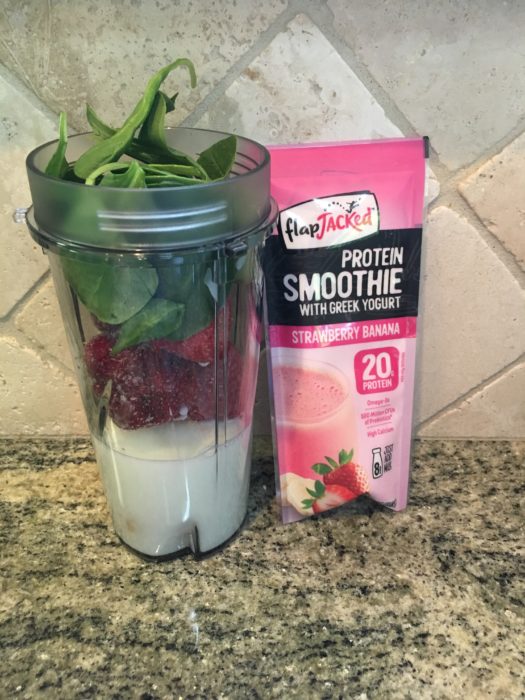 I put it in one of those thermoses that supposedly keeps things cold forever.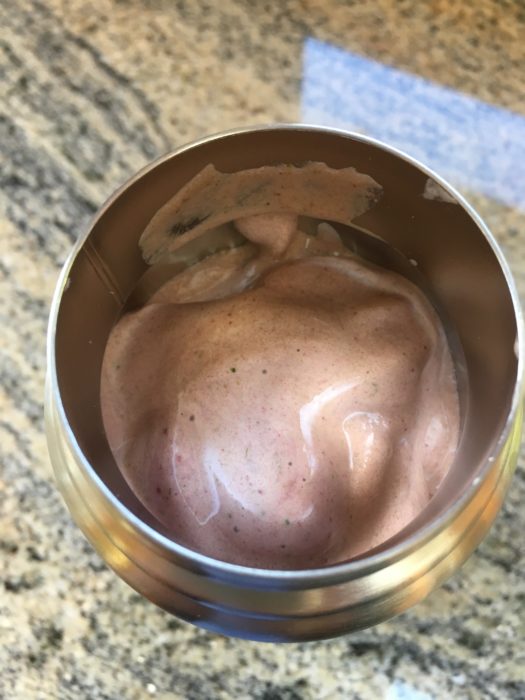 Work was absolutely insane yesterday. I knew I was in trouble when I walked in and multiple people told me how happy they were that I was there (I work the later shift). The first thing I did upon walking in was get bitten by a supposedly nice cat, and it just went downhill from there. It was one of those days where I just felt really incompetent. I know how to do any normal things, but some treatments I just haven't seen before and therefore don't know how to do. The smoothie was a godsend for keeping my energy levels up and not praying for my lunch break because…
3:55pm: Lunch. Normally I get lunch around 2:30 or 3, but sometimes that doesn't happen. I packed leftover frittata and some GF crackers. Plus a ginger chew.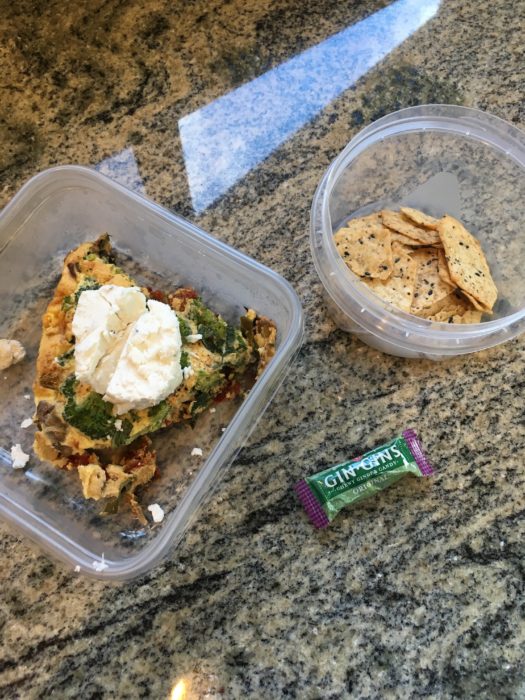 4:15pm: Lunch dessert. Normally I stay away from work treats, but this was so needed. It's a mint ice cream filled cannoli, that I ate the center out of.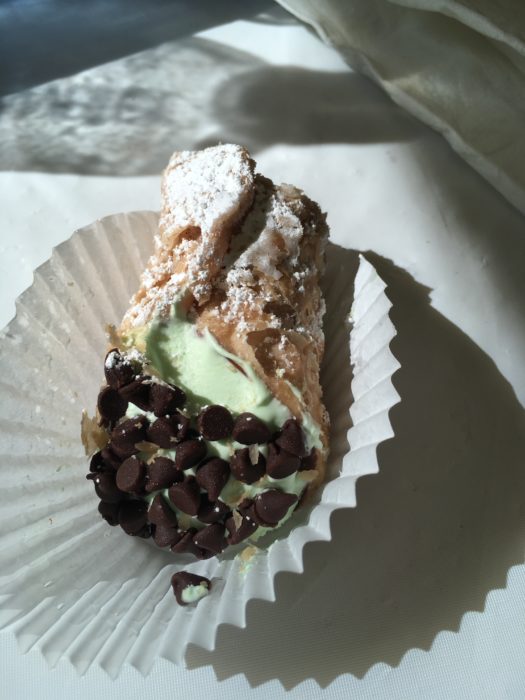 8:30pm: Dinner. Normally I don't eat that late, but I ended up staying until a quarter to 8, and when I got home I had to immediately strip down and shower because I was working with a possibly contagious dog. Do not cross go, do not put anything in your mouth, straight to the shower. I had a favorite Cooking Light meal (already made) of a Roasted Carrot, Chicken, and Grape Quinoa bowl. I think the yogurt-cumin-carrot-grape/raisin flavor combo is one of my favorites (which is why I loved one of our sun basket meals so much!) On the side were roasted sunchokes. I saw this in the CSA and decided to go for it.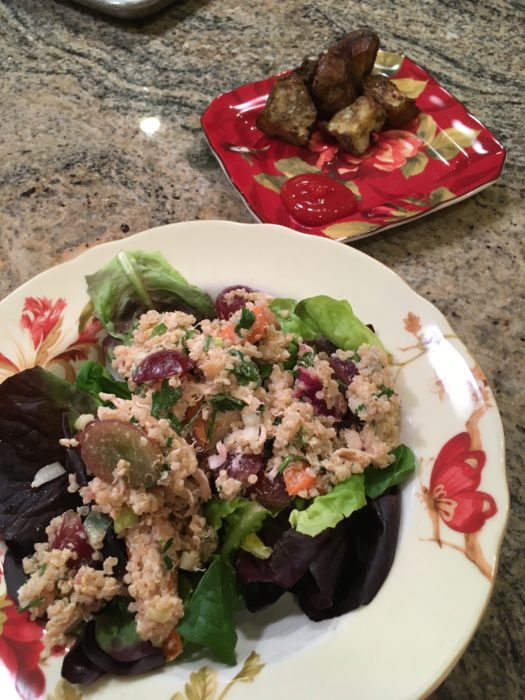 They tasted sort of like roasted beets, but less earthy. I'm not 100% sure how they were prepared, but I think it involved boiling and then roasting, and some sort of garlic thyme seasoning. Served with ketchup, because hey, it's a root!
For dessert, I felt like I needed quite the bowl. I heated up part of a frozen GF brownie and served it with vanilla Halo Top, hot fudge, and whipped cream.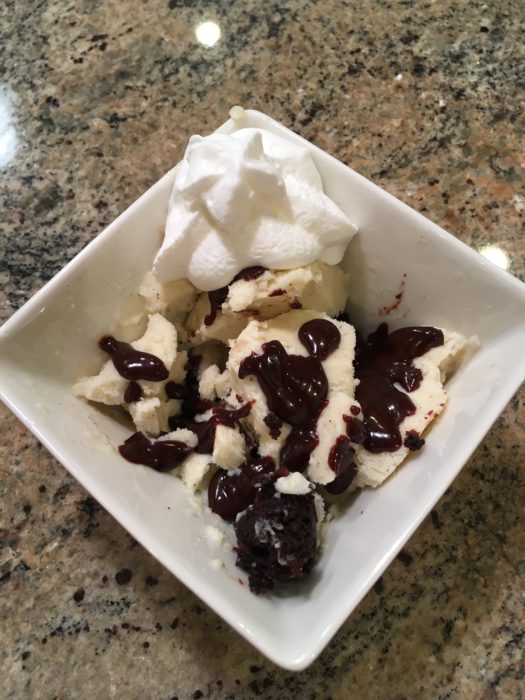 While watching a show with my parents, I also dove into a little bit of Easter candy.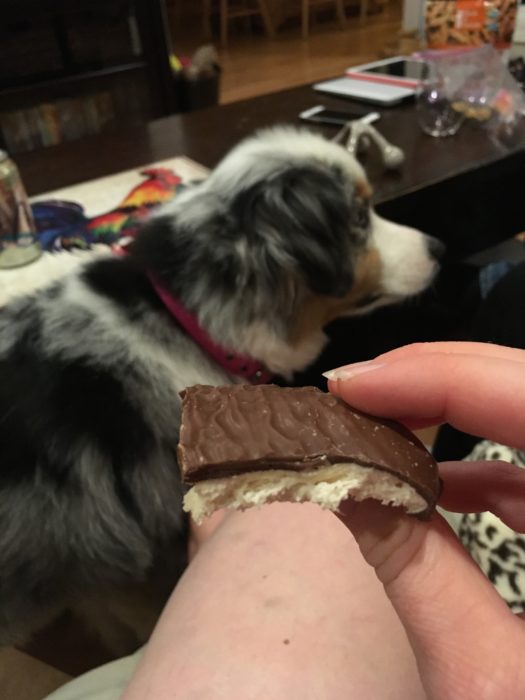 I definitely think my new plan helped how I felt throughout the day, so I'm happy about that! Hopefully today will be less crazy, and it will still all work out!