Guess what time it is?? Time for the Crossfit Open! Those who do Crossfit are excited to hear about it, and for those that couldn't care less, I promise it will only be a few posts 🙂 If you're just here for the food, scroll on!
17.1 was:
dumbbell snatches (35/50#) and burpee box jumps (20″/24″)
10 dumbbell snatches
15 burpee box jumps
20 dumbbell snatches
15 burpee box jumps
30 dumbbell snatches
15 burpee box jumps
40 dumbbell snatches
15 burpee box jumps
50 dumbbell snatches
15 burpee box jumps
With a 20 minute time cap. When I excitedly watched the announcement Thursday night,my first thought was that I would not get far in this workout. I'm slow on burpees and I'm slow on box jumps. Put the two together? That's going to eat up time. I felt good about the snatches. I used to do dumbbell snatches when I first started weightlifting many years ago, and they've tended to be a pretty solid move for me. I HATE dumbbell cleans, so this was the best dumbbell movement I could have asked for.
I showed up to 5:15pm Crossfit Friday night, ready to GO. Or something. I always want to go first. I don't want to see how painful it is before I have to do it. That being said, when I first picked up the 35# dumbbell, it was heavier than I was expecting. I guess it's been a while!
Then it was go-time. This workout surprised me. I thought the burpee box jumps would kill me and the snatches would be easy. My first set of burpee box jumps probably felt the worst, and then I was warmed up. The snatches added up quickly, and I found myself gassing myself on the snatches and recovering on burpee box jumps. What??
This workout hurt, and it just. kept. going. I got a lot further than expected as well, although I didn't finish under the cap. 192 reps Rx, meaning I was over halfway through the last set of snatches.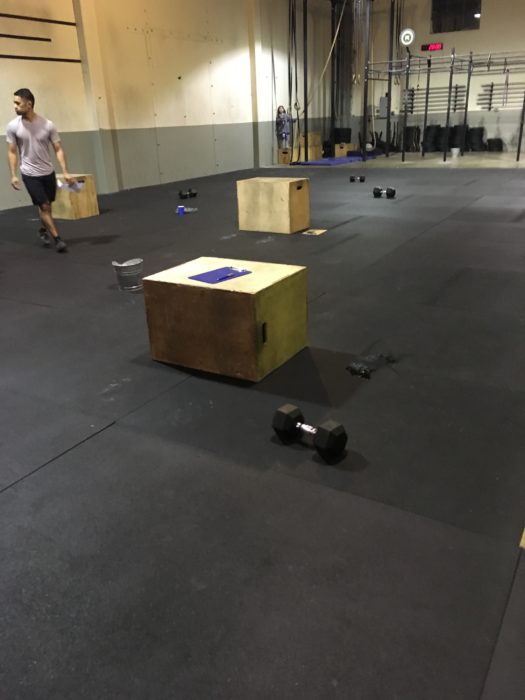 Immediately after I finished, I got called to judge someone else. The Open is always such a fun time, and I always do better than expected! Right after judging, I drank chocolate milk in an effort to recovery before going home and enjoying a beer flight from our Beer of the Month club.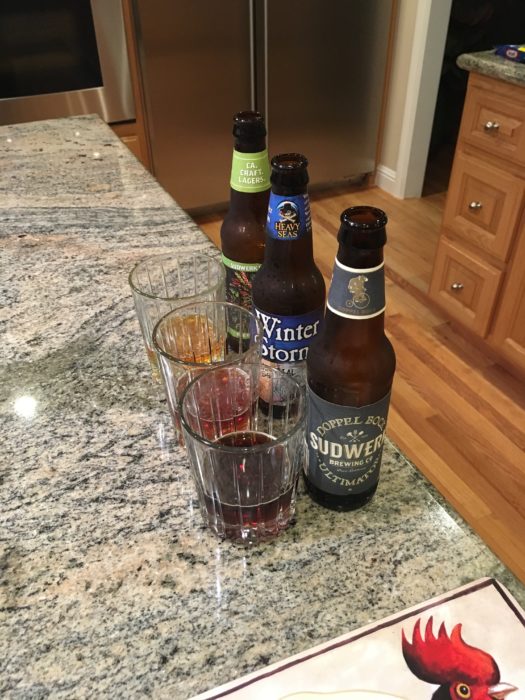 The front beer was the clear winner, which is great because it's conveniently from Davis, where I will be for vet school!
For dinner, we were in fridge clean out mode.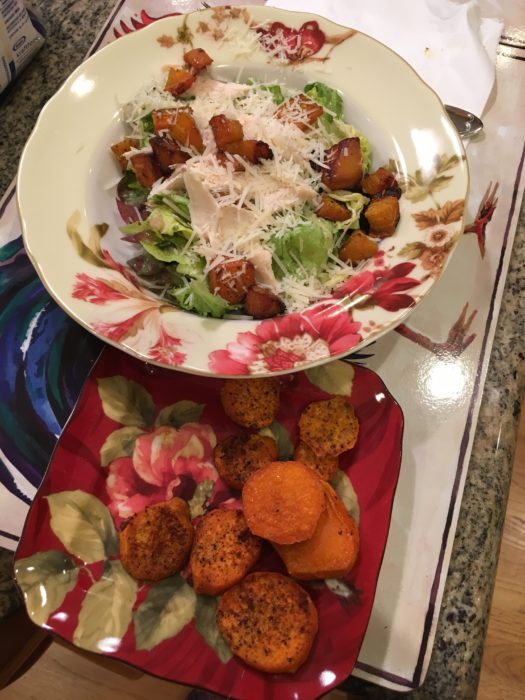 Salad with roasted butternut squash, roasted beets, parmesan, rotisserie chicken, and red wine vinaigrette. On the side, roasted sweet potatoes (one of my favorite foods ever).
And if you're wondering, the next day my shoulder were magically still intact but my hamstrings? MAN.
I haven't done a ton of "regular" blogging this week, and had a few meals I wanted to share!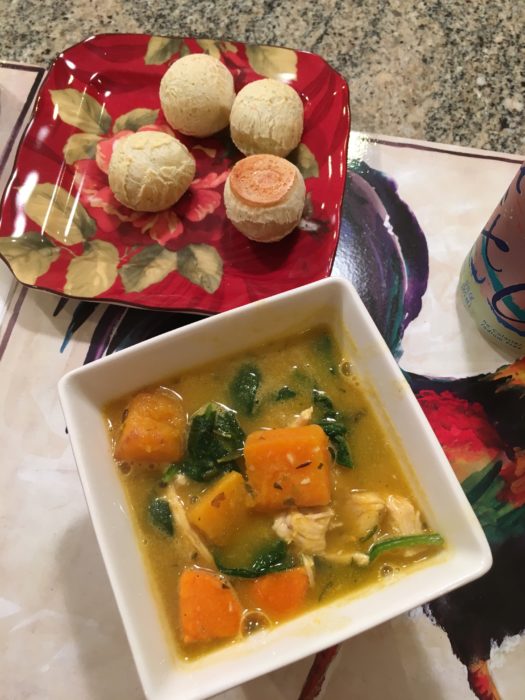 This butternut and chicken soup continues to be a favorite of mine. Served with Brazilian cheese bread (above) and avocado toast (below).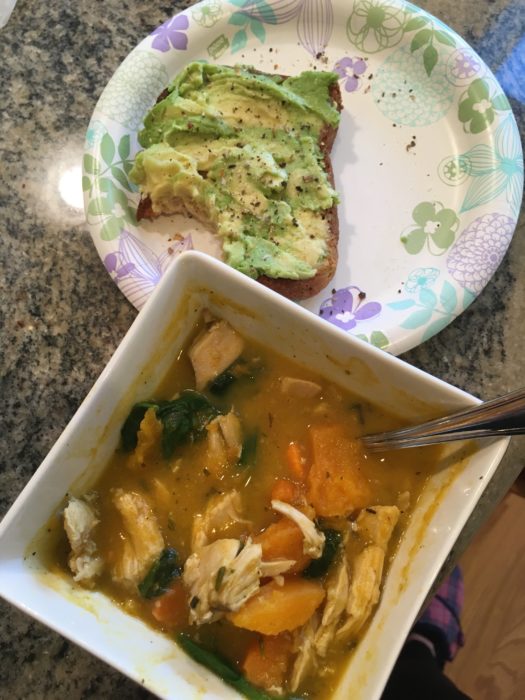 Our CSA box came on Wednesday and we are going on vacation Saturday, so I tried to pick things that would be eaten right away. The carrots are INSANELY good so I ordered 4 bunches of them. In the bowl was roasted carrots, roasted broccoli, steamed cabbage, brown rice, and egg, and topped with hummus and chives.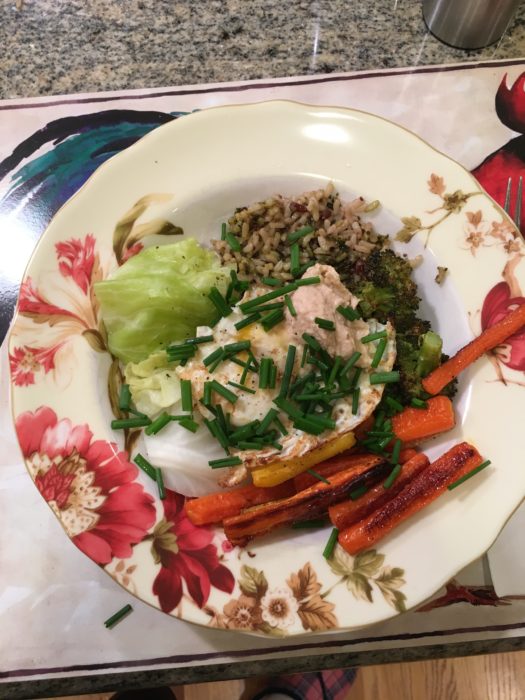 Thursday night after teaching my 2 spin classes (note to self: don't program lots of HIIT intervals into the days I teach double….DEATH), I met up with a good friend from college who is visiting all the way from Texas! We went to a Chinese-Korean fusion place and I got a big dish of Buddha fried rice, which was brown rice with cabbage, squash, edamame, and probably some other deliciousness!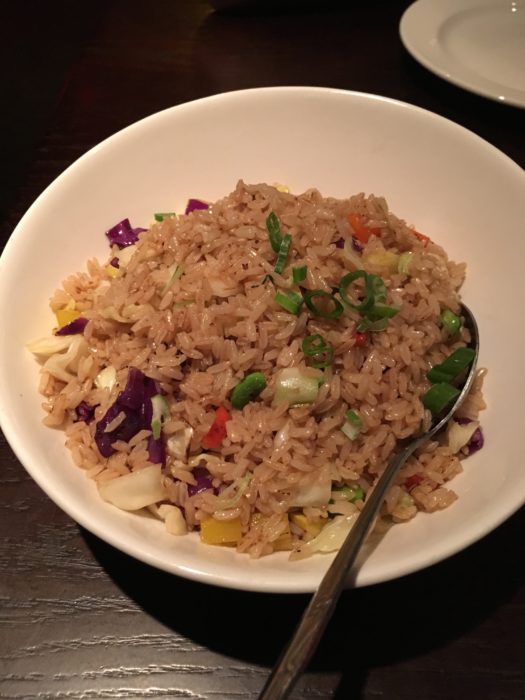 After dinner, we got boba. I had a taro milk tea (it doesn't have caffeine!) and it was delicious. I left absolutely stuffed, but the carbs+protein were exactly what my body needed after that day!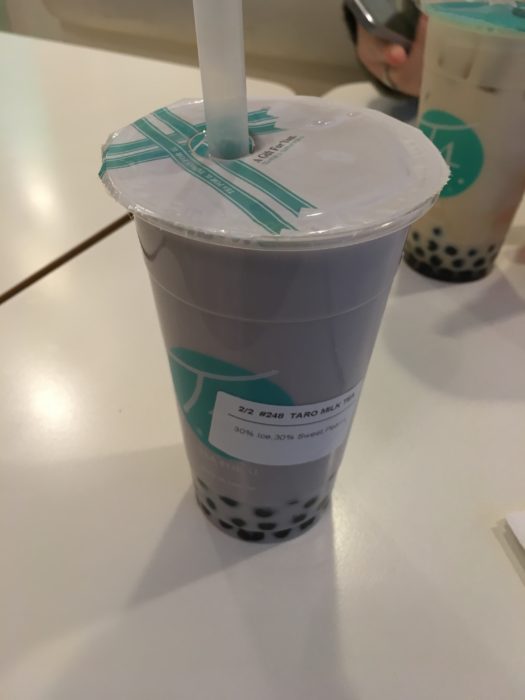 One last non-food thing: I'm trying to nail in the running a little bit more for a 5k coming up in March. I've been really happy with my treadmill paces, but I haven't made it outside much due to weather. I finally caught a break in the rain to hit one of my favorite trails on Wednesday.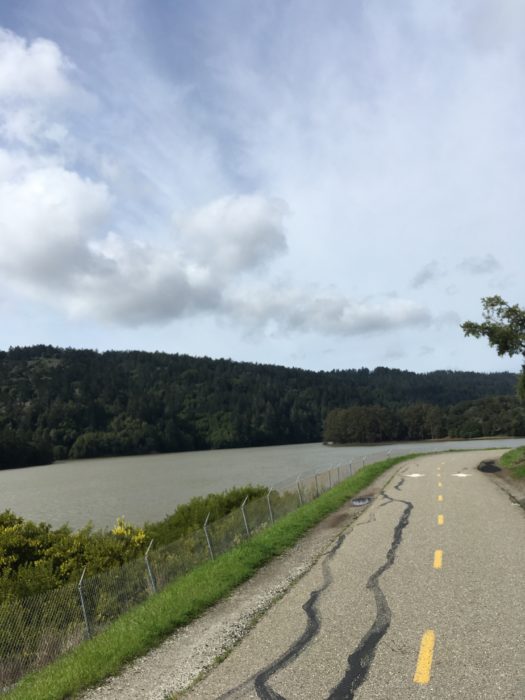 It definitely felt harder on the road thanks to a lot more wind than a treadmill, but I'm still coming in about where I want to be, so I'm excited about that!
Have you done the Crossfit Open before? Anyone do 17.1?