I feel like this past weekend was ALL the Christmas festivities.
On Friday night, I met up with my friend for drinks at a new local restaurant, and we got a nice view of the big town Christmas tree.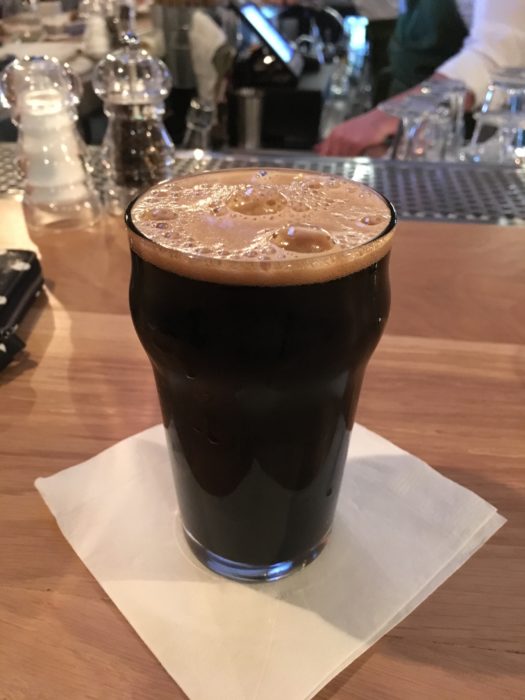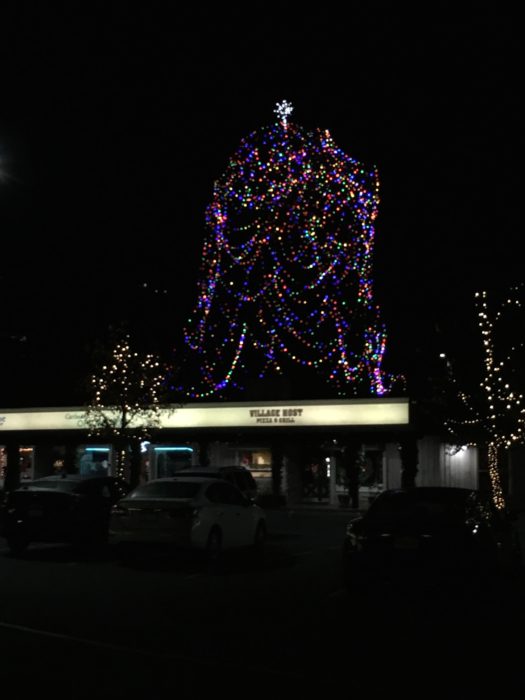 Saturday, I went to a morning spin class, and then my mom and I got fancied up to go see a local production of The Nutcracker.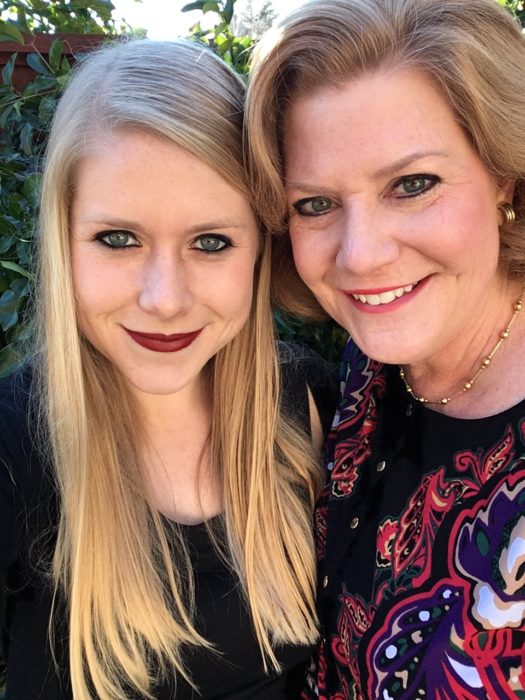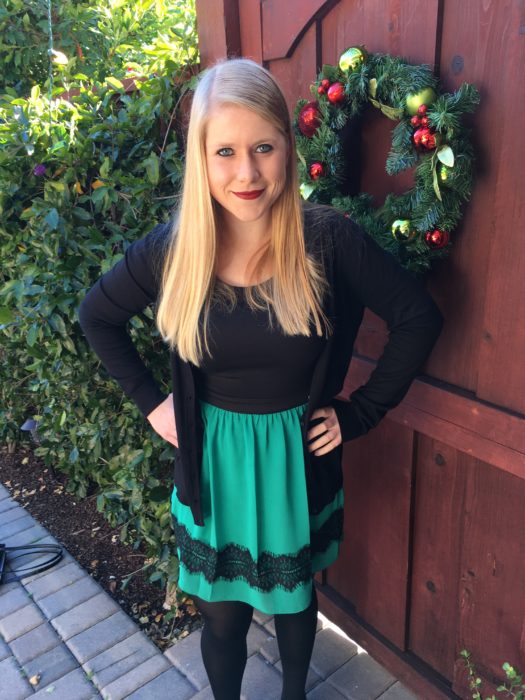 I haven't see The Nutcracker in many, many years, so it was nice to see! Plus, it helped me get in the holiday spirit!
Saturday night, my sister threw a little Christmas party, so I broke out my new favorite sweater: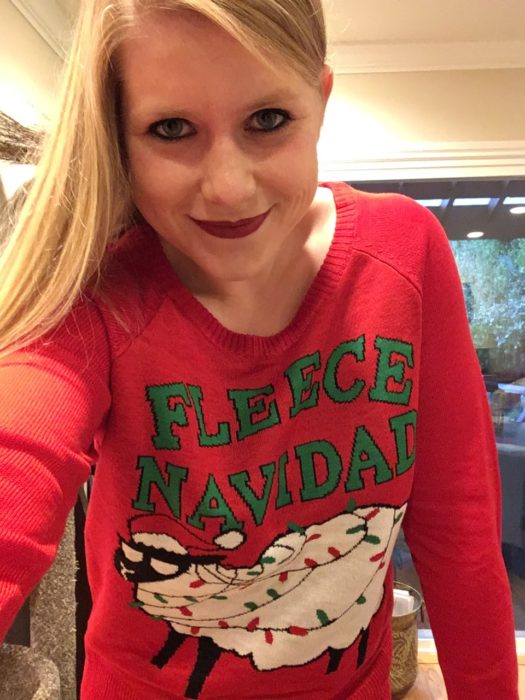 I'm absolutely in love with it. Sheep on a sweater? With a pun? HECK YES.
My sister always puts quite the food spread, and this year she did not disappoint. Marinated pears with all kinds of cheeses, butternut squash mac n cheese, eggnog, mulled wine, tofu skewers, gingerbread muffins with apple bourbon buttercream, and pumpkin spice cannoli.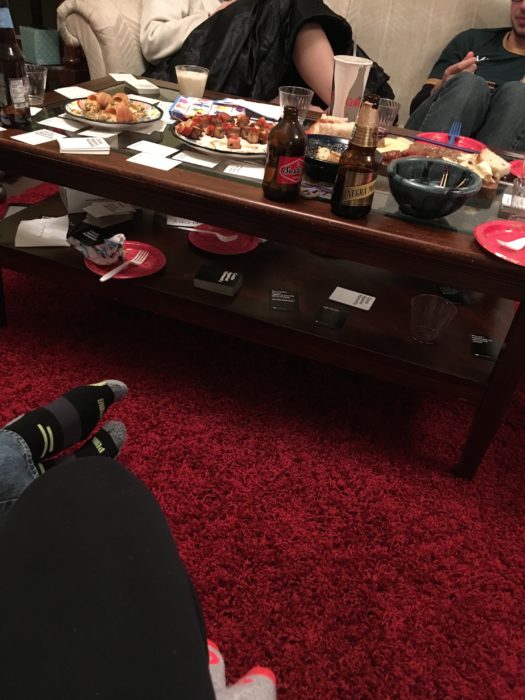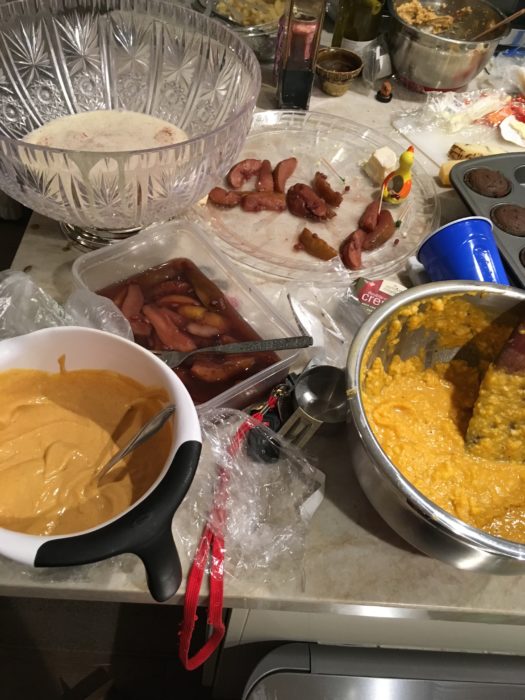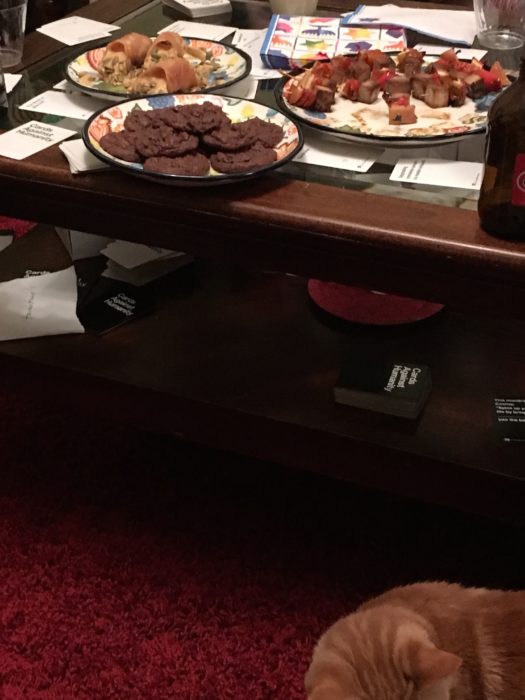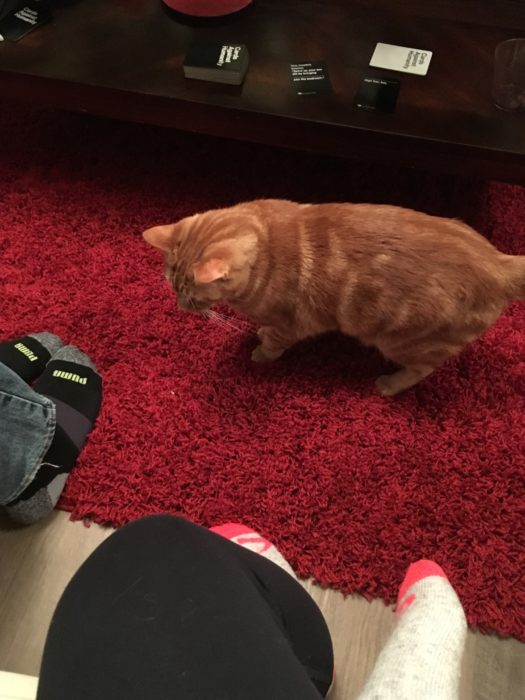 We played games and hung out with her cat. I actually trimmed his nails too, as the vet assistant present.
Sunday afternoon was the Santa Run, aka the main point of this post! I also wanted to share what I ate before the race, given it was an afternoon race. I feel like for me, afternoon races are awkward for eating.
For breakfast, I had a persimmon and a Flapjacked muffin.
And then for lunch, I had roasted butternut squash and chicken soup with crackers.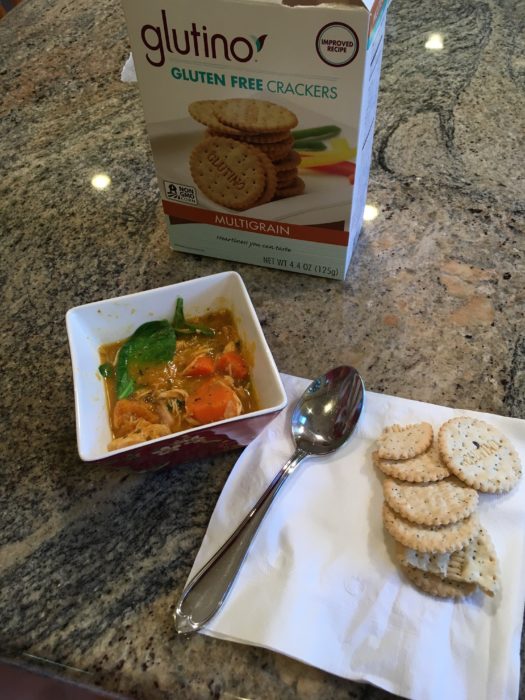 Then, I got on all the proper Santa Run attire.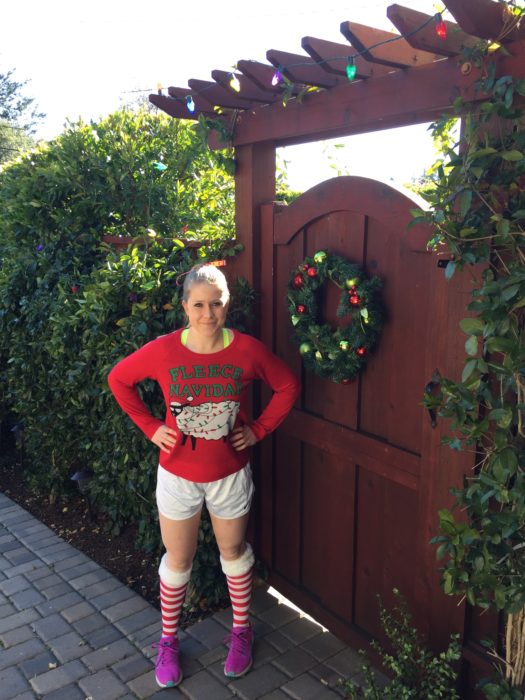 This was my FIFTH year doing this race. Isn't that crazy? I did it the second year it was done. It was actually my first (and fastest ;/) 5k all those years ago. Crazy!
Throwback to Santa Run Round 1: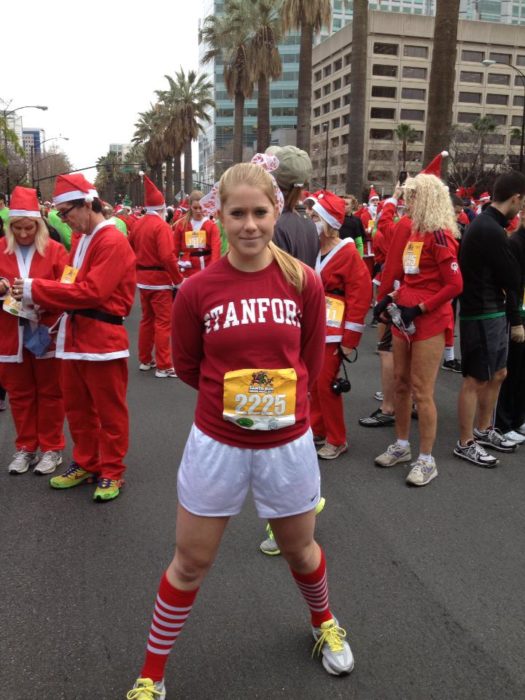 Over the course of several Santa Runs, I've learned a thing or two. Like how freezing it is waiting for the race to start. I decided if I was going to be obnoxious and wear shorts (it's my right as a Californian), then I could at least break out my Missouri jacket, scarf, and gloves.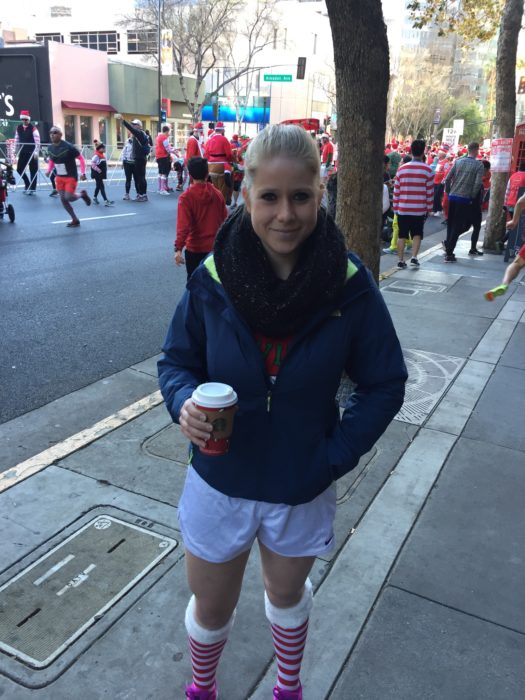 Note that that was not my coffee because #zerocaffeinetolerance.
As per usual, there were tons of Santas.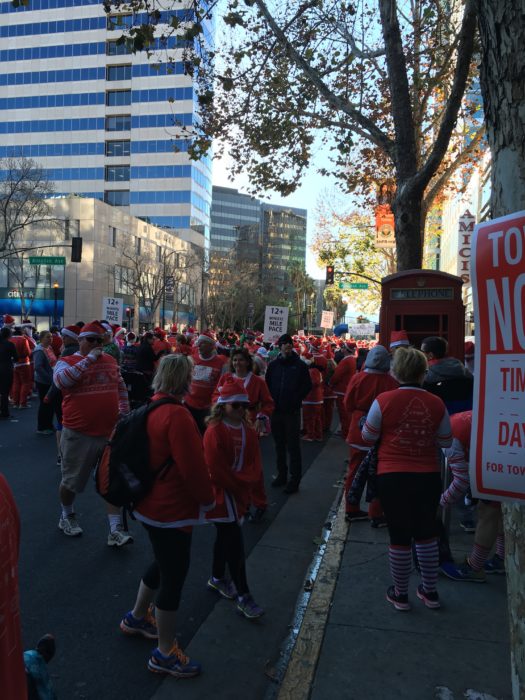 Finally, it was time to slowly strip my layers and line up. It actually wasn't TOO cold in the sun and sheltered from the wind. Perfect race conditions.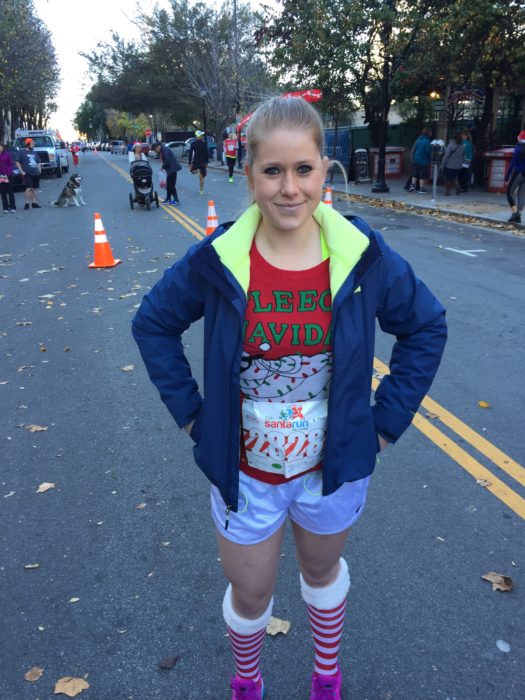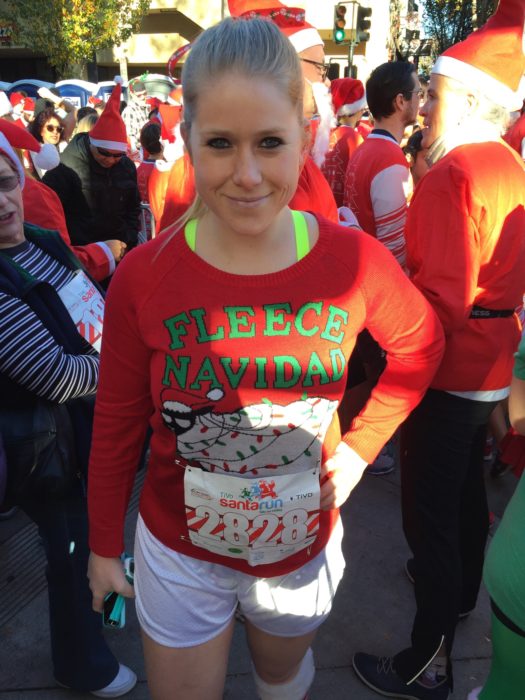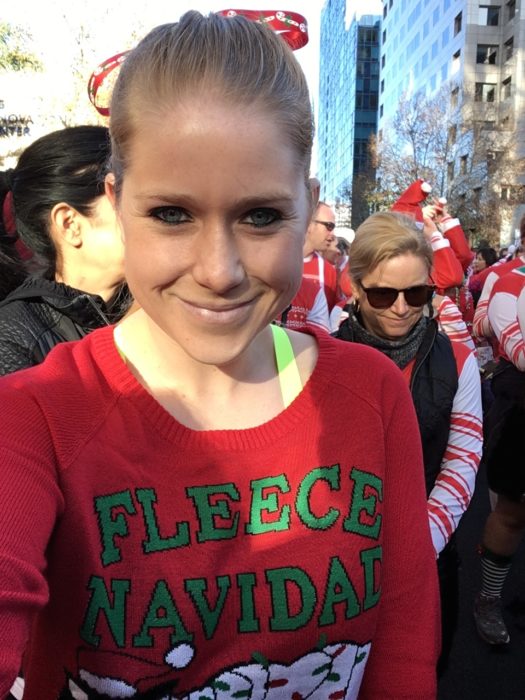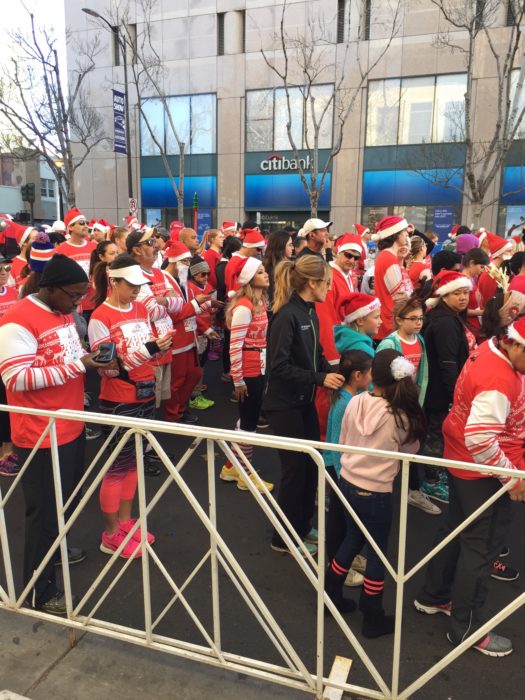 It was quite the sea of Santas!
And then we were running. I wish I was capable of not being competitive with myself in these races, but it is what it is. I went in with the goal of not dying, but beating my pace for the Turkey Trot. And I've discovered how fantastic negative splits are.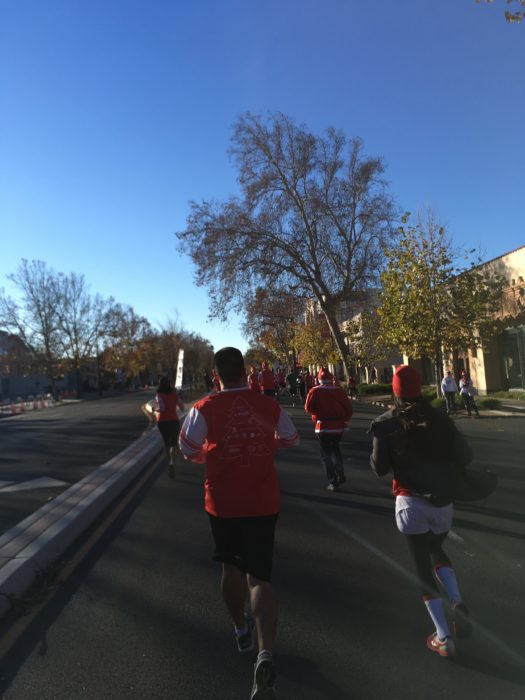 It's amazing to me how much stronger a runner I've become lately, through only running 3 miles twice a week. Which is pretty much all my formerly broken foot is ok with. Even hill running. I've hardly done any hills lately, but I tackled a giant hill by my house and it felt shockingly easy. It's amazing how much other areas of fitness transfer to running. So injury prone runners out there, keep that in mind! You don't necessarily have to run a ton to improve!
Before I knew it, I was crossing the snowy finish line.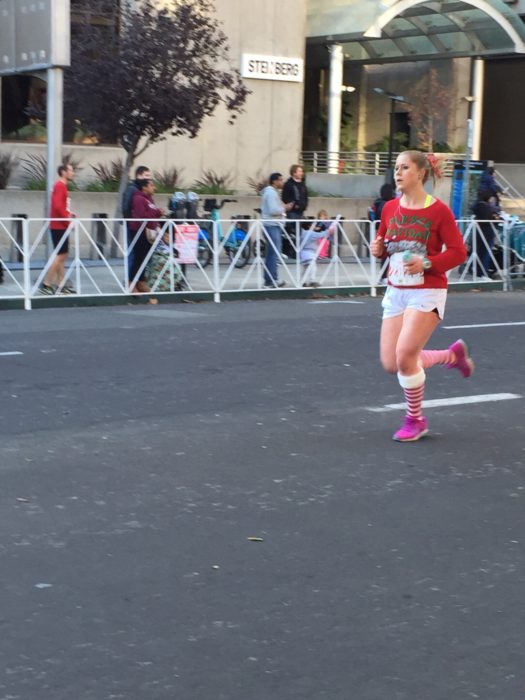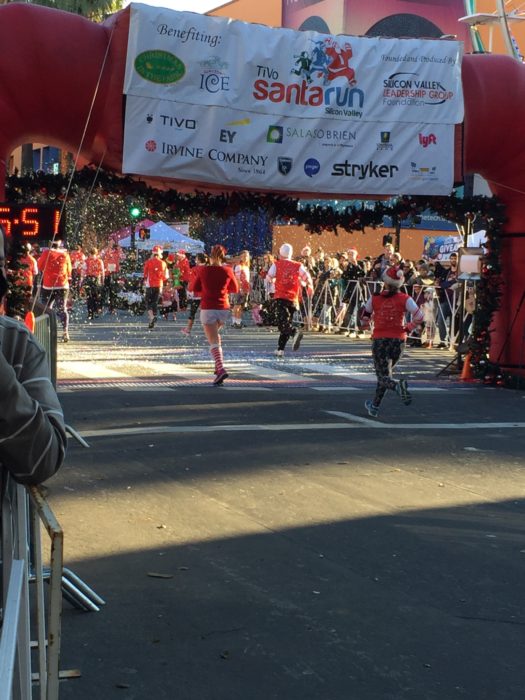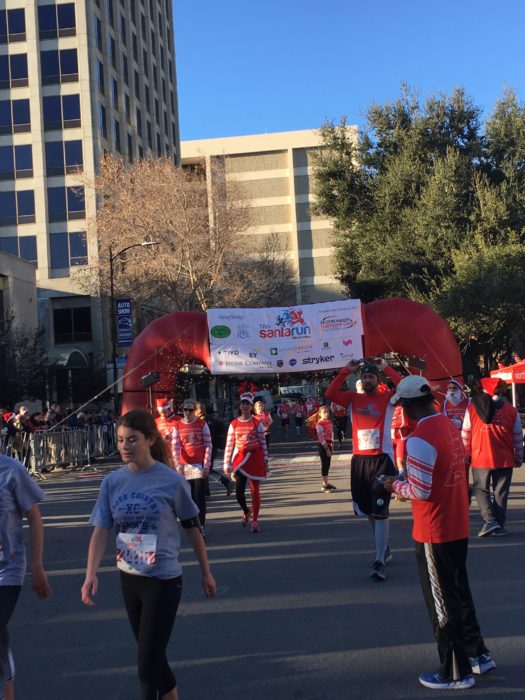 I was happy with my pace!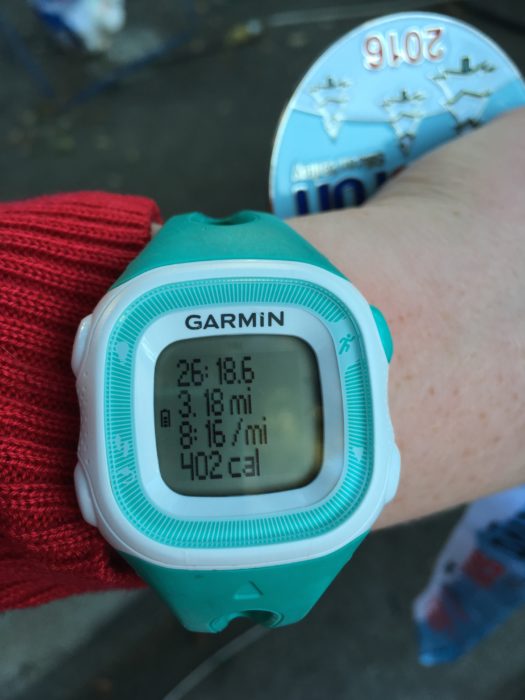 Then, I sipped on chocolate milk while waiting for my sister and her fiancé to finish.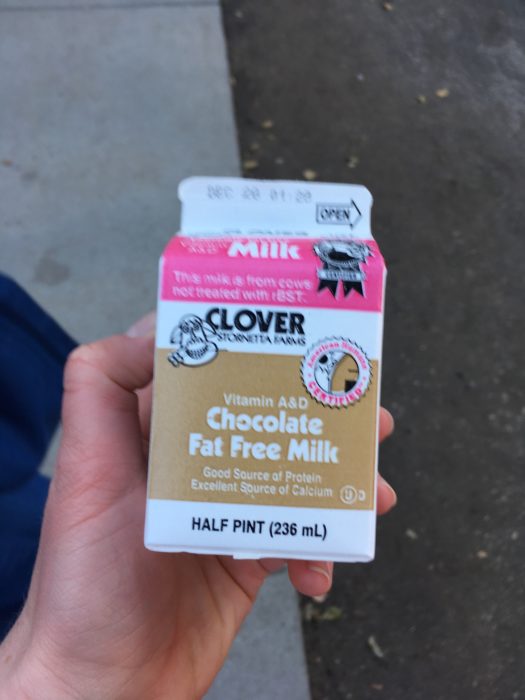 My sister hasn't done this race before, but we were able to convince her and her fiancé to join this year. We actually didn't run together though, because she started later.
I want to use this as a little opportunity to talk about something really important that most people don't take seriously enough: concussions. My sister had a really, really severe concussion in high school. It caused over a year of bad symptoms, as well as permanent memory loss for parts of her childhood. In college, she got 2 more concussions, although much less severe. The instances probably wouldn't have caused such an issue if she wasn't already prone to concussions after the big one, but 3 is the magic number in terms of severity. For athletes (she was playing Quidditch), after 3 concussions you need to stop playing contact sports, or you risk serious damage. If any of you out there play contact sports or know people that do, you need to talk about this. Why am I bringing this up now? While parking, we had to park on the 4th floor and go up some spiral ramps. For a normal person, this is not big deal. But it left my sister so dizzy she couldn't sit up for a while. It took her over an hour to recover enough to run, hence why she started late. Concussions are really serious, and need to be treated seriously.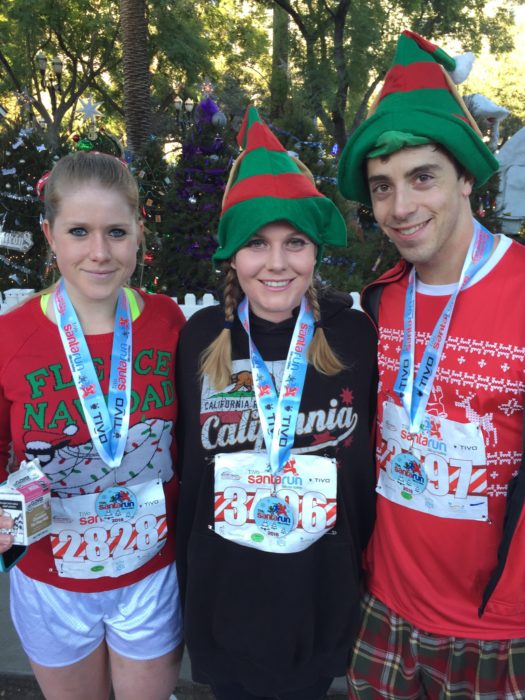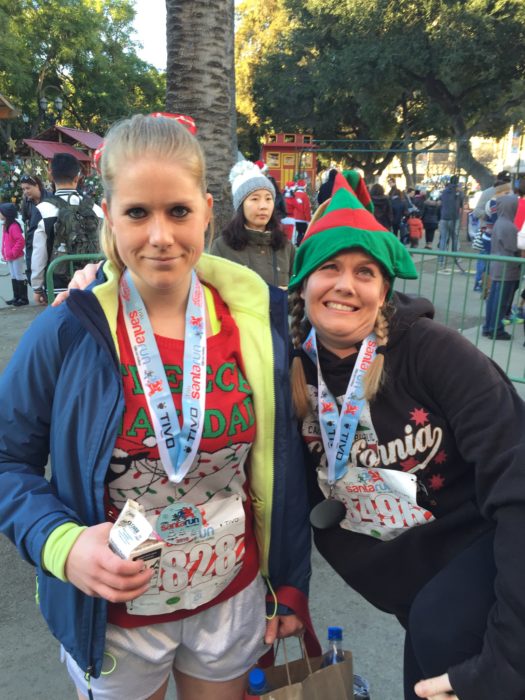 After the race, we all snacked on tamales from the food stands at Christmas in the Park, the big Christmas display in Downtown San Jose, where the race finishes. This was a major requirement for me, since I'm a big tamale fan.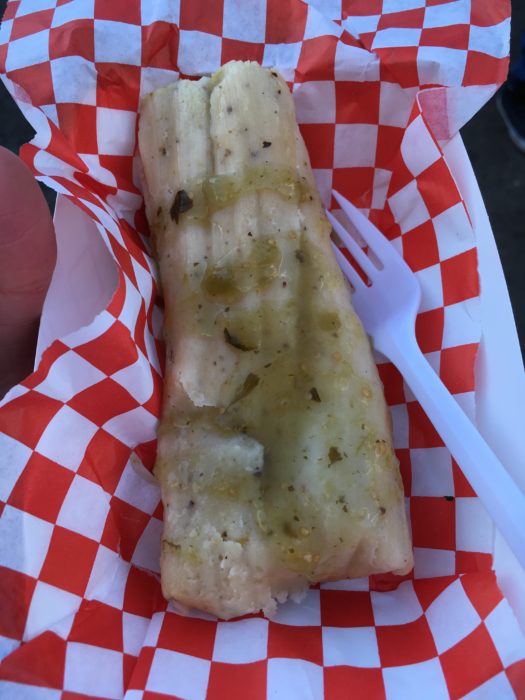 We walked through Christmas in the Park for a little bit.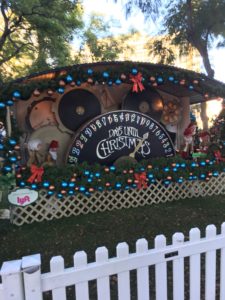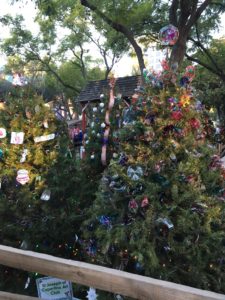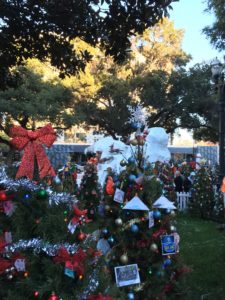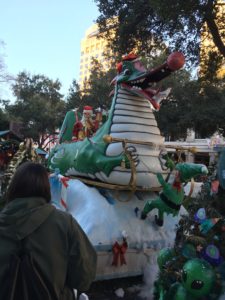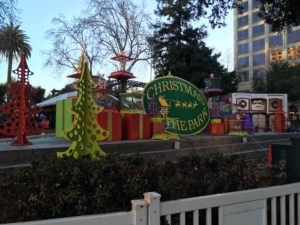 We had a little time to kill, and 20% off drinks at a local pub with our bibs, so we stopped for some post-race beers.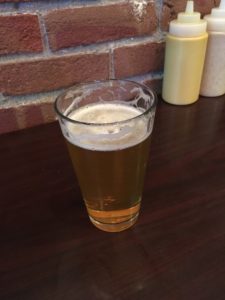 The next big event was Festival of Lights, a big light display in a park. We had to buy a ticket to drive through ahead of time and it was quite the sight!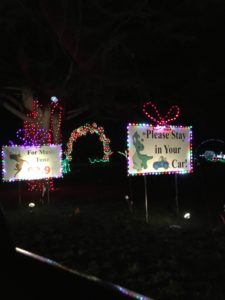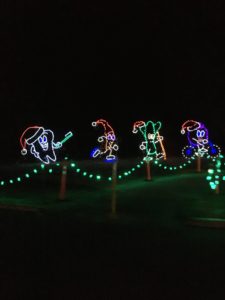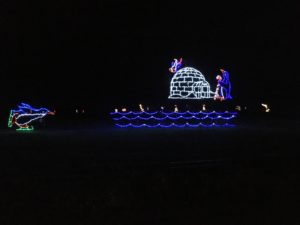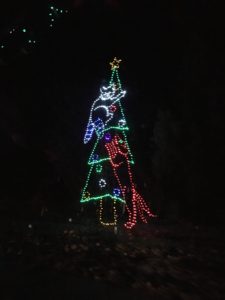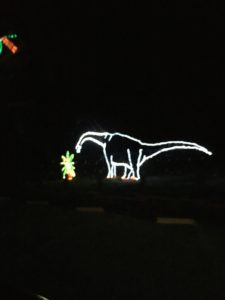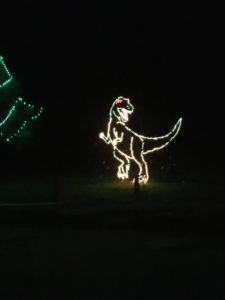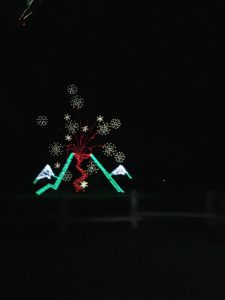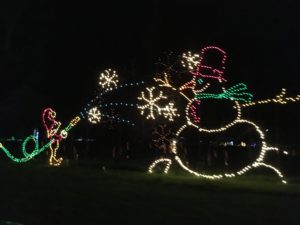 After the lights, we went to an Ethiopian place in San Jose, Walia. The injera, spongy bread, is made with teff, which is gluten free. At Walia, the injera is normally made with teff and barley, but you can request 100% teff for an extra charge, which we did. I honestly couldn't tell you what we ate, but we got two orders of the vegetarian combo, plus a chicken dish.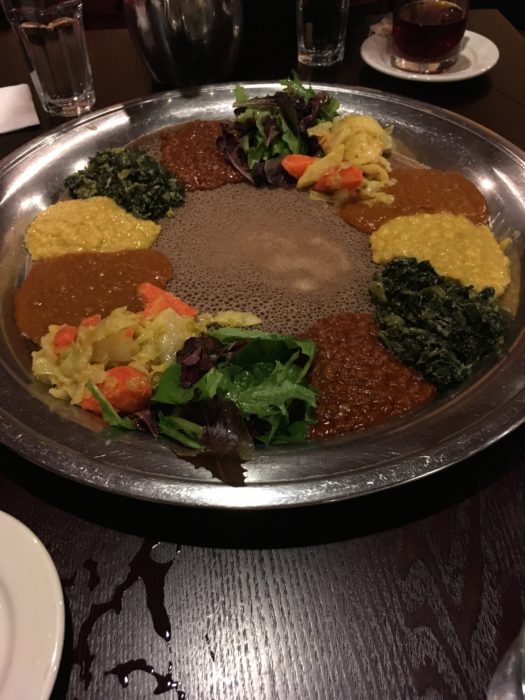 It was such a fantastic weekend, and really got me into the holiday spirit! I think the Santa Run is one of my favorite holiday traditions, and I was so glad I was home to do it this year!
Have you ever done a holiday race?