We've been to Napa quite a few times now, but this year we did something pretty unique. More on that to come!
I mentioned yesterday that I was struggling with lack of appetite on this trip, so I was hoping starting my day with a workout might bump up my ability to eat a little bit! I was hoping to run, but it was raining and to be honest, a cold rainy run on vacation didn't sound too nice. I modified Peanut Butter Runner's 1000 rep workout to better meet my needs, and just cycled through for about 40 minutes (I didn't get to 1000 reps).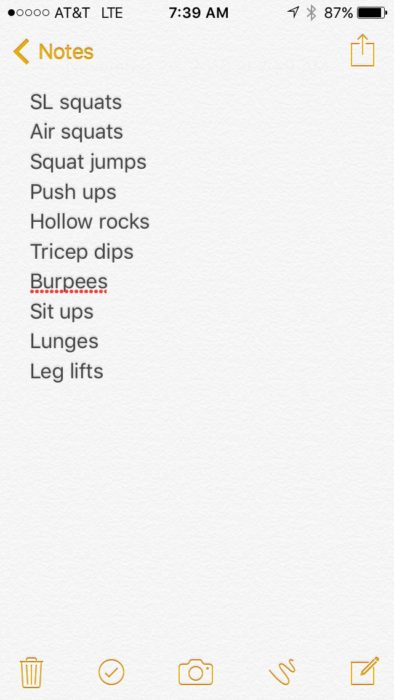 Our big plan on the agenda for the day was a visit to Castello di Amorosa, an amazing winery based out of an authentic castle. It took 15 years to build, and every stone was imported from Italy.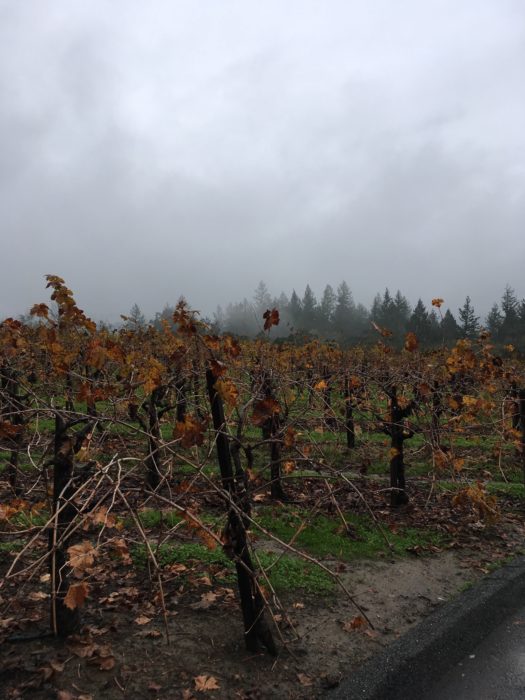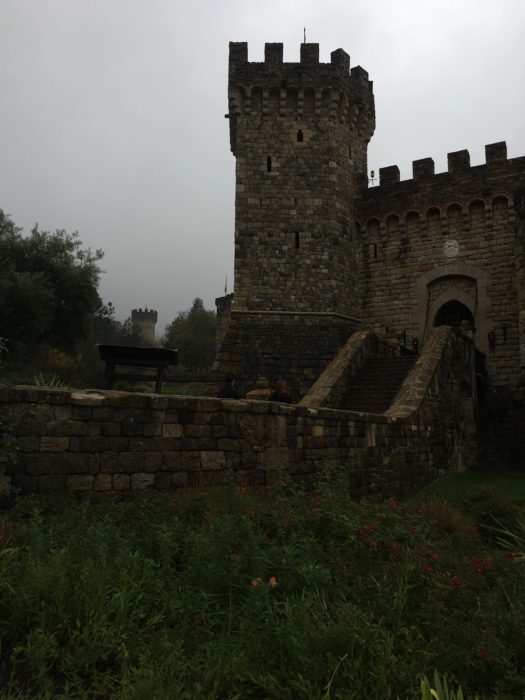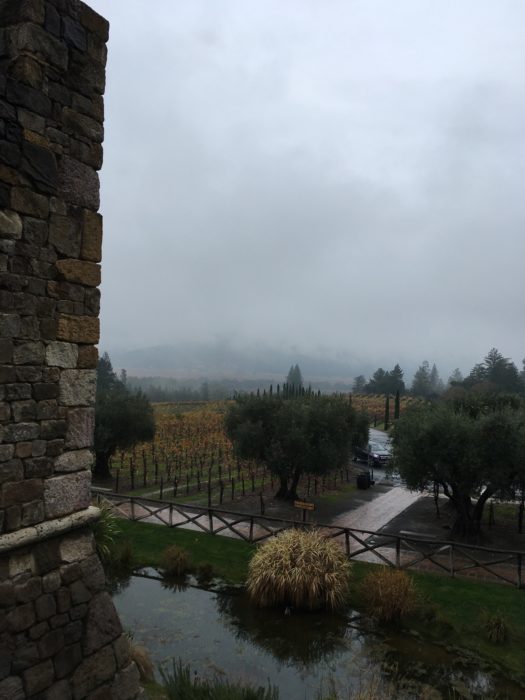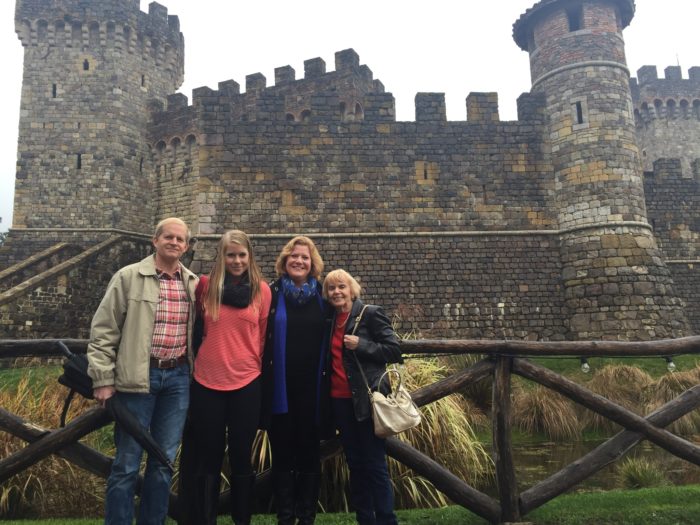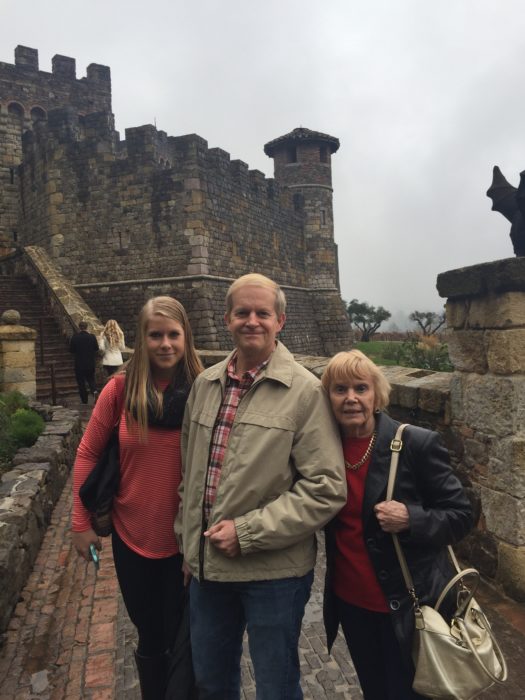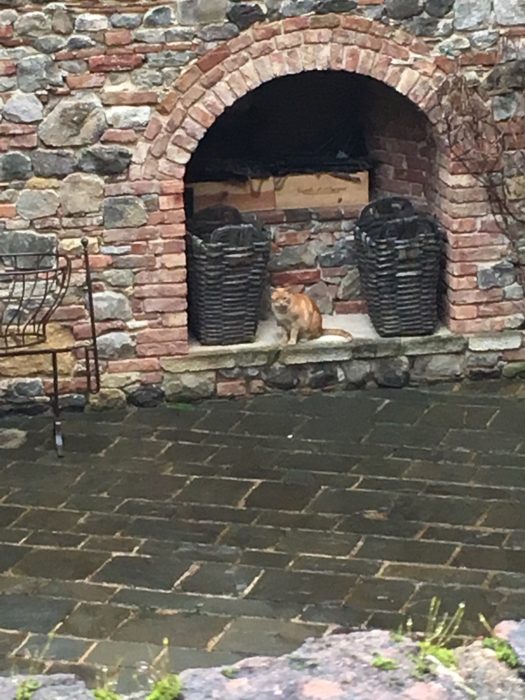 The castle has 107 rooms, many of which store wine. The winery opened in 2007, and have been making quality wine since then. Their red wines are aged about 4 years, so the red wines sold now are 2012. The tour was about 2 hours, and took us though the amazing rooms of the castle.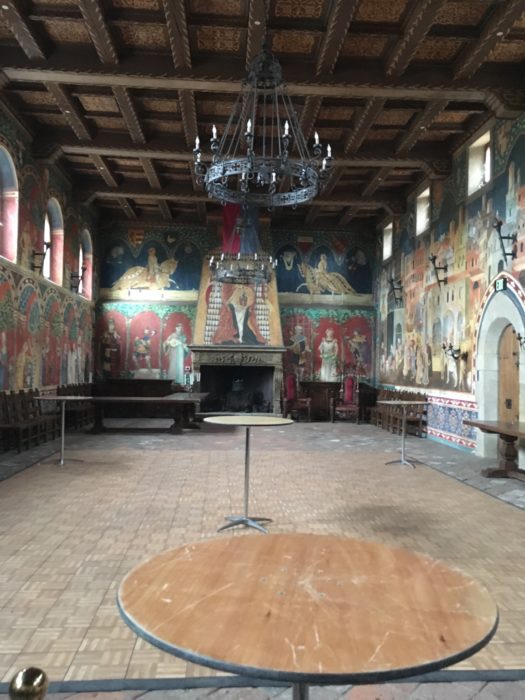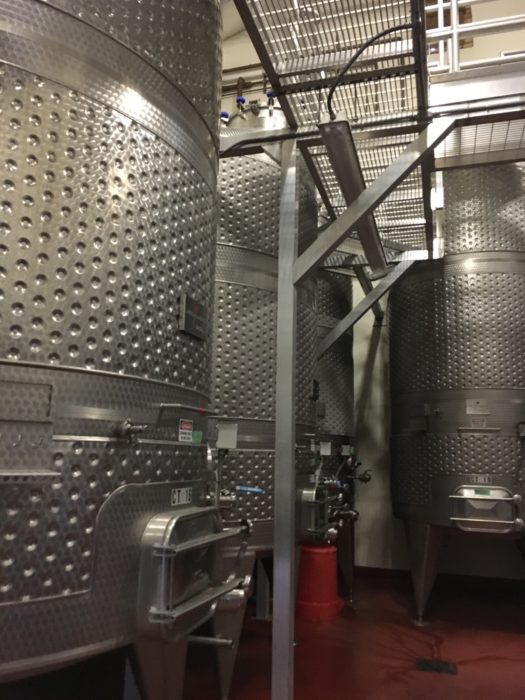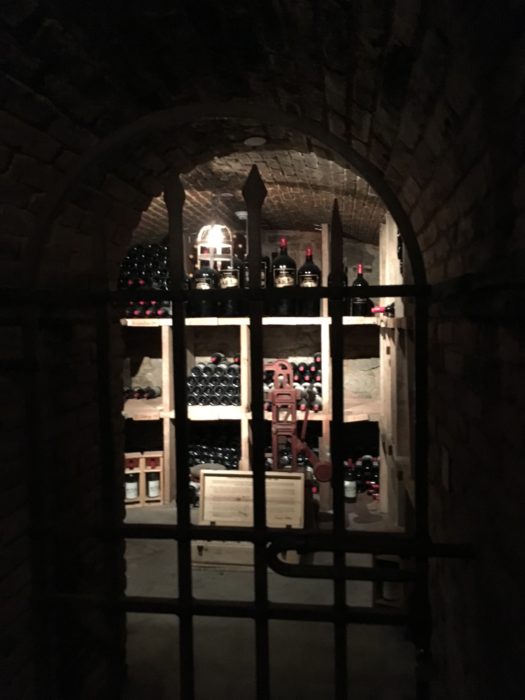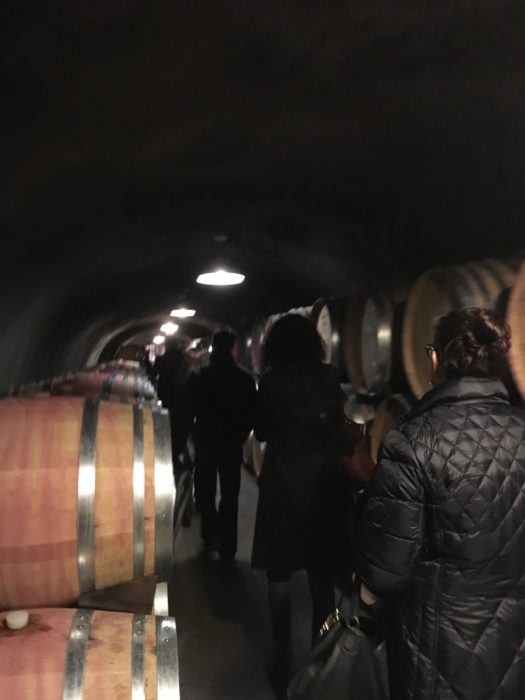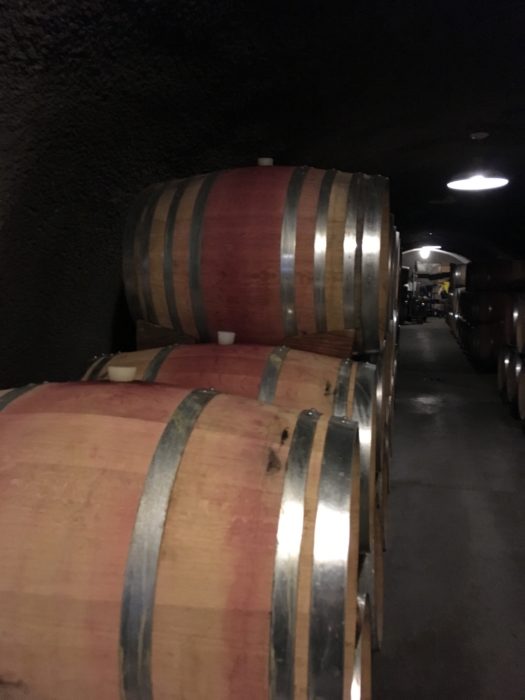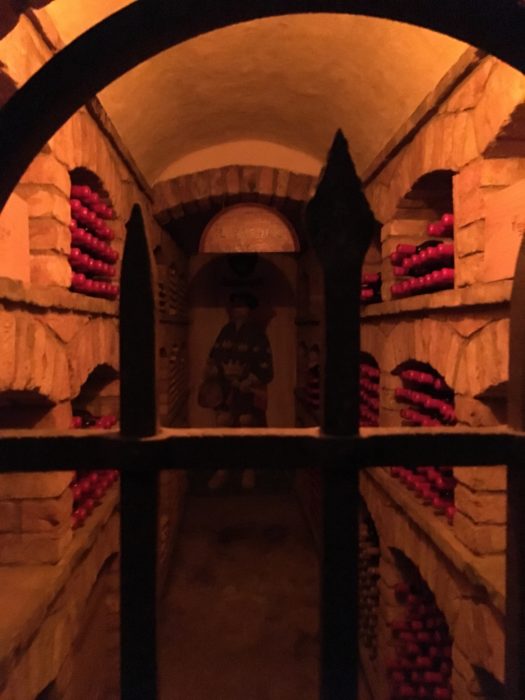 This was styled to be like an authentic 13th century Italian castle, and even had a dungeon with torture devices!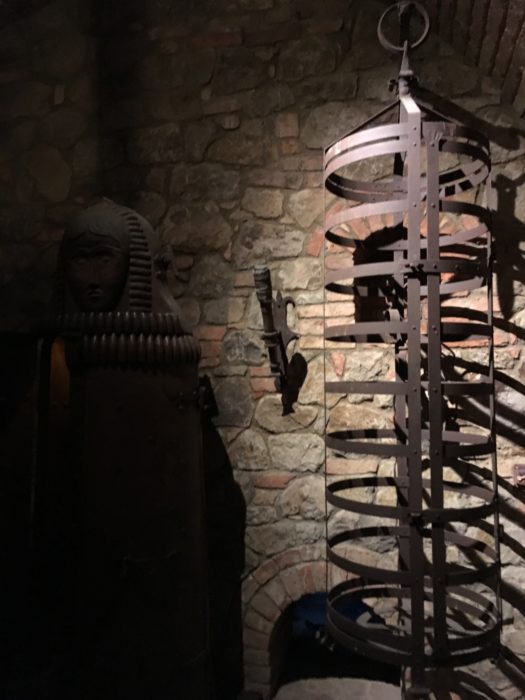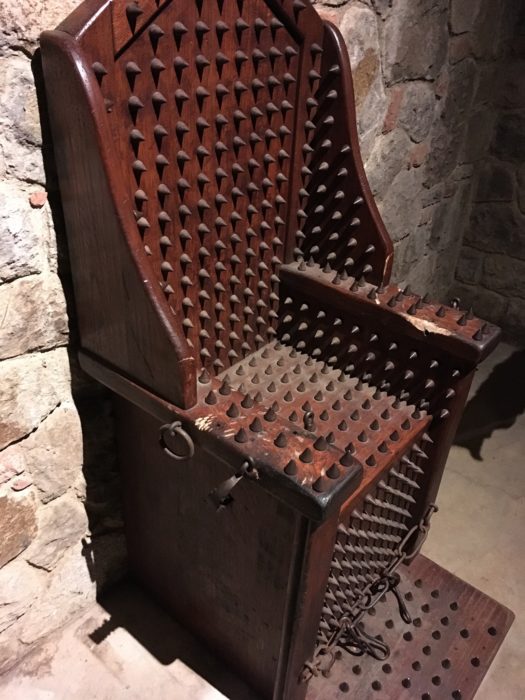 This awful looking chair would be heated, and the spikes would melt into one's body. It's apparently where the phrase "hot seat" came from.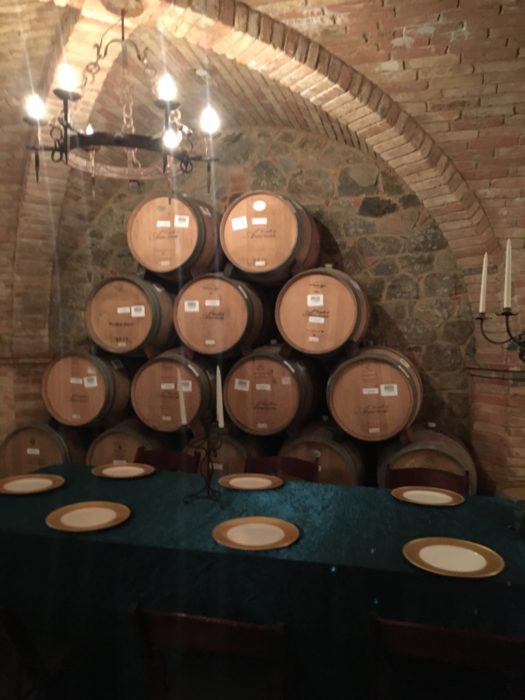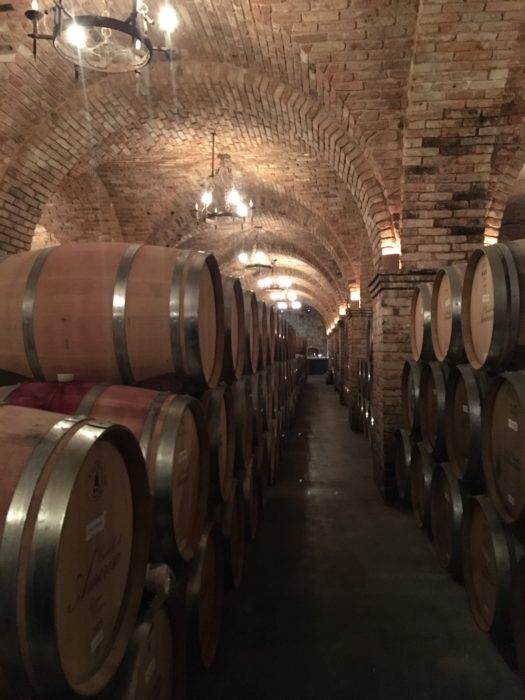 We also got to try some Cabernet Sauvignon straight from the barrel. This was a young red wine; it was only aged 2 years.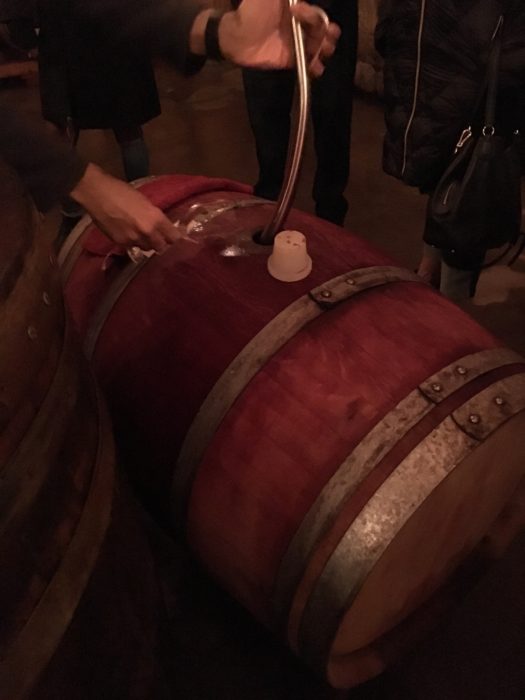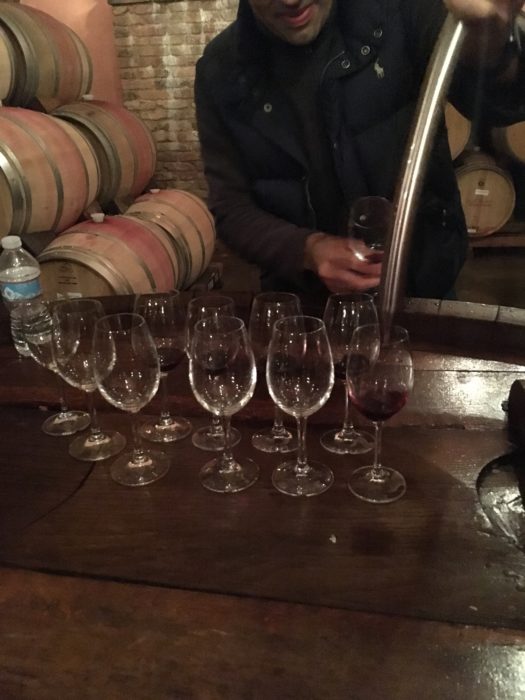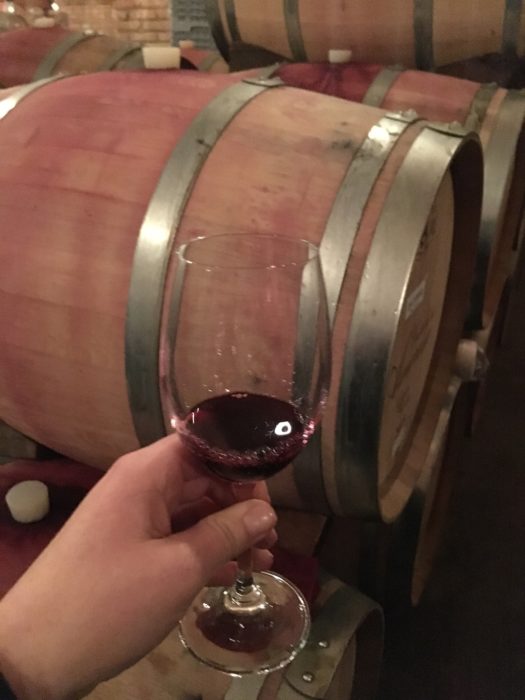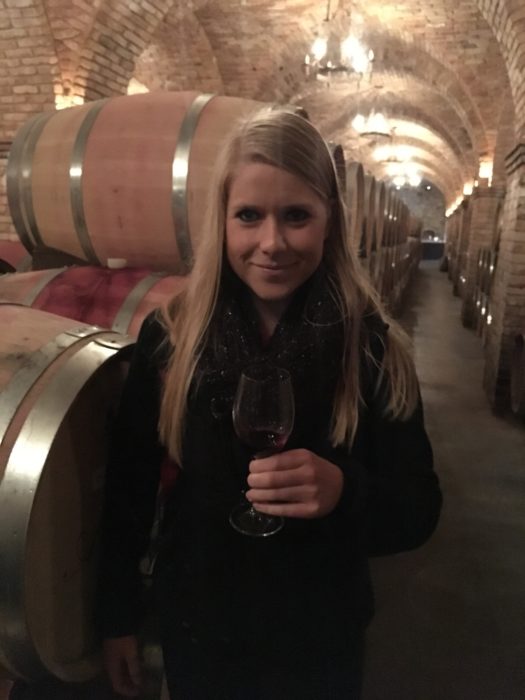 The tour ended with a tasting. We got to pick out 5 different wines to try. I'm definitely more of a white wine girl, so I tended in that direction, although I did try the Cab that was the same kind as in the barrel, but fully aged. It had a lot more complexity!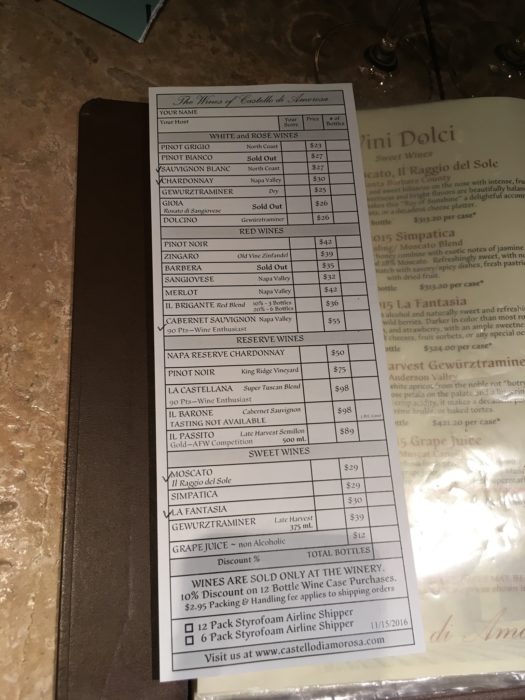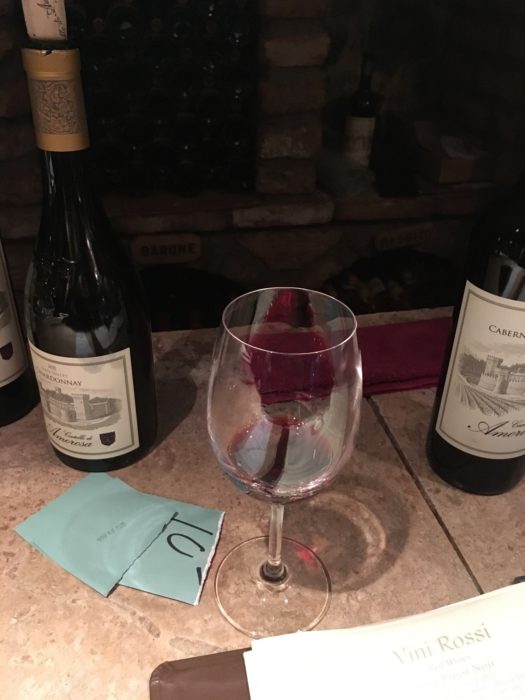 The wine was good, and our sommelier was super friendly and helpful. He overheard me talking about vet schools, and he offered to talk about Davis with me, since he got his Viniculture degree there.
We tried a couple of sweet wines which were really unique; the moscato was rich with flavor and complexity. In terms of regular wine, I liked the Chardonnay and the dry Gewürztraminer; this wine is often sweet, but their version is dry and had a really interesting flavor.
The wine is only sold on site, so we definitely took some bottles home!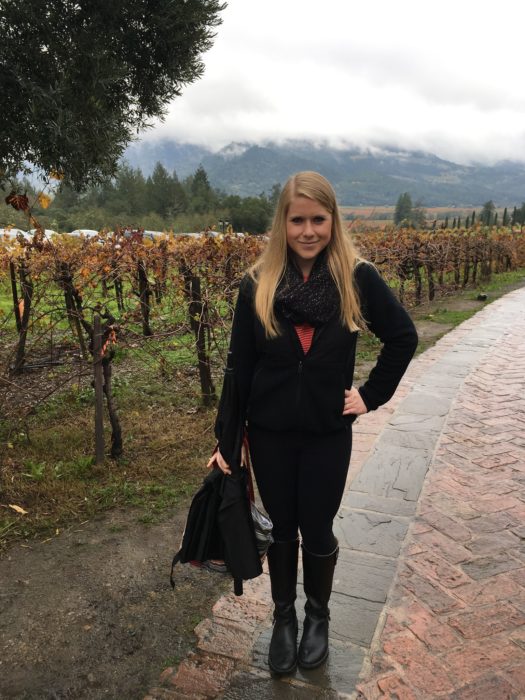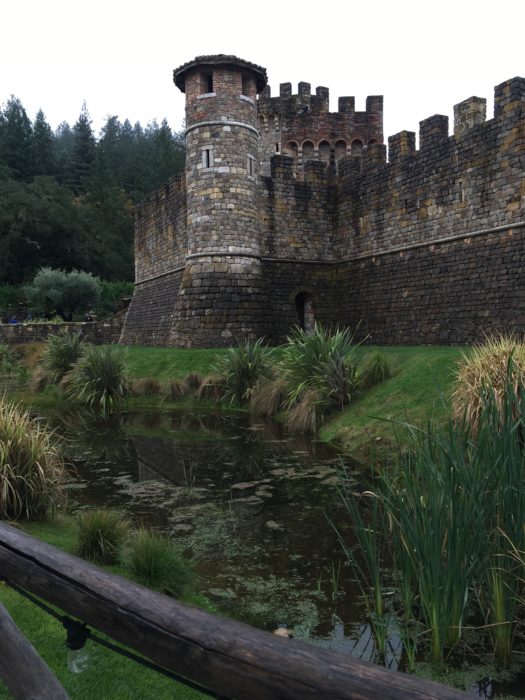 After our morning wine, we were ready for lunch in St. Helena, at the Bistro. This is one of my favorite restaurants, and it's a meal I always look forward to!
We split a grilled artichoke to start.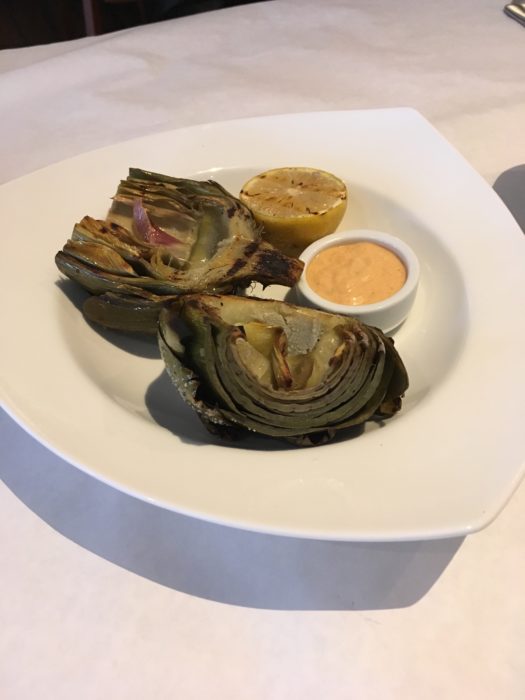 And got the avocado salad with for my main course. Avocado, fresh mozzarella, tomato, high quality olive oil, and sea salt.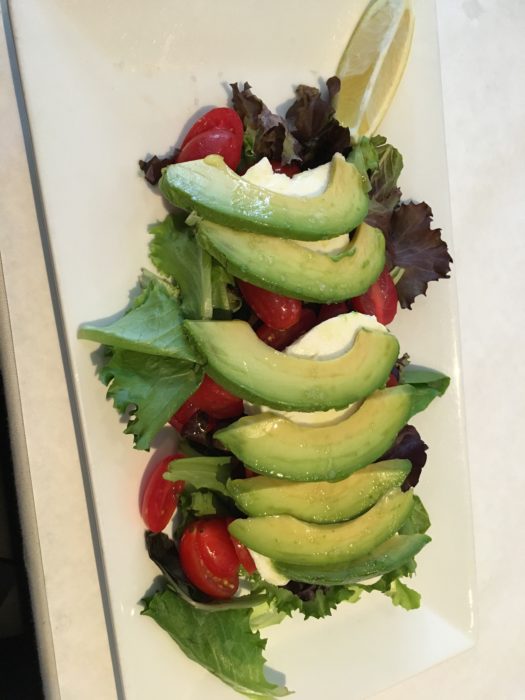 We also shared some of my dad's sweet potato fries.
We made our usual stops in St. Helena: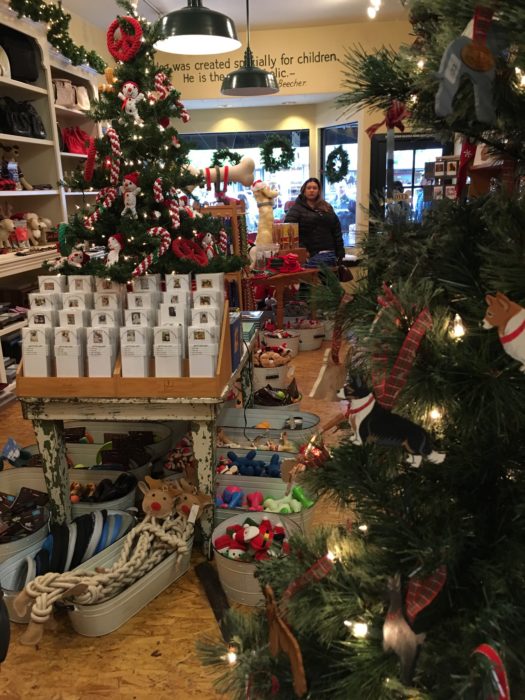 Fideaux, an adorable pet store. I actually had to get some Christmas cat toys to mail to Yoyo and Scooby; I miss them!
Olivier, which is mainly olive oil, but has expanded to all sort of gourmet items like caramel sauce and tapenades, and has free samples of most of their products.
And of course, Woodhouse Chocolates.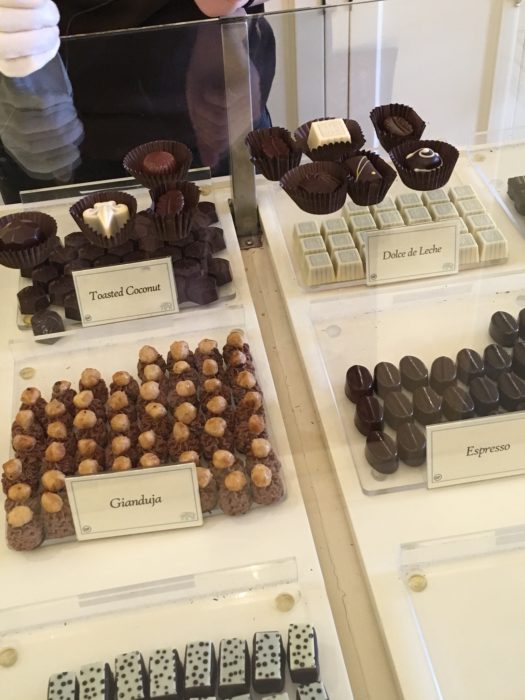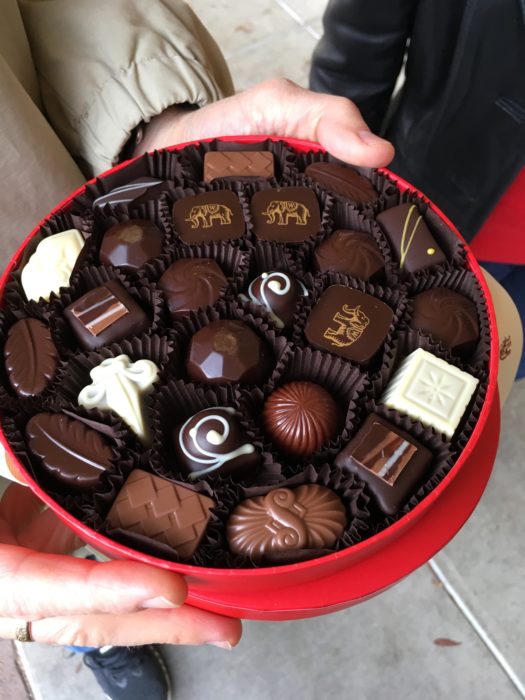 I managed to talk my dad into splitting some hot chocolate from Woodhouse, and it was of course delicious.
We relaxed the rest of the afternoon before heading to Oxbow Market for dinner. Oxbow used to have AMAZING arepas, but still has lots of good options! Since my family is now really into beer, we stopped at the taproom for Fieldwork Brewing Company and got a flight to share.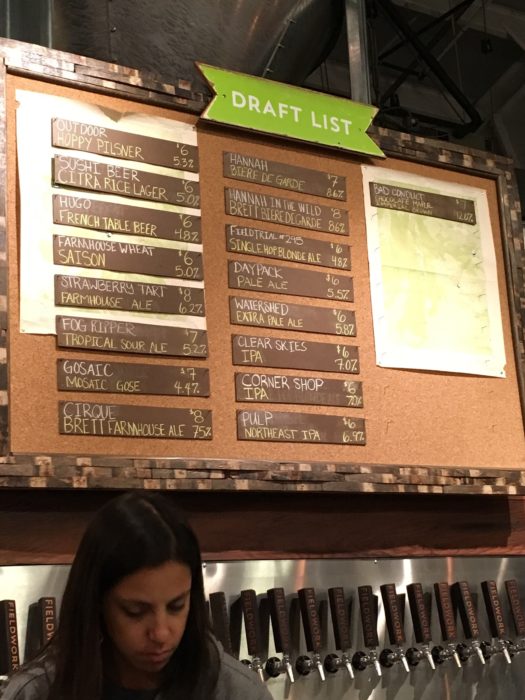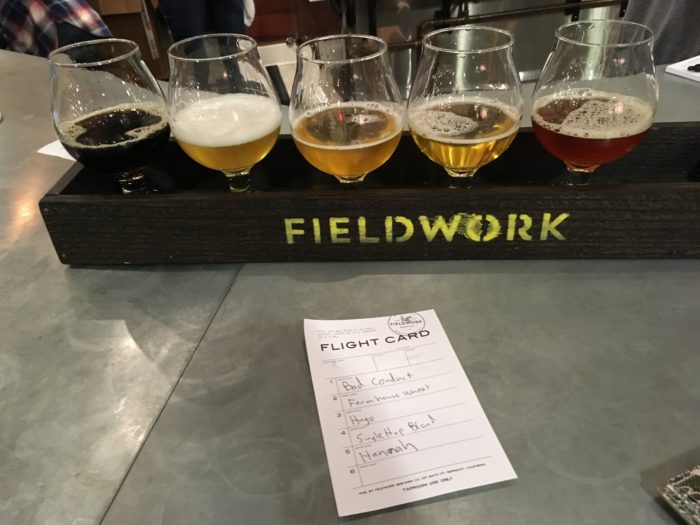 We picked out 5 beers to sample, but were most excited about the Bad Conduct, a chocolate maple imperial brown. It was delicious, but was a very strong flavor and we all agreed that we liked it a lot, but couldn't imagine having a full glass of it! I thought the beer overall was pretty good, but not really as interesting as the St. Louis craft beer I've been drinking! It was fine, but nothing too special (with the exception of the chocolate maple).
Since I figured I should actually put some food in my stomach as well, my mom and I shared a gluten free margarita pizza and salad.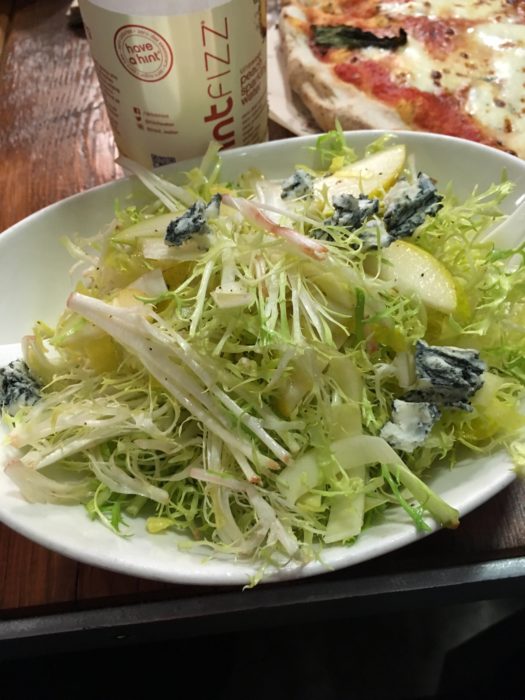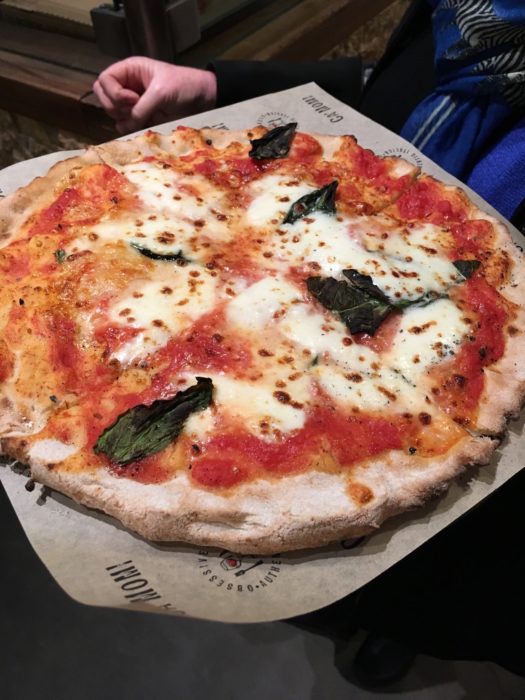 The Oxbow Market is an indoor area with a lot of different shops and food places. It's sort of like the Ferry Building in SF, but smaller.
For dessert, my family chose Kara's Cupcakes, so I had a GF mini brownie with chocolate chip buttercream.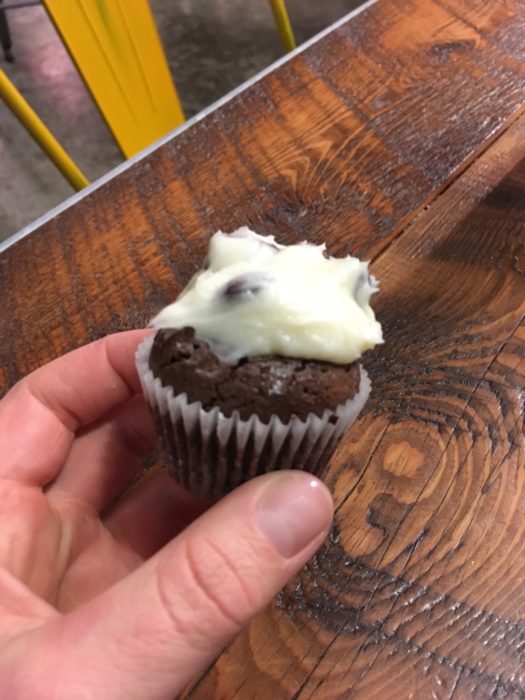 We finished the evening with chocolates and Gilmore Girls by the fire. I'm actually only starting Gilmore Girls now, only on season 2!
I began my last morning in Napa with a run. I love running around the edge of the property; it's so beautiful there! I did 3 miles before breakfast.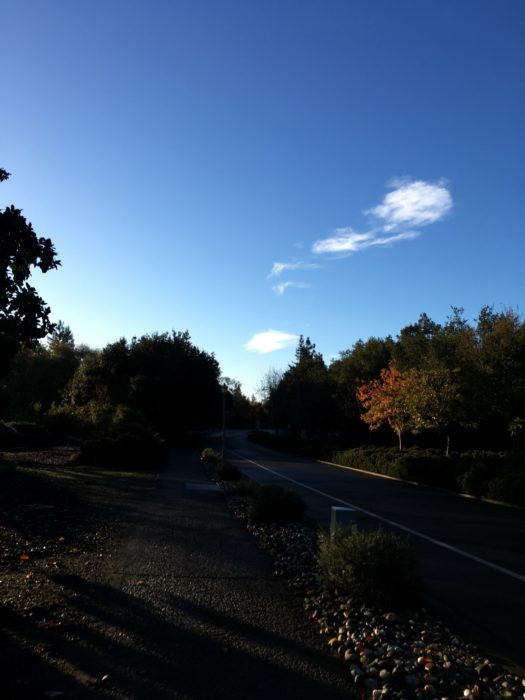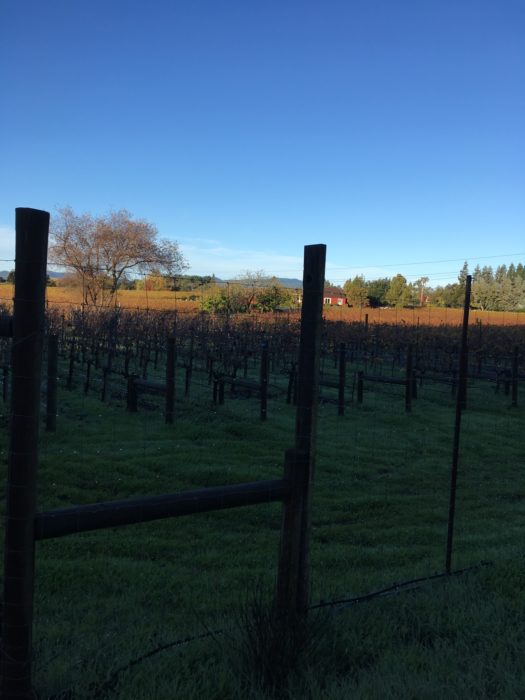 We went to the Grille for breakfast, which was a buffet.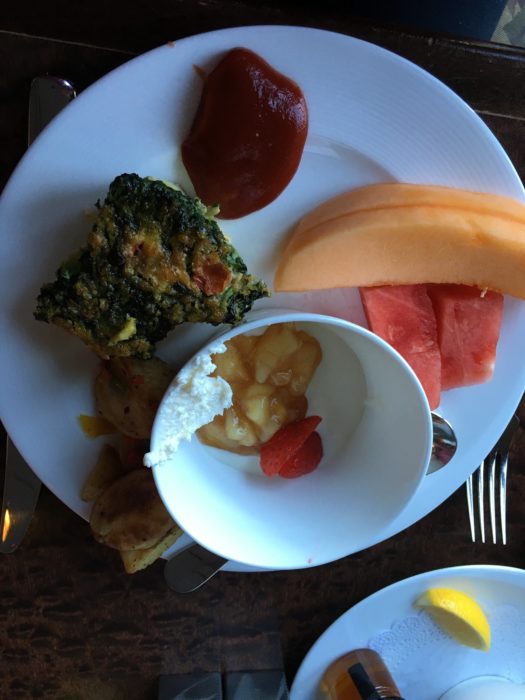 On my plate was frittata, country potatoes, fruit, and Strauss yogurt with apple compote (mostly because I wanted the apple compote).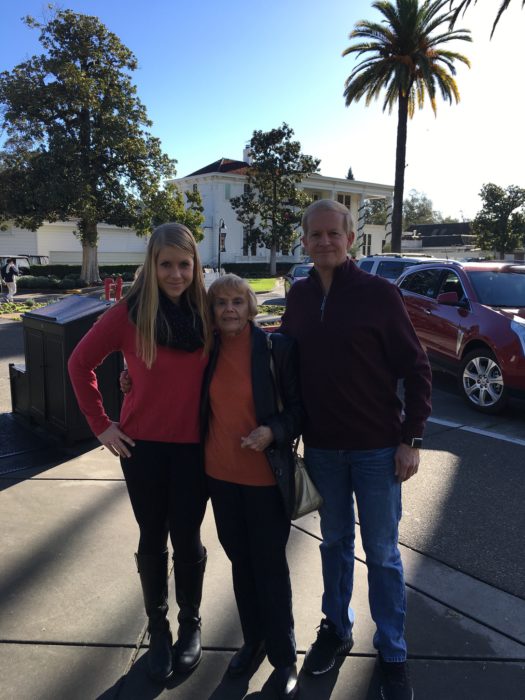 Then, it was back home. The only other highlights I want to share are my needy kitty, and homemade cranberry sauce.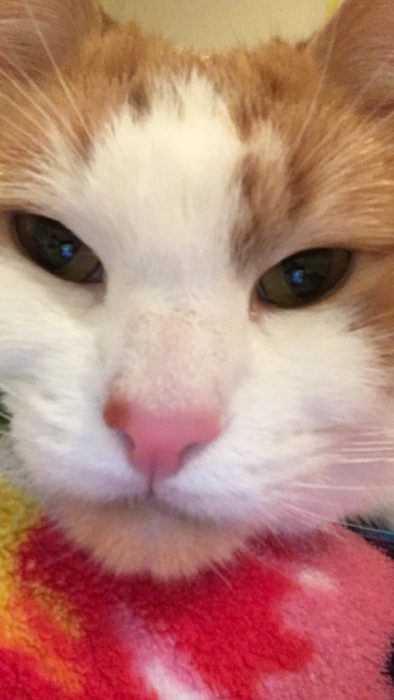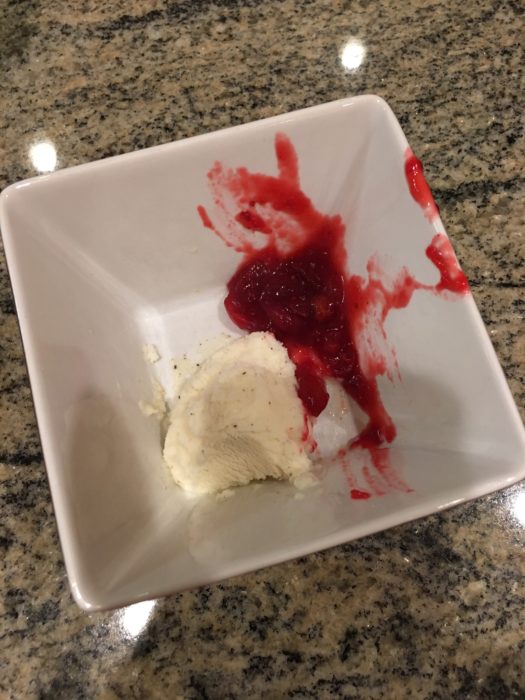 This is the worst picture ever, but I had some leftover cranberries and the desire to put cranberry sauce on everything, so I whipped up some cranberry sauce. It sort of kills me to pour white sugar into things, so I sweetened the sauce with maple syrup to taste, and the maple flavor came through amazingly. It seemed like it would be perfect on ice cream, so I made myself a little baby bowl. YUM. Cranberry sauce is seriously so easy to make. Heat cranberries on the stovetop with a little water until they break down, and add sugar as desired.
And that, my friends, is a wrap on Thanksgiving 2016.