This morning I woke up and was having one of those days. I felt sluggish, lazy, sort of sad, and overall like a blob. The best way to describe it? I felt like a potato. My diet has strayed more on the side of sweets lately and I felt kind of off as a result. Lack of sleep from the election. And after spending the previous night talking politics to my mom and ranting on the blog, I woke up feeling dirty. I didn't want to do anything. I wanted to just stay in bed with a massive bowl of cereal and hide from the world, and slide into more potato-ness.
But then I decided that that just wouldn't do. I needed to figure out how to turn myself around, because I had scary visions of my entire rest of my gap year in potato-land. As I mindfully made this decision, I wanted to do a post on it, because we all have potato days. Here are some things I did to bring myself out, or that made me smile.
-I started referring to myself as a potato which I definitely found amusing. It lightened the situation.
-I decided to make a blog post about coming out of bad days, therefore forcing me to focus on the small positives throughout my day.
-I started my morning with a workout. Exercise first thing ALWAYS helps. We did 4 sets of 10 back squats today (yuck) at a relatively light weight. Then the WOD was 5 rounds of 150m run, 15 box jumps, and 10 hand stand push ups (which I did off a box). At the start of the WOD, I just didn't feel like moving. But one round in, I felt much better.
-I made myself presentable. Looking good on the outside always makes me feel better on the inside. I didn't have the option to wear cozy clothes (zoo uniform), but I considered not wearing any makeup, and decided I would feel better if I actually put the extra 2 minutes in.
-I hugged a Yoyo on the way out the door. A selfie occurred. He was not amused, and both kitties were a little suspicious about why I was chasing around trying to hug them, but it lifted my spirits! Especially because then they got riled up and started wrestling and it was kind of adorable.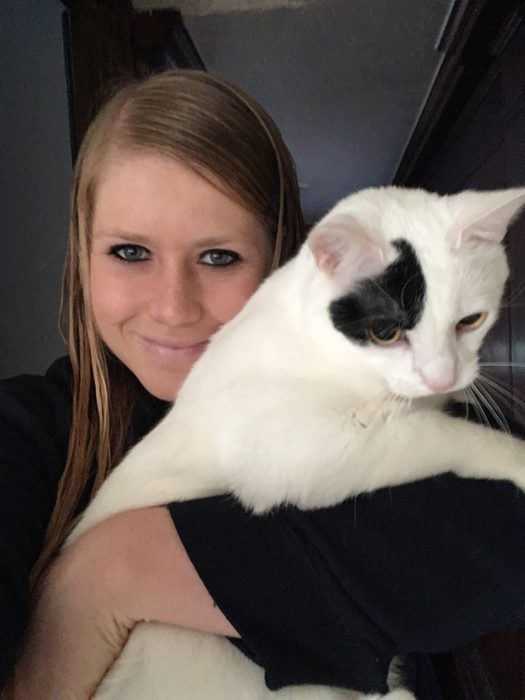 -I took a second to appreciate the pretty leaves outside on my way to the car. I love fall.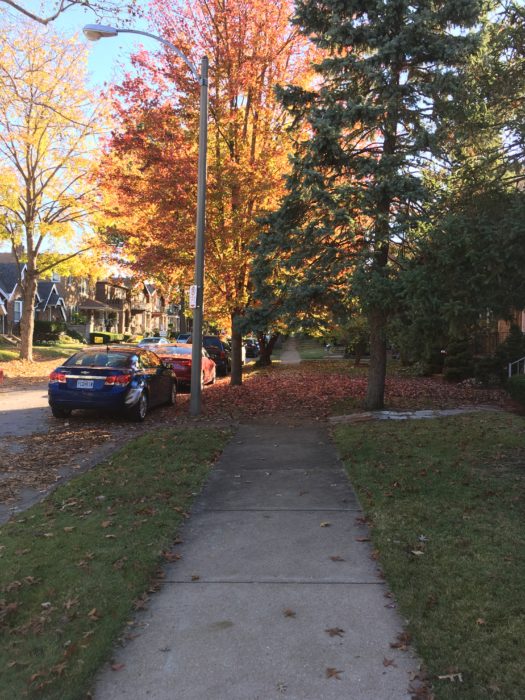 -I played my current jam on the way to work.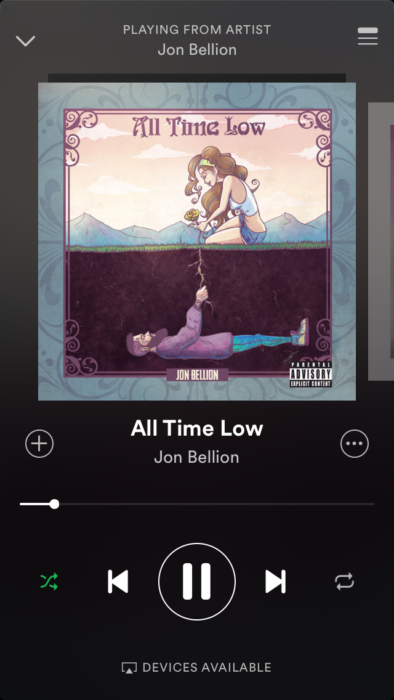 -I got an awesome parking spot at work (also I love my Spanish music. Enrique <3)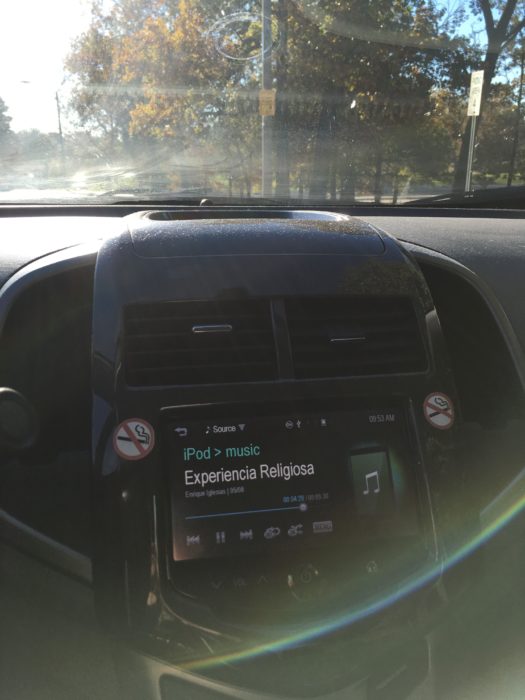 -The zoo is starting to put out holiday decorations and I love it!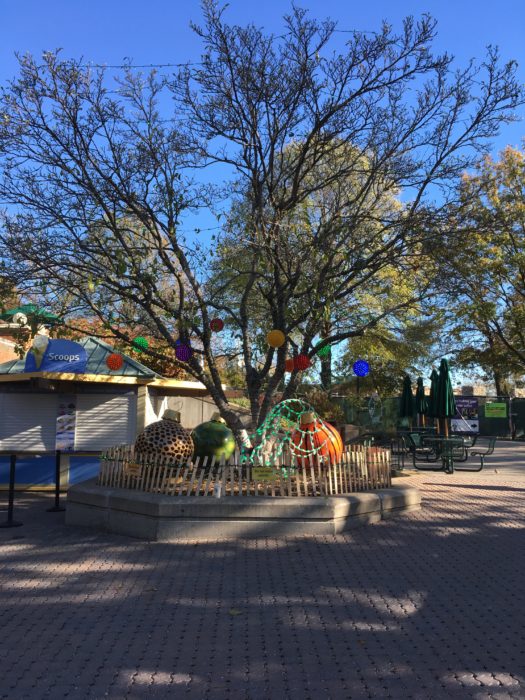 -Polar bear eating lettuce. Enough said.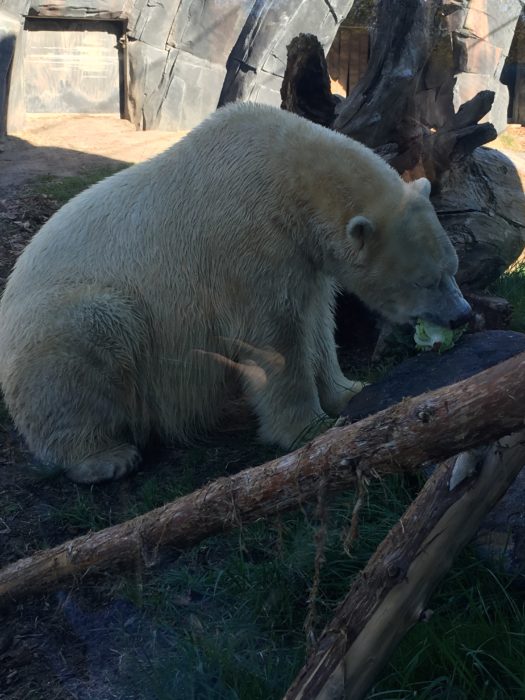 -Watching and listening to little kids can be endlessly amusing. They all LOVE our polar bear Kali. This comment this morning that a kid was repeating over and over cracked me up: "He's a beautiful specimen with a giant butt!" True.
-Vegetables. The best way to feel better and to start eating better again. Nothing crazy, just veggies. I had a salad with champagne vinaigrette, humus, goat cheese, and an egg for lunch.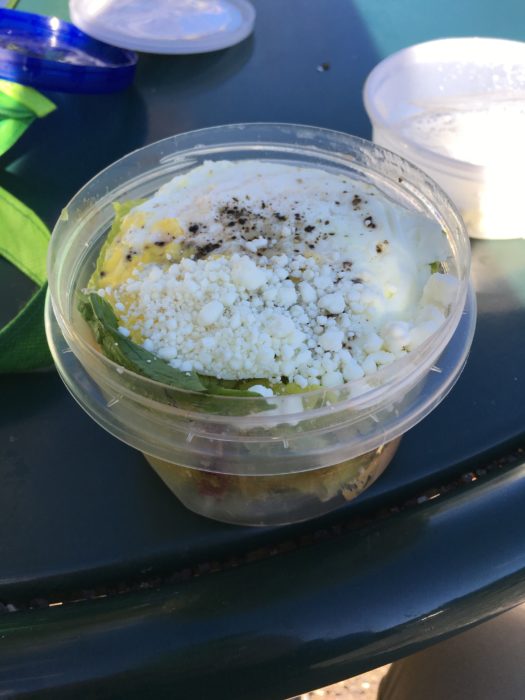 -Productivity. Sometimes I feel guilty about not getting things done and it can be a little bit paralyzing. I took some time on my lunch break to get ahead on Microbiology reading.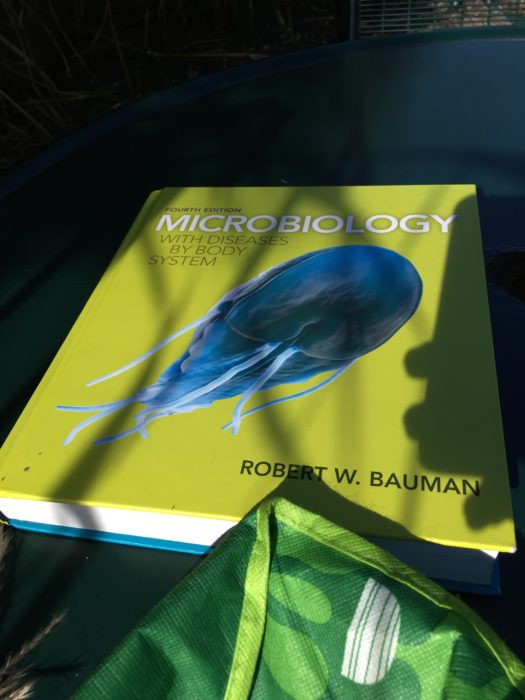 -Timehop. I love it. I wish it would somehow be able to look at pictures on my computer since I've deleted most from my phone, but I saw this gem. I was a minute early on 11/11/11 at 11:11 I guess!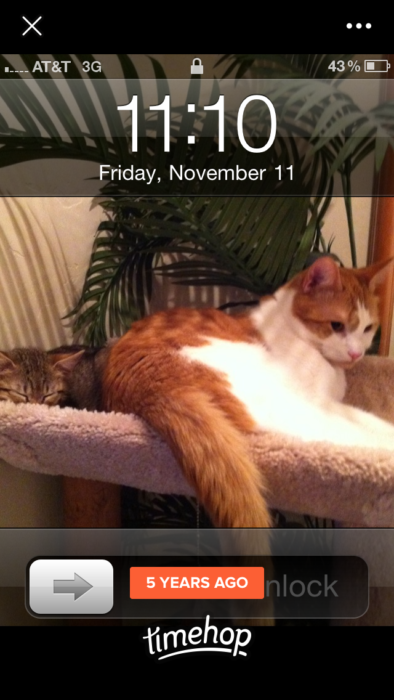 -The Sun Bears were pretty active today, which made them fun to watch!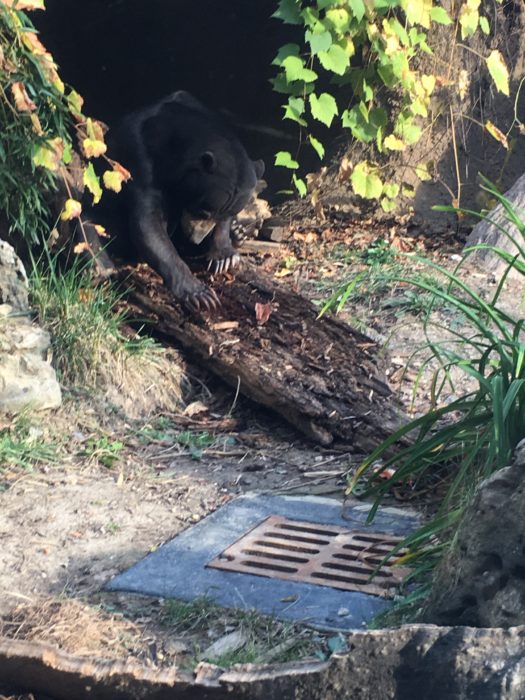 -My zoo buddy hung out with my for the very end of my observation while I was a little bit overwhelmed, and it was helpful to have an extra set of eyes! Plus she brought me a cookie <3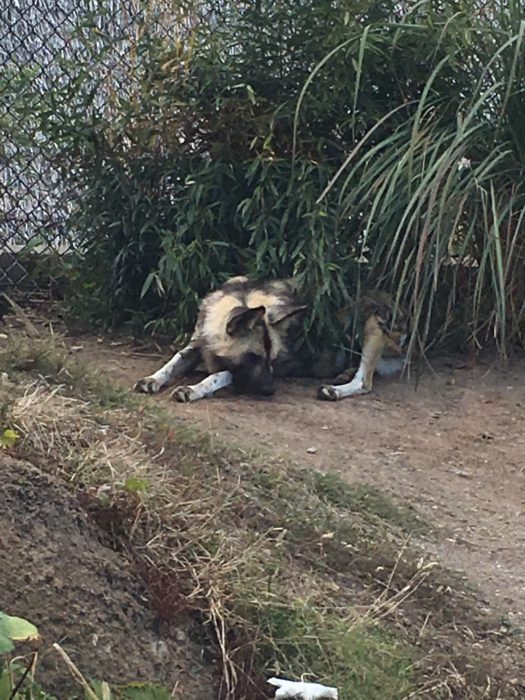 -I made plans with myself to do something more interesting for dinner than eggs and lettuce, so I stopped at Whole Foods so I could get dinner and spend some time afterwards studying.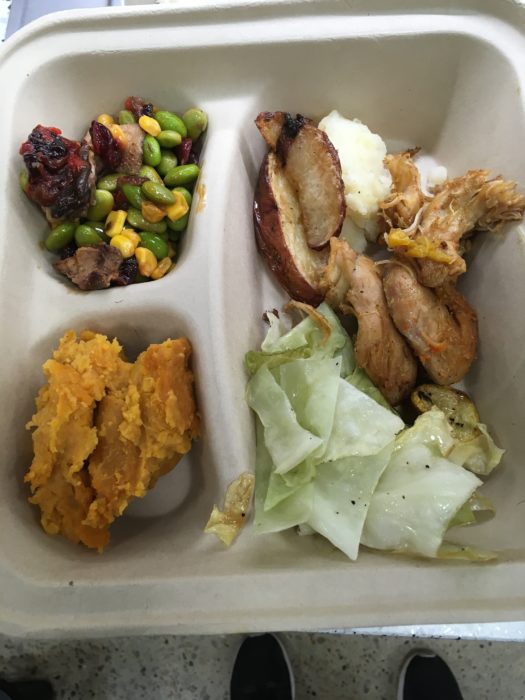 The food wasn't that great since I was early and it was probably still from lunch. But I was enough out of my potato-ness that this didn't bother me.
-Kombucha. Always helps.
-A delicious and healthy dessert to eat while curled up on the couch. I had half a piece of healthy pumpkin bread with semisweet chocolate chips, vanilla Halo Top, and whipped cream.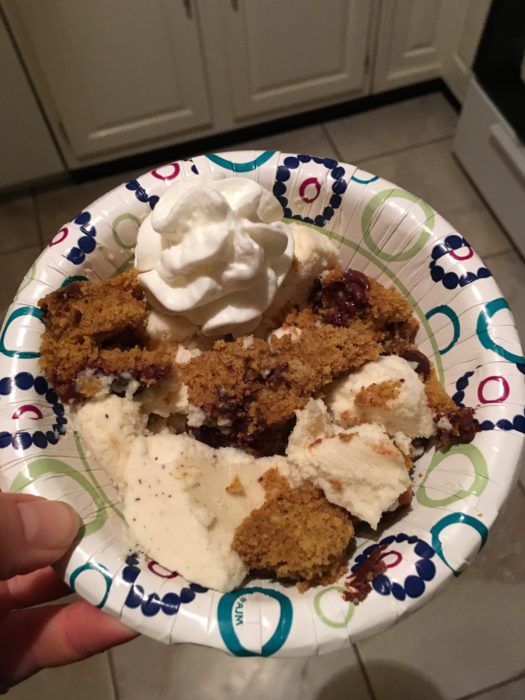 -Spending the rest of the night snuggled up with Scooby, watching a Rom-Com set at Christmastime, while eating said bowl of deliciousness.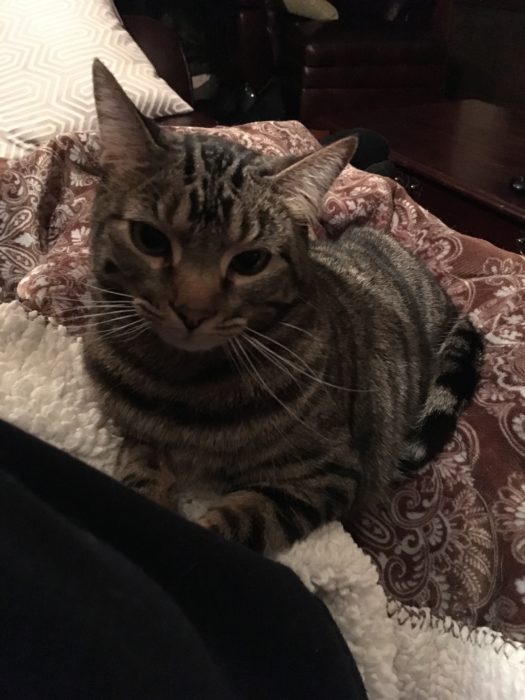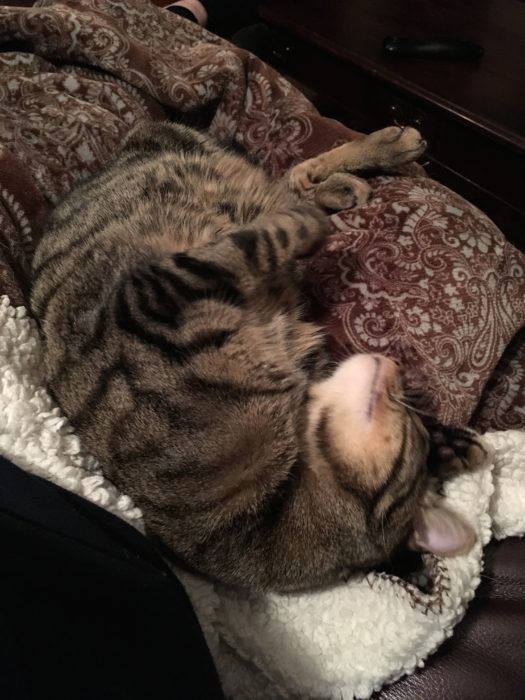 And now I don't feel like a potato.