Hi guys! I feel like a lot of my posts lately have been just WIAWs or weekend recaps, so I wanted to do a normal day to day blog post. I'm currently blogging while watching the debate. One of the upcoming debates is actually in St. Louis, and I'm going to stay as far away as possible…
I started my morning with 6am Crossfit. Beforehand, I grabbed a few handfuls of pumpkin spice cheerios for some squat fuel. Lately, Monday workouts have been entirely strength, no conditioning, which is a good complement to my schedule because I teach spin (aka cardio) on Monday nights. The main events were squats, and we did 5 rounds at 75% of as many reps as possible without losing tempo. For reference, I did all my sets for 5 reps.
Then, we did 5 sets of bent over rows, before moving on to a final strength portion.
We did 4 rounds of max reps of kipping pull ups (I got 8 good ones and then called it there because I wasn't fully making it over the bar), 10 pistols, and 20 hollow rocks.
I think I'm already sore from squats…
Breakfast post-workout was cantaloupe.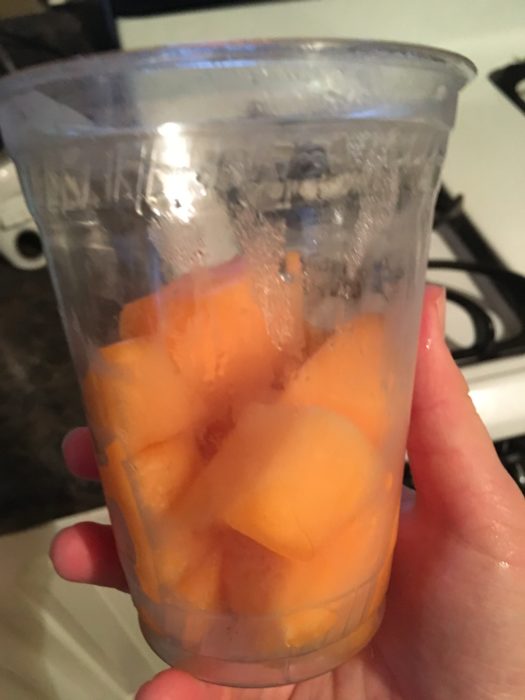 And a yogurt bowl. It's not the prettiest, but I'm bringing this old favorite back. Mashed (super) ripe banana with cocoa powder, plain 2% Greek yogurt, and sunbutter.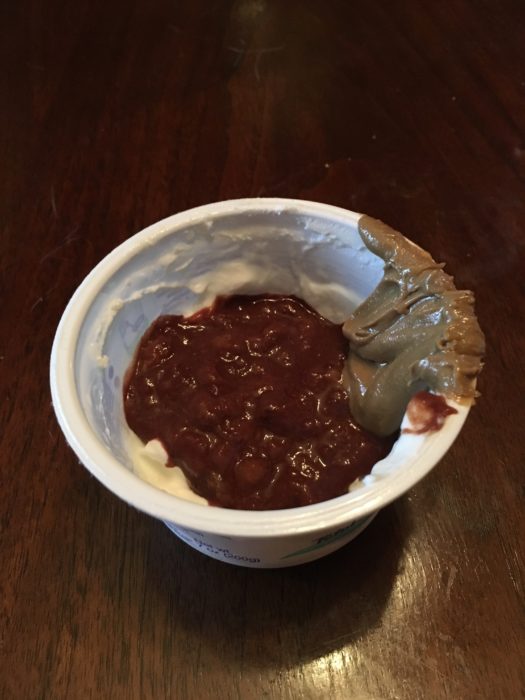 Then, it was off to work! I actually saw a cheetah up close today! They're usually hiding.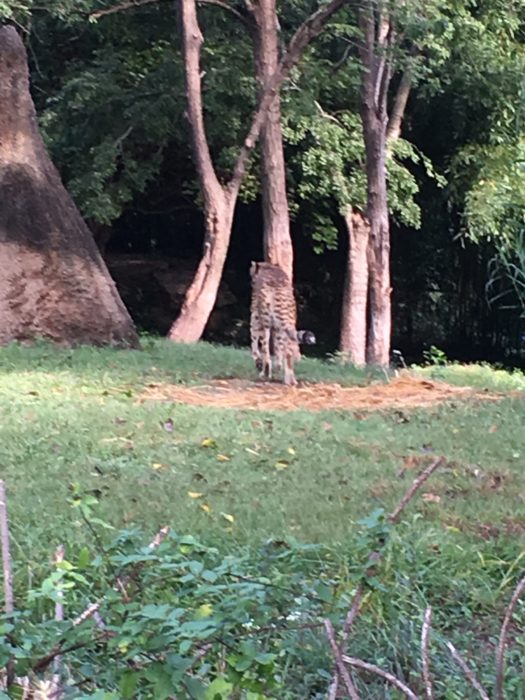 The weather was SO nice today. It was 60s and 70s. I almost needed a jacket! Fall, please stay around!
While I'll start transitioning away from this salad once nectarines stop being so good (Target has the best), and will be having soup later this week, today's lunch was one of my 2 typical (my other being sunbutter+jam sandwich with carrots).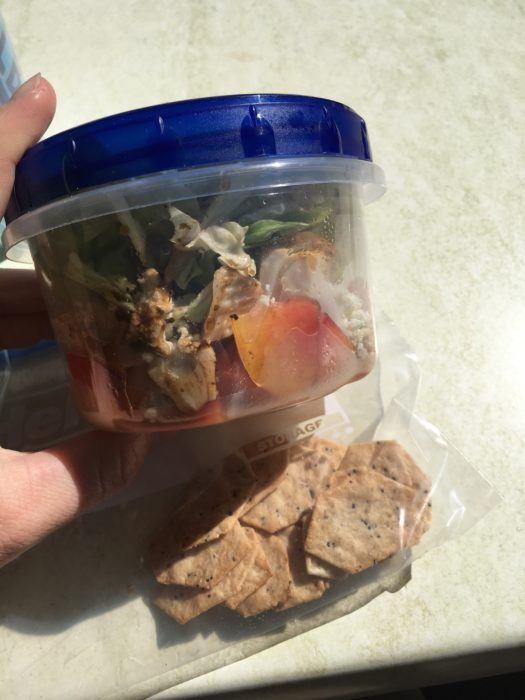 Butter lettuce, nectarine, chicken, goat cheese (this week it's garlic and herb!), and Newman's Own light balsamic vinaigrette. Van's GF Everything crackers on the side.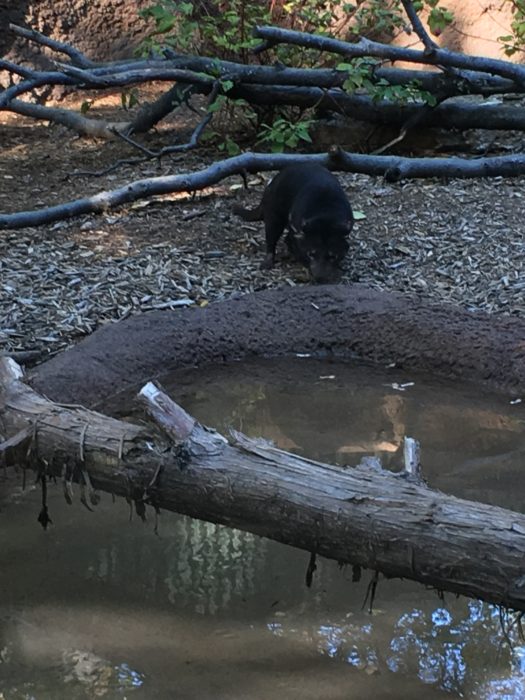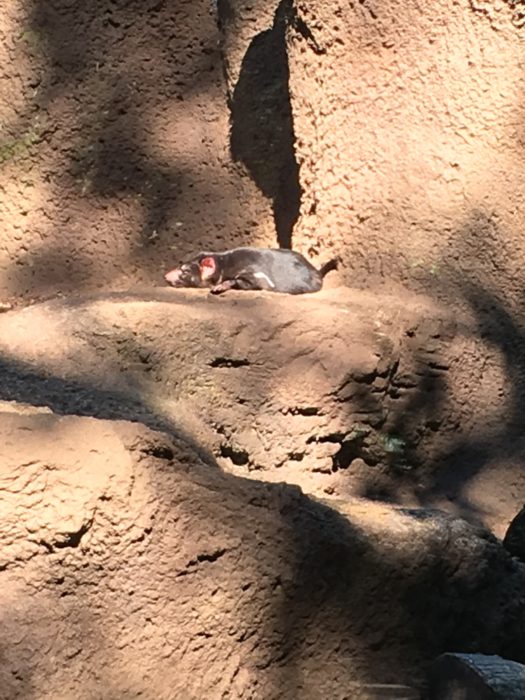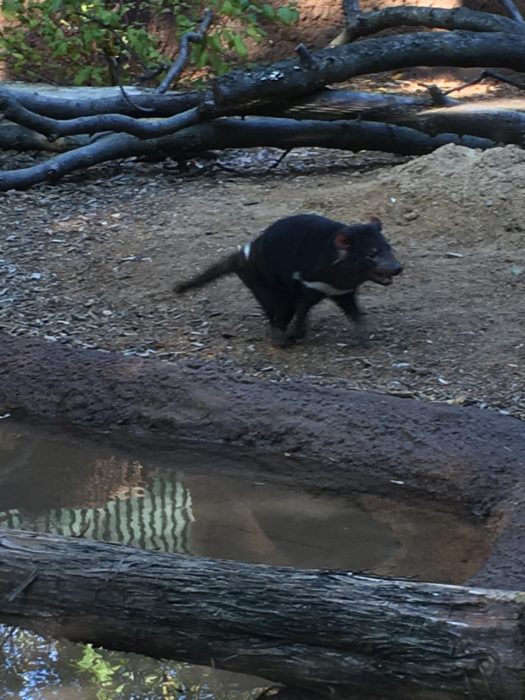 My coworkers are awesome. I feel like we're finally getting to know each other, and they certainly brighten my day!
For an afternoon snack, I had a chocolate mint Vega protein bar. I love that flavor, and stocked up yesterday.
After work, I headed straight to the spin studio to teach my usual 6pm class. It was a good one!
By the time I got home, I was more than ready for dinner. I drank some mango kombucha and snacked on some of this gluten free snack mix while getting everything together.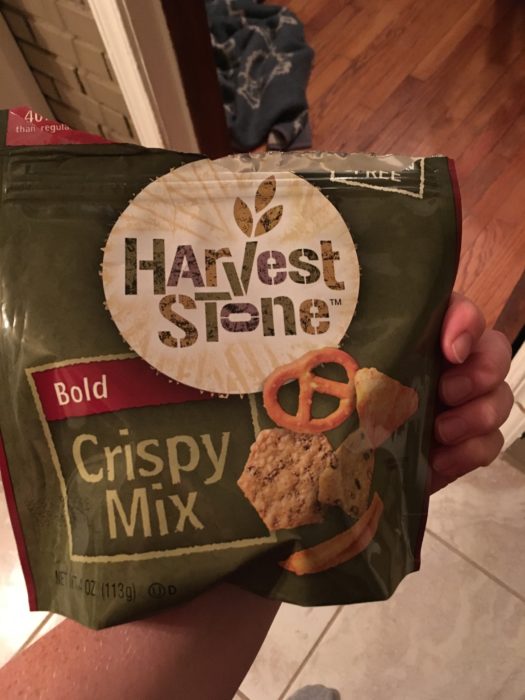 Dinner was leftover ginger chicken mushroom soup+avocado toast with garlic salt. It's been FAR too long since I've had avocado toast, and I was impressed with this avocado!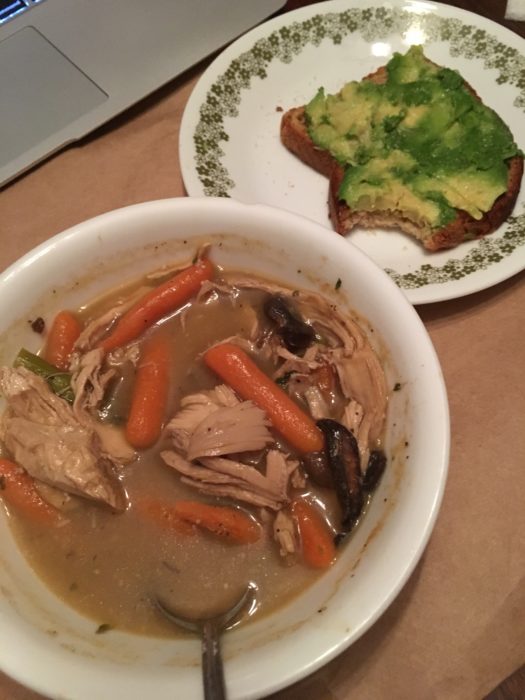 For dessert, I had a sea salt caramel Yasso bar.
I'm trying to get back into the whole "more smaller meals" thing, so for a mid-deabte snack, I had a rice cake with asiago laugh cow, which I had never had before, and raspberry jam. Honestly, I think all the laughing cow flavors basically taste the same.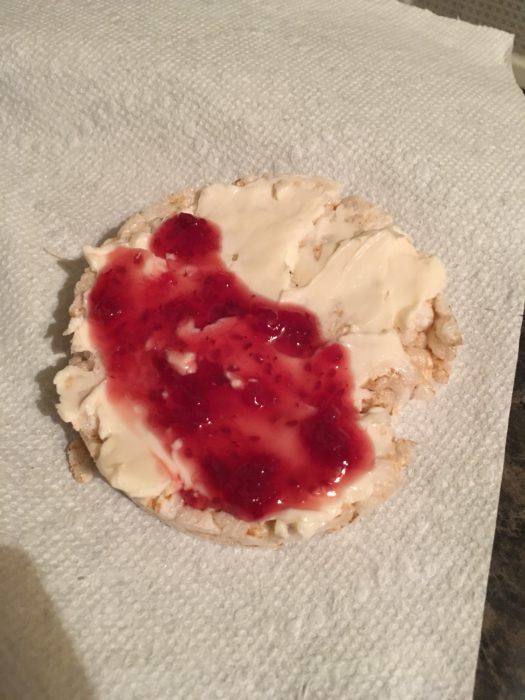 I'm not sure how long I'm going to be able to hang with the debate for. I also took some allergy medicine which is likely to start knocking me out soon.
But it's nice to check in with a normal post! I've seen some posts come up on time hop, and I miss the day to day blogging! In all seriousness though, it's crazy through how much this blog has taken me. I started it at the beginning of my freshman year of college, and now I'm blogging from my house in St. Louis. What??
So we'll leave it here.
Did you watch the debate?