Does anyone else feel that as we acquire more methods to communicate, communicating becomes more difficult? I feel like in the past few years, even since I started getting 1000 emails a day, it just becomes so much more difficult to send a basic email. With smart phones, we have the ability to check our email every 10 minutes, wherever we are. Which allows us plenty of time to ponder, over ponder, and ponder some more on the response. That's currently what I feel! Can anyone relate?
My day this morning started with a difficult Crossfit workout, Diane. I saw this last night and thought, "That looks terrible." I suppose I was slightly comforted when I realized that it was one of the girls, and that I've done it a couple of times before. If I survived it before, I could do it again, right? The workout is:
5 rounds
400m run
30 box jumps (20″)
30 wall balls (14#)
To be honest, I wasn't sure how my foot would hold up with all the box jumps. I only starting jumping to 20 inches a few weeks ago. I planned to do step ups or stop if it was bothering me, but it ended up being just fine! Somehow I managed to beat my best time by a whopping 7 seconds. Hey, I'll take it!
I think the hot temperatures in Tennessee were responsible for my yogurt hiatus. For some reason, when it gets hot I never want it! However, it was 65 degrees today. (Brr!) So, I'm back on the yogurt train. I've been making yogurt bowls with cinnamon KIND granola and sunbutter, and having fresh fruit on the side. Today's fruit of choice was an amazing nectarine from my roommate, and the world's largest cherries.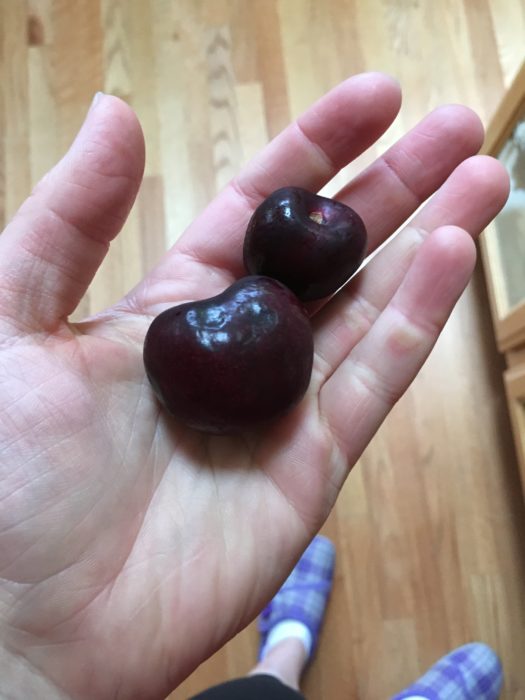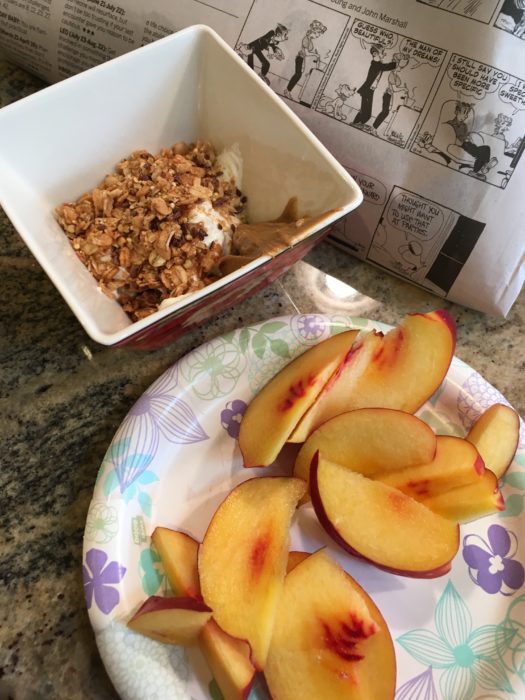 The big event today was taking Chloe to the vet for her annual check up. She was particularly on edge today, I think in part because she tore up her paw pads running yesterday and was a bit painful.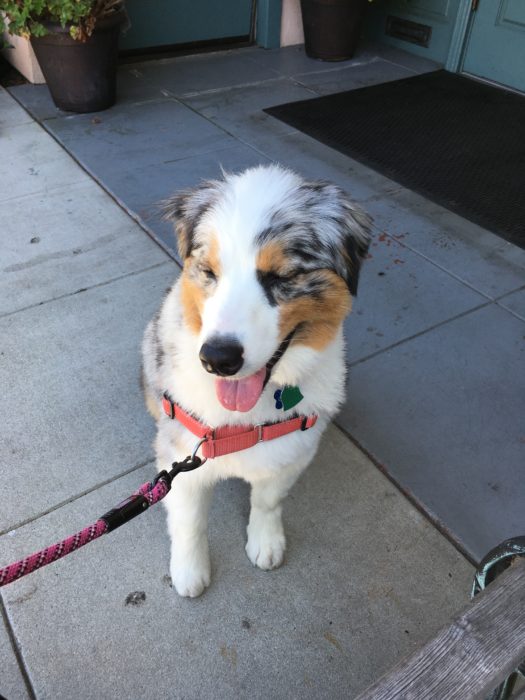 I really enjoy going to her appointments, now that I have seen a lot more of the clinical side of veterinary medicine.
I'm still going strong with the Pinterest recipes. For dinner the previous night, we made zucchini corn chowder, so I had leftovers for lunch with avocado toast.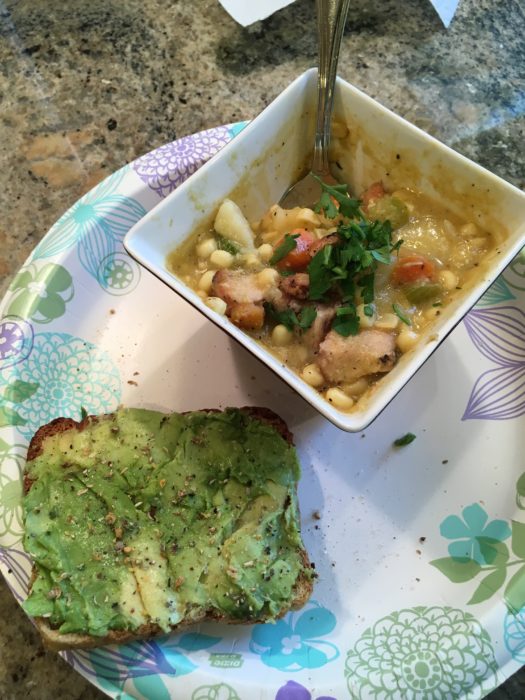 Plus more giant cherries.
I liked this recipe a lot, but we did make a few modifications. We used skim milk instead of half and half, and it was plenty thick and creamy. I also threw some grilled chicken in instead of bacon. I loved the added zucchini; it made this soup feel even more like summer!
This evening, I taught another spin class back at school. It does feel strange going back, knowing I won't be returning in the fall. I can't decide if I feel like I should be going back, or if I feel like I've moved on to the next thing. Either way, as always, teaching was a blast. I played a little bit of playlist roulette today though. I chose an old playlist based on the songs it contained, but left the choreography as a surprise. It turned out to be a fun one—we did some watts testing, which is a lot less complicated and formal than it sounds. Watts are a measure of the power, which is a function of the speed and resistance. For watts testing, we basically do short sprints, trying to get the watts as high as possible.
Dinner was another Pinterest win. This one was on my radar for quite a while, and when we had extra butternut squash lying around, I decided it was time!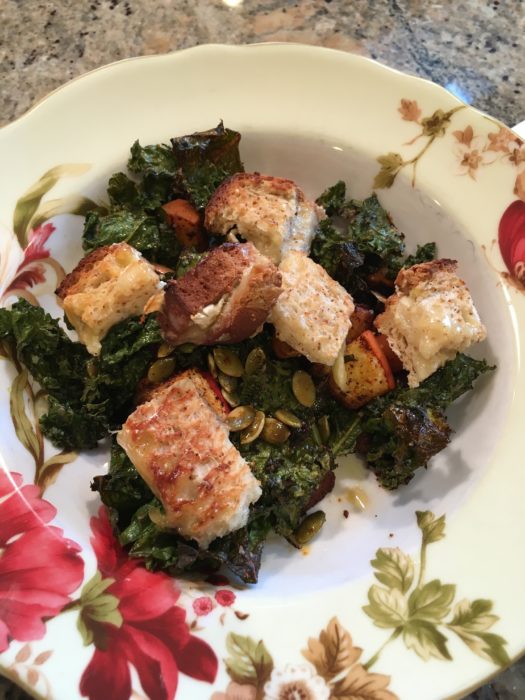 This is a crispy kale autumn salad with brie grilled cheese croutons. Recipe here. This was a fun one, and unlike any salad I've had before. The base is kale, roasted until crispy with parmesan. Honestly, I could have eaten a bowl of just the kale. In the mix are spiced and roasted butternut squash and apple, and spiced pepitas. It is drizzled with a reduced apple cider dressing, and topped with brie filled croutons. My mom actually made this and said it was a bit labor intensive. A couple modifications that could be made to make this easier would be for one, skip the dressing. The salad had so much flavor without it, and I barely put any on. The spiced pepitas were fun, but store-bought roasted pumpkin seeds would have been a fine substitute. Also, I made my croutons by throwing my brie filled bread in the oven, instead of in a pan to cut down on the fat content a bit. Overall though, it was a bit hit in our house!
The cayenne in this recipe had me hankering for something cool to end with.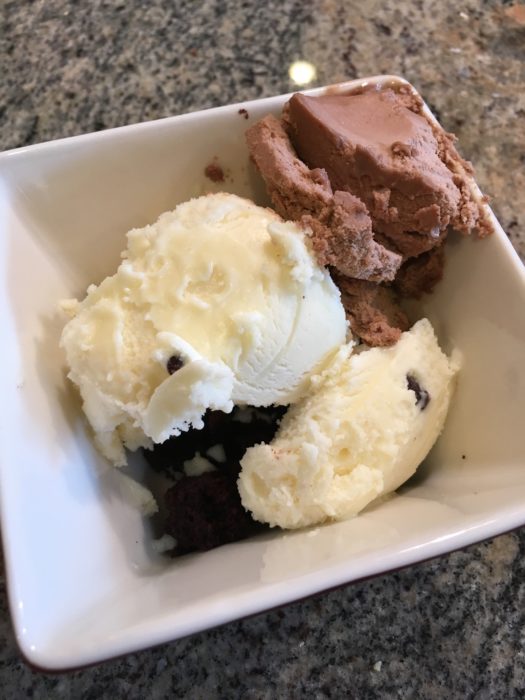 I'm currently fully on board the Halo Top train, and tried the mint chip for the first time today. It's GOOD. I made a little sundae by thawing a little bit of plain GF chocolate cake from the freezer (left over from our grad party), and topping it with a serving of mint chip and half a serving of chocolate Halo Top. YUM.
That's all I have tonight—off to more emails!