Happy Weekend!
It's my last weekend in Knoxville. I had some things I had been wanting and planning on doing this weekend, but things fell through and that really threw me off. Instead of moping however, I decided to take myself out this weekend: to spend a weekend by myself, doing things I want to do, having a good time, regardless of whether it is generally socially acceptable to do these things alone. Because why not enjoy my last weekend here? I came up with a pretty full schedule!
I got off pretty early on Friday, but I came prepared with my laptop and headed straight to a local coffeeshop to work on my vet school personal statement essay. I have a decent idea of what I want to say, but it's a matter of putting it together. I decided it was essential for me to write this in a relaxed, low-key environment, so I've been working on it here and there the last couple of weeks. Again, embracing the slow Southern lifestyle!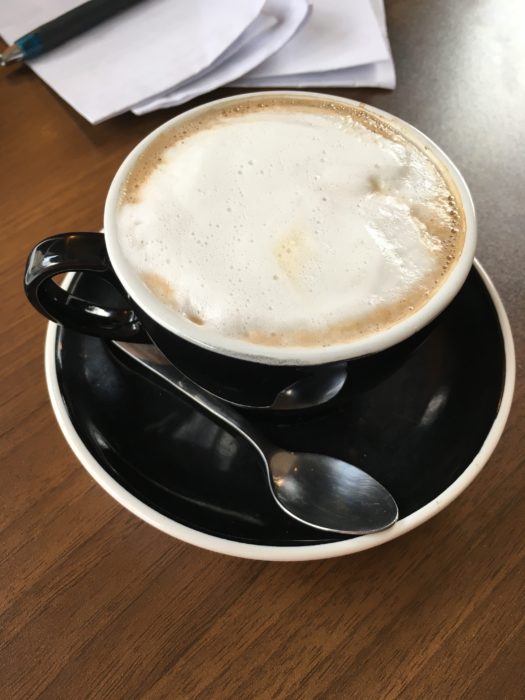 Next, I headed to Panera for dinner, where I got my favorite: half Fuji apple chicken salad. I also packed some crackers to go with it!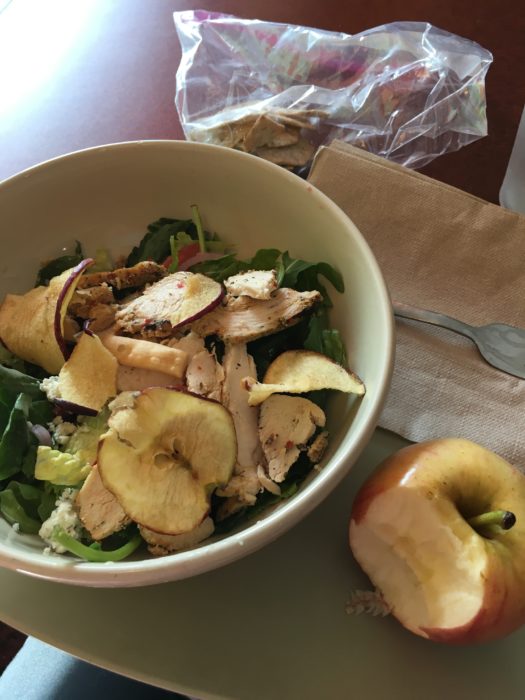 Next on the agenda was a night exploring a little bit of downtown. This was one of the things I was most worried about feeling awkward doing alone, but I decided to just go with it; why not, right?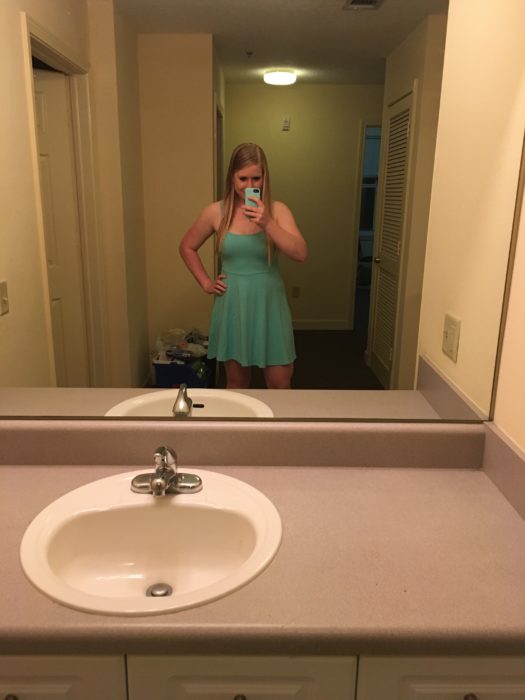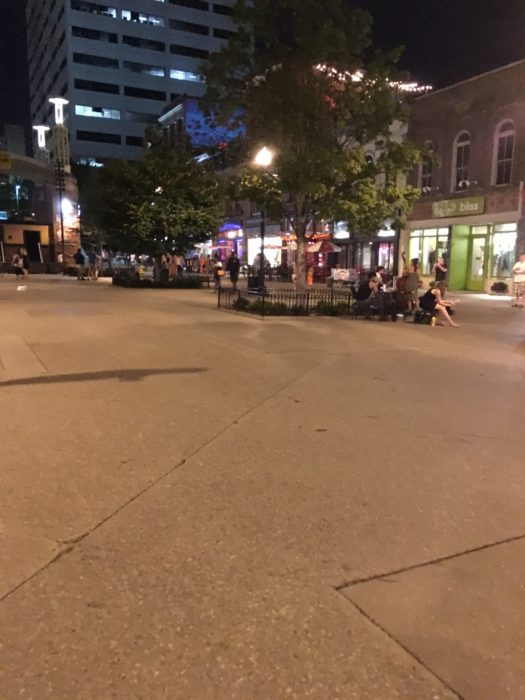 I picked out a place with rooftop seating, and a live band. I figured I'd feel less awkward with live music.
I ended up having a great time. When I walked in, the Giant's game was playing on the TV, which was the most amazing thing for me. I sat down to watch it, chatted with some nice gentleman from Colorado, and then headed downstairs to see the band.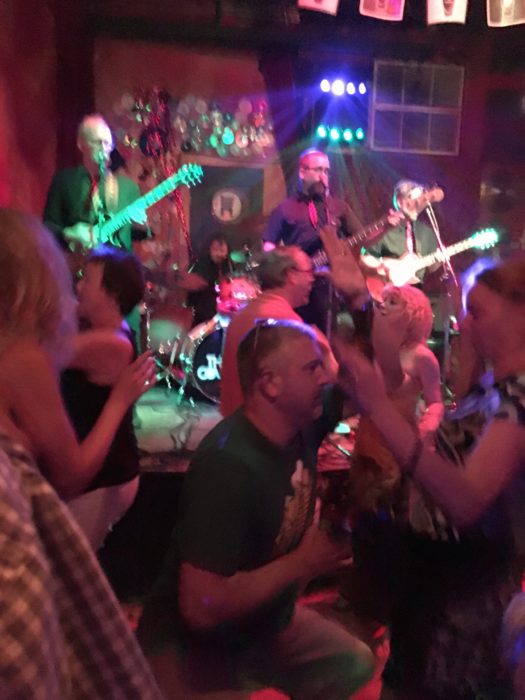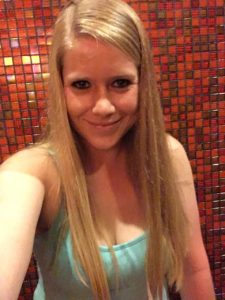 And was home all by a reasonable hour!
On the schedule for Saturday morning was a Crossfit workout. The temperatures were supposed to be pretty scorching this weekend, so I was expecting the gym to be a hell-hole since there is no AC. It actually wasn't bad!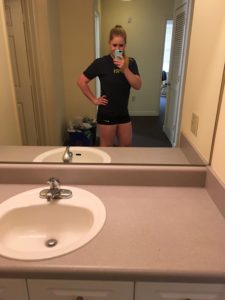 The workout wasn't super hard, but it was a fun one! It was a partner circuit workout, that included stations like "conversation wall sits," complete with conversational topics, ball throws, and a mini game where you had to race your partner to 50m on the rower, and you had to do as many burpees as you went over by, which was hard! My closest was 52m on the last round!
From there, I went to the farmer's market at Market Square. It was much bigger than I was expecting!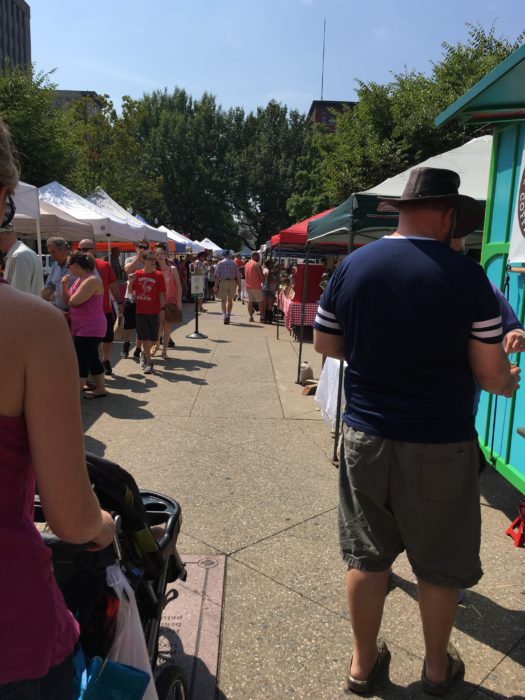 I actually found several places with GF baked goods. I picked up a mini loaf of lemon poppyseed bread.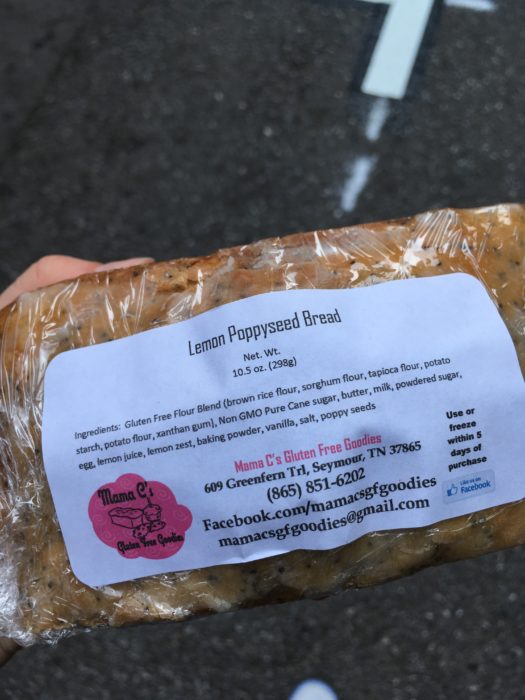 And for lunch, I grabbed a vegan (sweet potato and collard filled) blue corn tamale, and some mango lemonade.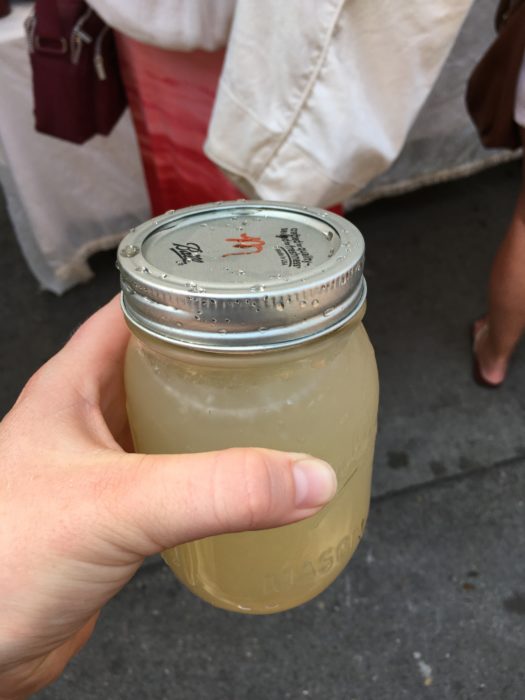 I walked around downtown a little more before heading back to cool down a bit before making a trip to the zoo. I had actually visited the zoo briefly as part of my summer thing, but I wanted to get the full walk around! It's a really nice zoo—they even have camel rides!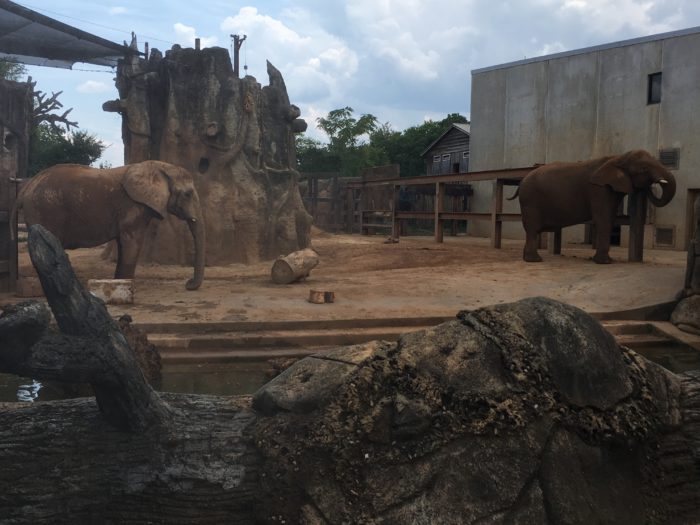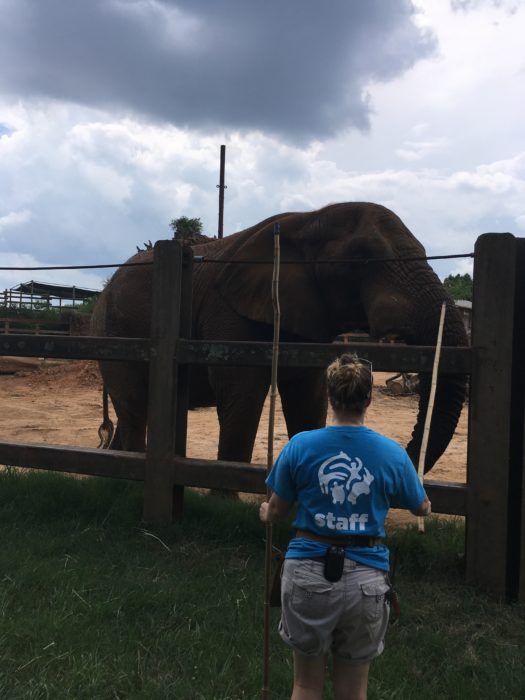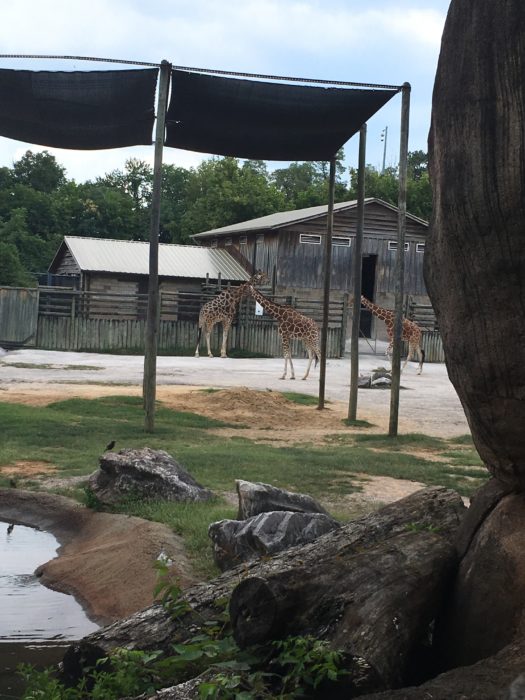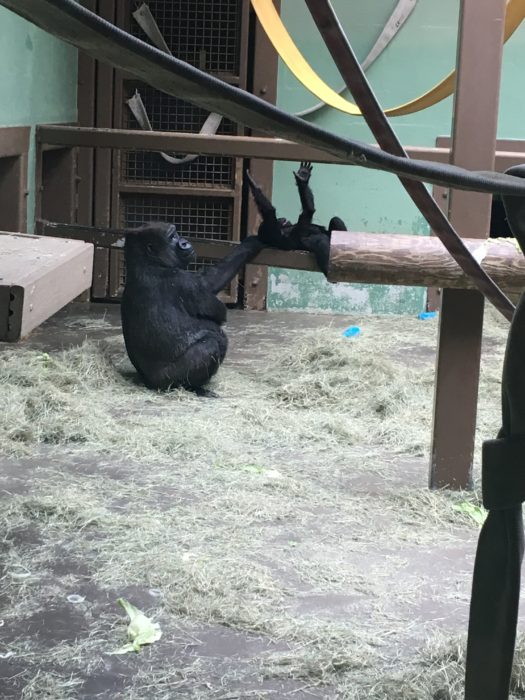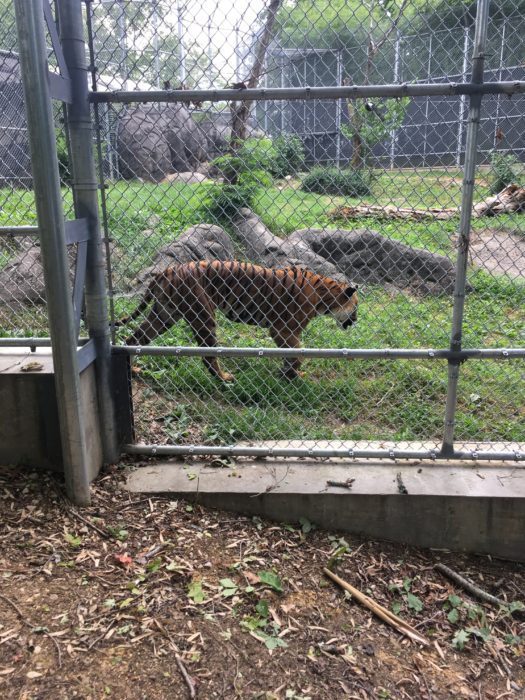 After the zoo, I made a simple dinner. I threw an ear of corn in the oven, and then had a veggie burger and avocado toast.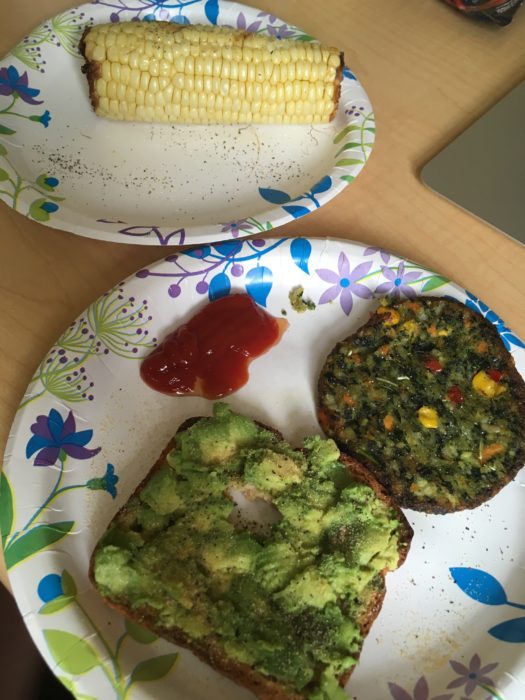 My last item on Saturday's agenda was a baseball game. I went to a Tennessee Smokies game. The Smokies are a AA affiliate of the Cubs. This has been on my to-do list since I got here! The stadium was really nice, and I got great seats.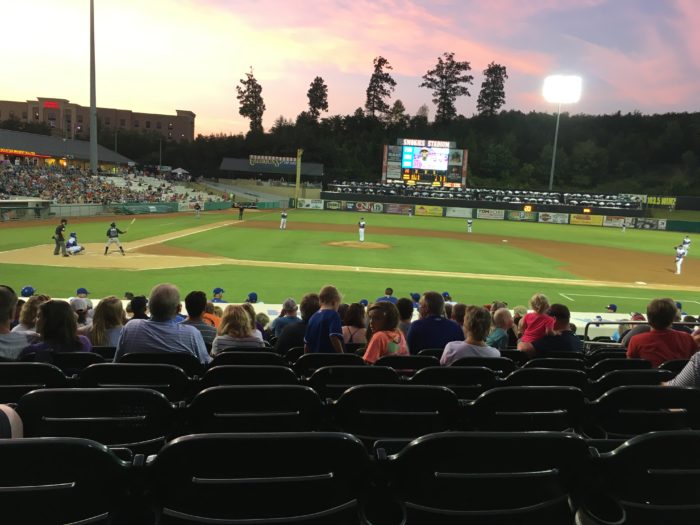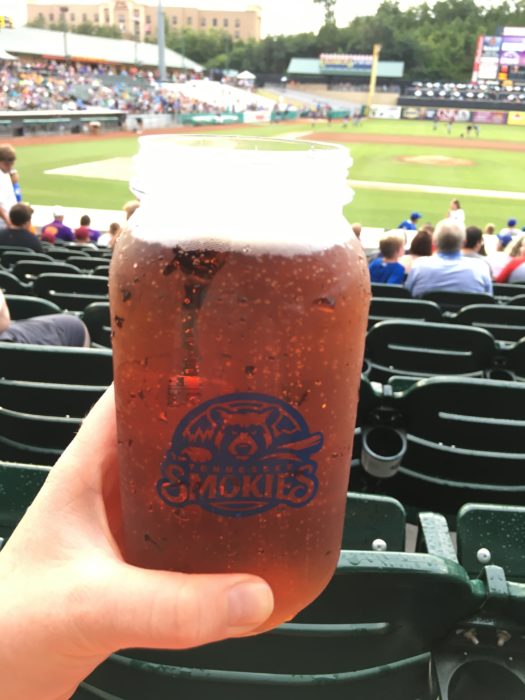 It felt so weird to go to a baseball game in a dress…in SF, I would be bundled up in layers upon layers, and still be freezing! Although as I arrived, there was a thunderstorm, and the game was delayed about 30 minutes! After that though, it was a nice night.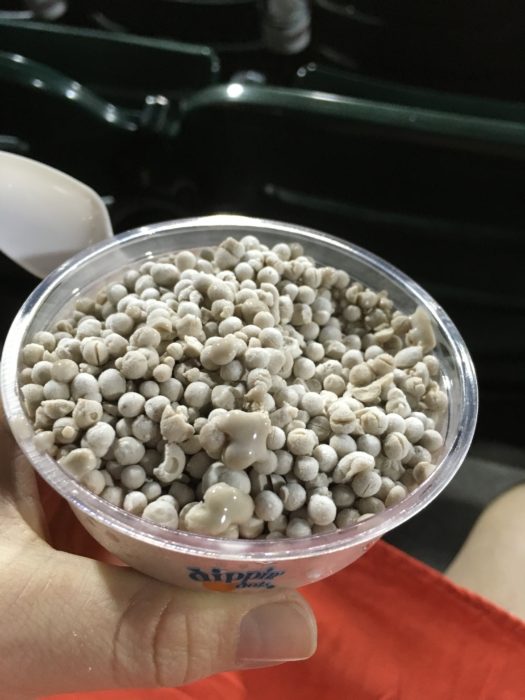 Dippin' dots are actually one of my favorites…only the chocolate though!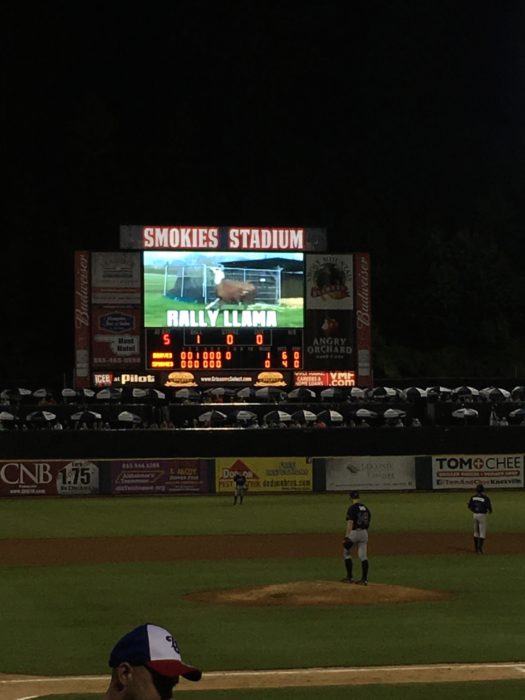 Unfortunately the Smokies lost, but it was a close one!
I had a pretty relaxing Sunday pre-Crossfit, involving Grey's Anatomy (as much of this weekend has had). Every other Sunday, my Crossfit does "Girls Doing Girls," a female-only glass where we do one of the benchmark girls workouts. I had originally planned on not coming and doing spin instead, but 1. I was feeling Crossfit and 2. my foot has been bothering me a little bit lately after standing a lot this past week and I didn't want to clip into the flimsy spin shoes. I also thought it was going to be too hot at the 11am class time, but it hasn't been too bad!
For the workout, we did Nancy, which is:
5 rounds:
400m run
15 overhead squats (Rx is 65#)
My foot felt fine for the running, which was good. I chose to just do 45#. It's easy to forget, given my broken foot, that my shoulder still isn't as strong as it was pre-injury. I went from babying my shoulder up to a point where I was able to do everything, albeit light, to having a broken foot and forgetting about any shoulder issues. But the reality is it isn't as strong as it once was, and I hardly started doing overhead squats before I broke my foot. Plus, this workout kills your wrists. I think I did it, or something like it, once at 55# and that was awful. Anyway, that's a long way of saying I used 45#. It was a good one; I was able to do the squats unbroken, and finished in 18:17, dripping sweat.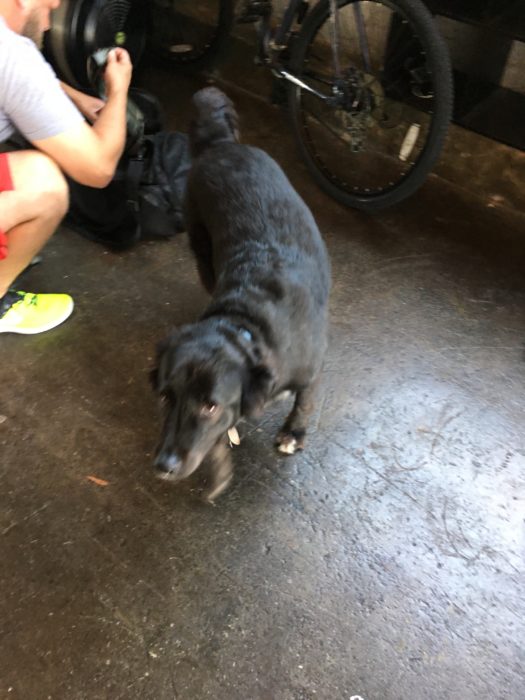 After Crossfit, I headed to Subway to pick up lunch. I haven't been there in a very long time, and I have a lot of gift cards there! I love that you can make any sandwich a chopped salad now! I used to live off Subway back in my softball days where I was at a tournament every weekend.
Also, if you're into volume, you get a lot of bang for your calories with these salads! I got mine with turkey, provolone, tomato, cucumbers, olives, and oil and vinegar, salt and pepper. Plus some baked chips on the side, for old time's sake.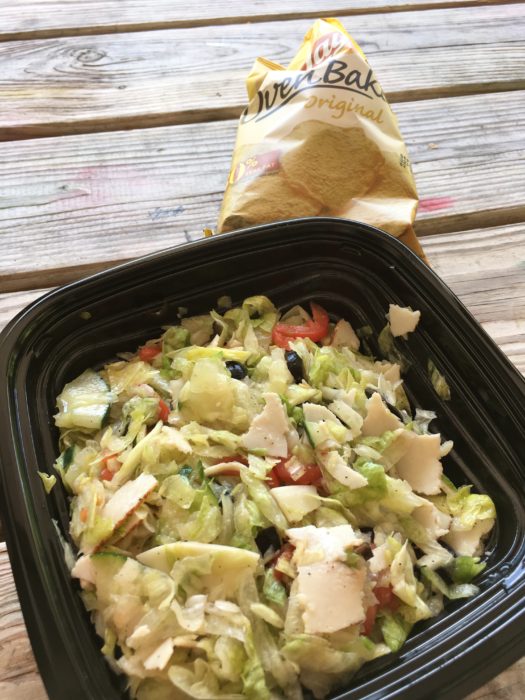 I took my salad to go and drove across the river to Ijams Nature Preserve to go hiking.
It was so peaceful out there, and just what I needed! So quiet. It was a beautiful day too, hot but nice in the shade.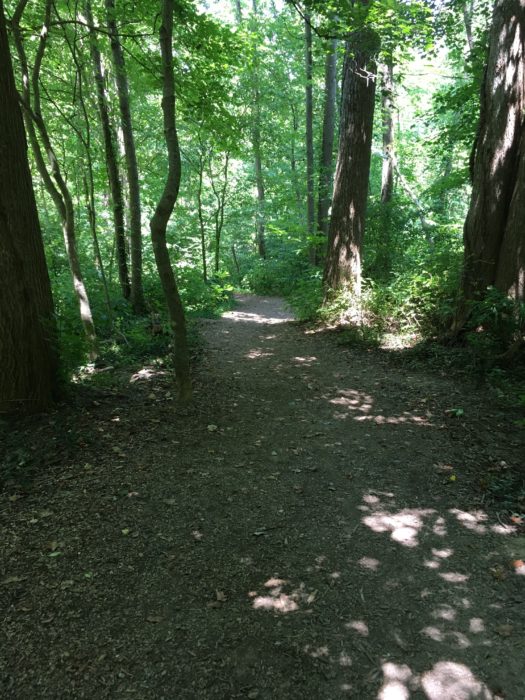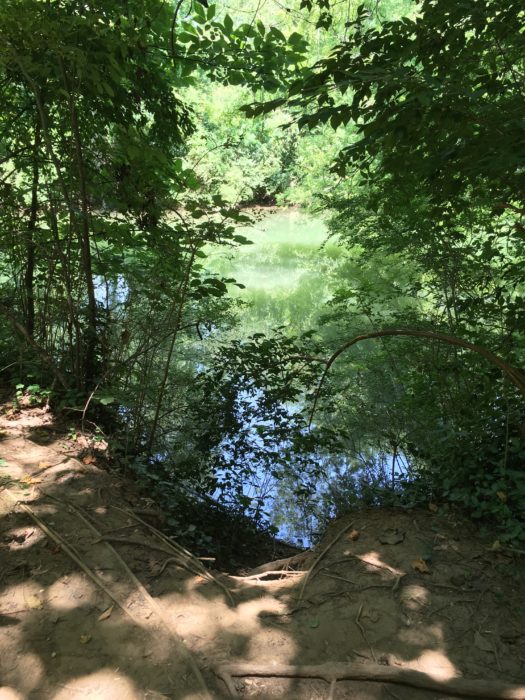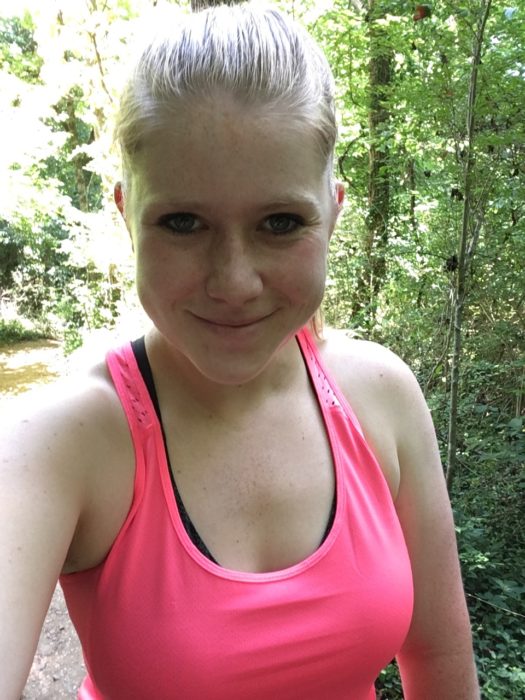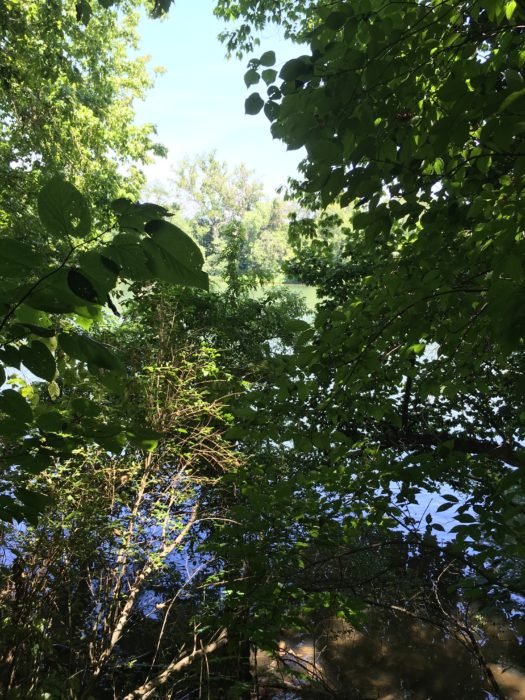 Apparently it was  Pokemon hot spot—I saw several kids catching Pokemon there!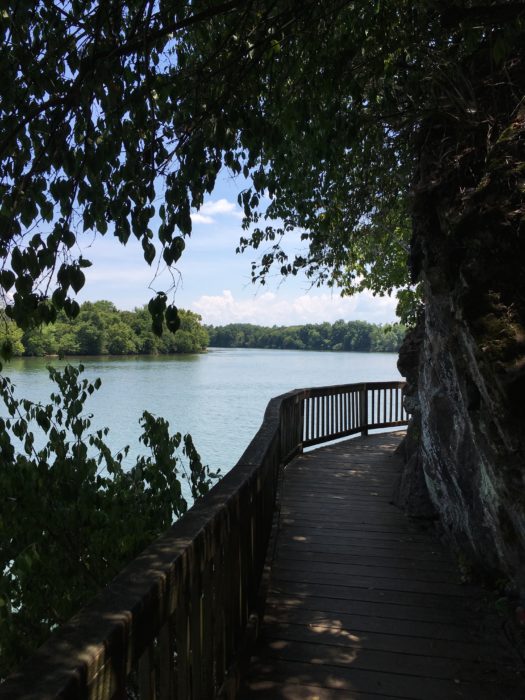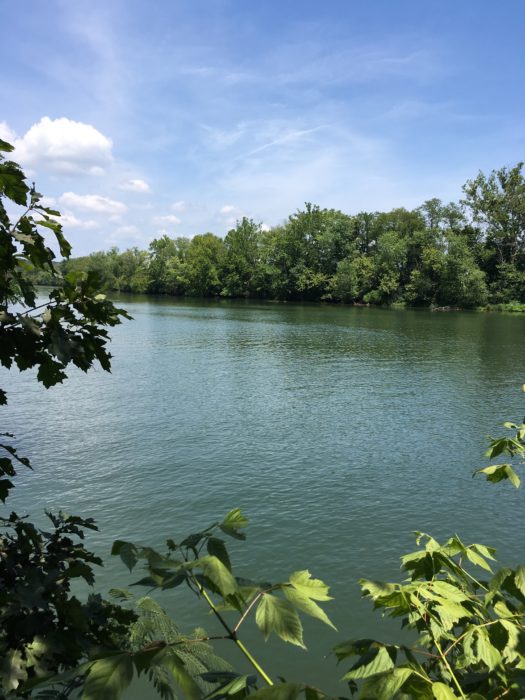 That being said, I think it was 96 or 97 degrees out (36 degrees celsius, according to the car), so I was definitely sweaty by the end.
Not that I needed an excuse for froyo…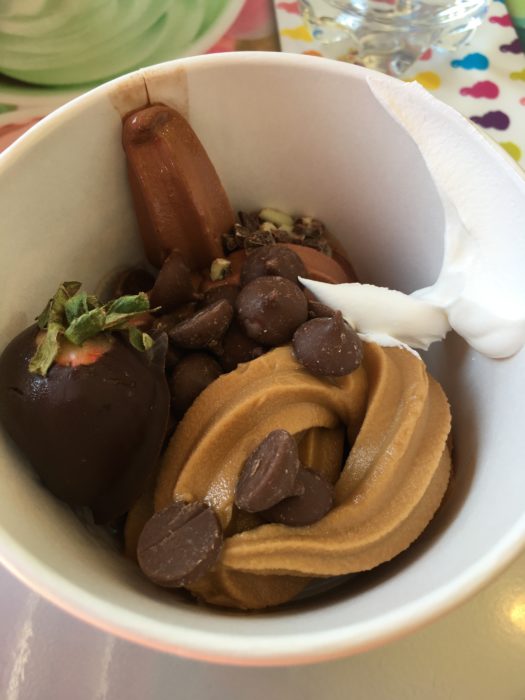 Menchie's is growing on me. I like that they list allergens, and have healthy options. Plus they have hot fudge, although I didn't get any today. But chocolate covered strawberries? What?? For my ice cream, I got salted caramel and milk chocolate.
The rest of the evening involved Netflix and dinner.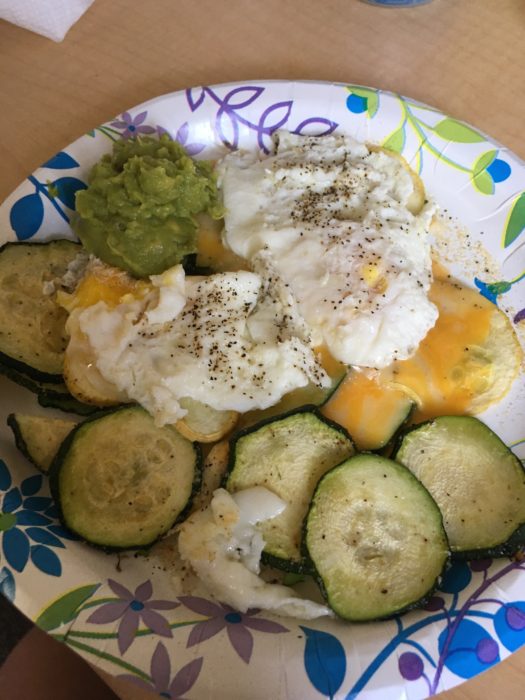 This is a totally random dinner, but I made it last week and enjoyed it. Zucchini, cheddar cheese, eggs over easy, and guacamole.
After dinner, I headed downtown to try and work on my vet school essay. I wasn't in the right inspirational headspace though, so I made an outline of what I have left to say and called it a night.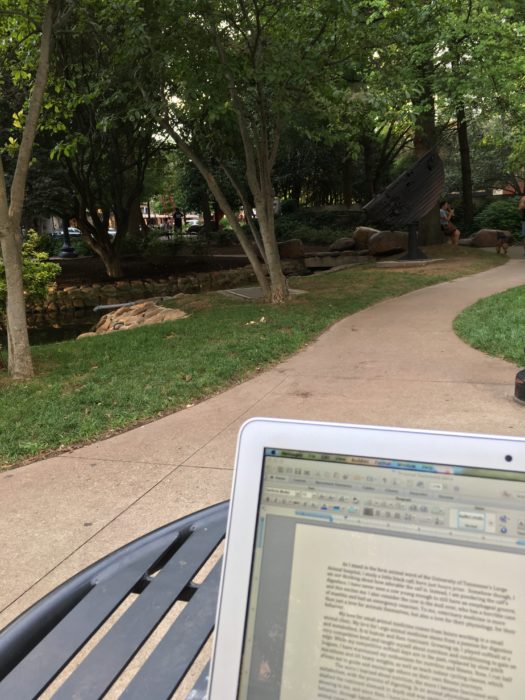 I can't believe this is my final weekend here! I feel like I've been here forever, but also like no time has passed. Strange how that works!
What did you do this weekend? Do you ever take yourself out?