Hello! I'm popping in for a weeknight post—what??
We're just join got do the basics: food+fitness for today!
I went to 5:30am Crossfit. I can't decide if waking up for these classes is getting easier or worse. Nevertheless, I was looking forward to the workout.
We did heavy back squats, sets of 1 for 8 minutes. It was supposed to be 90%+.
Guys, my squat strength is actually laughable. I ended up dropping weight, from 165 to 155. I'm pretty sure this time last year I was doing 165# for sets of 12…although in my defense, I also didn't have my lifting shoes, which make a huge difference! I got really strong last summer, but after injuring first my shoulder and then my foot, my squat strength has vanished.
My redemption though at least was the WOD. At least in some ways I've gotten stronger! We did Helen: 3 rounds of 400m run, 21 kb swings, 12 pull ups. This was my first time Rxing the workout! It was fast (15:32) but it got done. And honestly might have been faster if I wasn't sore from Saturday's pull ups still. Progress, my friends!
I don't know what it is, but I have not been feeling yogurt for breakfast lately. I also think I have less time than I actually have, so I usually have some fruit and a Luna bar. I'm still working my way through my massive amounts of the old formula of the S'mores!
I managed to take a photo of my lunch (+snack of another Luna). I got an actual lunch break today!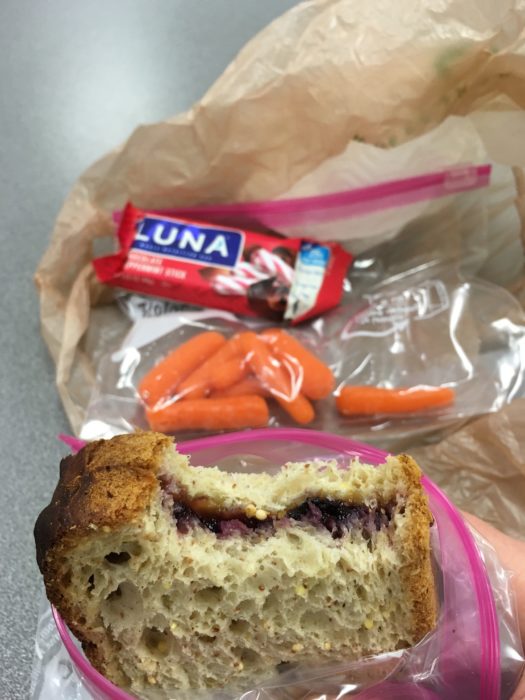 I recently restocked my Canyon Bakehouse GF bread, and it's SO much better than Udis. It thaws perfectly! I also snagged some fruit-only sweetened blueberry jam. I like it! It reminds me strangely of blueberry syrup (obviously not as sweet though).
I actually got off super early today, around 4:30. I tried to figure out what to do with all the extra time! I was feeling a bit antsy, and I have an extra spin class I hadn't figured out how to fit into my schedule (I bought a class pack that came with a free class, and until today could only make weekend classes), so I decided to hightail it to a spin class.
I was greeted to BLACK sky when I walked outside.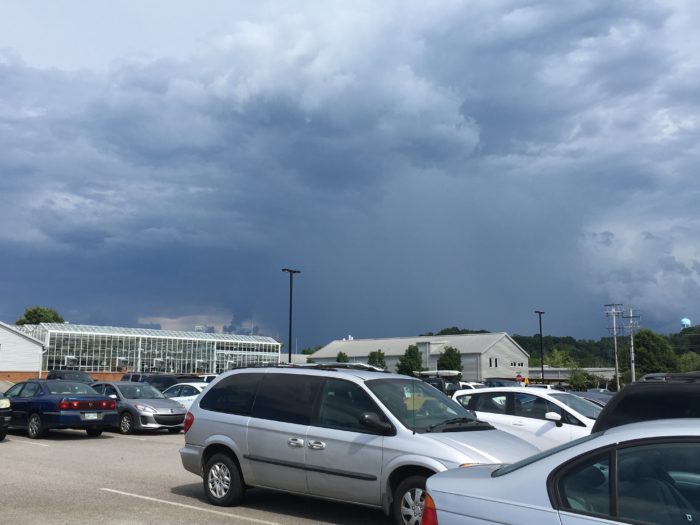 It's been hotter lately, and it's supposed to be 99 all week, but this looked like a massive storm!
Somehow though, it never rained?? I'm still figuring out this Southern weather, clearly!
Spin was enjoyable, and I tried to get some of that extra energy out, somewhat successfully, somewhat not!
When I got home, it was time to make dinner. I have a ton of pre sliced zucchini because it was buy one, get one free, and you can't pass that up. In the interest of time, I sautéed it up instead of roasting it. I served the zucchini with avocado toast, and chicken with ketchup.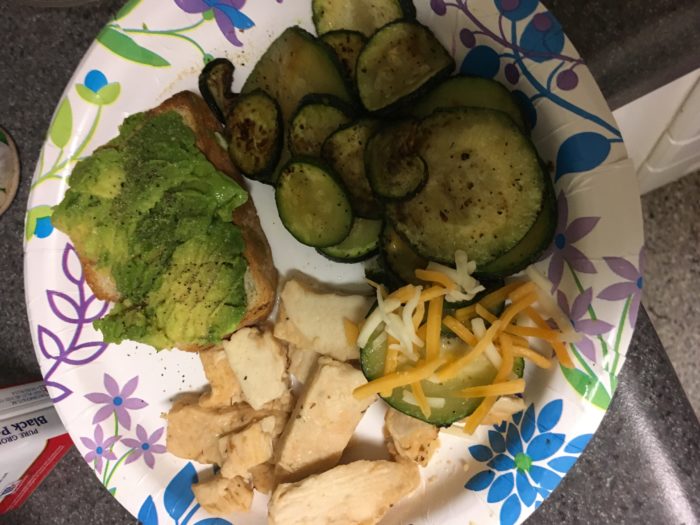 I am actually the worst about eating while I cook, so I try to have some healthier options on hand. Today, I snacked on some watermelon while making the zucchini.
For dessert, I had a Yasso caramel froyo bar. Love those! I also made a few delicious discoveries involving popcorn seasoning. I bought white cheddar popcorn seasoning, as well as salted caramel chocolate seasoning. I thought it would be fun to put them on interesting things. I roasted some zucchini for later, and discovered that it is white delicious with the white cheddar. And proceeded to eat half the pan. Whoops.
The other discovery? Putting butter and salted caramel seasoning on bread tastes like one of those Auntie Annie's caramel pretzels. Sold.
And that's a wrap for the night! I'm thinking of going to crack of dawn crossfit again tomorrow, so I'm hoping for an early night!