It's started. The graduation goodbyes have started. Today was my last Tuesday spin class of the quarter, and next quarter I'm only teaching Wednesdays. Because there are some people that only can come on Tuesday, today was my last class with some of them!
Goodbyes are the hardest. I love Stanford, but the people I've met here (both on and off campus) are the part I am going to miss most.
Over the past few years, I've realized that life is a series of goodbyes. My first taste of this was leaving DC after a summer. Every time I go somewhere new, there are people I leave behind. It's so sad to leave people that have touched your life in so many different ways. It's been such a joy teaching my spin students this year, and I know I'm going to be a mess during my last class in June! I also am really going to miss my Crossfit community here. I've spent 3 years there, and the gym itself has evolved and turned into such a community.
Enough mushiness, let's cheer up with a little WIAW action, huh? Thanks to Jenn for starting this madness.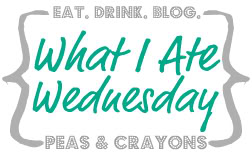 I always seem to do Tuesdays for WIAW, so I thought I'd do a Monday for some variety because what and how I eat varies day to day. ALSO: I have decided to do a what I ate in a day VLOG over spring break, so if I can figure out the technology, look out for that!
Preworkout: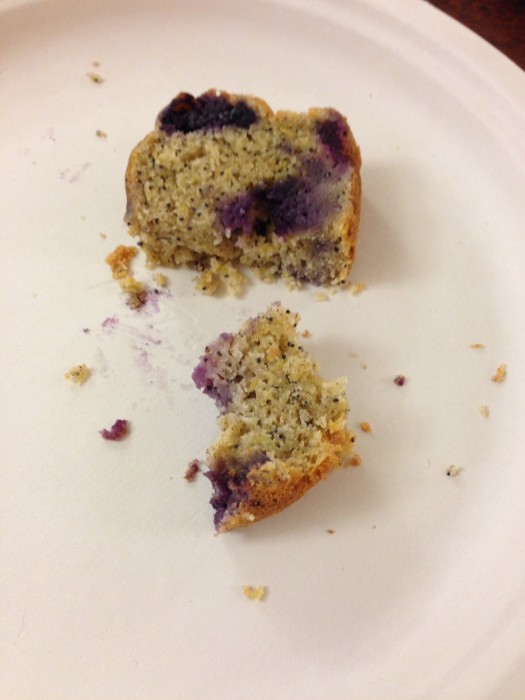 Lemon-blueberry poppyseed bread, which I remembered about halfway through to photograph. Classy.
Workout: Crossfit
For strength, we worked on overhead squats. I think I got to 65 or 75#? This is kind of a big deal with my still recovering shoulder, and I was sore today! The WOD was 3 rounds of 4 exercises, for 1 minute each, with 2 minutes of rest between rounds. The exercises were box jumps, rowing, wall balls, and burpees.
Breakfast: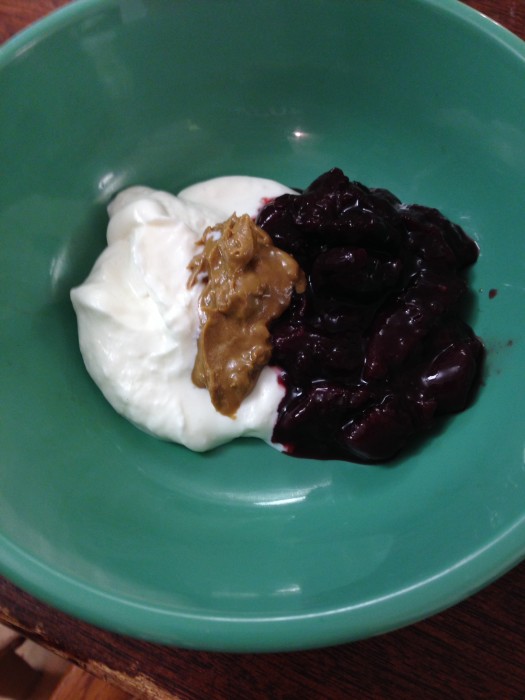 Full fat Greek yogurt, a nectarine/cherry blend, and crunchy sunbutter.
Lunch: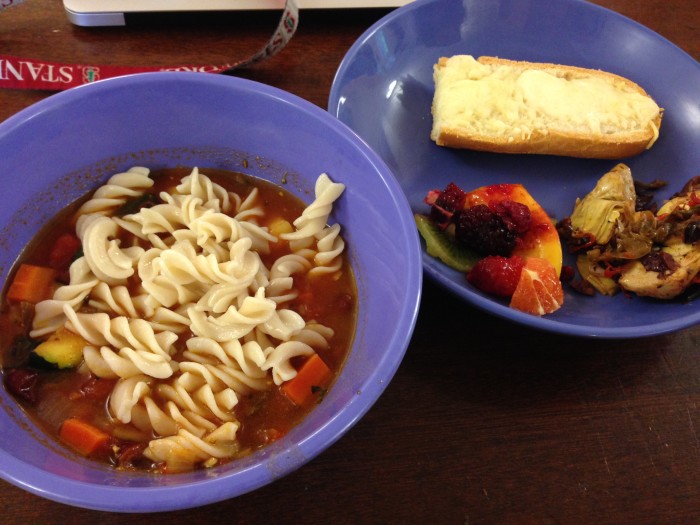 Minestrone soup (GF) with GF cheese toast and an artichoke olive salad. Perfect for a stormy day!
Dessert:
GF blueberry upside down cake. My mom made this for my for my sister's birthday dinner, and it's ridiculously good. She used the pineapple upside down recipe and subbed blueberries for pineapple!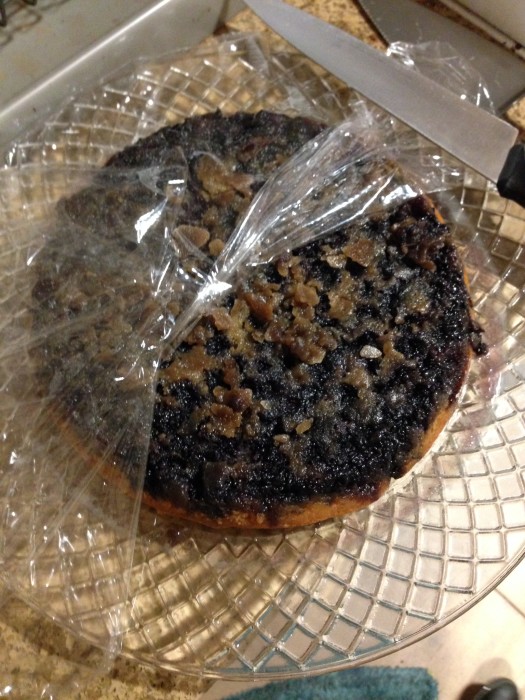 Snack: Not sure this is even worth posting because I literally had 3 carrots, but I was hungry after class at 4:30, and even though dinner was at 5, I wanted something in my stomach so I wouldn't get hangry in traffic on the drive home.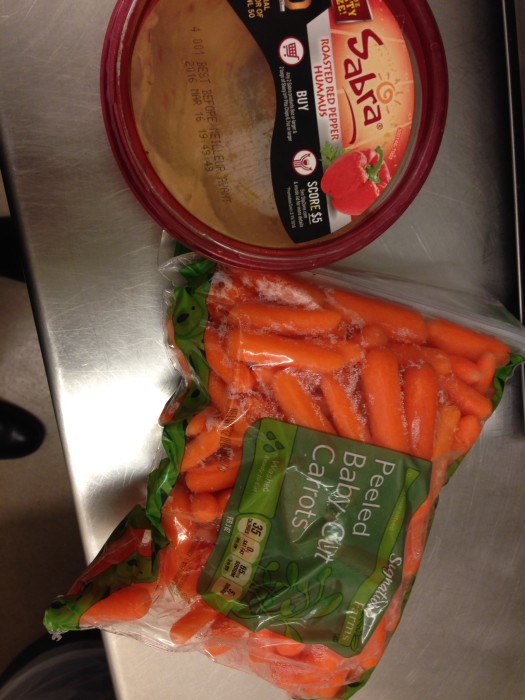 Dinner: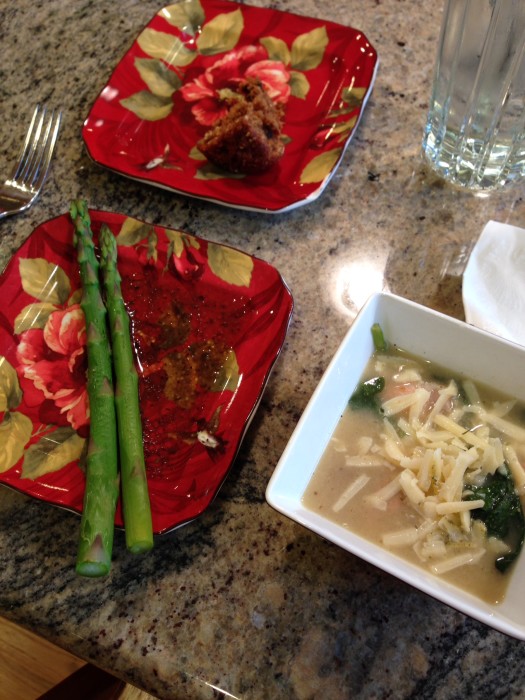 Dijon chicken and kale stew topped with cheese. SO delicious. Asparagus on the side, plus half a carrot cake flax muffin (another 1/4 was eaten not pictured).
Dinner #2 (eaten in Biochem):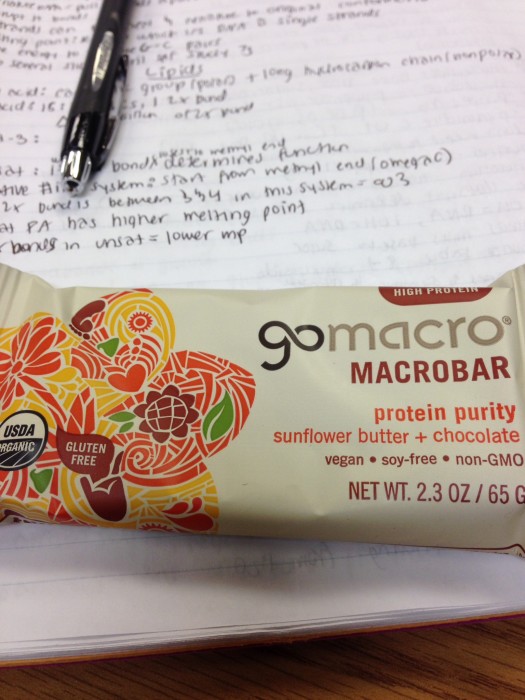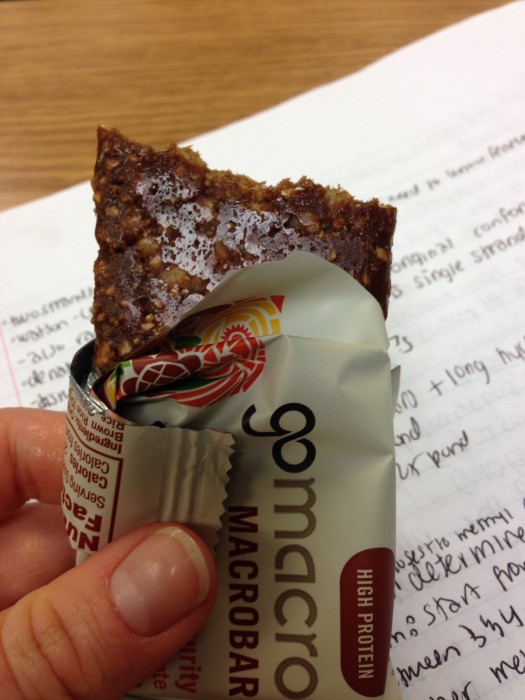 Besides the fact that I need more food in my day, this snack helps break up 3 hours of Biochem!
What is the best thing you ate this week?