I had an interesting day on Monday. As you probably know, I've been dealing with some sort of mysterious stomach condition since February. I've had tons of tests, and everything was coming up negative. There was one last test to try and since I was feeling significantly better I put it off until winter break because it took 5 hours. But the reality was although I was feeling better, I don't feel like a normal person.
All this led to be fasting for 16 hours and then eating radioactive eggs.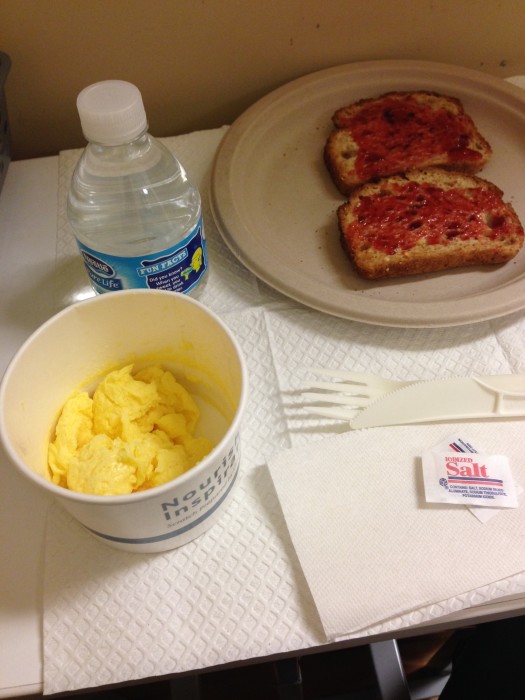 It's weird going to the doctor and having them feed you, right? I did a gastric emptying study. Basically, they fed me radioactive eggs that they can then track through my stomach with an MRI type of thing, over the course of 4 hours, beginning with a 30 minute long picture. The process was long and involved a lot of waiting, but was relatively painless. While waiting, I googled symptoms/treatments for delayed stomach emptying and found myself nodding along with the symptoms, so I wasn't too surprised when the test came up positive for delayed stomach emptying.
After a follow up appointment, it sounds like this is likely what is causing the problems. Treatment is mostly managing the symptoms and changing eating habits. I basically have to avoid eating too much. I have to eat more mini meals throughout the day, instead of full meals. I've actually been pretty good about eating fairly light over break so far, and I think that has kept most symptoms at bay. So I will be eating lot of small meals, and soups (since liquid can be easier to handle).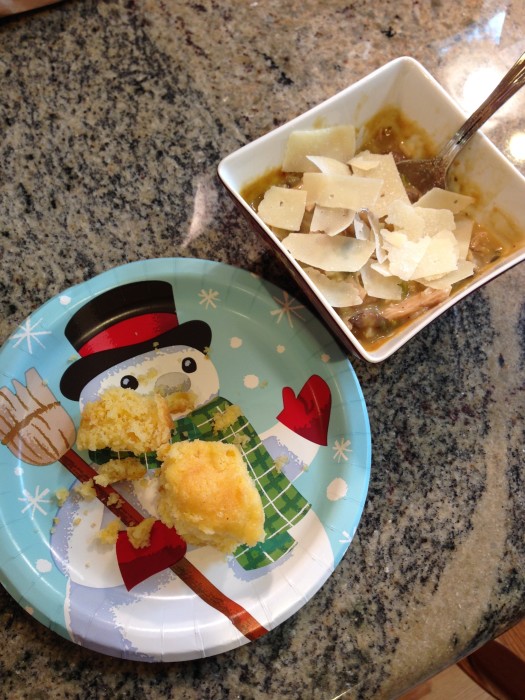 Lunch today was a mini bowl of soup and a baby piece of cornbread.
I have mixed feelings about this. I'm glad to finally have some answers, but I'm nervous this lifestyle change will be either difficult to adhere to or won't "cure" anything. When I think to how bad off it was when it first started, I can't imagine that smaller meals would make a difference. Thankfully I am better than that, but the threat of that worries me. I just want to be normal! If mini meals might get me there, then that's what I'm going to have to do. But I feel like at least for now the threat of a full on flare is still very present.
So what else have I been up to?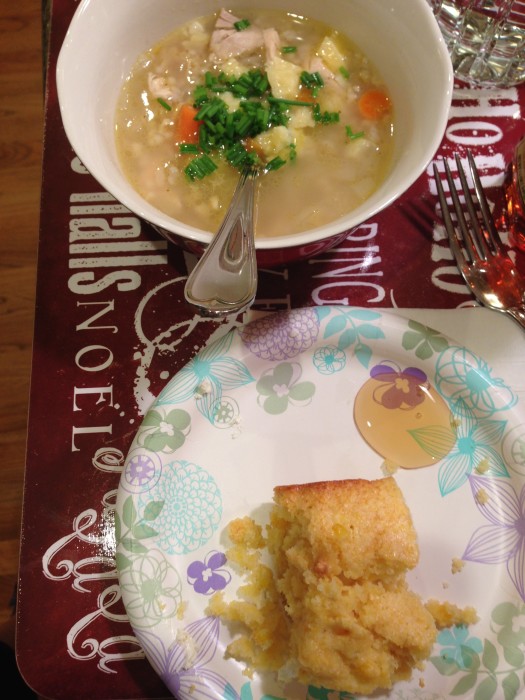 More soup-Greek lemon chicken. We added carrots and lemon juice. This was topped with chives and feta, and the feta linked all the flavors perfectly. On the side was Trader Joe's Gluten Free cornbread (from a mix). I really liked it! With butter and honey.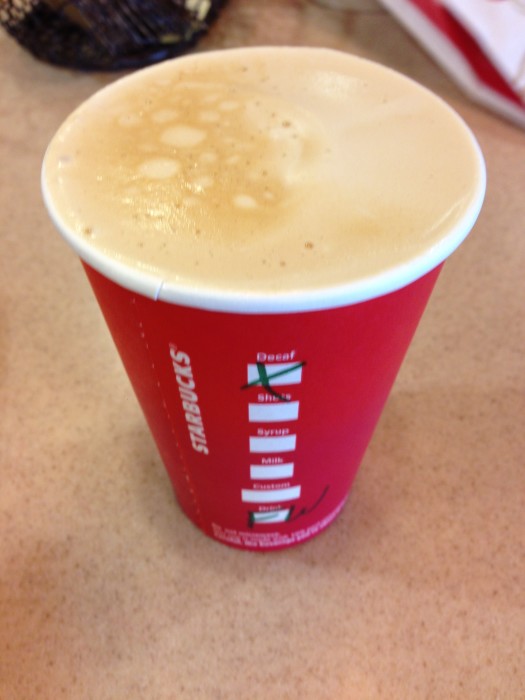 My first ever flat white.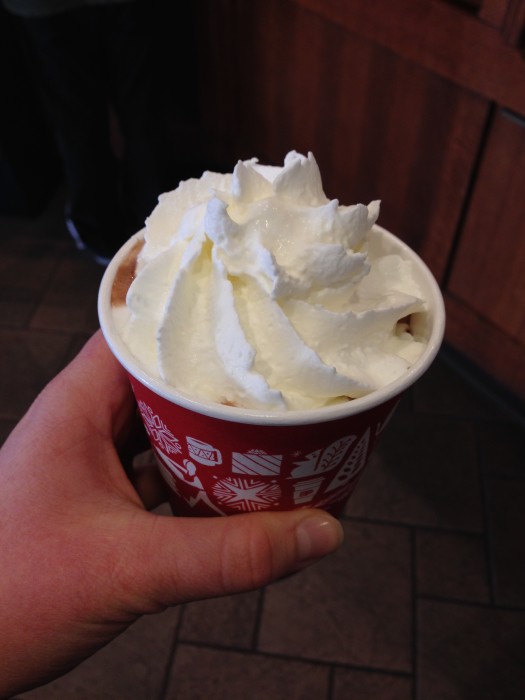 Peppermint hot chocolate with my sister from Peet's.
Last night's dinner: sage, chicken, and mushroom soup, with a gluten free rosemary roll on the side. The roll is from Mariposa in San Francisco. Yesterday my mom and I went up to San Francisco to go to the Ferry Building.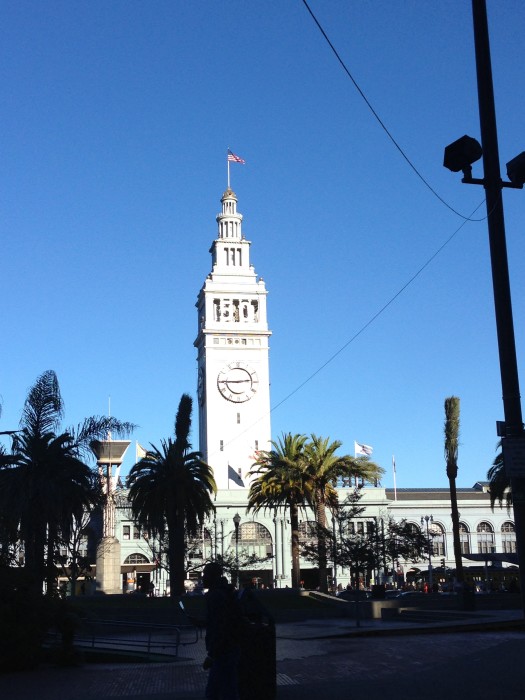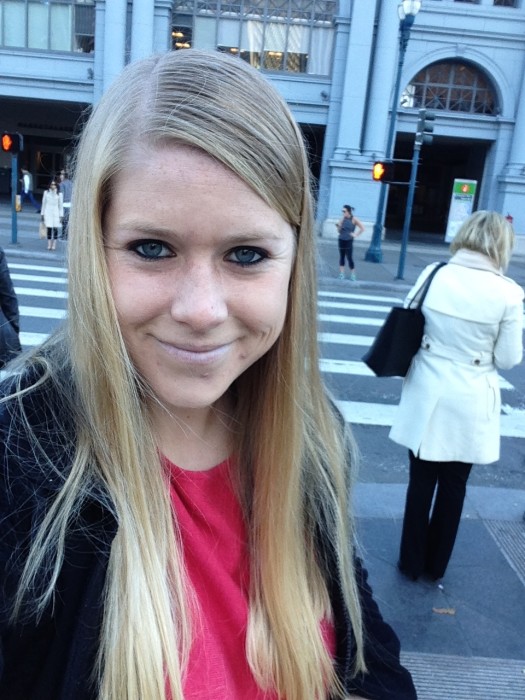 We started out with a gluten free lunch at Mariposa, and I got a turkey sandwich with cheddar and cranberry sauce.
We also stopped by the gourmet ice cream shop. I was hoping they would have olive oil ice cream like I had last time, but they didn't so I settled for some delicious chocolate.
We wandered the shops a little bit before heading home.
Another food excitement—new energy bars! It's nearly impossible for me to find bars that meet all my various restrictions, so when I saw a website for custom bars on Kaila's blog, I jumped at the chance.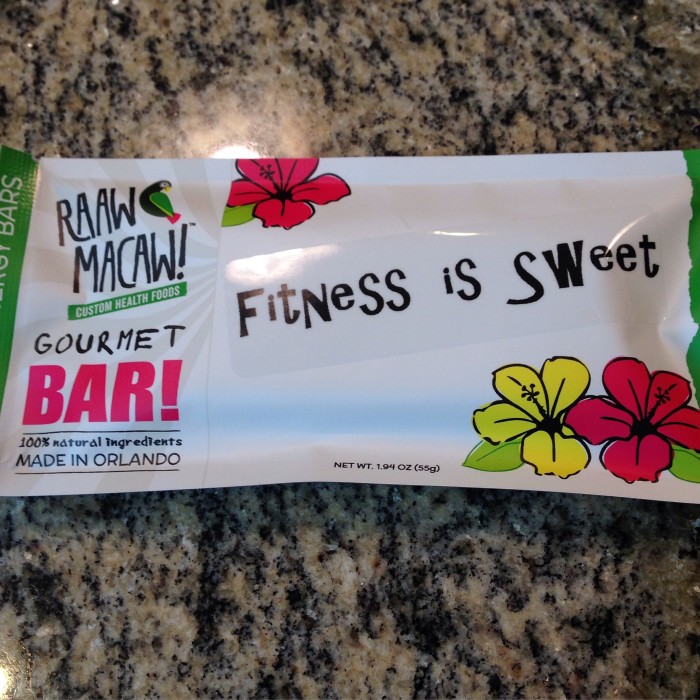 I got mine with a date and sunflower seed butter base, and then had whey protein, chia seeds, chocolate chips, vanilla, and honey. SO delicious!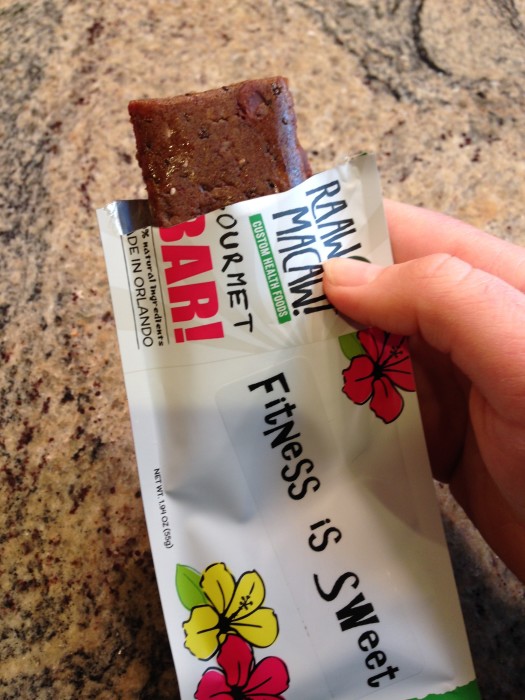 In terms of workouts, this morning I went to the track to do my simple 6x200m. Love the view from this track though!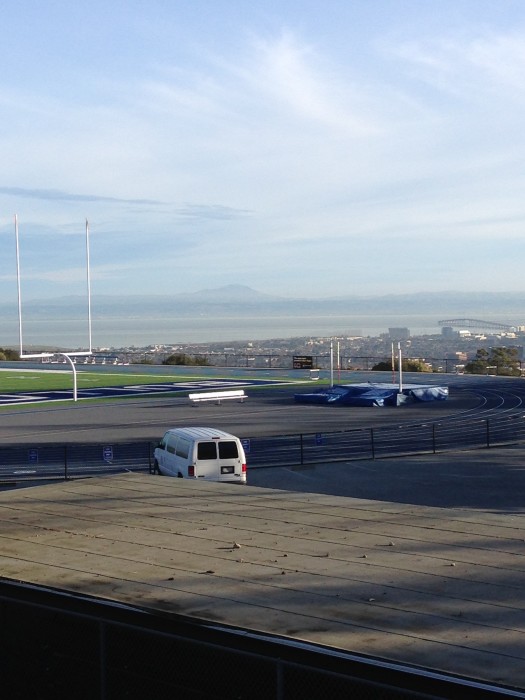 The other night, I went to a fun Santa Themed spin class, which I dressed up for with Santa socks and a holiday bow in my hair.
I've also been going to my home Crossfit, which has been SUPER fun. My first workout back was Tuesday, and the WOD was 5 rounds of 400m run, 30 sit ups, and 15 back squats at 115#. This is exactly the type of workout I LOVE, and it was fun! However, I haven't done a ton of back squats since hurting my shoulder (I think the first time I was able to do them was like a month ago?) so while the weight wasn't too heavy, the underuse plus high reps has left me unbelievably sore! Man!
Currently, I am blogging from under both a cat and heated blanket. Winter break isn't too bad!