Hello! My brain kind of feels like it's melted today. It's midterm week, and I swear doing 200m sprints just takes a lot out of my brain. That's weird, isn't it? Anyways, the point is that I feel like I'm making no sense right now but I thought I'd share some things.
Last weekend I found a cat. I was eating outside the house with some friends and it walked right up. I THINK I've seen it a couple of times before. It walked right up to the kitchen window. I naturally let it in the door and fed it some leftover trout from a meal earlier in the week. <3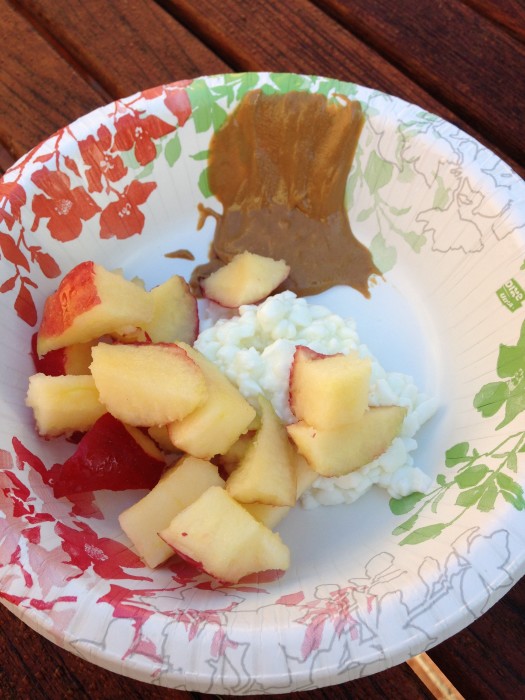 Currently eating this breakfast-apple, cottage cheese, sun butter. It feels like fall! The weather here is…weird. It's been hot. The leaves are FINALLY changing, so I've been itching to get outside and run! I can tell it's fall, but like I said, it's weird. Today it was SO COLD (by CA standards) this morning, and then it was like 80.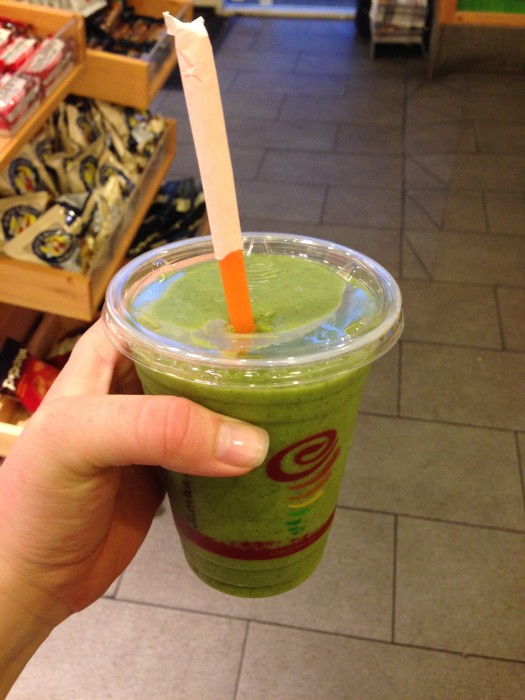 Last week I woke up at the $%&&%$% of dawn to go to a spin class near home because the class is awesome and my purchase of a class was about to expire. Green smoothie to recover. Class was awesome as expected, and it was still dark when I got out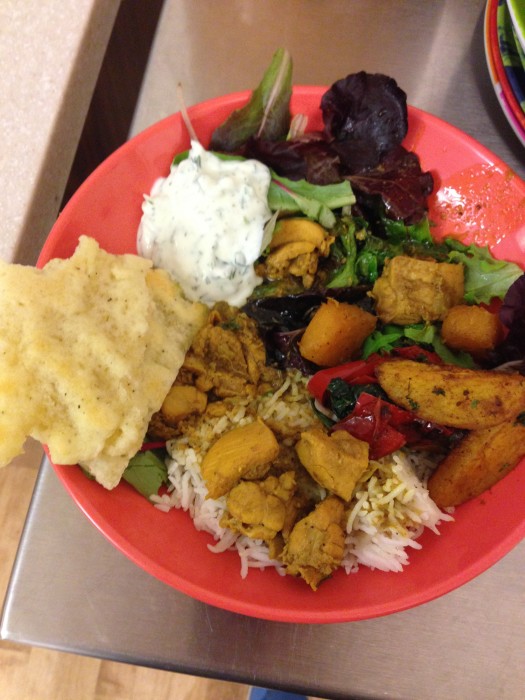 Indian food last week. It was mediocre but the gluten free naan was AWESOME.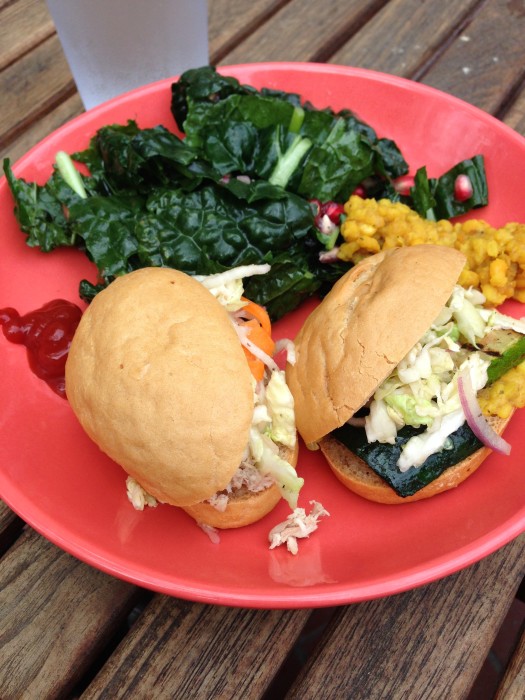 Pulled chicken and veggie sliders on a very dry GF bun. The insides were at least good!
FOOTBALL. I finally made it to a game. We crushed UCLA (YAY) and I had an awesome view (form the end zone) of the most epic catch ever. Google "Stanford the catch" because it was insane. So nice to be out there!
So I lost my phone briefly. I had it at my softball game but sometime from my car to the dugout it disappeared. Long story short, I spent forever looking for it driving all around creation, and it turned out it took an extra set of eyes to find it. I honestly don't think I ever would have found it. It was in a bag in my car-hidden under a flap. As a result, I got a visit from the pup! She's getting so big!
You can't see super well from these photos but the other week I got these long sleeved shirts that I am OBSESSED with. I got them in 4 colors and now I also really want a deep red one.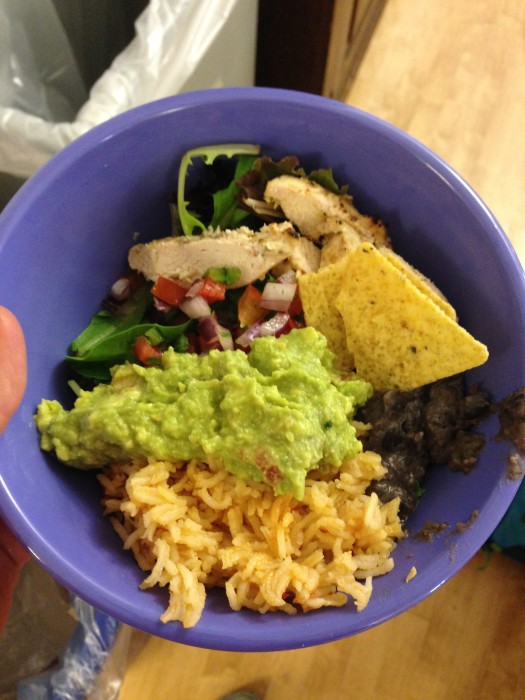 Awesome lunch-Mexican food made into a salad. The guac was on point.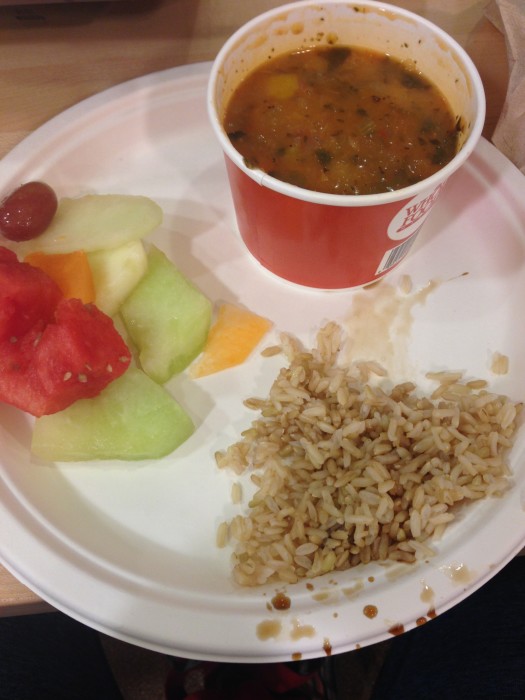 Whole Foods dinner post-Crossfit. I wanted something on the lighter side with plenty of veggies. I was going to miss dinner, and since we're currently trying out new chefs, there has not been enough food lately so I knew there would be nothing left. Plus, I picked up lunch for today!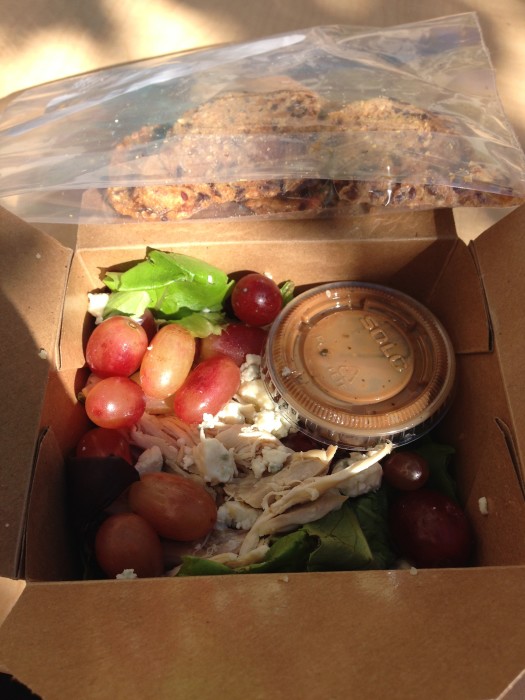 I finally found a salad bar combo that I like! I feel like I'm always the worst at making my own salads. Chicken, grapes, bleu cheese, balsamic. Don't knock it til you try it! Plus Mary's crackers.
Finally-I had an interesting spin class today. This is my first time with major technical difficulties. I've had the mic die, but this was worse. I was using a playlist I taught last spring to at my other gym, and the choreography was complicated and pretty specific to the songs. Then on the 3rd song my playlist skipped to the 2nd to last song and I couldn't get it to go back. I was using my Schwinn app, so I switched to iTunes on my phone. That malfunctioned as well! I chose a random playlist and taught a song from it while realizing that a random playlist would never work with the class I had drawn up. While cuing, I scrambled around and found the playlist on my iPod. Thankfully, I had it right there because I use it to play music as people walk in since I have to check them in on my phone. And thankfully, the playlist was on my iPod and it worked! I haven't been putting them on my iPod that much since I started using my app so it was so lucky! My back up to my back up saved the day!
WHEW. I think it's about time I go back to studying.