Hello! I'm finally blogging on a week night. I finished my day, and am now awaiting a visit from my friend's 2 new kittens! I only met them last week briefly at the vet, so I cannot wait!
So, what are my days looking like? I started my morning with a really hilly 3 mile run. Workouts before work are pretty essential for me because I'm allergic to everything at home (i.e. Charlie, Lilly, and Chloe), and I'm allergic to everything at work (i.e. every animal there), so a little workout and fresh air helps keep things under control. Side note: my hip has really been bothering my lately when I squat for some reason. Not the motion of equating, but being down in a low squat position. I went to a yoga class yesterday, but I also played a softball game yesterday which stiffened it up. Anyways, I'm trying to avoid squats for a little while.
Sidenote: Guess what? I'm going to IDEA World Fitness Conference next week! Is anybody else going to be there? I'm pretty pumped! I'm going as part of the college program, so hopefully I'll get to meet other students! Additionally, I'm signed up for all kinds of spin workshops!
Anyways, post-run I was running a bit late so I had a super quick breakfast of an Oatmeal Raisin Luna bar and mango. For some reason I have so much trouble finding the oatmeal raisin flavor…
Today, I worked 8-4, which was a fairly ideal schedule in my mind. Evenings are usually pretty slow. At 12:30, I broke for lunch.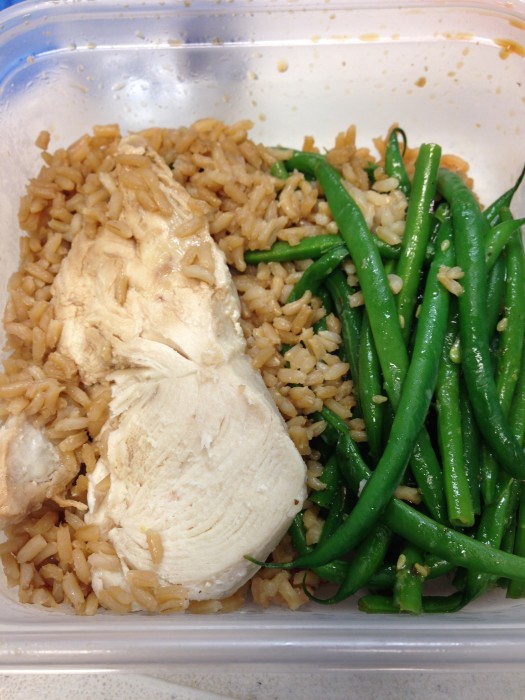 Lunch was Trader Joe's chicken strips, brown rice, and leftover green beans. I haven't been a fan of TJ's chicken lately. There have been a lot of tendons or something in it lately and the texture has been kind of gross.
During my lunch break, I stopped in to the nearby froyo place for a small container of chocolate sorbet with blueberries and a couple of raisins.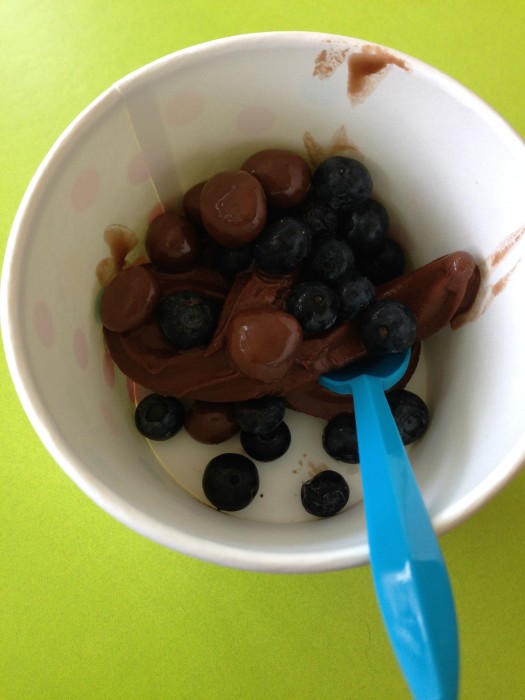 Tonight was my spin teaching night, so I sprinted out the door at 4 to make the traffic-filled drive across the bay. Maybe it was the holiday weekend, but traffic wasn't awful. I had a pre-workout granola bar in the car while driving.
I have to get to spin pretty early to avoid even worse traffic, so I've gotten in the habit of taking power naps in my car when I arrive. It makes a difference!
The class went pretty well. It was a smaller class than usual, but I think everyone got a solid workout in!
I came home and unleashed the beast puppy. She was a little crazy, but now she's asleep.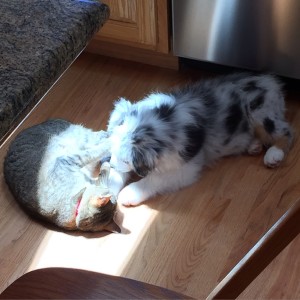 The first week of work, I came home totally wiped, and after dealing with animals all day, I had little patience for my little puppy. Now that I'm getting more into the routine though, it's getting a lot better! That being said, I'm looking forward to my pillow tonight!
Dinner was a Trader Joe's salad with leftover cheesy polenta.
On Sunday night, my family made our annual 4th of July cake. Normally, we do a big sheet with a berry flag pattern, but we simplified since the holiday had already passed. This year, we used a gluten free chocolate cake mix.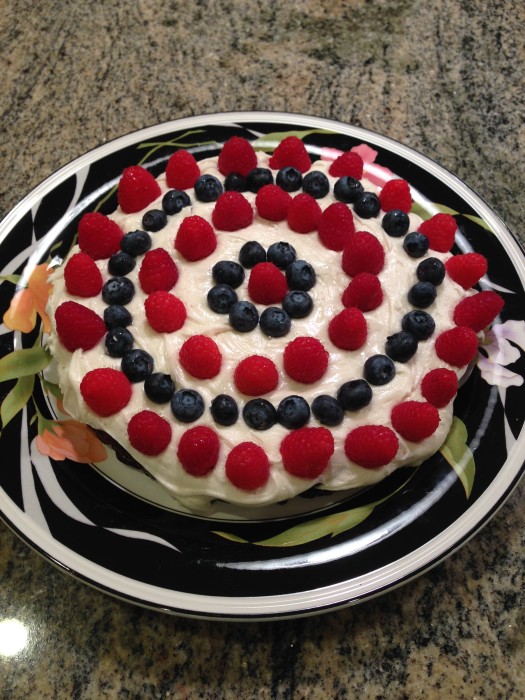 For dessert tonight, I had a small slice of this. Unfortunately, my stomach doesn't like something in this cake and I honestly have no idea what it could be, but I had my reoccurring illness issues on Sunday after having this, and I'm feeling kind of off now. My stomach is 99% healed, but there are some random things that are still iffy!
So that was my day! Also-I updated my Races page FINALLY!
What is your favorite granola/protein bar?