Well hello guys! It's been a little while, hasn't it? My life has literally been nothing but the vet lately. Animals are taking over my life. Because then I come home to a crazy pup and a needy kitty!
I've had no energy or desire to pop open my computer these past few days. The first couple of days were totally exhausting, and my brain shut down before 10pm. Yesterday I started work at 7. I'm there for 9 hours a day, including lunch, and I'm on my feet the entire time. Needless to say, my feet haven't been too happy about this! I love working at the vet though-I'm getting the hang of things much faster when I'm there 40 hours a week rather than the 4 hours a week I had been doing during school.
What else have I done this week? I went to the Farmer's Market on Thursday-there's one in the evenings right next to work on Thursdays. I've done some workouts, including teaching my spin class. One workout in particular I'd like to mention is the reason my legs are currently sore, and will only get more sore.
I mentioned it before, but I'm working with a trainer this summer. I trained with him all throughout high school, and in just the 2 weeks I've been with him this summer, everything is improving. My Olympic lifting technique is improving rapidly. In Crossfit, I feel like the strength/Oly portion gets glossed over on the way to the WOD, so this is really good. I still need to get a little more confident in my lifts, and my max weights should go up even more. Yesterday we did both snatches and cleans. I PRed my snatch again this week-from the power position. How crazy is that?? Then we did squats. I'm on a lifting program, and this week was sets of 10, 10, and 8. Yuck. High rep squats are the worst. My first set of 10 was 145#, my second was 155#, and my set of 8 was 165#. I can confidently say I've never done a set of 10 at 155# before. The thing though is, I never doubted that I wasn't going to make these lifts. I think the mental aspect of weightlifting is incredibly important, and in high school, this is something that really shaped me in other areas of my life, which is one reason I fell in love with weight lifting. I actually wrote part of my college admissions essay about this. I can't believe I'm actually sharing this, but I think it is really important so here's a little excerpt:
"In weightlifting, I learned to push through mental roadblocks, launching myself into uncharted territory. With my mind, I could push my body further than with sheer strength. With difficult lifts, I found that if the thought of failure crept into my mind, I would instantly fail."
Also note that I was a much better writer 3 years ago-being a science major does not foster the same types of skills…
I think that weightlifting has been a huge influence in shaping who I am.
Anyways, back to the workout. After squats was push presses and bent over rows. Then conditioning. My trainer asked me how my legs were. I said they were okay, to which he replied, "Oh, I thought they'd be shot."
The answer should be yes, they were shot, because then I proceeded to do conditioning full of burpees.
6 minutes, on the minute:
1. 1 power clean (85#), 10 burpees
2.  2 power cleans, 8 burpees
3. 3 power cleans, 6 burpees
4. 4 power cleans, 4 burpees
5. 5 power cleans, 2 burpees
6. 6 power cleans, 1 burpee
I honestly surprised myself that I even finished 10 burpees in a minute!
But yes, now I'm feeling those squats. I started to get sore 2 hours later. So this should be interesting.
Foodwise?
Breakfasts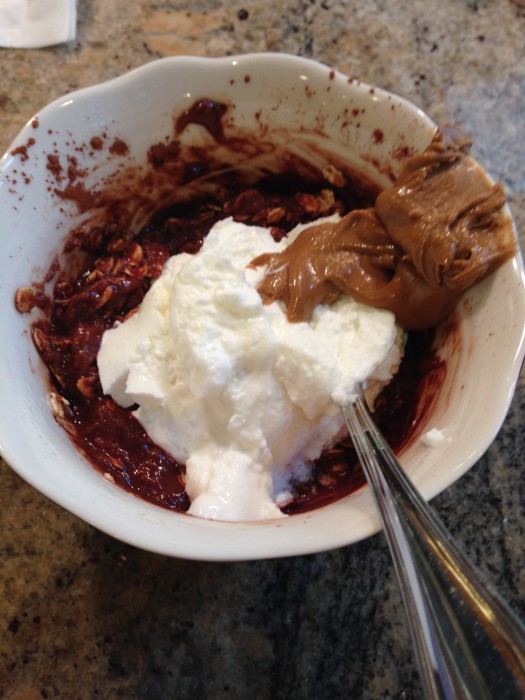 I mashed up a ripe banana with cocoa powder and then stirred in oats. I topped all that with plain Greek yogurt and sunflower seed butter.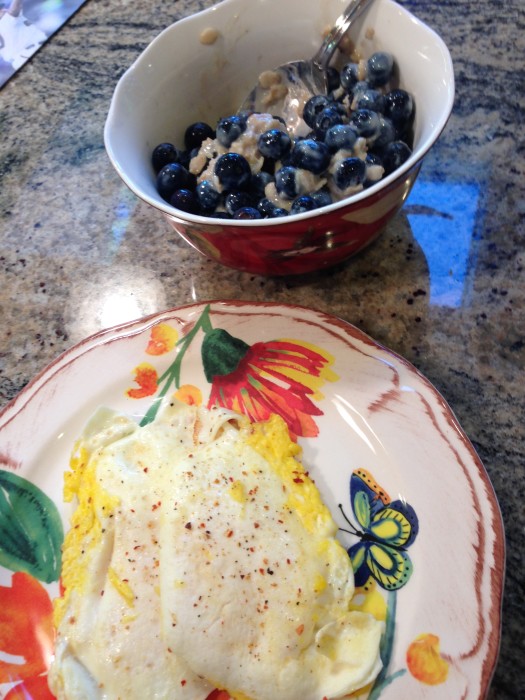 Eggs+oatmeal. My berries to oatmeal ratio was 2:1 which was just about right. Oatmeal isn't exactly my thing.
Lunch
For the first half of this week, I packed really unphotogenic sweet potatoes stuffed with black bean soup, chicken, and avocado. Plus a veggie. I'll spare you the pictures. I finally settled on a favorite work lunch of a salad with dates, feta, chicken, nectarines, and champagne vinaigrette.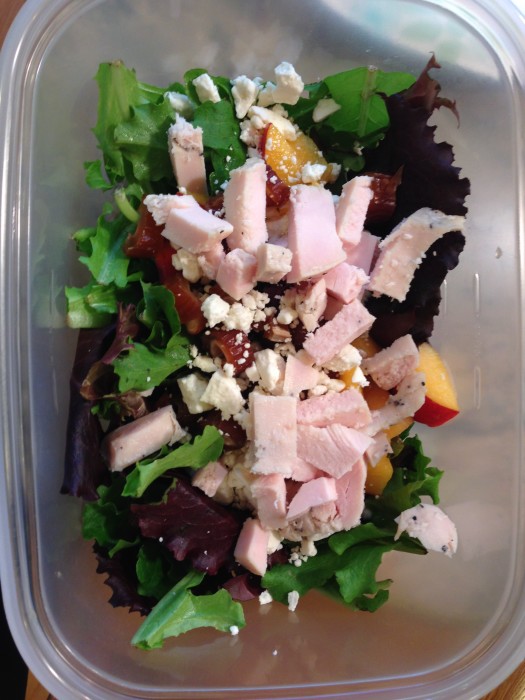 Dinner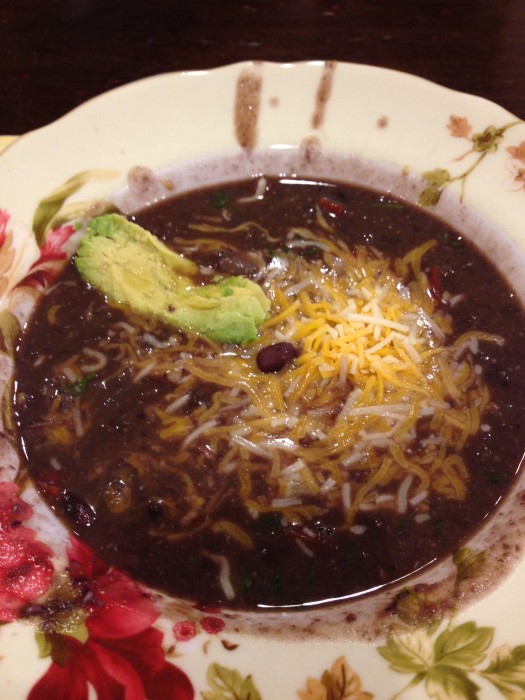 Black bean soup with cheese and avocado.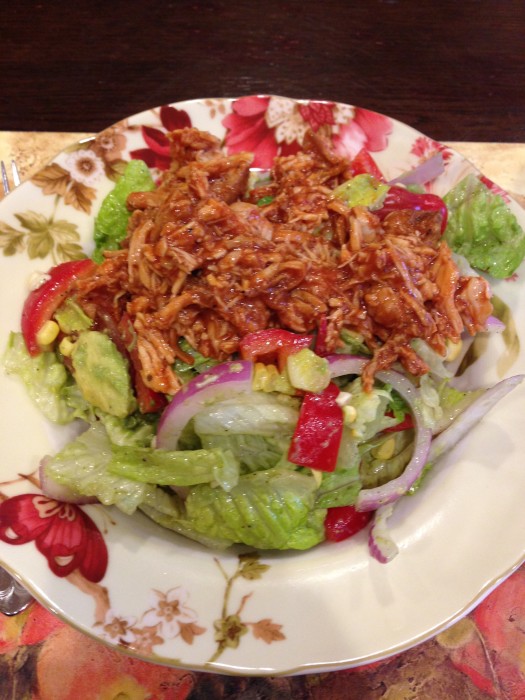 Salad with corn and avocado, topped with Trader Joe's BBQ chicken.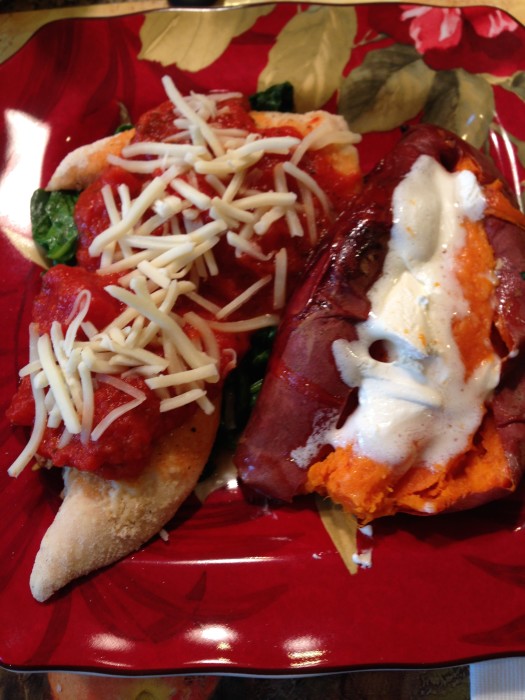 Parmesan encrusted chicken over garlic spinach, with a sweet potato on the side.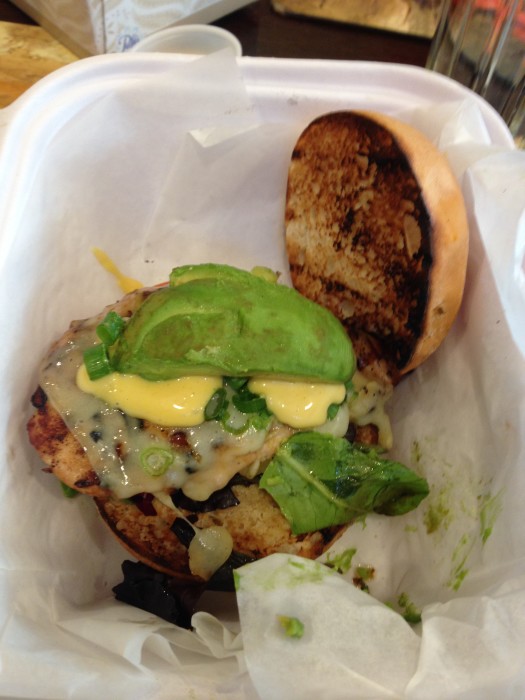 Take out-a chicken burger with dijon and avocado on a gluten free bun.
And of course-this is necessary: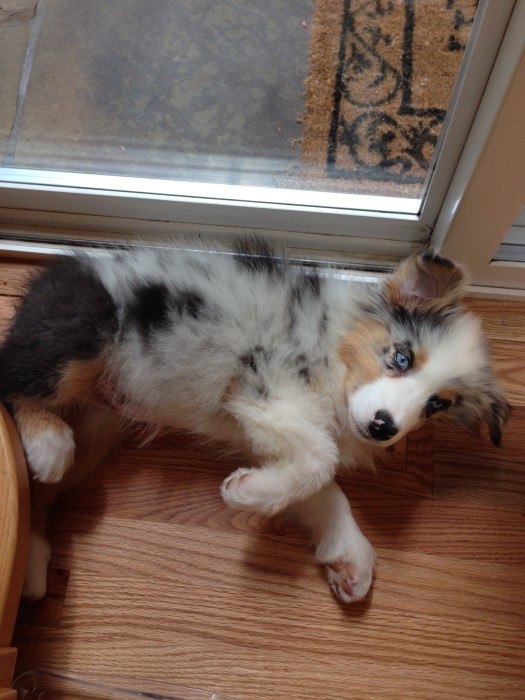 How was your week?