Hey guys! I wanted to do a day in the life this quarter-hopefully this helps explain some of why I've been absent a bit from the blog world-not enough time or sleep!
5:58: Wake up 2 minutes before my alarm. Surprising because I had less than 6 hours of sleep the night before and last night couldn't fall asleep until 1:30ish. Get out of bed and take stomach medicine. I have to take it 30 minutes before eating in the morning so I need more time before 7am Crossfit.
Pre-workout: gluten free banana bread with blueberries!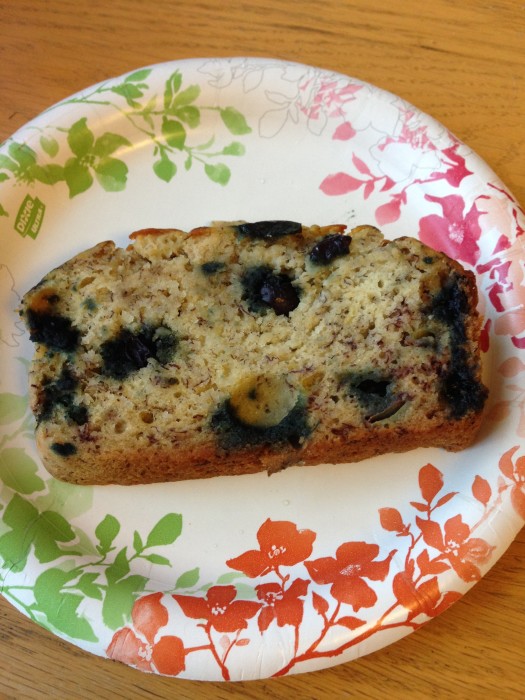 6:40ish: leave for Crossfit.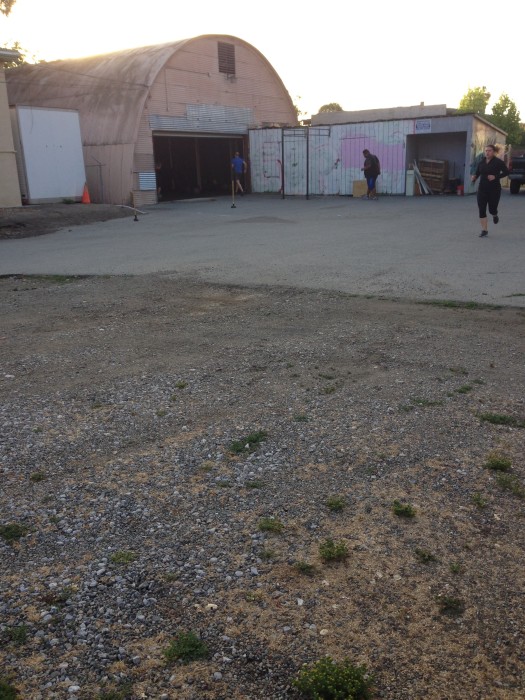 It should be noted that I've basically been unable to walk since lifting weights on my own Monday morning. I love Crossfit, but it's a different kind of workout and apparently I'm not in the shape I used to be in for high volume, heavy weight workouts I used to always do! Upon waddling in, I sort of regret coming but know it will keep my stomach in check.
7:00am workout: Back squats, sets of 3, lowering slowly to the bottom of the squat. I don't go very heavy.
WOD:
3 rounds:
5 point shuttle run
7 stone to shoulder
5 point shuttle run
15 burpees
8:06: I run out of there the second we finish the WOD, which is late. It's kind of a stretch going to 7am Crossfit before my 9am and making it in time, but I'm not waking up for 6am at this point in my life.
8:30: Clock is ticking as I arrive back on campus-I'm supposed to leave in 20 minutes! I packed up everything the night before but wished I had layer out my clothes. Couldn't find the skirt I was looking for so I aborted.
8:40: Hop off to the shower. I had a special talent for stepping out of the shower 8 minutes before I have to leave and still making it in time, but I think this will break my streak.
Showered, dressed, make-up on, and sitting in class at 8:58. BOOM. New record.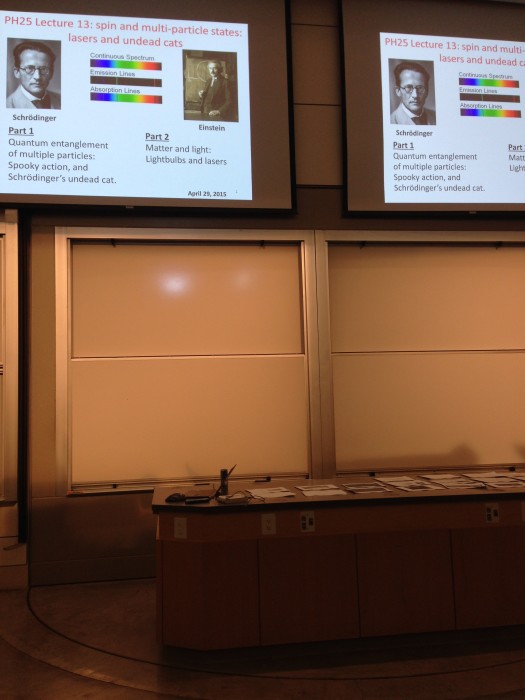 9-9:50 Physics. It's Modern Physics and we talk about Schrodinger's cat. I'm happy to learn no cats were actually harmed in this. Meanwhile, I drink my post-workout chocolate soy milk.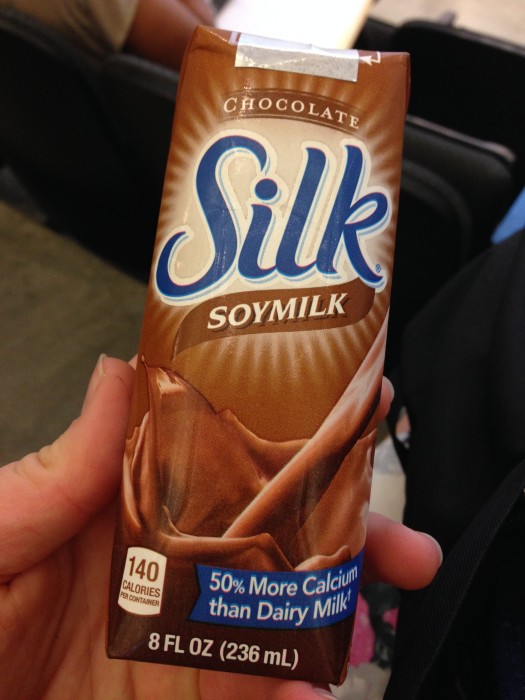 10-10:50 Stats lecture. We had a quiz. It was kind of hard. Meh. I'm pretty hungry and know lunch is a ways away so I scarf down this bar between classes.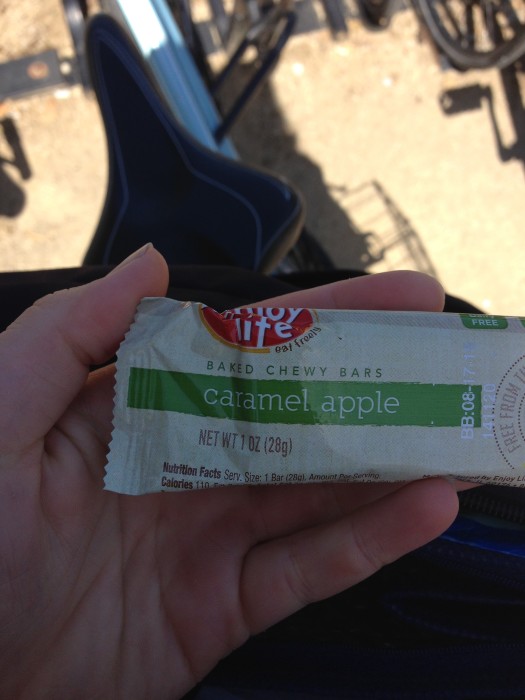 11-12:15 Physics section. After class, I snag a bathroom selfie for my outfit of the day, since this is a day in the life post! It's nice weather today.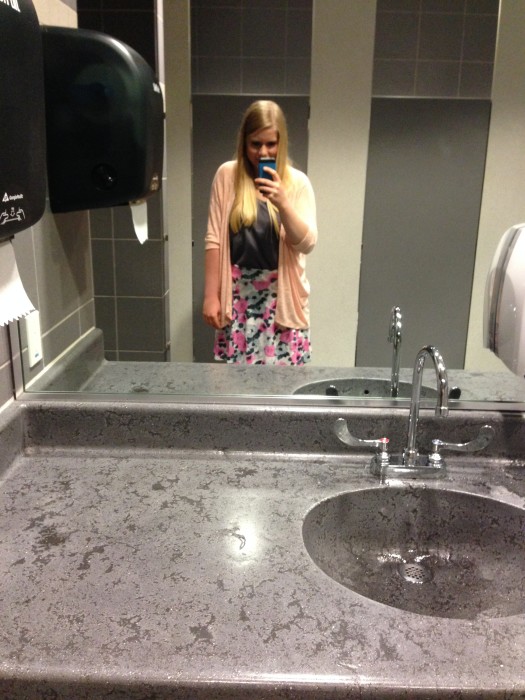 The outfit looked WAY better with the other skirt but what can I do?
Physics section is in the sub-basement. I am incapable of climbing that number of stairs so I take the elevator. Finally-selfie of the day! I'm almost at a year of selfies!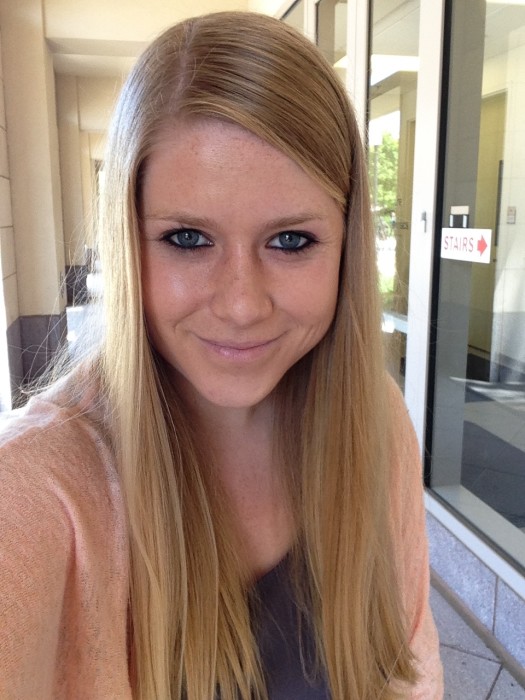 I eat lunch outside.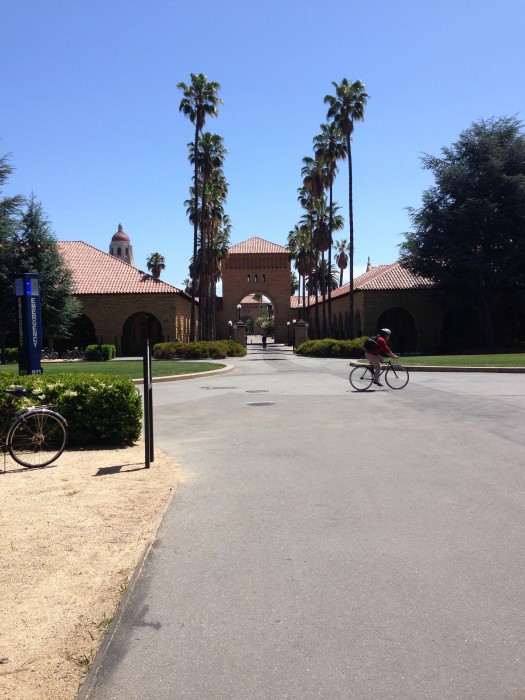 Salad with champagne vinaigrette and chicken. Basic but seems to be safe with my stomach. Plus a fruit bar-these are just from CVS but they might be my favorite! Big flavor.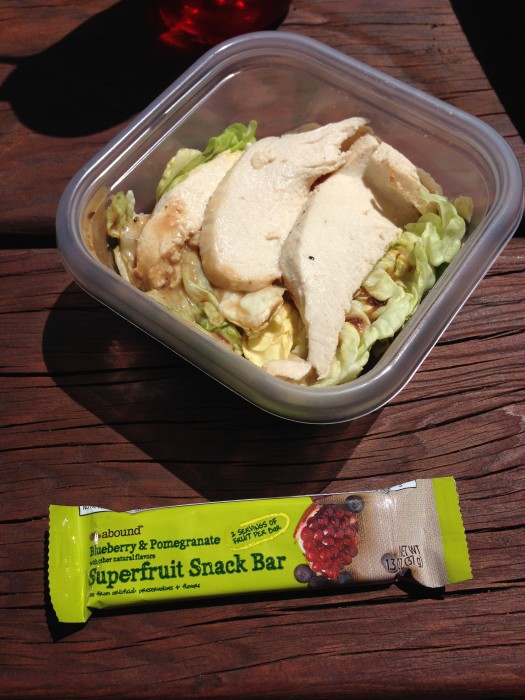 While eating I catch up on some blogs and then realize my phone is going to die so I put it in airplane mode and head to the library.
1:20-2:05 Stats homework which ended up being pretty fast, thank goodness. Once that is done I spend some time of my sorority duties as VP New Member Education. I realize I'm running out of time before our meeting tonight and I have a ton of paperwork to deal with.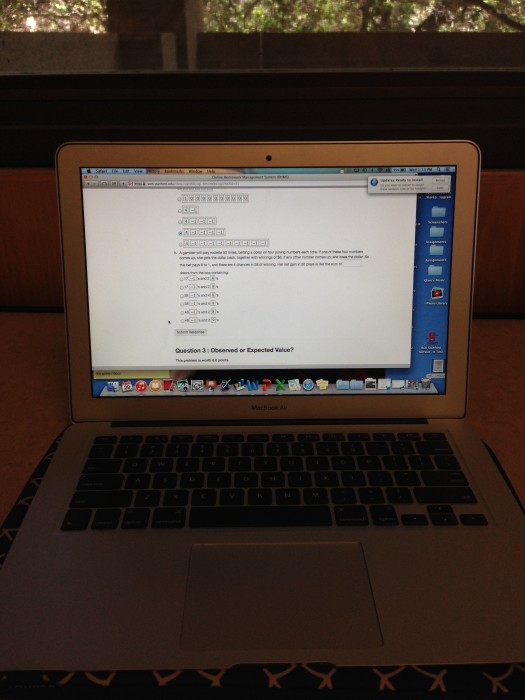 2:15-3:05 Bio lab lecture. This is the bio area.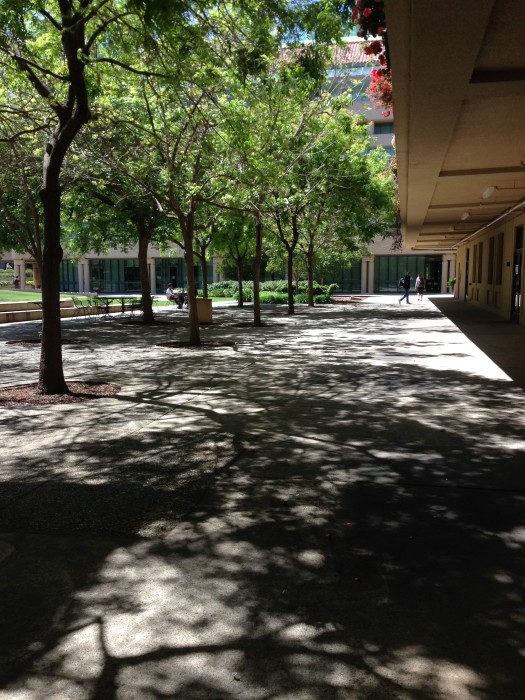 After class, I rush back to my dorm to try to get some paperwork done before I leave and also have a snack. I feel like I've been having a ton of bars lately so I opt for blueberries with sun butter.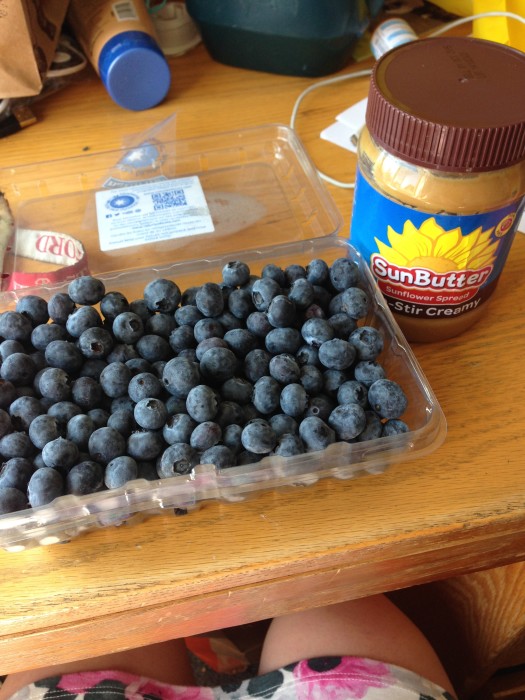 And a few of these: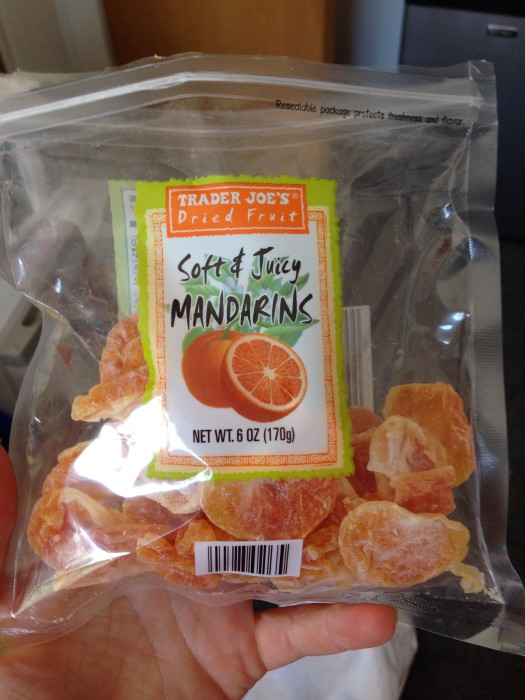 4pm: Leave for Soul Cycle! I've only taken a few classes there, but there's one super close to campus. While I don't agree with everything technical in terms of cycling and how they do it, I'm in need of some physical and mental inspiration. I've skipped a lot of workouts lately due to business and it has been affecting how I feel physically and emotionally so I know if I schedule this I won't miss it! Plus I need spin inspiration since I'm teaching a lot more!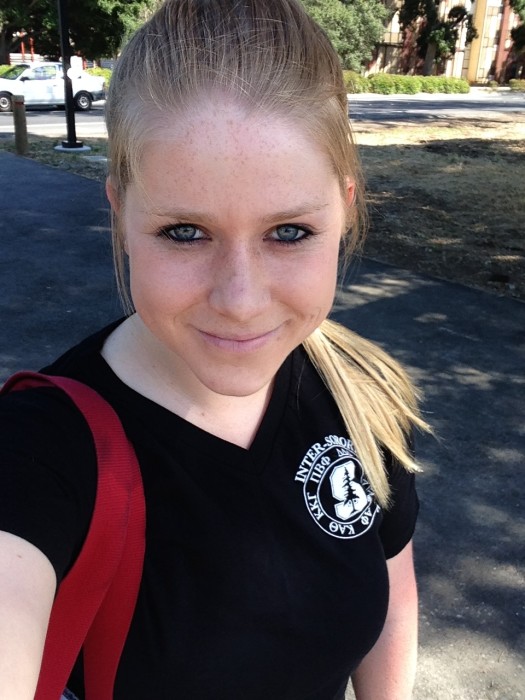 Before class selfie.
4:30-5:15 Soul Cycle. This instructor seems less crazy than some in the past and the movements are less crazy. That being said, my lower back still gets a bit sore during class, which is one reason I don't love Soul Cycle. Still, energy is great and it's fun!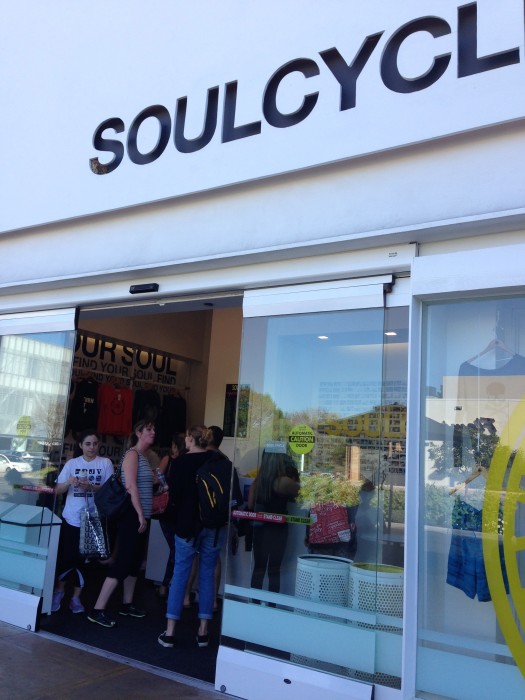 Post-workout selfie.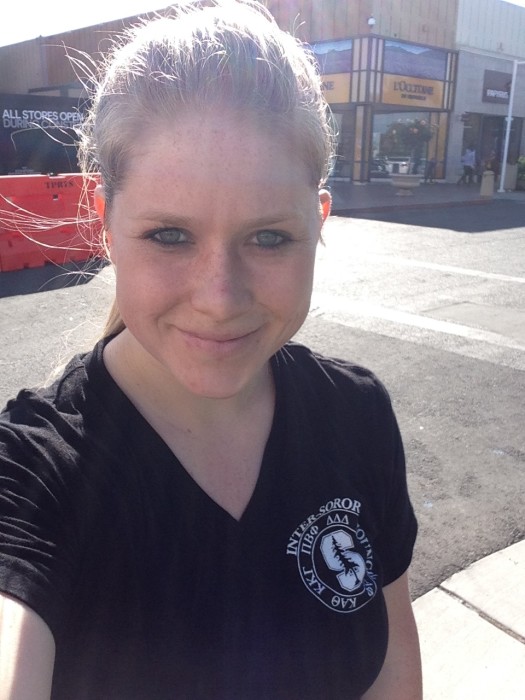 Drive to Sprinkles (it's in the same shopping center) to pick up a treat for my New Member Education meeting later. Best VP New Member Ed ever, right?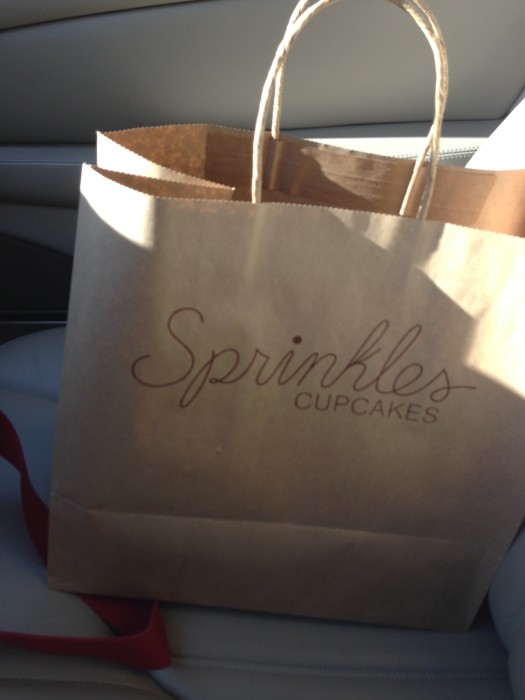 5:40: Erp. Return to campus-am supposed to be at dinner at 6 for my sorority because I'm in charge of getting the group together, and I still have things to print for my New Member meeting right after dinner.
6:04-only 4 minutes late I get to dinner! I haven't been to this dining hall in forever and demolish my burrito bowl. Salmon, brown rice, black beans, pico, corn salsa, mango salsa, guacamole. I should go there more often…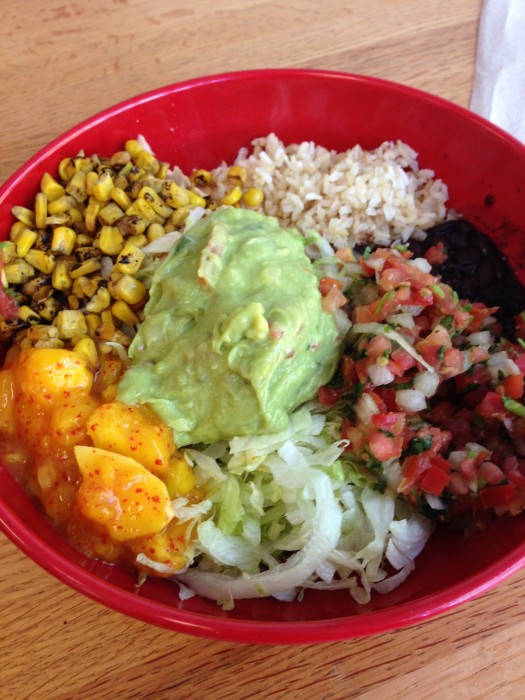 7-8pm New Member Education meeting! I lead this. It's a lot of paperwork for AEPhi National, which is why I brought cupcakes as a thank you! I didn't get a picture until the end, but I got myself a gluten free Red Velvet which I scraped most of the icing off of (dairy) and it was delicious!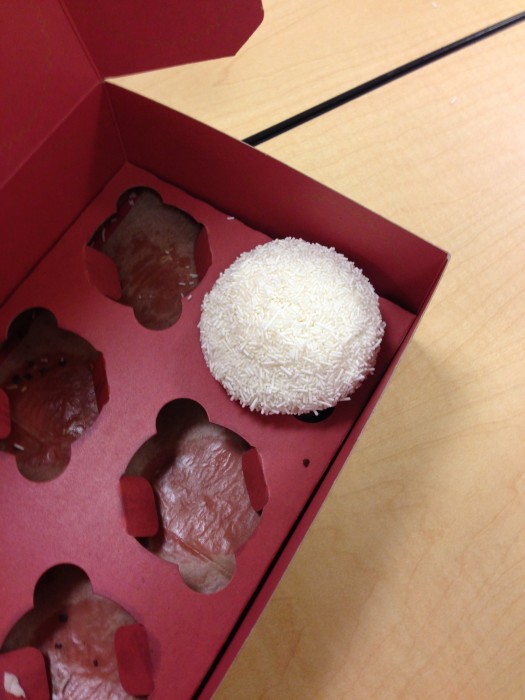 8:15-9: FINALLY some downtime-the first since I woke up at 6am! I run into a friend while biking back and we walk the rest of the way together, and then chat about cows and my birthday party this weekend which I'm super excited for!
9-now
Decide to at least try and check some items off of my ever-growing to-do list since I don't have much homework tonight (yay for Stats being short!)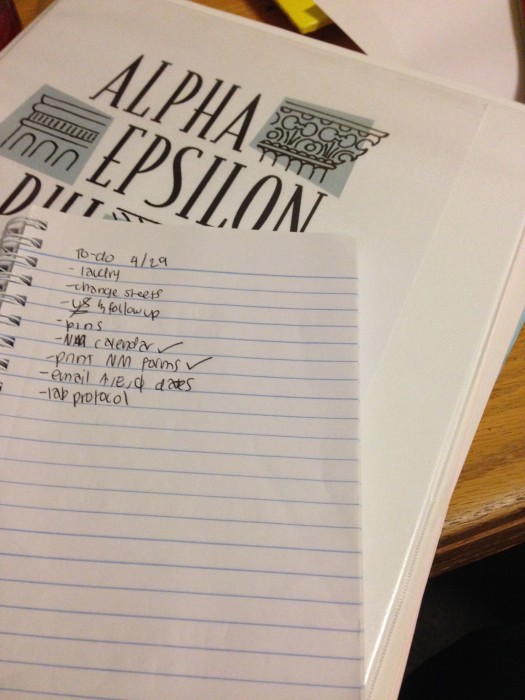 And then write up this blog post! I'm planning on a nice and early bedtime. I'm so tired! A lot of my days have been pretty busy lately and sleep has not happened as much as it should and needs to. I'm still debating whether or not to do Crossfit in the morning-I have to get a test done for my stomach (for something that it is very unlikely to be at this point) so I can't eat until afterwards…so unsure if I should attempt it on an empty stomach.
Thanks for sticking with me! I'm hoping things lighten up soon and I have more time to spend on here!