Today, I planned out what classes I'm going to take next quarter. Oh, and the last 4 quarters of my time here. This is so crazy to me-I don't have that much time here left. College has always felt endless.
I really want to take advantage of everything my university has to offer. This place really is amazing, and I am truly lucky to be here. It's hard to appreciate it when I'm neck deep in homework, but the grind of core classes and sophomore year is behind me. I realized that this quarter may be my hardest academically of the quarters I have left, and it's definitely nothing compared to my work last year. I really want to take advantage of everything college now that I'm not drowning. (That being said, we can talk later in the quarter during my week of Monday, Tuesday, Wednesday midterms).
I'm in a really good place right now. I'm full of excited energy and ready and open to experience and learn new things.
And I really need to get out more! I'm trying to make it out to more events on campus. Last night I went to a diversity in Greek life panel, and tonight I went to a Global Health event.
I want to open my blog up a little bit more to more perspectives and ideas, so I want to share some of these things with you guys. The event was awesome-it was a combination of a concert and speakers talking about their global health experiences.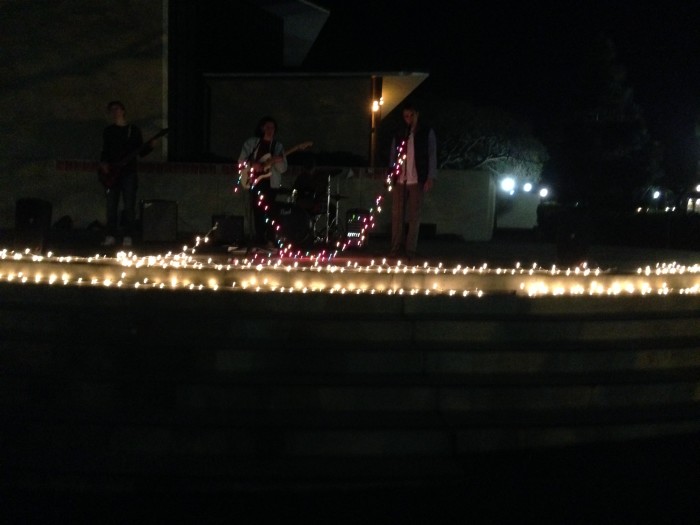 The band was really great, and the things some of the speakers talked about were really mind opening. One woman talked about her experience in Senegal over the summer doing research. When a possible case of ebola arrived at a nearby hospital, my school pulled her out of there early (she was there through a university program). One thing she said stuck with me-"When I was leaving, all these people who I had spent weeks working side by side with told me 'Ebola is just part of life here. Why do you have to go?'" I think we take many things for granted, especially our health and healthcare. We are lucky enough to live in a place where ebola is not just part of life. We have the privilege of fearing it, because we are not constantly faced with it. That's something to think about.
On the same vein, one of my favorite parts of being here is the amazing people I've met, who have completely changed my worldview and helped me grew as a person. People here come from completely different backgrounds and have had completely different experiences. I recognize how lucky I am that I get to live at a place with all these people, and that not everyone is as fortunate. I want to bring some of my experiences to you guys here on the blog, so I'm going to ask some people to guest post-look forward to those! My friend who organized the event tonight agreed to do a piece on public health, something she is very passionate about, and I have a couple of other ideas for posts. This is a healthy living blog, and I think part of being healthy is keeping an open mind and allowing oneself to see different perspectives.