Happy Wednesday! I have to say, my weeks are weird this quarter, but I'm embracing it. They're very front heavy, which makes the week feel longer. I actually like it. I'm in a good place, and I'm trying to get more out of each day that I get to be here (this is the fear of being an upperclassman and realizing I only have just over a year left here). That being said, I'm still living in the ignorant bliss that is the period of time before any grades have actually been gotten back. Speaking of embracing this school, how about embracing this weather? While it's supposed to rain this weekend, the weather here has been pretty much perfect lately. I can't complain about this California sunshine! (Sorry to anyone on the East Coast right now with all those storms…)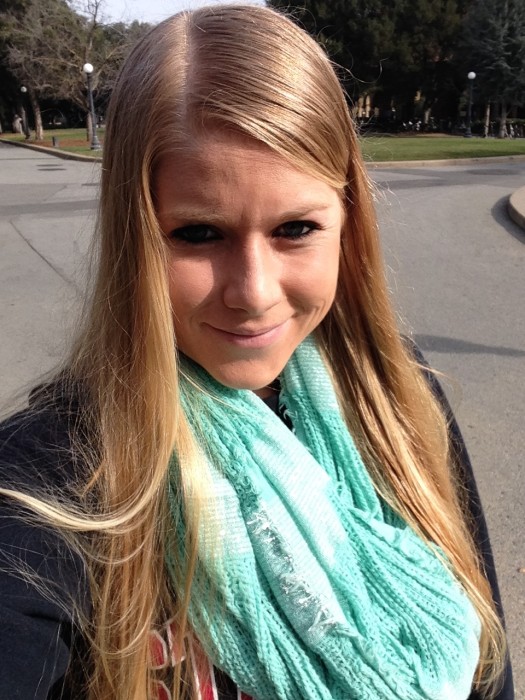 Anyways, that was quite a long winded way of saying it's Wednesday-yay! WIAW! Thanks as always to Jenn for hosting.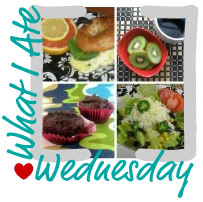 You want to know why I'm loving WIAW right now? Because when I'm posting less, or posting about specific things, I don't get to share what I've been eating as much, so I get this accumulation of pictures that somehow seem silly to post if not on a Wednesday. WIAW is an excuse for a foodie photo dump, right?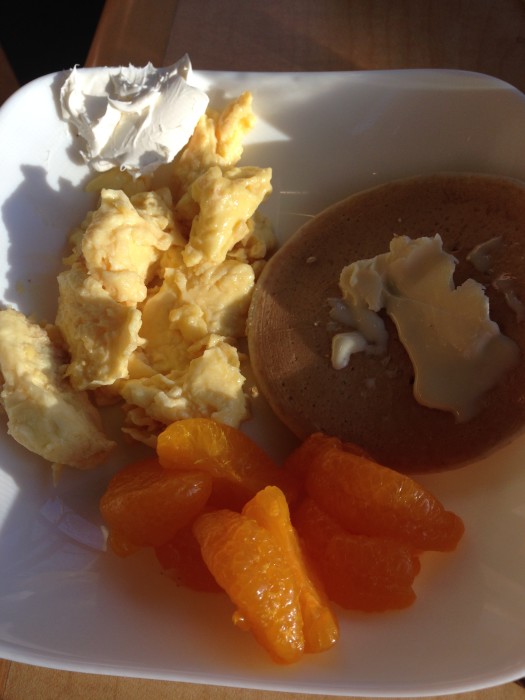 Pancakes+eggs+mandarin oranges at breakfast. I think I'm officially no longer a syrup on pancakes person. Butter all the way-it may have something to do with the fact that I'm a syrup snob and really don't like the dining hall corn syrup/maple syrup. Yuck. On another note, I just bought a vat of Grade B maple syrup at Whole Foods. More on that in a minute.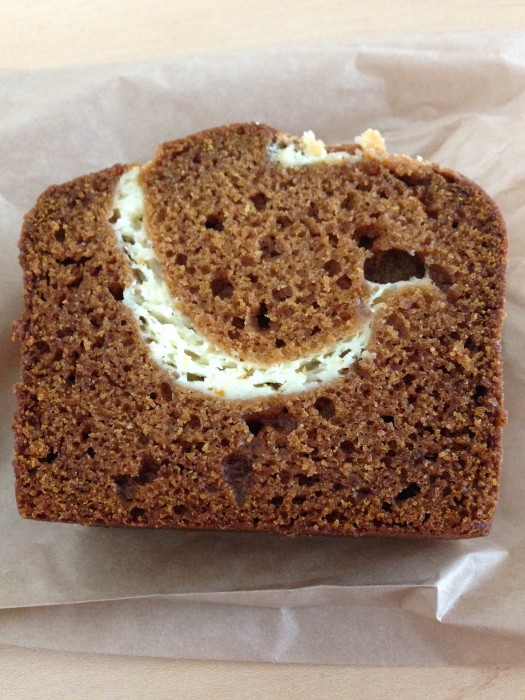 Pumpkin bread. This is from last Wednesday-my Wednesdays are long days so I needed a little pick me up between studying and my last class!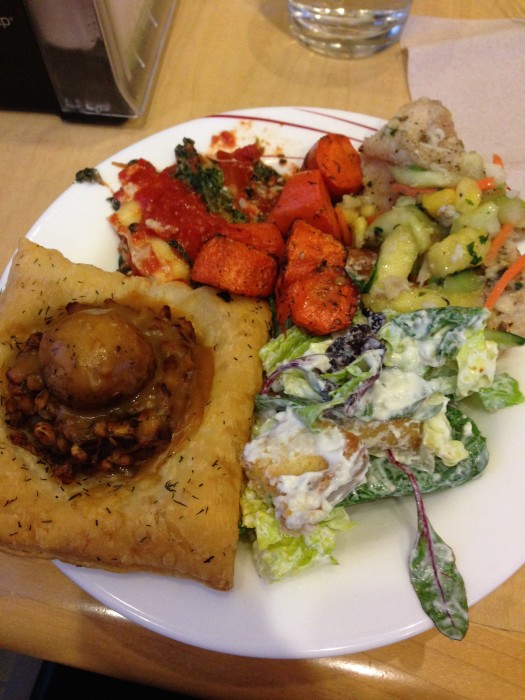 This dinner was 50/50. Tilapia with mango and cucumber was on point, as were the roasted carrots. I wasn't a fan of the lentil puff pastry though.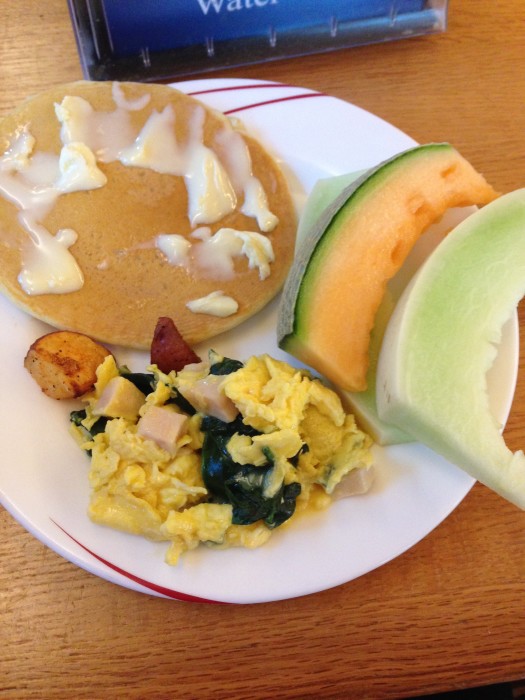 More breakfast. I was across campus at the track and decided to stop somewhere different. While it may look very similar to the other breakfast, the pancakes there are far superior. They're sort of vanilla-y.
Dining hall lunch-balsamic chicken salad, veggie flat bread, and broken rice with scallions. Plus roasted butternut squash.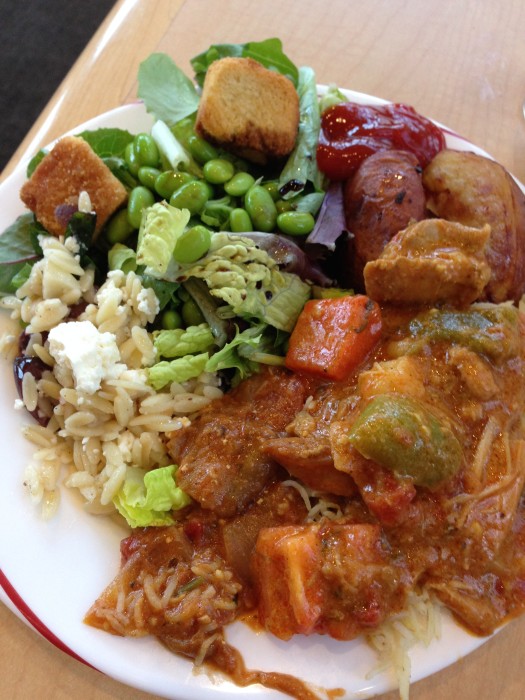 This was dining hall chicken masala. And I have to say, they nailed it. The chicken was SO tender and flavorful. Well done.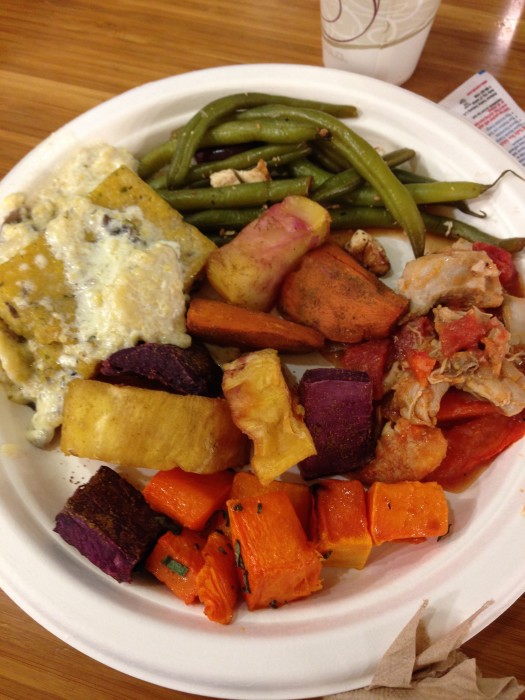 Whole Foods dinner-hihglights were the mushroom polenta and various colors of roasted sweet potatoes.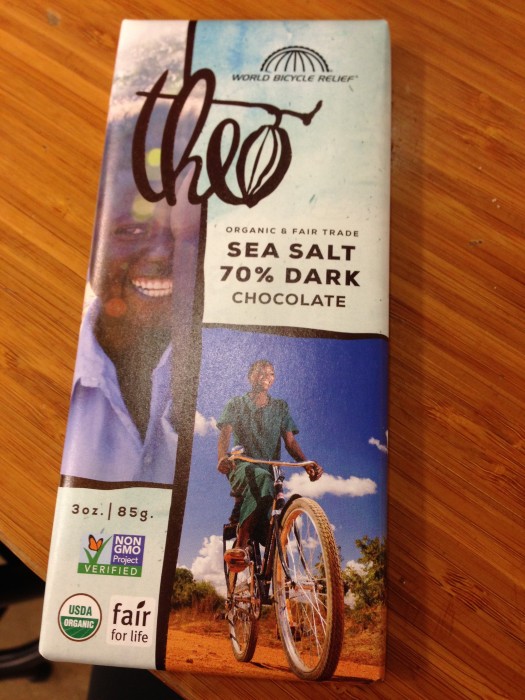 So…I'm kind of over the whole "eat a specific diet" thing (like Paleo, 100% real food, no sugar). One thing I've learned over my 2+ years of blogging about food is that 1. I don't have time or energy for that and 2. It makes me freaking crazy. That being said, I wanted to shake things up a little and get more creative so I decided to roughly follow a new plan (note the word roughly-it's very low key)-whole foods + unlimited chocolate. So to start my new healthy eating endeavor I went to Whole Foods and stocked up on mass amounts of quality chocolate. And Grade B maple syrup for homemade chocolate. Spoiler alert-the "plan" is going well. I like chocolate.
This is one of my favorite soups-and it's really good cold the next day too (or maybe I'm just used to eating cold food out of tupperware at this point in my life). The best part is it has chunks of sweet potato!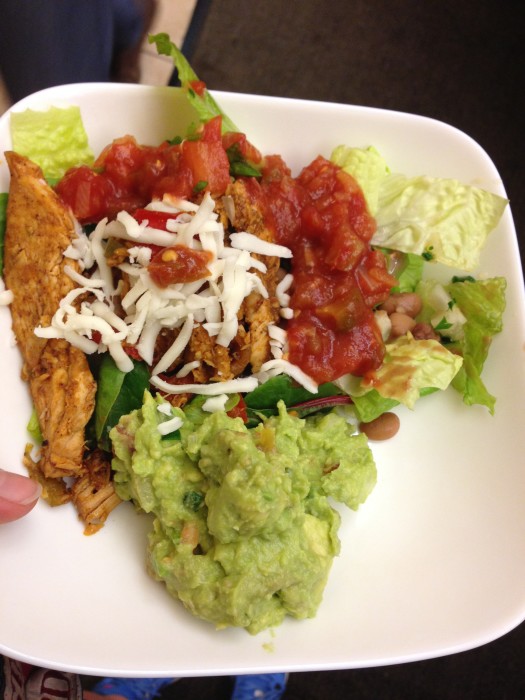 On Superbowl Sunday, my eating schedule was bizarre. Lunch at 10:30, pizza at 3:30 (what meal is that even? Dinner?). I was a little hungry towards the end of the game so I went to the dining hall for a chicken fajita salad. This was quality guac.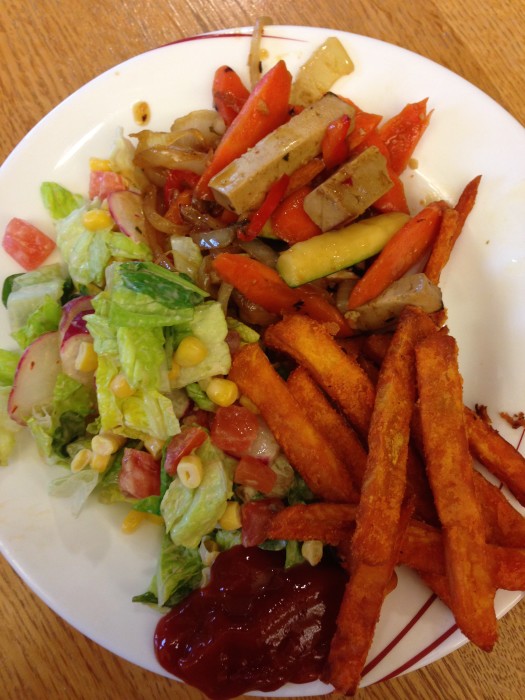 Dining hall dinner-salad, stir fry tofu, sweet potato fries. Plus a mini corn and potato casserole. The reason for no picture? It slid off my plate and exploded on the floor. It took my a little time to gain the courage to grab another one!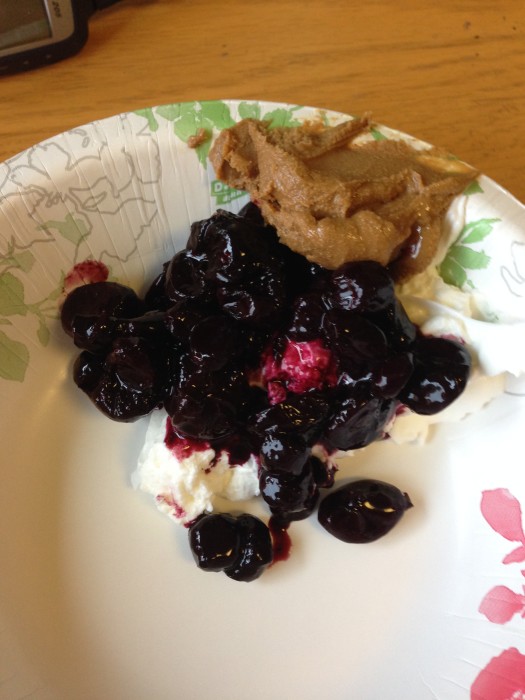 And finally-one last breakfast! I brought back the berry compote! This is just cherries+blueberries boiled down. Full fat yogurt+berries+sunbutter. I missed this!
Wow guys, that was quite the roundup. I should get on here a little more often, shouldn't I? I feel like this has been an eventful week in terms of life stuff, so I really should do more updates! Also I'm realizing as I grow up (…and that makes me sound young again) I'm gotten so much more introspective so maybe we'll have some more reflective posts. That being said, everything is going well over here right now!
What is your favorite kind of chocolate (and where can I buy it??)?