Hey guys! Here I am-back for a second straight day! I want to talk a little about getting back into health and healthy habits, but first, why don't we take a look at the day?
My morning started with a spoonful of butterscotch sunflower seed butter. Yes, that exists.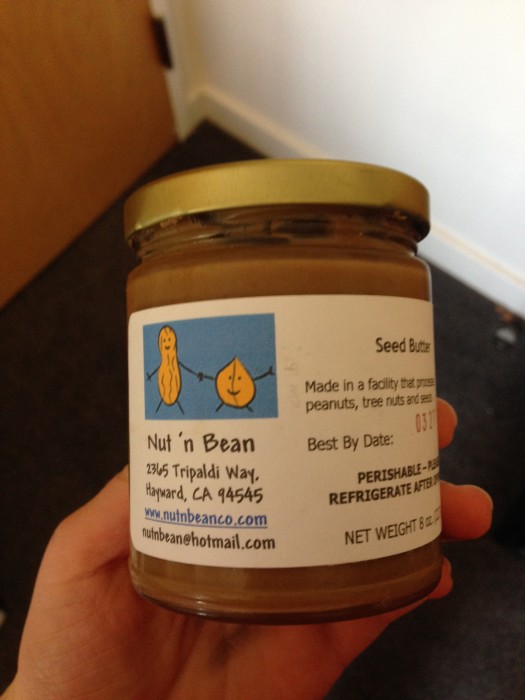 I then proceeded to lock myself out as I was leaving for my track workout. I keep my keys on a lanyard, and it has this fantastic habit of ejecting keys, so as the building door closed behind me, I realized my key had fallen off. Whoops!
My track workout was 10x400m. Guys, I have gotten SO much faster in the past month or so. I was killing my paces-my goal was 8:00 pace, and I was always under it. I was probably averaging a 7:45 for the first 5, and I picked it up for the very last one with tired legs for a 7:30 pace. I'm feeling optimistic about my race coming up! I also think I'm going to do a timed mile next week-it's time!
Post workout, I went to the dining hall with the best pancakes.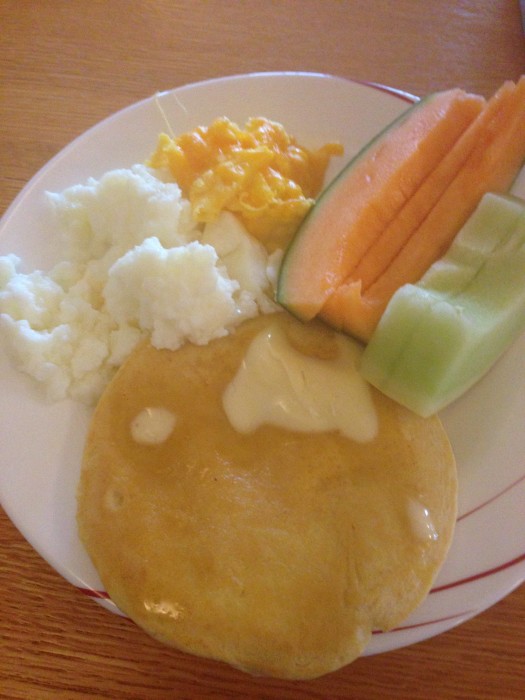 Is it weird that egg whites feel like kind of a treat? They're so fluffy compared to the normal eggs I eat! I also went back for another pancake.
Once back at my dorm, I had to wait a little bit for someone to let me in. It wasn't too bad, but I was still running late. I pride myself highly in my ability to go from athletic to socially acceptable in a short amount of time though!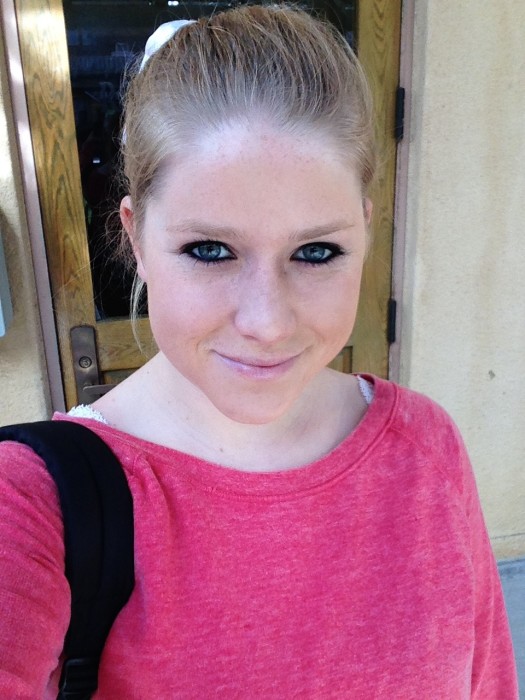 (I haven't mentioned this in a while, but I'm crazily getting near the end of my year of selfies-where did the time go??)
Class was class. We're doing the endocrine system in Physiology which I like! I think Physiology is the coolest thing, and I'm excited I'm going into that field! I just want to know everything about everything.
Lunch was at the dining hall, and it was one I was pretty excited for. My favorite cabbage salad was on the menu, along with arugula, pear, and bleu cheese pizza.
I had a little nonfat mango froyo for dessert.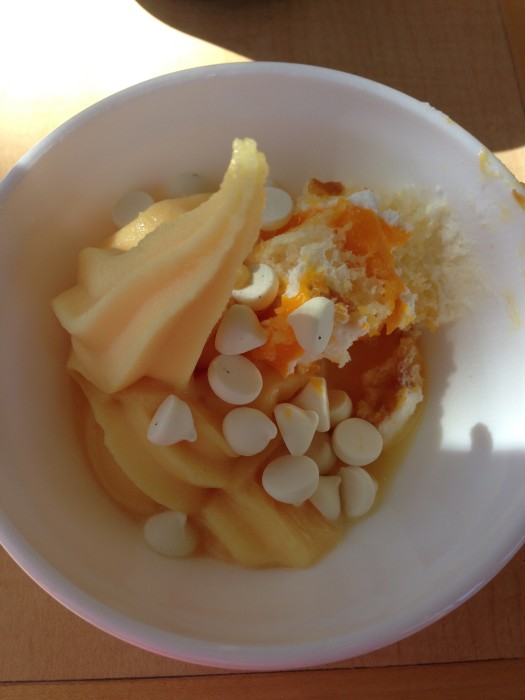 My afternoon was spent doing laundry and catching up on things. I broke in the late afternoon to hit up the gym for some spin. It's been far too long since I've been on a bike, so I did a 45 minute ride on my own with about 20 minutes of HIIT intervals in the middle. Those are killer!
Since I had a snacky afternoon, I wasn't super hungry for dinner so I went with a basic yogurt bowl with raisins, cereal, and sun butter.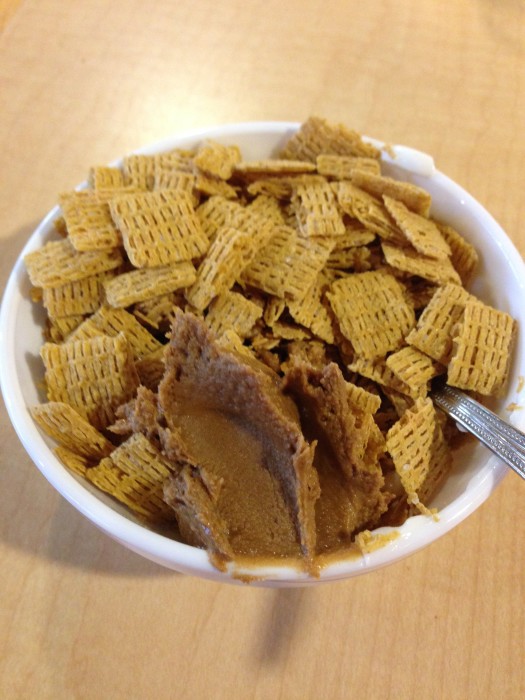 I haven't had one of these in far too long, and it definitely hit the spot!
So…getting back into healthy eating, healthy habits, healthy living. One cool thing about having a blog is that you get to look back on old pictures and posts and see what you were eating a year or two ago, and what exercise you did, what your life was like. I'm not going to go on a rant about how I've been eating terribly and need to hop back on the bandwagon and be super strict and eat super healthy, because that's not true. I'm not eating terribly, and I'm not skipping a ton of workouts. But there is always room for improvement-old posts offer inspiration. For example, I'm reminded by all the healthy dorm room snacks I used to make and haven't thought of in a while. I would really like to get back into the less-sugar laden dessert alternatives I used to enjoy-right now all I've been having are sugary dining hall desserts or dark chocolate (which can cause other issues with the caffeine and my sensitivities to that right now). After this race, I also might kick it up a little with the workouts while my weekly mileage isn't too crazy. On that note, here are a few old pictures of ideas and snacks I've loved: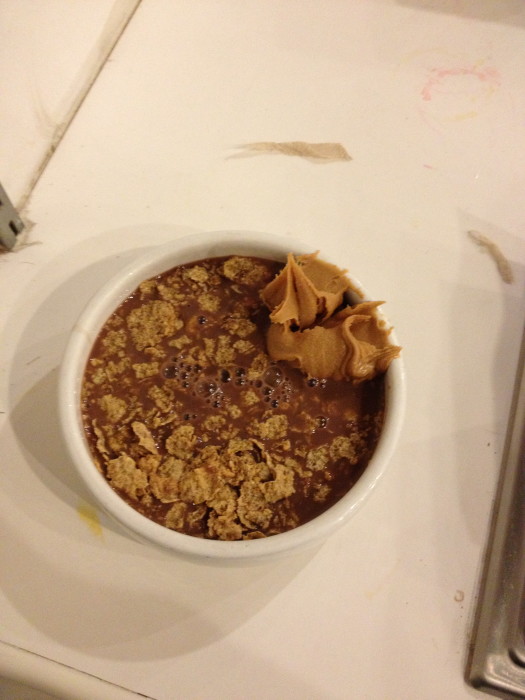 Whole grain cereal with chocolate milk and peanut butter (the nut butter is no longer an option though for me!).
Chocolate Greek yogurt- yogurt, cocoa powder, and brown rice syrup. Perfect for post workout recovery!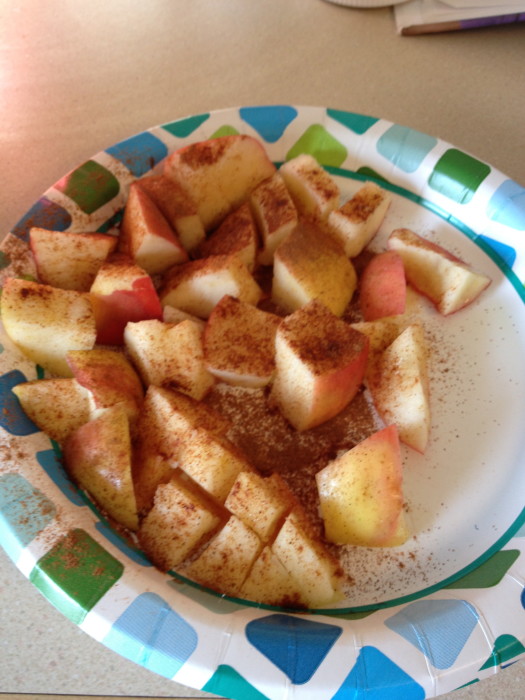 Apple microwaved with cinnamon.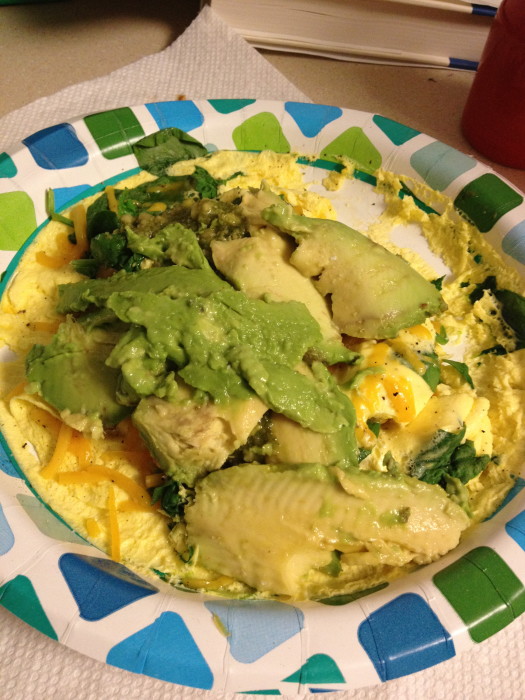 Microwave eggs with cheese, pesto, and avocado (although I'm allergic to most pestos now…)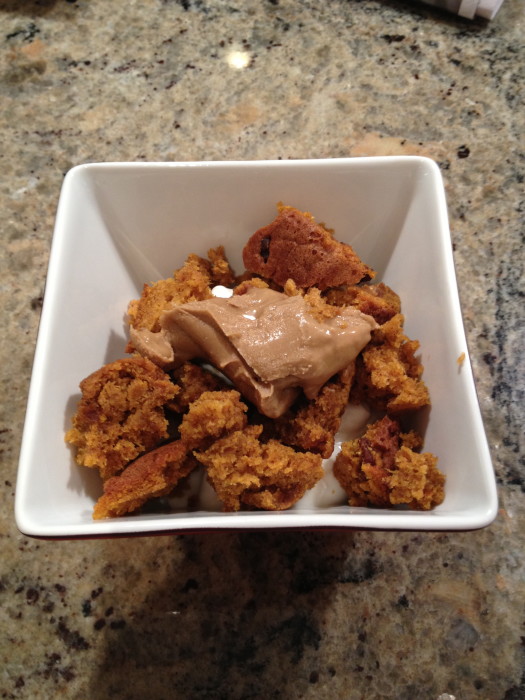 Yogurt bowl-the best ever is made with vanilla Greek yogurt, pumpkin bread, and sun butter.
What are some of your go-to healthy desserts/snacks?