Hello! I'm popping in again today to talk about running!
Despite definitely not going to bed early enough Saturday night, I was surprisingly up bright and early and ready to run. Since I'm not technically training for anything right now, my running schedule has been pretty low key and variable. The night before, I mapped out a route and made a playlist, which took me about 7.5 miles. It was a loop that went around the outer edge and beyond of campus.
Before the run, I had some dates and sunflower seed butter. I picked up some dates at the Farmer's Market the other day, and I love having them for before a morning run for some quick energy.
The run went well. I went Garmin-less since I knew the route and distance. My foot was a little bit grumpy for the whole thing. It wasn't the type of pain that made me stop or limp, but it was enough to be annoying.
My route took me past a whole bunch of changing trees with beautiful fall colors. This is actually the farthest distance I've done in a long time-since before taking time off to heal my foot! I've been running 6 miles pretty regularly, but nothing above that. Yeah…around the 6 mile point I was kind of over it, and my toes were hurting. I think 6 miles is my sweet spot right now! The race in my most near future is a 10k Turkey Trot, so ideally I'd be a little bit above 6!
Overall,  great start to the day. Plus, brunch was open by the time I got back. I didn't have nearly enough carbs the night before, so I was ready to dive in.
Salad, roasted kabocha, eggs with cream cheese, and a couple of raspberry white chocolate pancakes.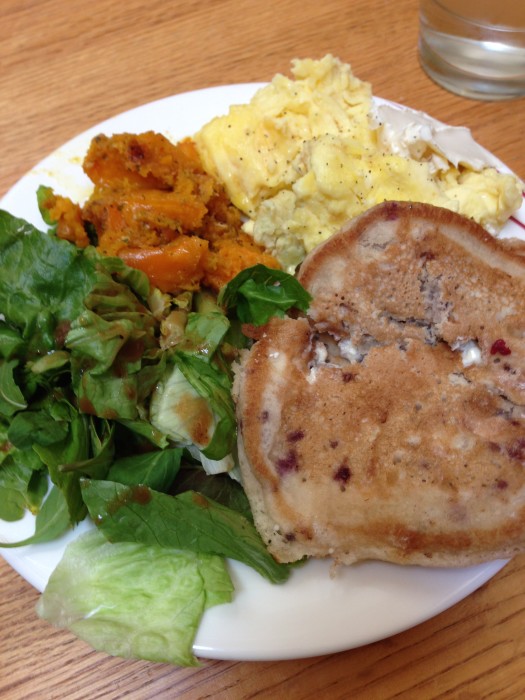 In the afternoon, I got a delivery from my parents-still warm homemade pumpkin bread! It's a pretty healthy recipe (whole wheat flour) plus we tried some things with the sweetener so it wasn't that sweet, which was great! The sweetener is a story for another day. It's going to be nice to have before AM Crossfit. Luckily, some of it made it to the freezer but MAN is it good!
Dinner was a little weird/sad. It was Mexican food, but they tragically ran out of guacamole. Plus it was weird because they only had beef and fake meat, and the fake meat was really strange. I fixed my food into a taco salad, with a mini quesadilla on the side.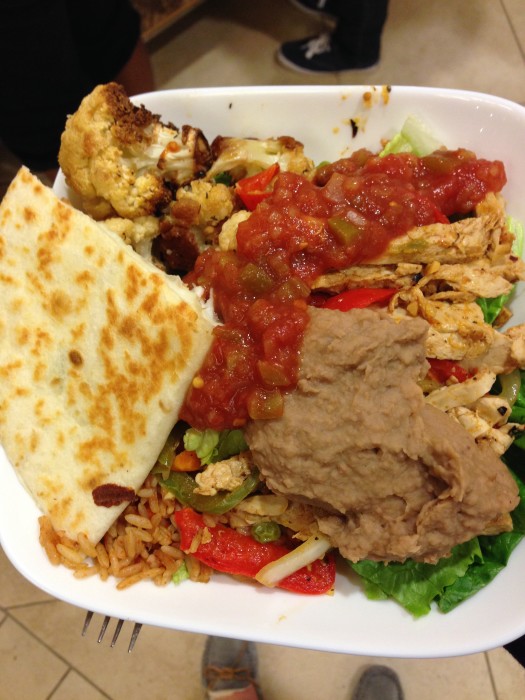 For dessert, I had a little bit of chocolate ice cream, and another slice of pumpkin bread as I was slicing and freezing some of it.
In terms of my eating, I probably should have had less pumpkin bread. In terms of the big picture, after tracking calories and activity for almost a week, I'm getting a sense of where I should be. That being said, a calorie is not a calorie, and certain foods result in different things. So I can't just expect calories to do their magic!
What is your favorite pumpkin product?
I have to say I love the classic pumpkin bread!