First of all, you guys are seriously amazing. Your comments on my last couple of posts seriously made my day!
Second of all-I guess this makes the first post on my 'journey'?
My morning began with a trip to the gym. I'm teaching spin this weekend, and my playlist was pretty terrible, so I had to make some adjustments. It was 1000x better afterwards! Phew! I want to practice it one more time before teaching though. I also did some abs (because I never do them) and calf raises because I'm hoping strengthening my calves will help my plantar fasciitis. Hopefully.
Normally I would do a dining hall breakfast but it was already closed so I had a banana and sun butter in my room, followed by a persimmon.
I ended up only having one class today, which was unexpected. My lab was postponed due to a gas leak in the building, so I gained 4 hours in the afternoon.
For lunch, I went to the dining hall with my friend.
Clam chowder (surprisingly good), salad, kabocha, and a small slice of super thin crust pizza.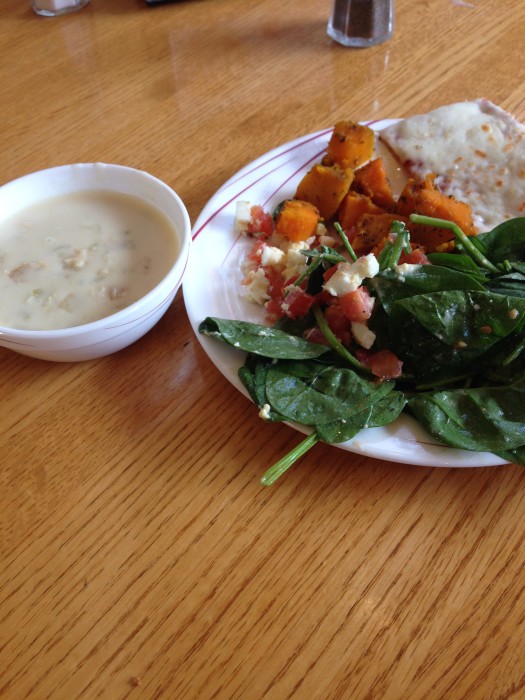 I also had 1.5 small cookies.
My afternoon wasn't nearly as productive as it should have been, but such is life. For a snack, I munched on some sweet potato tortilla chips-seriously, these are good! I also had a pomegranate.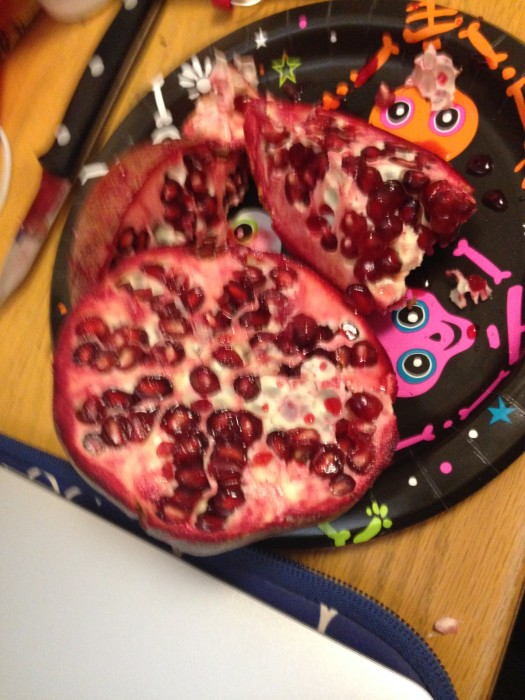 My roommate brought these back from her farm (right??) and it was so good! That being said, if you want an exercise in mindful eating…this thing was so difficult to eat! And my desk looked like a murder scene afterwards.
After studying for chem, I went to Crossfit. We usually have one class a week that is just strength, which was what today was. Before I get into that, let me just say that today is the first day since MONDAY that I've been able to walk like a somewhat normal person. Apparently we started this new program that includes high reps of squats. I don't think I've ever done a set of 10 weighted squats. My gosh. That was Monday night. I went in again Tuesday morning where we proceeded to do 120 wall balls and 50 air squats. Yeah. I'm still sore, and I'm hoping today doesn't make me unable to walk tomorrow. I love weights…but man.
Today was…more squats. Yay? It went better than I was expecting. We did sets of 8, which wasn't as bad as I anticipated. We also did 5 minutes of rowing, stiff leg deadlifts, and planks. So a pretty low key day.
For dinner, I made some wraps in my room. Turkey, garlic and herb laughing cow, spinach, and red pepper on a whole wheat tortilla.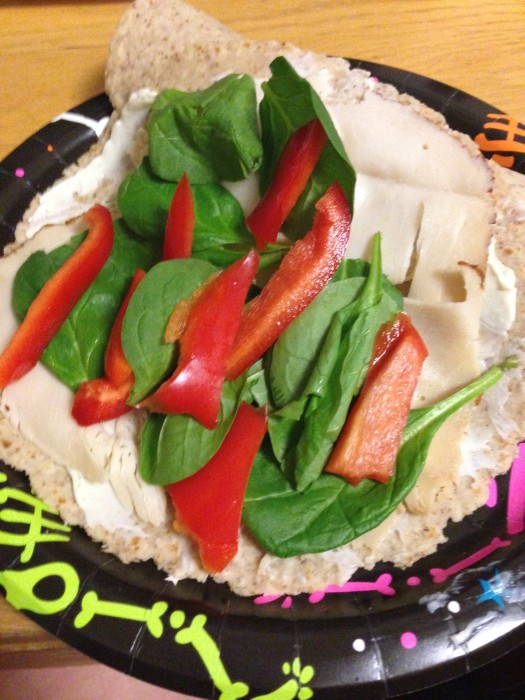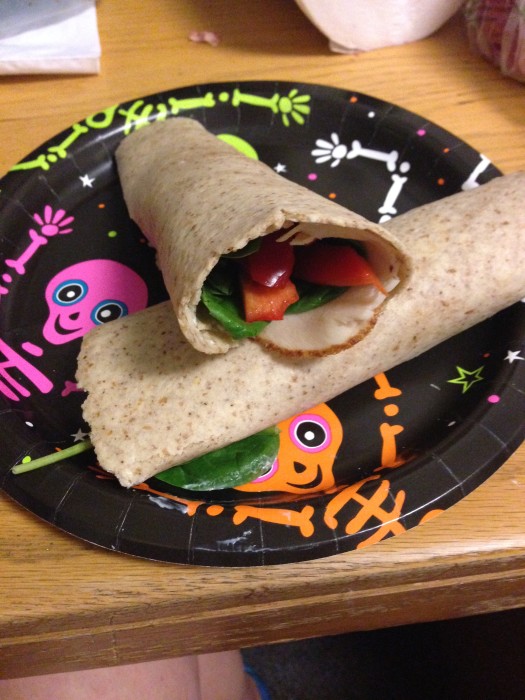 I downloaded a Blogilates meal plan a while ago, and while I never really followed it, I'm a fan of these guys. They are easy dorm food, super filling, and I'm already dreaming up variations.
After dinner, I was still hungry and craving something sweet so I thawed out a couple of frozen pumpkin muffins.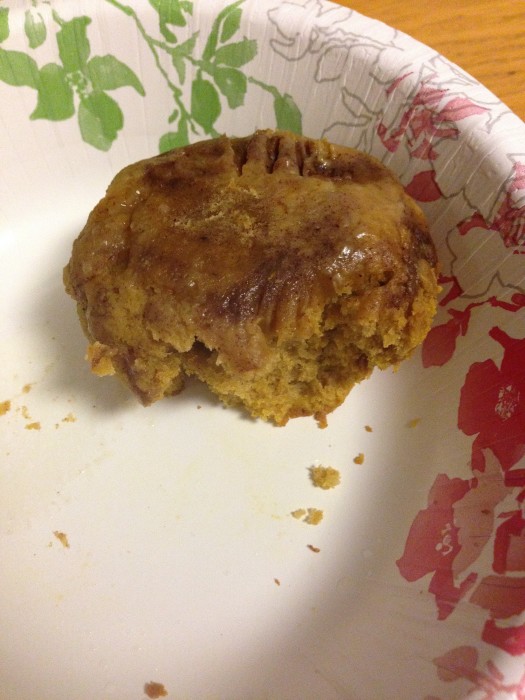 These probably weren't the best choice. What I really want is to make some pumpkin bread. I have a fantastic healthy recipe, but I'd need to go home to do it because I have no ingredients here. I also desperately need something for before morning Crossfit, which I've been going to more. Back in the day when I used to do morning weights, I always had banana bread or some type of quick bread and it worked great. I just don't really have many carb sources in my room right now, and I always get so light headed so that needs to change!
Overall thoughts? Not bad, definitely areas for improvement. And now I'm off to do more work! Yippee.