Well folks, for months and months I was planning on running a half marathon this morning. That very much did not happen. However, I'm SO glad I made the decision not to run. And the fact that it's been about 95 degrees lately here and the race was in San Jose and not SF, which is much hotter. I'm so glad I didn't run because had I run, I wouldn't be able to walk right now. Or tomorrow, and possibly not for the next week. I wouldn't be running for a while, and that's still assuming I didn't injure myself in a more serious manner (I was worried I was going to give myself stress fractures from limp-running so strangely).
Instead, here I am, capable of walking. I'm making my triumphant return to running tomorrow morning after 2 weeks off. I swear, it's like I have completely different feet. My plantar fasciitis is still there, and it still has its ups and downs, but my feet feel better than they did in months.
I also rediscovered my love of spinning during this time. I think I spun 10 times in the past two weeks? It was awesome. I didn't make it to much spin this past summer due to schedule issues.
So that's what things have been like on the workout front lately, plus Crossfit of course. Friday's workout was pausing back squats for the strength-it's amazing how much harder these are than regular squats! To do a pausing back squat, count 2 seconds at the bottom. I used a weight that would have been insanely light for regular squats and it still left me sore! The conditioning portion was a bit brutal as well. What could be better than starting your Friday night with 90 wall balls? *I have no clue if I'm being sarcastic here or not."
3 rds:
200m run (This was short and my feet felt good so I did this run)
100m Farmers carry
10 man makers
30 wall balls
[Man makers are performed with two dumbbells. One push up (on dumbbells), one row with each arm, and then a thruster with the dumbbells.]
In terms of food, meals have been sort of hit or miss lately.
HIT:
Yogurt bowl with mashed banana and cocoa powder, topped with sunbutter.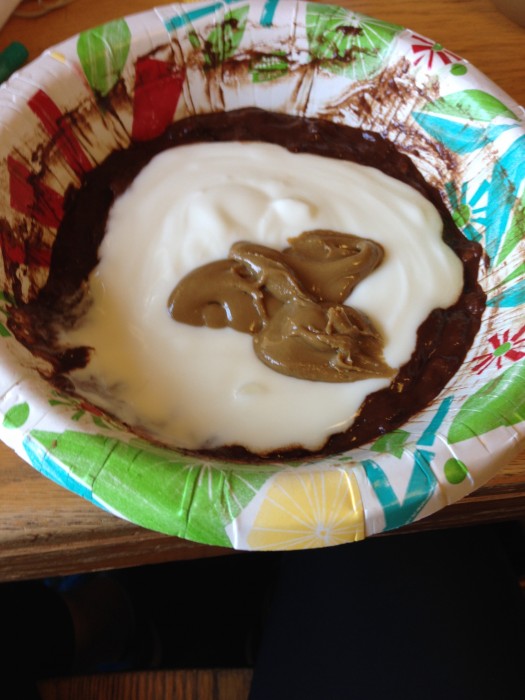 MISS:
The fact that the above yogurt bowl turned into brunch because I had lab through lunch. Or lunch could be the food I scarfed down immediately before dinner. Take your pick.
HIT:
These persimmons are amazing. I love my roommate.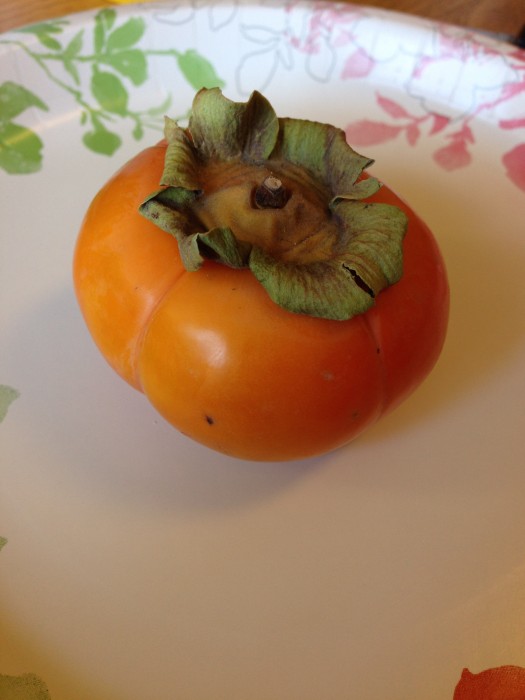 MISS:
Dining hall dinner-the lentils were pretty salty. The kabocha was good though!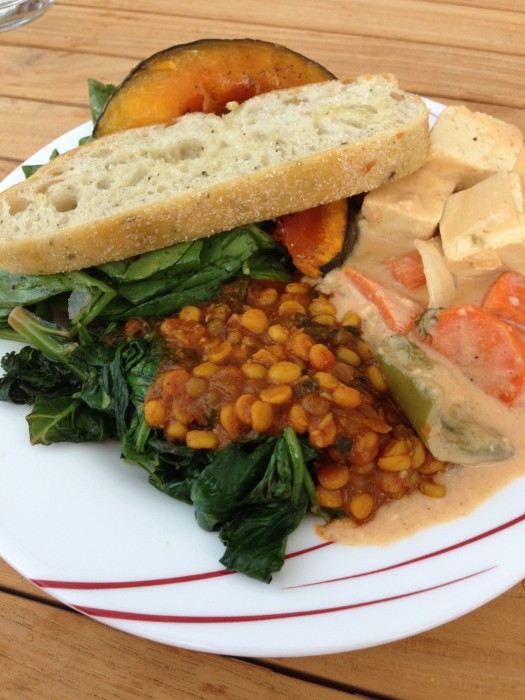 HIT:
Coffee from my favorite coffeeshop. A cappuccino.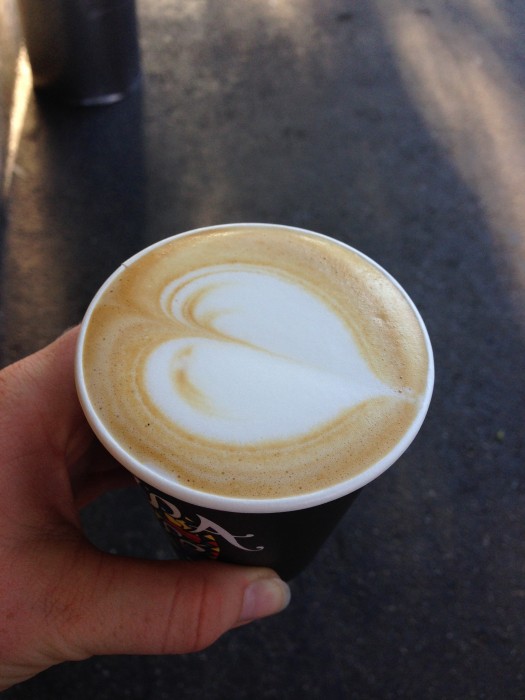 MISS:
The above cappuccino was quite the trek across campus. At least biking back was easier caffeinated.
HIT:
Going to a different dining hall for breakfast and finding that they actually had edible eggs.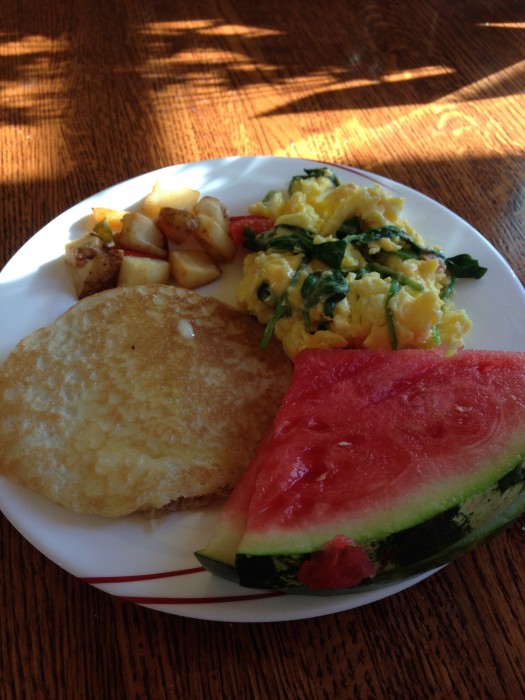 MISS:
Being too nervous to get up or move during the Giant's game on Friday and instead scarfing down a bowl of egg whites and spinach before my afternoon class.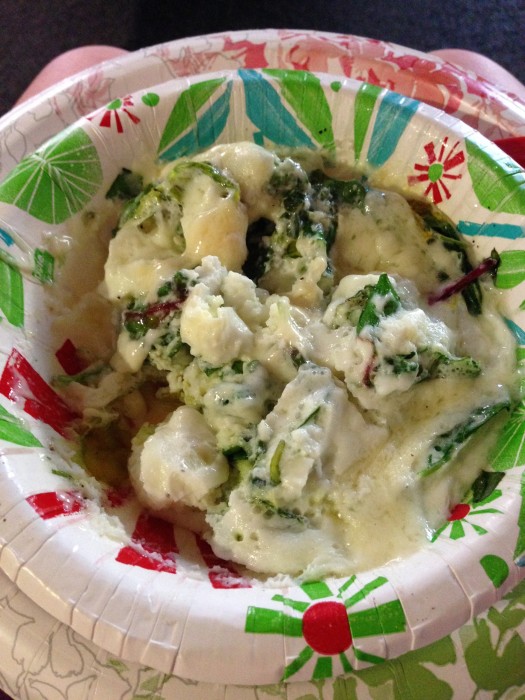 HIT:
Dining hall brunches have been good lately. Yesterday's had butternut squash ravioli which was amazing, and a cinnamon roll that was good.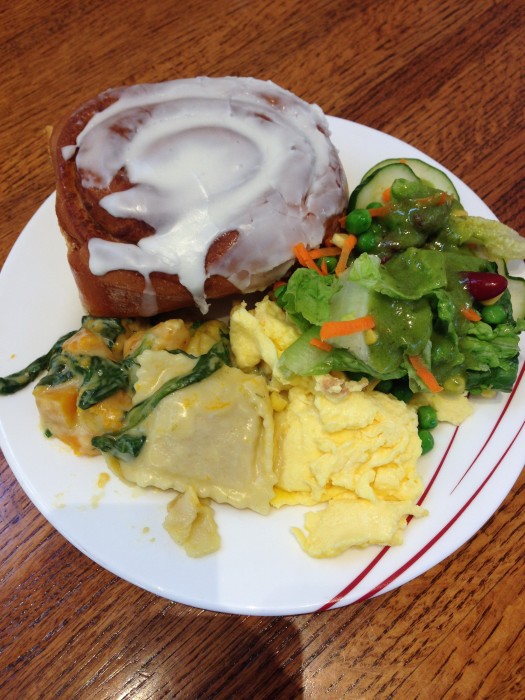 (Note: I try to stick to one "treat" during brunch.)
And then Sunday's brunch which was banana chocolate chip pancakes and huevos rancheros.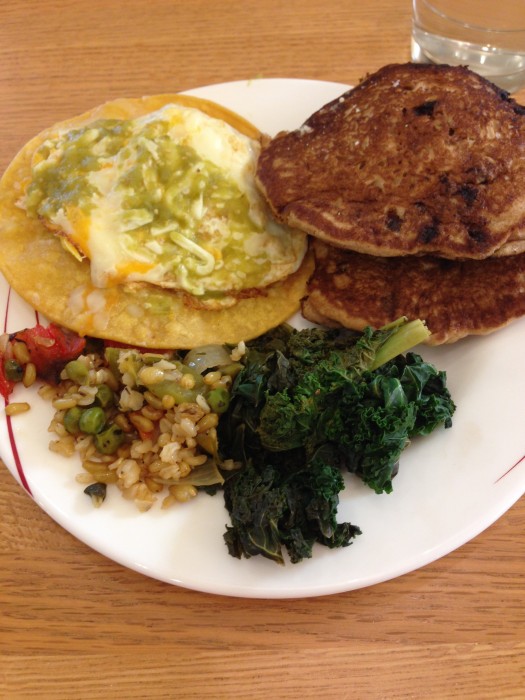 Although I wasn't a fan of the sides (vinegary kale and bulgar pilaf) for that one.
MISS:
Once again, I was glued to the Giant's game through dinner so dinner consisted of pumpkin muffins my roommate made (amazing, by the way), egg whites, and cheese and crackers. It is what it is.
On that note, did anyone watch Saturday's Giant's game?? 18 innings! Insane. What a fantastic game (if you're a Giant's fan). Although I will admit, I stopped watching around the 15th inning because I decided it was time to move on with my life!
What are some of your "hits and misses" as of late?