So, I've been freaking out a lot lately.
First, I freaked out over pumpkins. And of course pumpkin products. And while I'm mentioning that, I tried a pumpkin Oreo! It was ok. It didn't really taste pumpkin-y to me but it wasn't bad. It tasted like cinnamon graham crackers.
Then, I freaked out over this box my roommate brought in.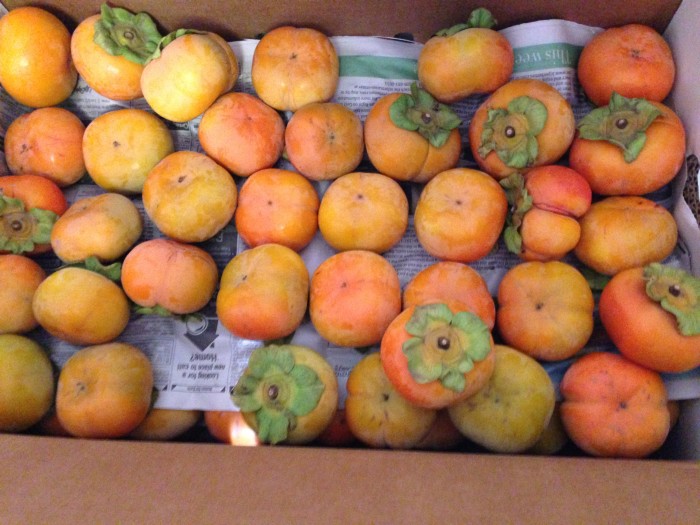 Yep, it's the start of persimmon season! OMG. These are still very early but some are ripe now likely due to the drought. You guys. These are amazing. My roommate lives in farm country and brought back a ton last winter. I probably ate 4 a day. Obsessed.
Now, I'm freaking out over post-season baseball. The game is still going so I don't want to jinx anything but GO GIANTS! I'm watching alone in my dorm lounge and I screamed so loudly when the grand slam was hit! I'm seriously so happy right now. Fingers crossed this game keeps going well. I'm a huge Giant's fan and one of my summer highlights was seeing the Giants play in DC.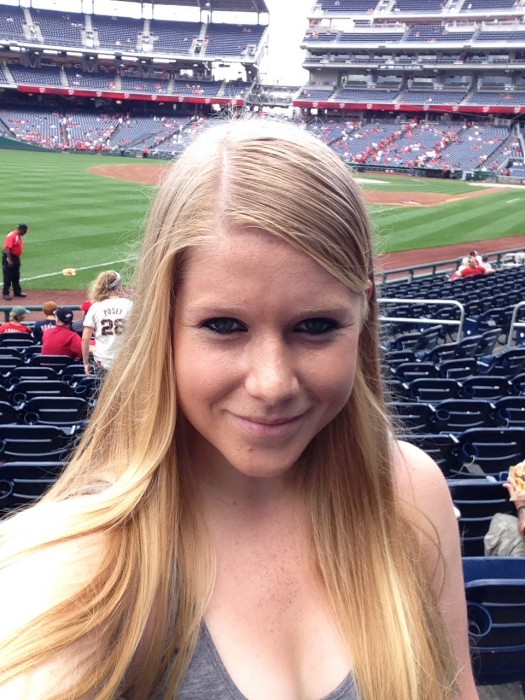 (AHHHH ANOTHER BASE HIT AND RUN AS I WRITE THIS!!!)
In other news, it's October! Yay! I'm also obsessed with fall/holidays. My friends and I are thinking of throwing a Halloween party and I'M SO EXCITED! (Sensing a theme here?)
It's also officially time to bring out the candy bowl.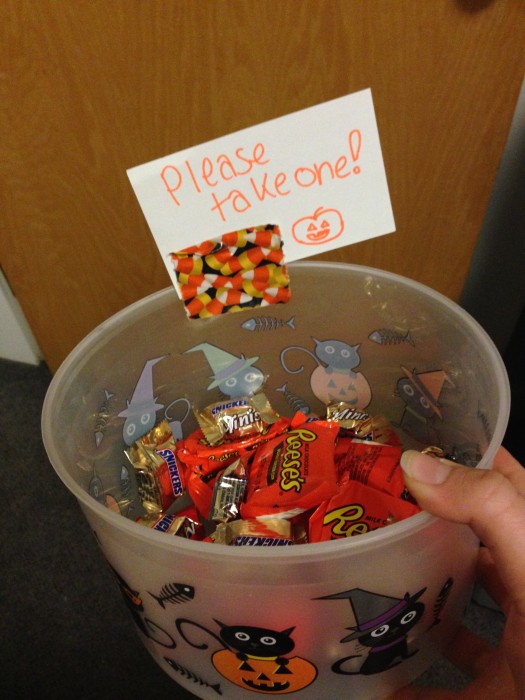 In other, other news, who celebrated National Coffee Day? I started Tuesday morning with a beautiful latte (and proceeded to be on the edge of over caffeinated. I have zero tolerance now.)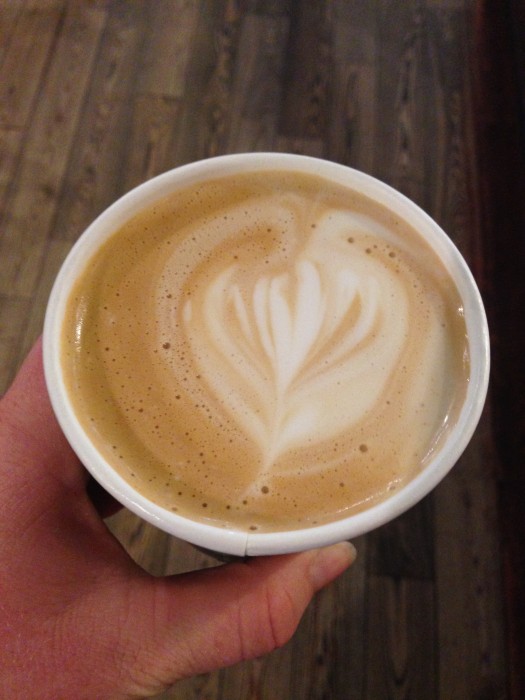 And then that evening, my sister and I had a coffee date and took advantage of free coffee (in honor of National Coffee Day). I most definitely got decaf.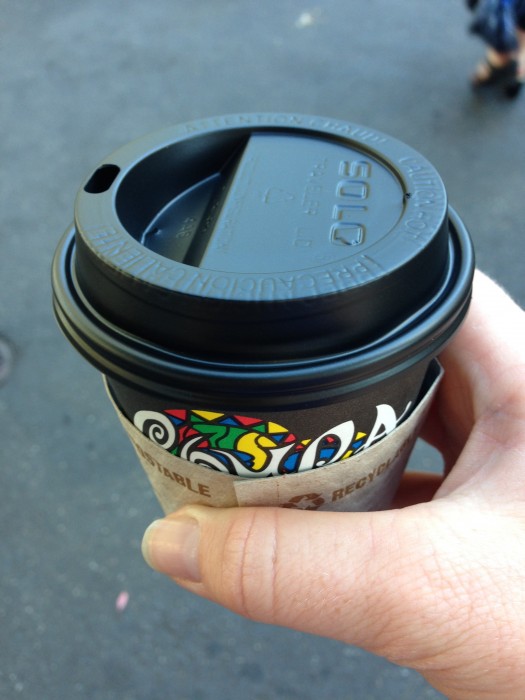 In terms of food, breakfasts have been yogurt bowls. This one had plain yogurt, maple sunflower seed butter (from the Farmer's Market), and blueberries.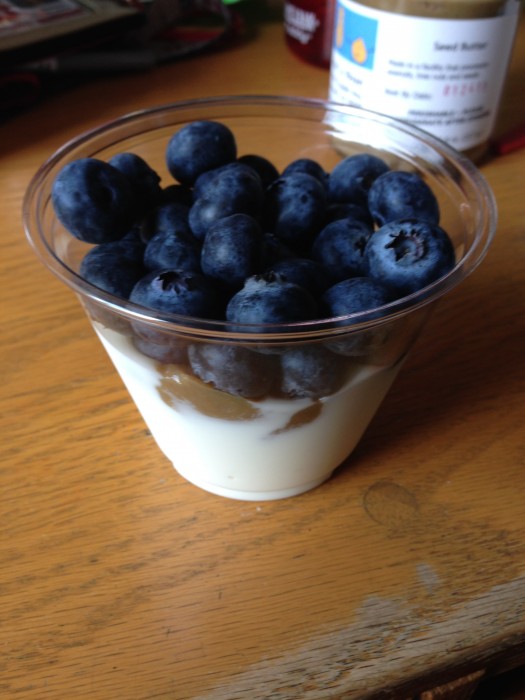 I also made it to the dining hall for lunch yesterday, and had a panini and salad.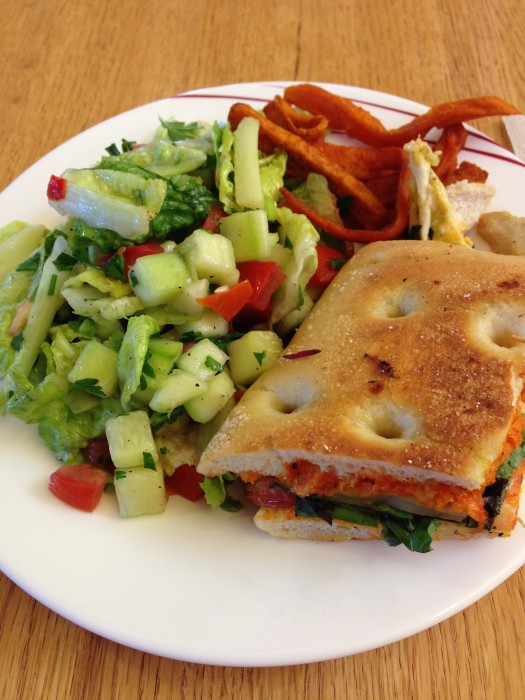 And then today, I had class straight through lunch so in the afternoon, I stopped by a cafe and picked up a turkey, cranberry, and brie sandwich.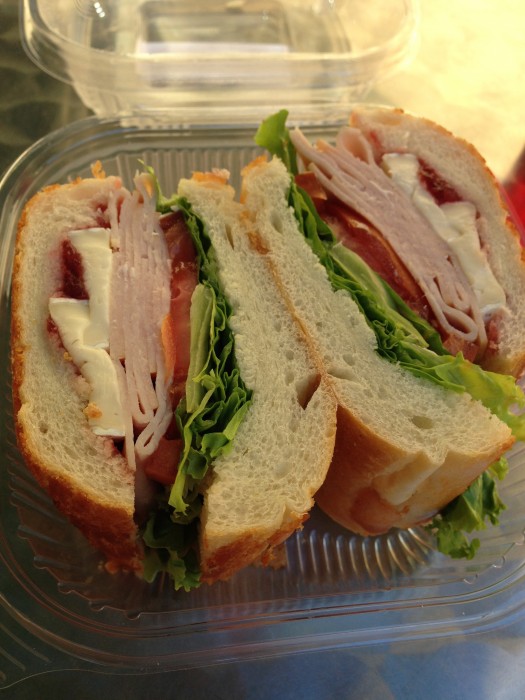 And my first pumpkin product of fall (I think). This appeared to be a pumpkin and carrot muffin.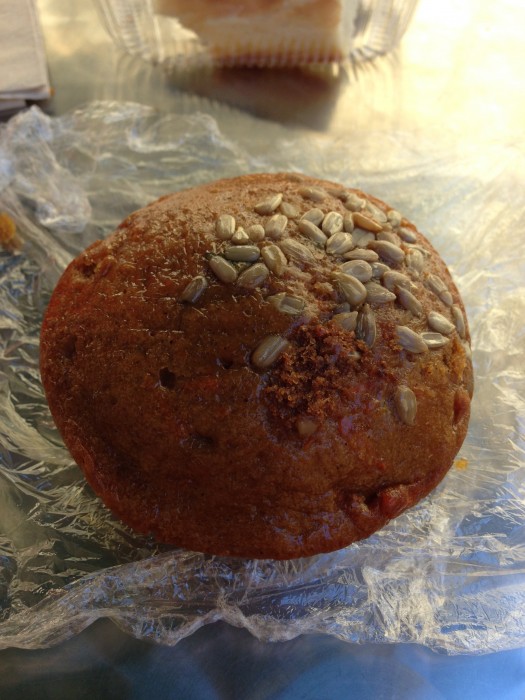 In terms of fitness, yesterday evening was Crossfit, where we worked on cleans, and then did the following WOD:
15 minute AMRAP:
5 db push press
5 front squat (I used 95#)
200m run
12 pull ups
Then, this morning I was up bright and early for 7am Crossfit because it looked like a good workout and there was no way I was missing the game this evening for Crossfit.
The conditioning portion was 3 rds:
400m run
21 wall balls
18 push press
15 sit ups
It was a great way to start the day!
In terms of life, I can't promise how much I'll be blogging in the near future. I'm taking computer science this quarter for the first time, and it's quite time intensive. Or more specifically, after coding for 4 hours straight hours, the last thing I want to do is spend more time on the computer. It's bad. Once I'm working on something, I literally cannot stop. I dragged myself away last night after 4 straight hours to go to Crossfit, and when I got up I could barely see straight! I think this past assignment took me 12 hours. And that's only the first assignment. Soo we shall see.
Also, my race was supposed to be this weekend. While seeing the emails makes me a little sad, I don't regret the decision at all. My feet feel 1000x better and I have made plans that should make up for it!
Have you taken CS? Any advice?
Who's excited for October? Baseball team you're rooting for?