I'm so glad to be caught up on posts! Sort of.
So….I have a half marathon in 3 weeks. Yeah. Originally I was gunning for a big PR in this race, but I've decided I'm most definitely not going to do that. Thanks to foot issues, I'm probably not going to be in the best shape. Plus I'm tired of dying at races, so I'm going to go out very conservatively. My plan is to go out around a 10:00 pace, and my goal is to run a sub-10:00 last mile. 10:00 is on the slow side for me for races, but I want to keep a steady pace and have something left at the end, which is how I know I will have paced well. On that note, after about a week off of running, my foot is feeling much better and it's time to get back at it. Since I was in Berkeley all weekend, and another recovery day couldn't hurt, I did a long run on Monday. Technically 3 weeks out from my race I should have done a 12 mile run, but I opted for a 10 miler instead.
I had what seems to be my current pre-long run food (I can't believe I'm eating yogurt pre-long run…)-plain yogurt, a banana mashed with cocoa powder, and sunflower seed butter.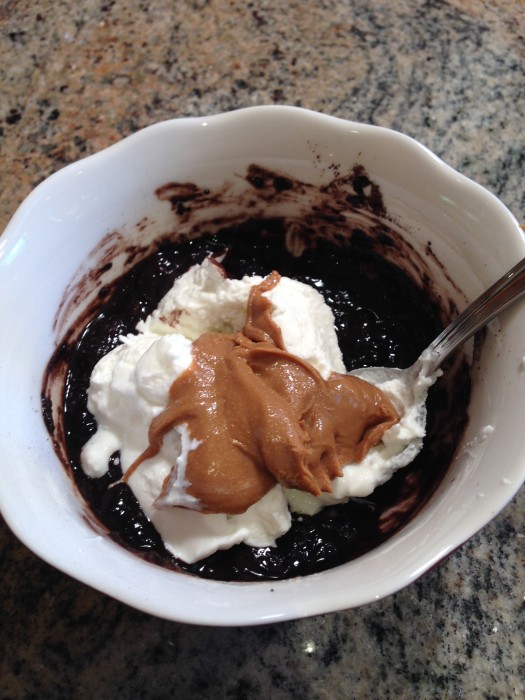 I was super casual about this run and didn't head out until around 12 (definitely couldn't have done this in DC) so it was pretty warm, but a BEAUTIFUL day. The trail I ran on offers views of what I consider one of the most beautiful parts of Northern CA.
(Old pic-it was the perfect day so it was even more beautiful!)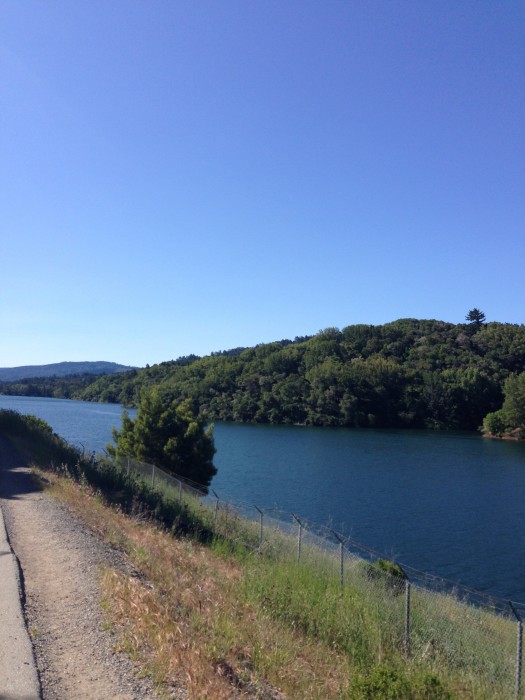 I ran 2 more miles into this trail than I have before, and the scenery changed completely. I reached the edge of the reservoir and then was running through a wooded forest. At the 5 mile turnaround, I was shocked when the trail opened up to a beautiful lake/other reservoir! It was amazing! I also took my gu here-I finally tried the mint chocolate I've had FOREVER and it was SO delicious! It was a very warm day so it was nice and melty, like peppermint hot fudge! (Note: I still don't recommend using goo as hot fudge on a sundae-it's not THAT good.) The only problem was it made me cough like crazy-I guess I won't be switching over anytime soon!
This run for me was more to get the miles in than anything else, so the pace was what it was. This was hard! Why is running so hard? It's amazing how fast you get out of shape. Between tapering and a week off after my race, my legs did not have anywhere near the volume of mileage that I would normally have at this point in training.
But I finished and then gobbled down some leftovers-a turkey burger and sweet potato.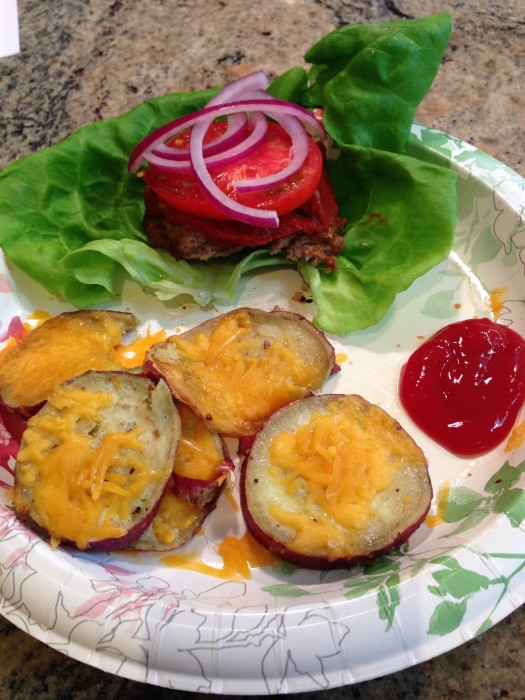 And then made pumpkin custard.
Dinner that night was Grilled Peach and Chicken salad. One of the peaches we used was absolutely amazing.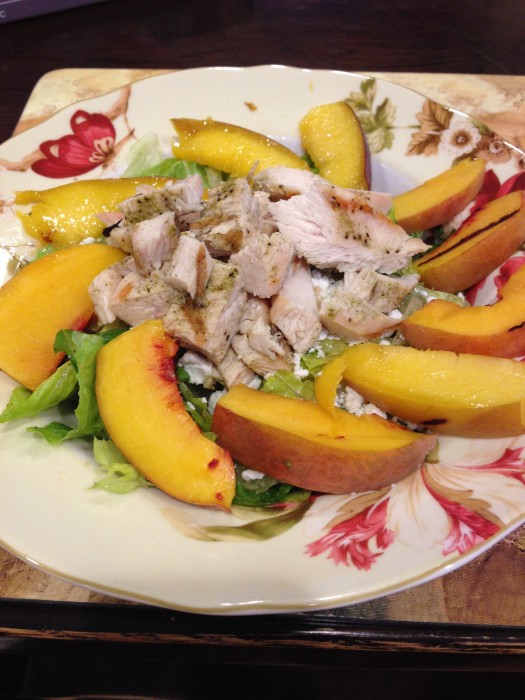 Plus some pita chips on the side.
For dessert, I tried Pumpkin Spice english muffins! They are SOOO good! I had mine toasted with butter and cinnamon sugar. I think they'd also be fantastic with cinnamon Laughing Cow or cream cheese. Yum!
Do you find you get out of running shape quickly?