I apologize for the lack of posting lately. It seems I've been relegated back to the stone age these past few days. Which is another way of saying my Internet at home has been down. It goes in and out, but it seems to have been leaning towards out recently! So I'm currently blogging from Starbucks with a (non-PSL) latte in my hand.
So-let's back up shall we?
Friday morning I did my first real post race run! My foot was feeling much better, so I went to spin and then ran straight afterwards so my foot would be maximally warmed up. I ran 4 miles, and it felt pretty good! It was really good after 2, so this is progress! I wish I had brought my camera-it really feels like fall now I had the same impression last year-one day it's summer and the next it's fall. I can't even explain what feels like fall-it's still been 80 degrees and warm! Maybe it's the angle of the sun? Everyone who leaves the East Coast to come to CA complains about lack of seasons-but if you look closely enough, they are definitely there. Maybe it's because I've lived here for 20 years and I'm familiar with the subtleties of the the chaining seasons, but it excites me!
Post workout I had a chocolate mint protein shake.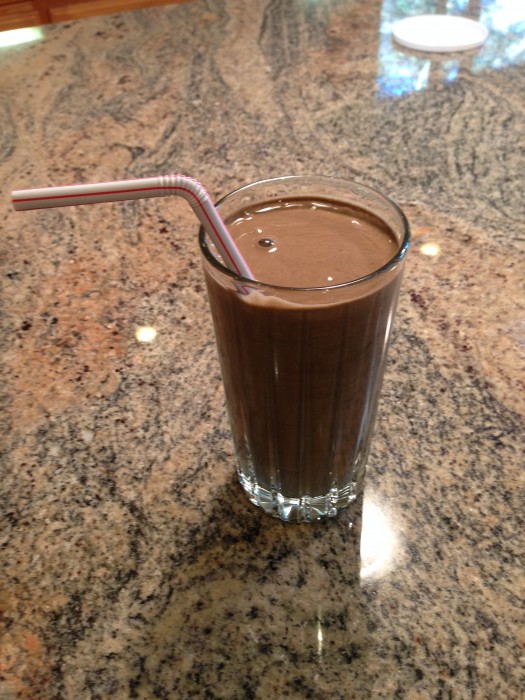 This was milk, a frozen banana, chocolate designer whey protein, cocoa powder, fresh mint, and a pinch of xyatham gum. It was just ok-there was a little too much xyatham gum and a little too little ice so it was a bit slimy and not quite cold enough.
For lunch, I had leftover macaroni and cheese, purple cumin roasted cauliflower, and some figs.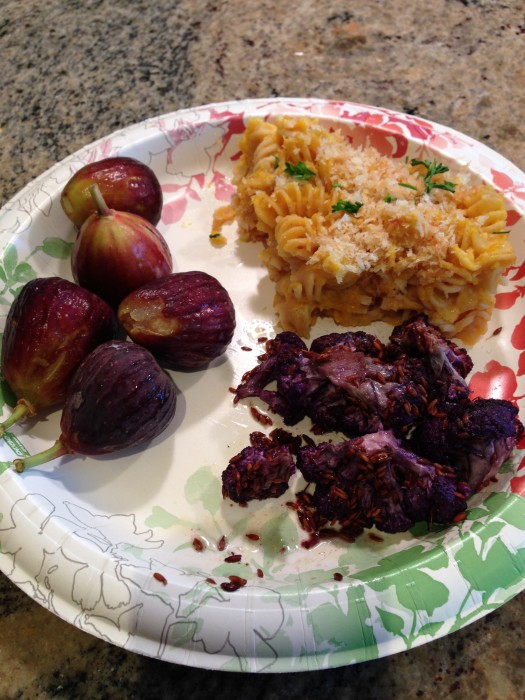 Later that afternoon, I headed up to Berkeley to spend the weekend with some of my best friends from high school. Almost all of my high school friends go to Cal! They've all been in school for 3 weeks now, which is crazy because I don't start for another week!
I stayed with one friend the first night, and two others the second night.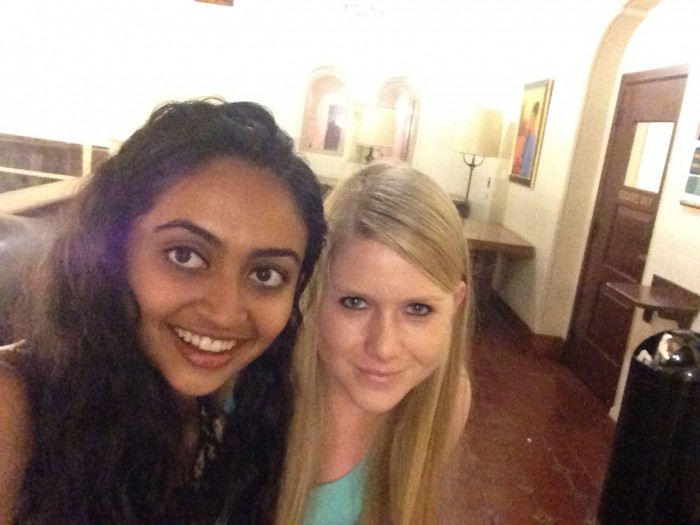 Saturday, my friend took me on a hike that overlooked the bay. It was so beautiful!
We also passed this road sign: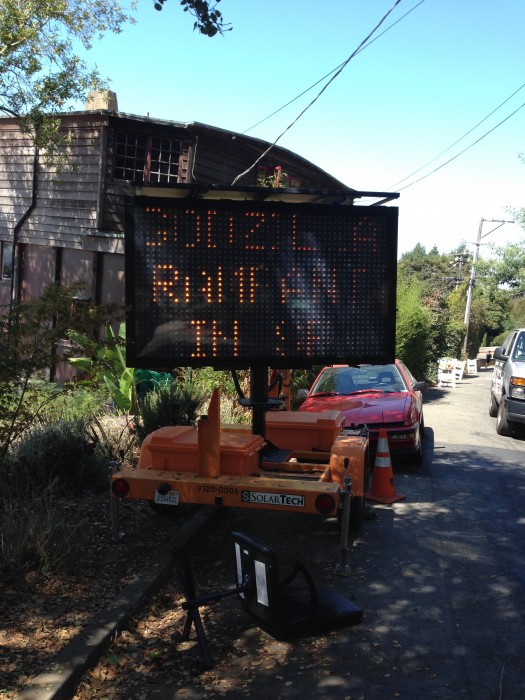 (Reads: Godzilla rampant in SF)
Only in Berkeley.
After cleaning myself up, I met up with my other friend for a late lunch of a veggie sandwich from a cafe near her apartment.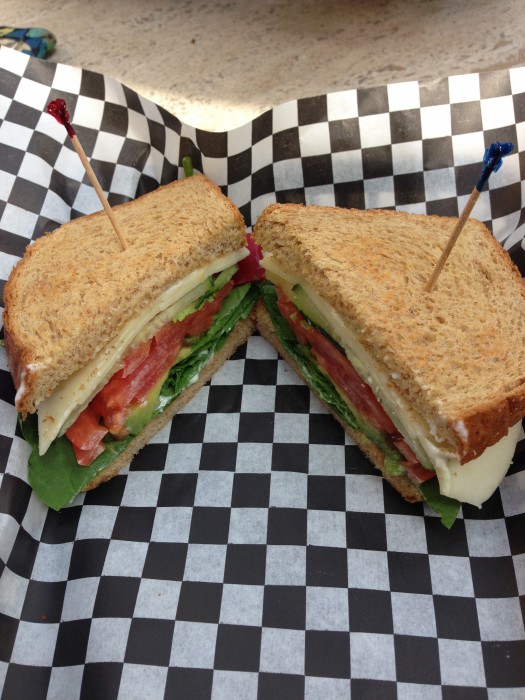 After spending a couple of hours catching up with her and another friend, we went out for dinner and dessert. We went to Fenton's Creamery, which actually appeared in the movie Up!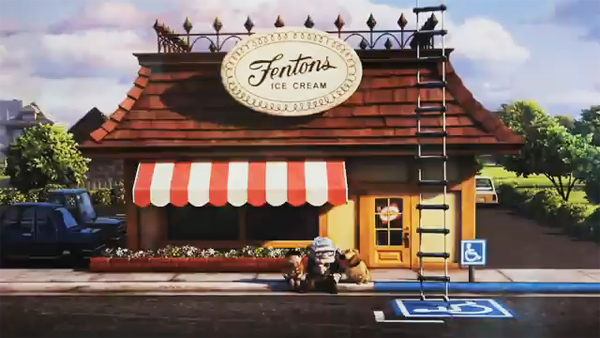 For dinner, we all order the CA Avocado burger, although mine was in turkey form.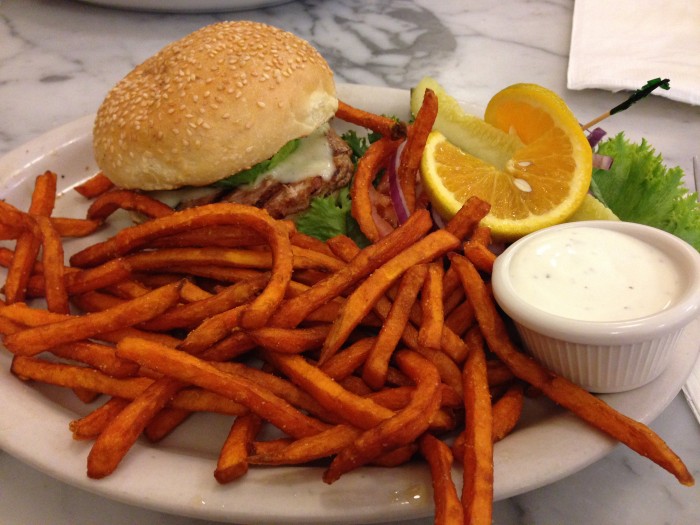 This was delicious and so, so messy.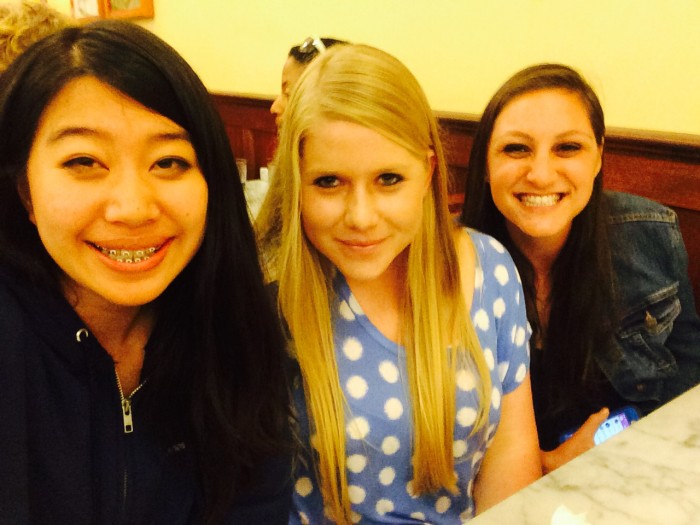 The main event though was dessert. This place was famous for their sundaes, and I'm not about to pass that up! One of my friends comes here quite often, so she was able to point us in the correct direction. We got a monstrous brownie sundae with chocolate ice cream and health bar ice cream, all topped with hot fudge and whipped cream.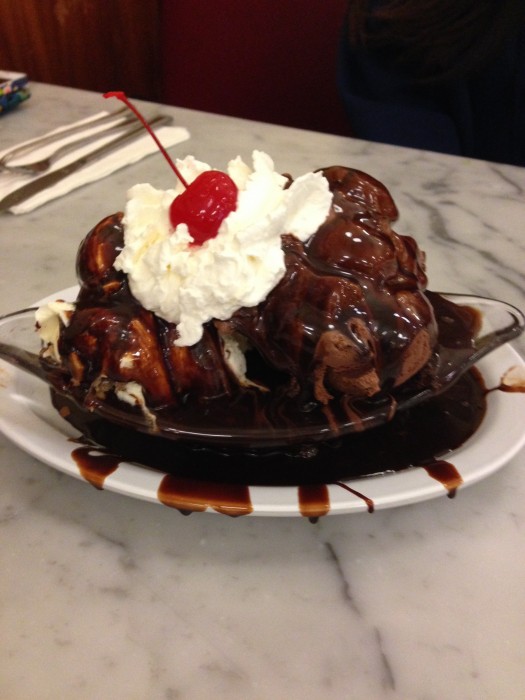 We split it 3 ways, and all left bursting at the seams!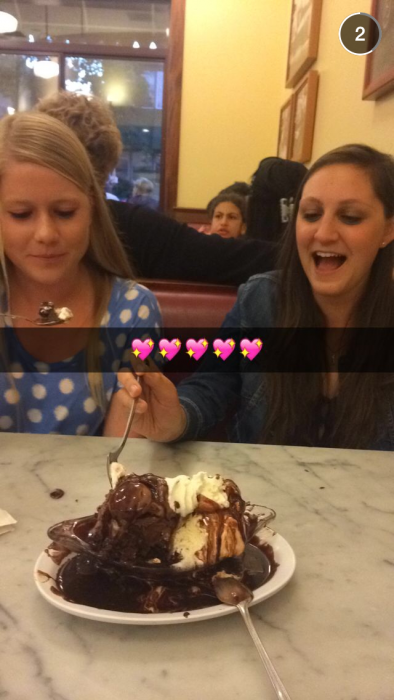 We had a great time catching up. When I'm with them, it's like nothing has changed and is so, so refreshing. Can you believe we've been friends for 9 years? That's basically half my life!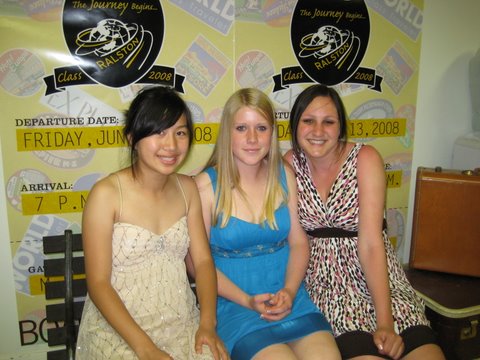 (8th grade grad)
It was such a fun weekend. I loved seeing them, and I'm actually feeling about ready to go back to school!
Do you have any long-term friends?