Happy weekend! I'm posting today because there's a very low probability of me having the energy to do it tomorrow after 12 miles!
Let's start with fitness updates. The other day, for my 4 mile run, I decided to run uphill for a change, instead of down to the waterfront. So it was 2 miles. Straight. Up. Hill. The run back was great though! I kept thinking to myself "How the heck did I run up this thing?"
So we'll see if I ever have the motivation to do it again! The best part of the run was FINALLY seeing a cat in DC though. I've seen only one other cat during my time here, and it was in the dark, from a distance, as I was passing on a bus. Yes, I do have fantastic cat sensors.
Friday evening I went to Crossfit and did 100 plyo pushups. Which was fun…(hah). From my knees, but still! Ow. We also did bench press. I never did much bench pressing before coming here. I never really did it when I first lifted with my trainer because it wasn't a good movement for me given I was a softball pitcher. And my school Crossfit doesn't really do them either. I used to hate and avoid them, but now I look forward to them! I'm terrible at keeping the bar path straight though. It's by far my worst lift.
As for food, I have a random smattering of things.
One of my new favorite breakfasts-plain yogurt+banana mashed with cocoa powder+sunflower seed butter.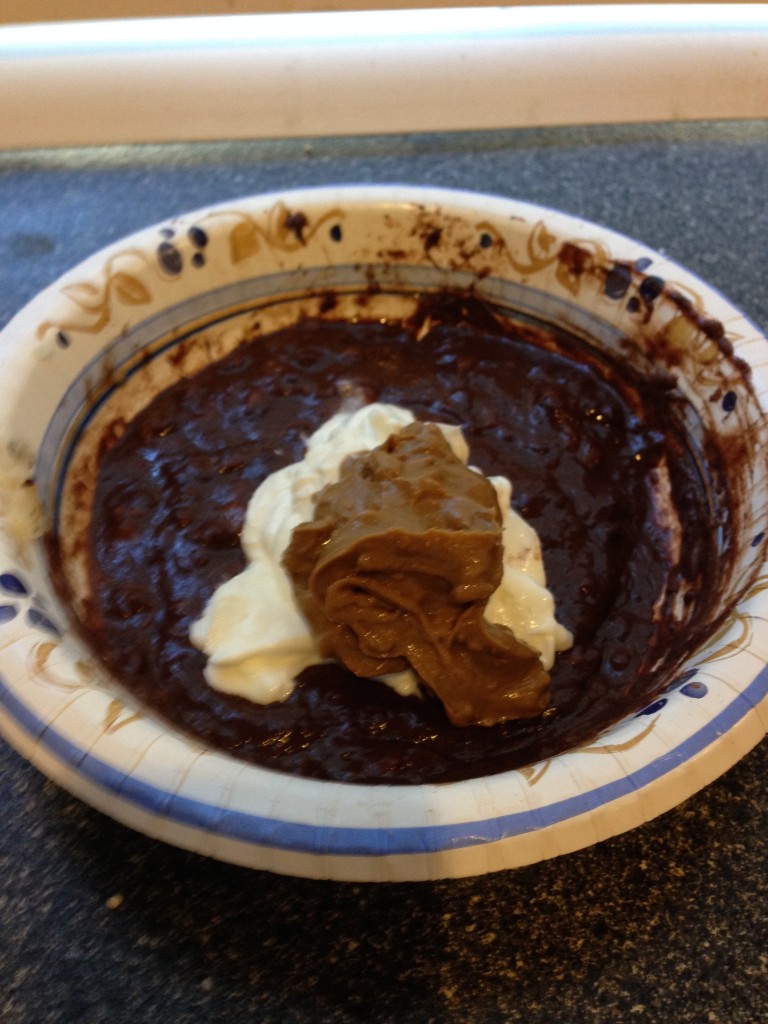 Lots and lots of veggies-cabbage seasoned with Mrs.Dash, salt, nutritional yeast, and what turned out to be a TON of pepper…whoops.
I had time before Crossfit, and instead of munching on a giant muffin (which has happened a bit more often than I'd like to admit lately) I snacked on some veggies-garlic kale (SO good), ginger carrots, and grilled mango.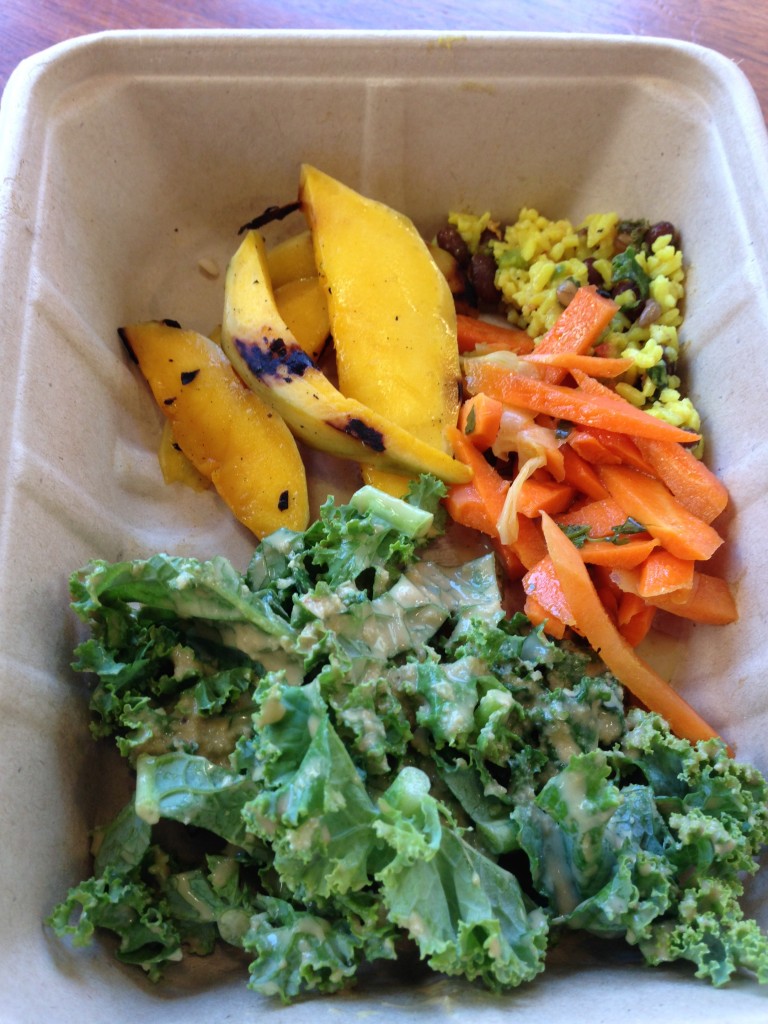 After Crossfit, I went out for Mexican food at District Taco, a chain around here that is supposed to be good. It seemed pretty similar to Chipotle to me! I got chicken tacos.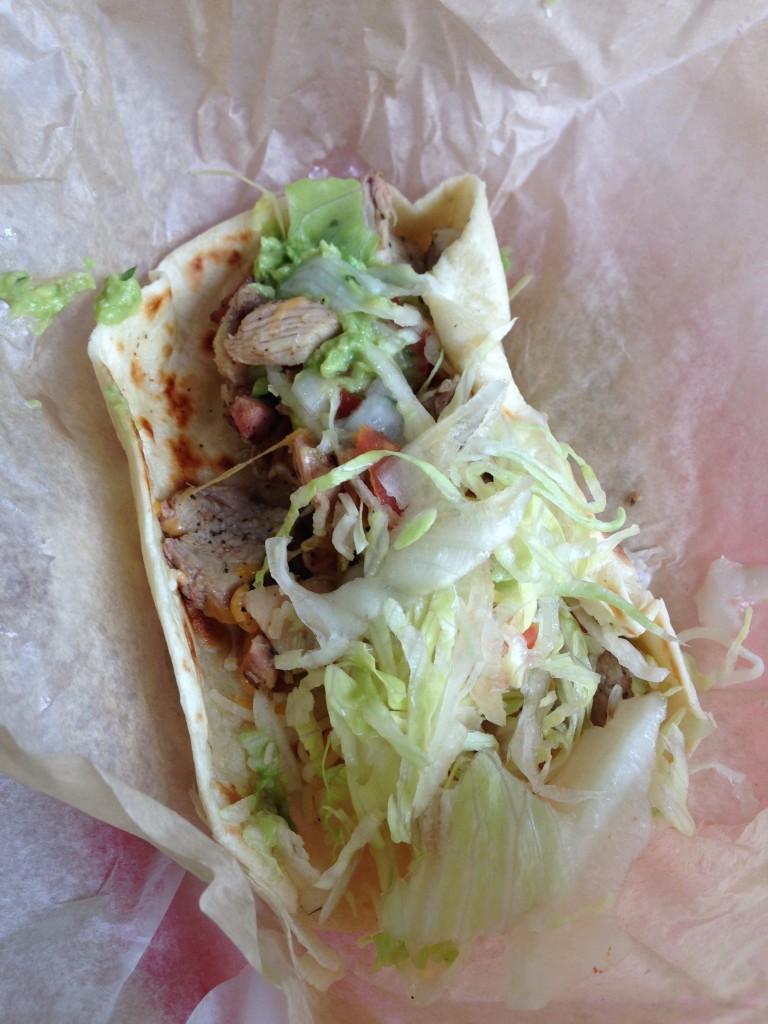 Saturday morning I was up early to do something I've been wanting to do for weeks now (more in a minute). I got a green smoothie as part of breakfast at Whole Foods-this is one I've been wanting to try. It supposedly had greens, coconut water, cocoa powder, banana, dates, and blueberries. I say supposedly because it was kind of watery. The green smoothies I've had here so far are way inferior to the ones I get back at home!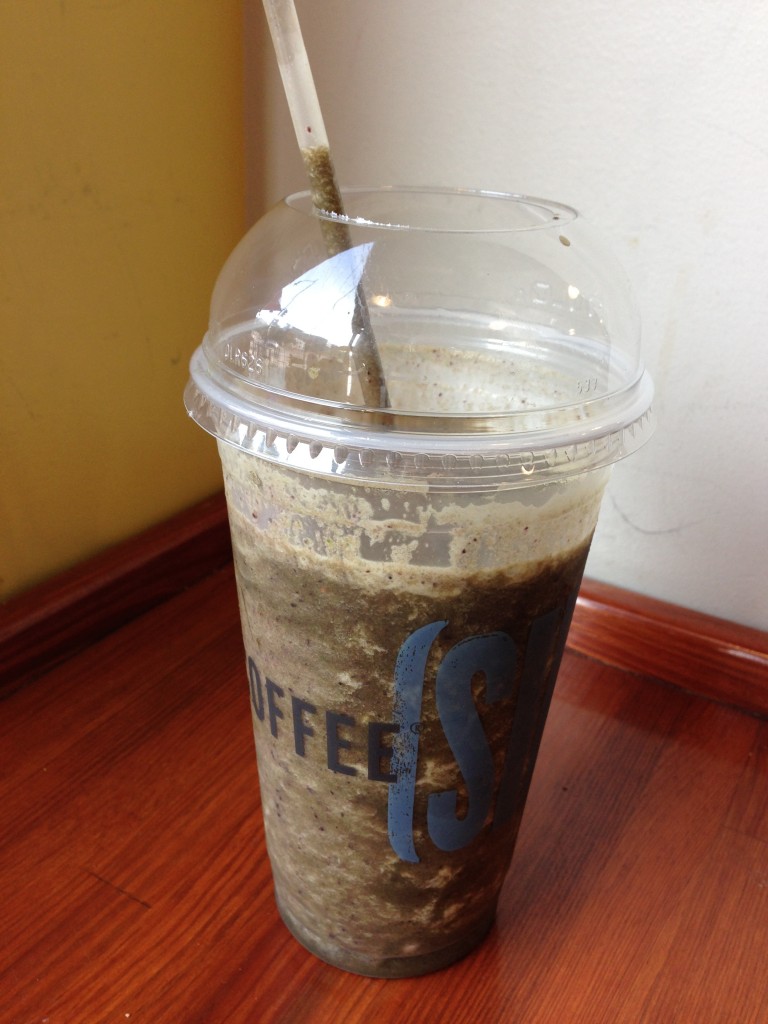 For lunch today, I went to Sweetgreen, a salad chain very popular in DC. I'm going to miss this. It's definitely grown on me. I got the seasonal salad with chicken, which included watermelon, heirloom tomatoes, mint, feta, spicy sunflower seeds, cucumber, and a champagne vinaigrette.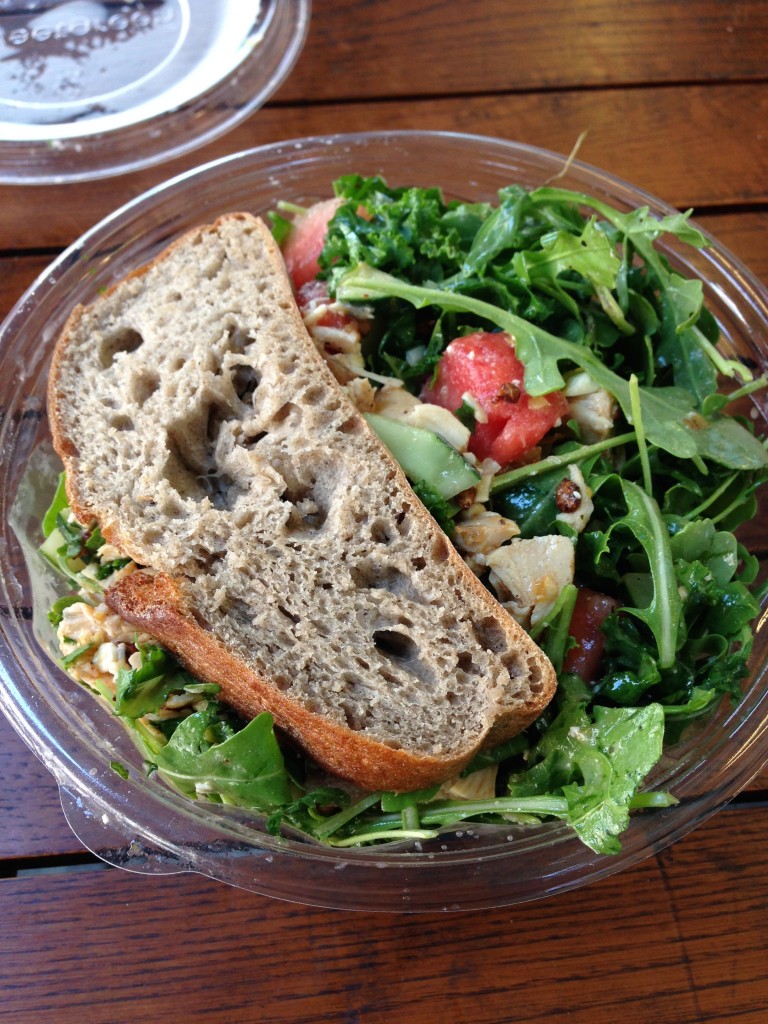 For dinner, I went to a place I've been wanting to try (I'm trying to fit everything in!) which was sort of an Asian fusion place. I got a teriyaki chicken wrap on a whole wheat tortilla. Good, but messy!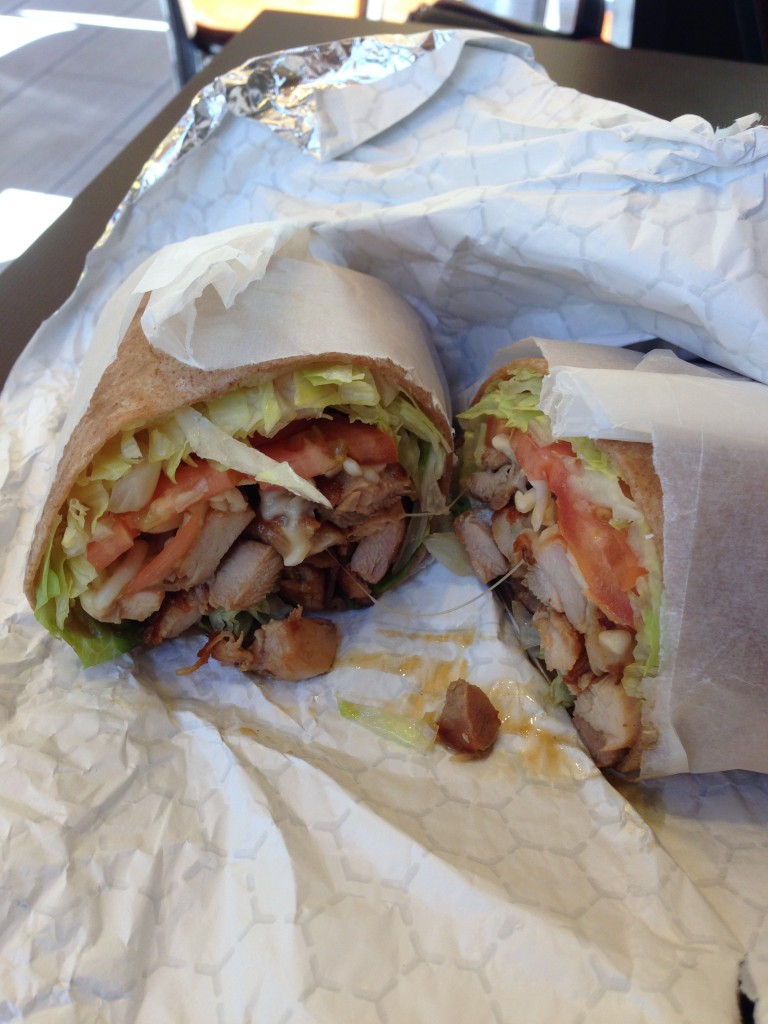 In terms of today's activities, I woke up early-too early-I need more sleep!-and headed out for breakfast, and then metro-ed it over to Arlington Cemetery. Every since my first visit, I've been wanting to go really early in the morning before the crowds of people come in. You can go up to the Arlington house, which offers a fantastic view of all of the city.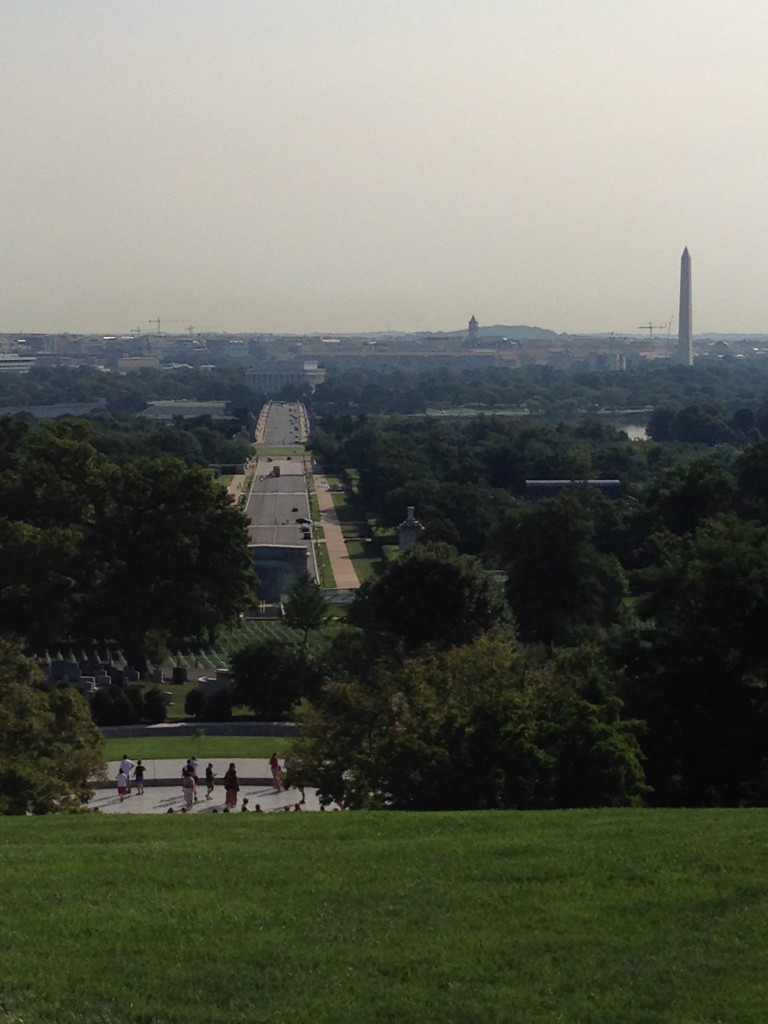 I'm really going to miss this place…
After some time here, I went back to the gym for a spin class, and after showering at the gym, I headed out to the museums. The original plan was the Natural History Museum and the American History Museum, but I quickly realized that was too ambitious given my longest run of the summer is tomorrow. I went to the Natural History Museum, and watched an IMAX movie on adorable lemurs. And then I impulse bought a stuffed giraffe.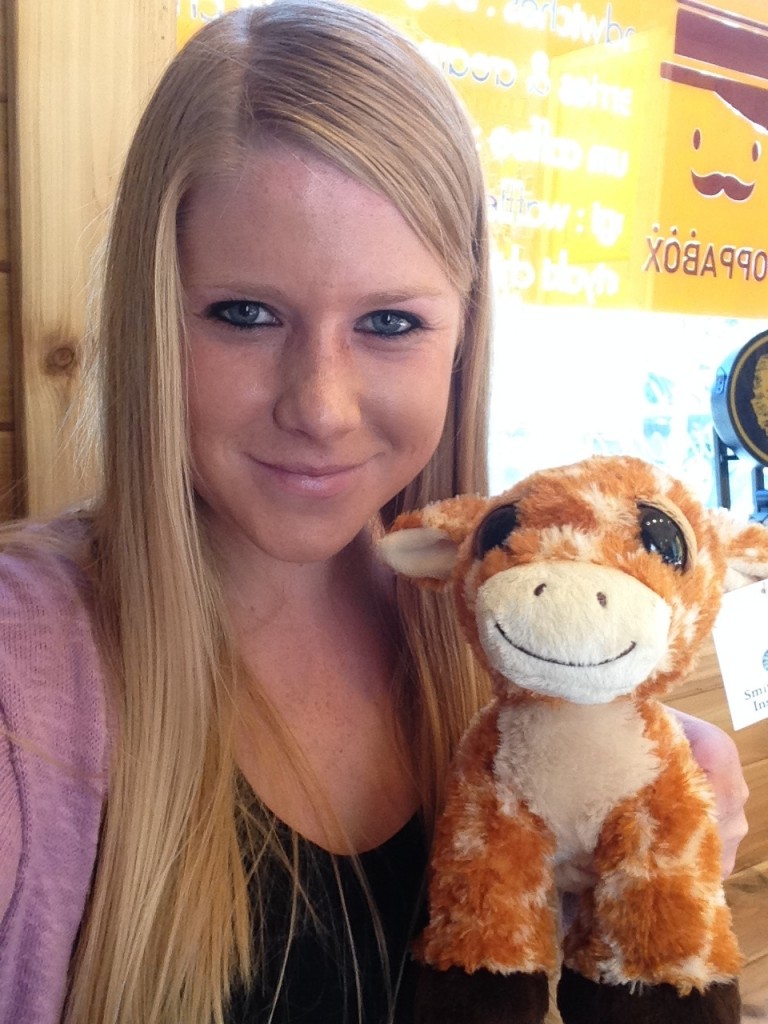 My sorority is obsessed with giraffes, so it will decorate my room at school!
And now I'm SO tired…
One thing I want to share about fueling and such for tomorrow-I bought coconut water, and since I really don't want to have to carry a separate bottle, I'm going to mix it into my regular water. I know, blech. But it's supposed to be another warm one tomorrow and it beats carrying it! In terms of pre-long run meals, I've been eating pretty much anything I have on hand. While it's great that I've become better adapted to being able to eat anything, it means I have zero clue what to eat on race day! Last weekend I had a yogurt bowl (because that was all the food I had in the house), and it was fine. A year ago, I would have never been able to tolerate that pre-run. So there's that.
Ok, bedtime for me!
What is your go-to race day meal?