Hey guys! Want to know something crazy? I slept for 9 hours last night, and it was FANTASTIC. I can't even remember the last time I did that! I decided to try to run in the afternoon (spoiler alert-it didn't happen), because at this point I really needed the extra sleep!
Breakfast this morning was leftover lemon poppyseed oatmeal with sunflower seed butter. It was definitely better yesterday-I think the poppyseed started to disintegrate a bit so it was a tad bitter! Also, one note I should have made yesterday: if you make lemon oatmeal, you should probably use non-dairy milk or water. It definitely curdled a bit-I was expecting this but I didn't have anything else to use so I just lived with it.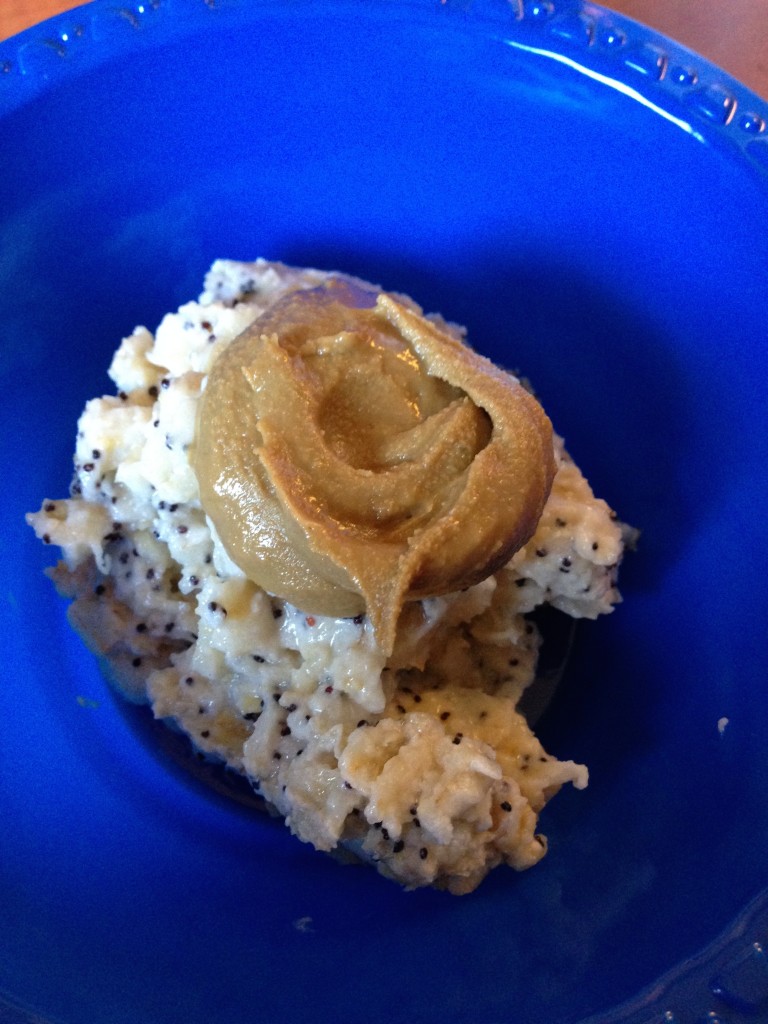 Lunch after Bio was enjoyed in the sunlight. More frozen meatballs, half an avocado with lemon sea salt, and some roasted veggies.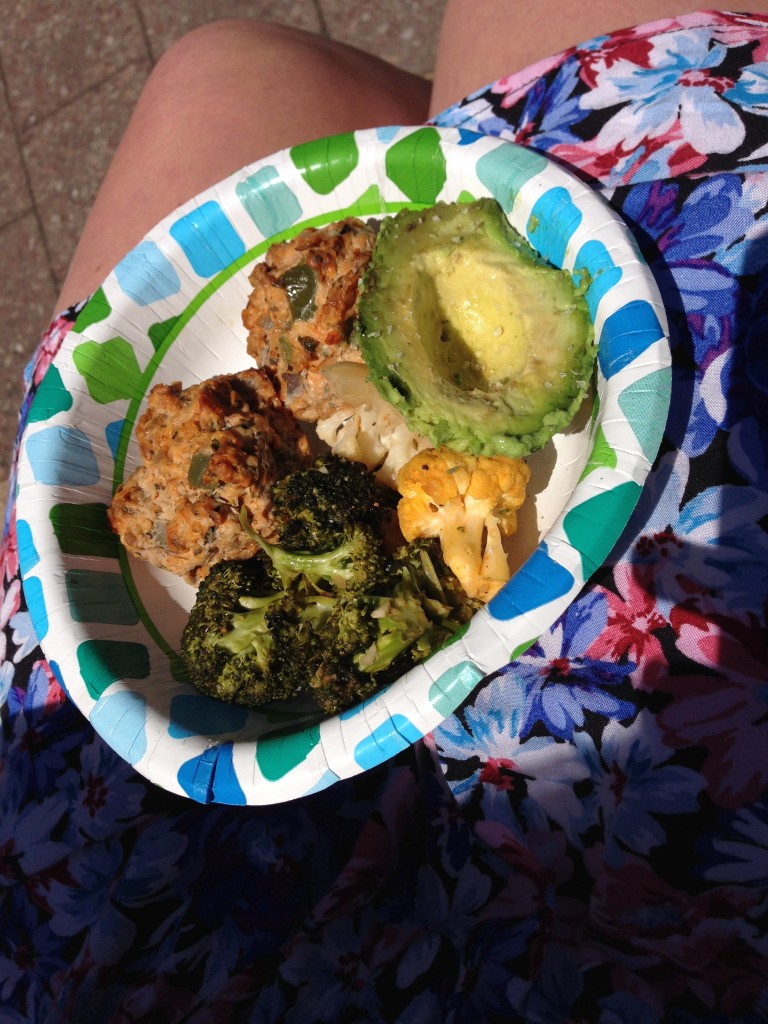 Today was actually really hot, which I totally wasn't expecting. I didn't even think to check the weather! However, I was smart and brought a warm jacket to Bio because that lecture hall is always FREEZING!
After finishing eating, I was still a bit hungry and realized I didn't have many carbs with the meal, and I was craving lemon. As a result, I picked up a bar at a local cafe.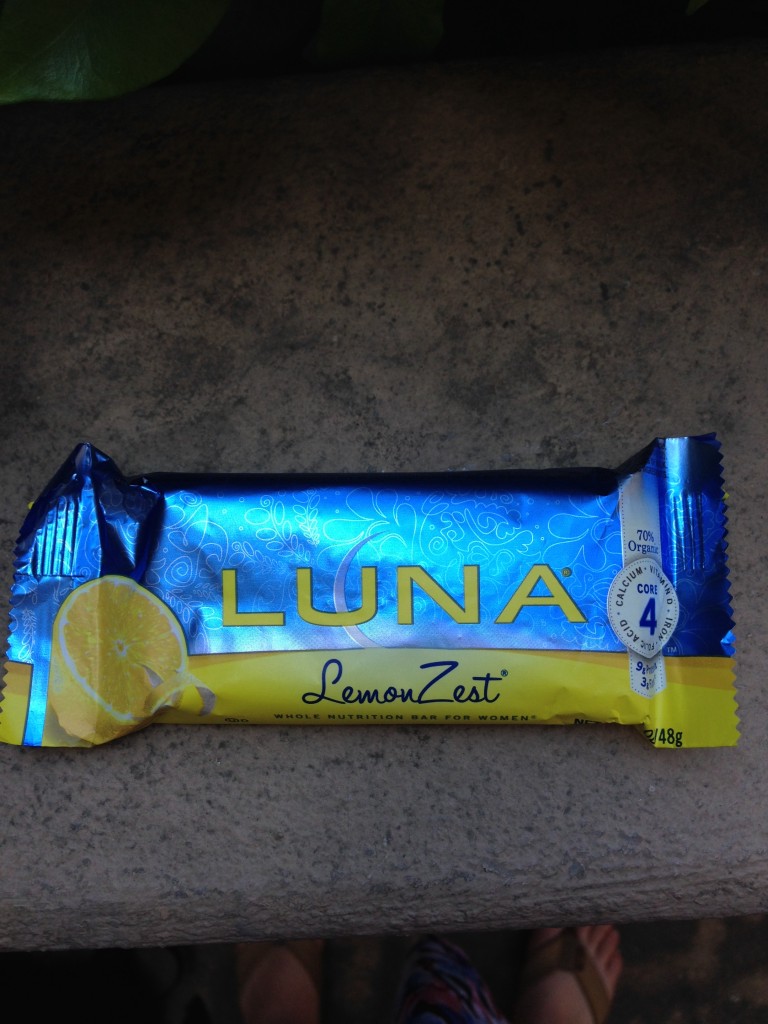 And since I'm on this lemon kick, I have an idea of something to make! Hopefully this weekend I can make it happen-and hopefully it turns out! Any guesses? 😉
As a snack before Crossfit, I ended up having some carrots with avocado, and a banana with sun butter. Which was large enough to eliminate my run. On the plus side, all my Advil, ice, and elevation seems to have paid off-my Achilles was much better this morning, and nearly perfect by the afternoon! It's so bizarre how it flares up-but it's good that I can treat it fairly well. To be perfectly honest, 50% of the time that it gets bad, it's totally my fault. If I'm really with with ice after runs and Advil, I can usually manage it much better than I do. One problem with running in the morning before class is I sometimes run out of time to ice.
Crossfit today was some work on cleans, and then am AMRAP of push ups, double unders (I did singles-didn't want to push my Achilles too much!), and single arm dumb bell snatches. I must say, the single arm snatches brought me back to my high school weight lifting days-I used to do them all the time, although I landed in a split stance!
In terms of fitness, I'm kind of on the fence on…well, everything. I really miss the weight lifting workouts I used to do with my trainer in high school. And I'm pretty sure if I did some of them on my own (I wrote a lot of them down), and made some of my own lifting workouts with a specific schedule/program, I could get a lot stronger, faster. But I really do enjoy Crossfit-it's something I do for fun! And I guess I don't see an immediate need for getting super fit. So it's something to think about I guess! And it's not like I'm going to do 2-a-days with weight lifting just to fit them both in!
After Crossfit, I was hungry enough to decide to forgo the run, but full enough from my big snack earlier that I wanted something on the lighter side. I made a giant salad with lemon dressing, and had a few pieces of pesto on the side. Hit the spot!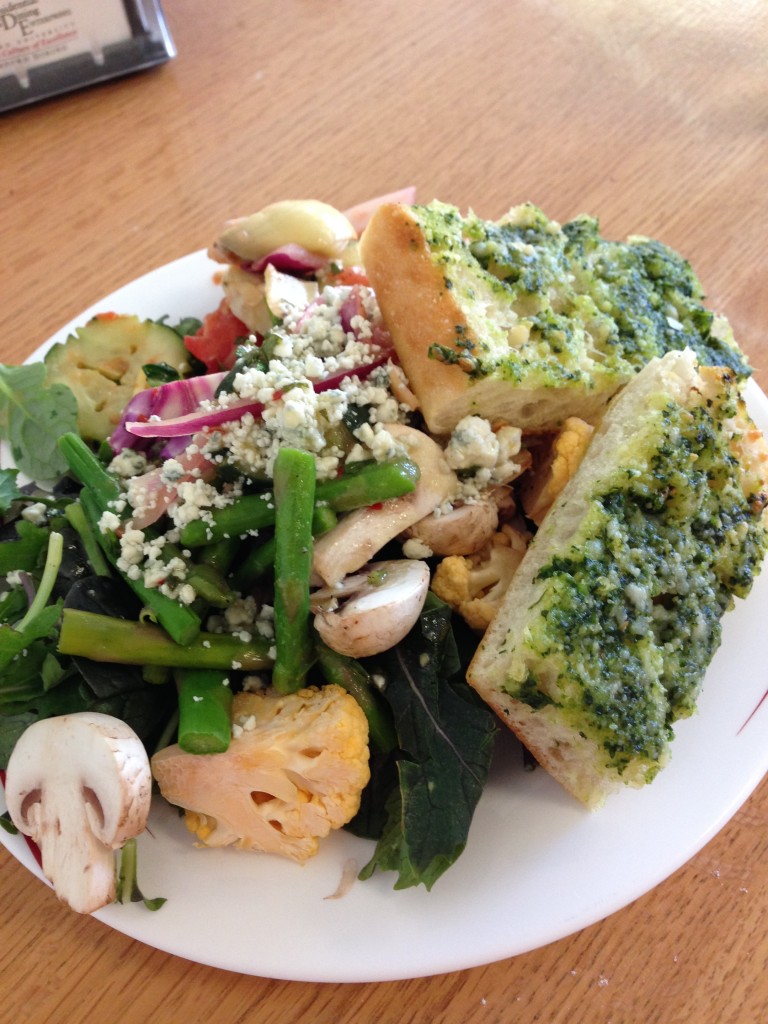 Today, I got my housing assigned for next year! Junior year has the worst housing, but I got exactly what I wanted-a 2 room double on the quiet side of campus (and next to the shiny new gym), right next to the best dining hall on campus! Win!