Hey guys! As I type this, my hands are still stained a bit blue. Yes, I've long since showered and I've washed them dozens of times. Why, you may ask? This morning, my friends/sister and I did The Color Run! I've never done a race that was at all like this before, so I was pretty excited! I woke up bright and early to pick up my packet and eat a banana.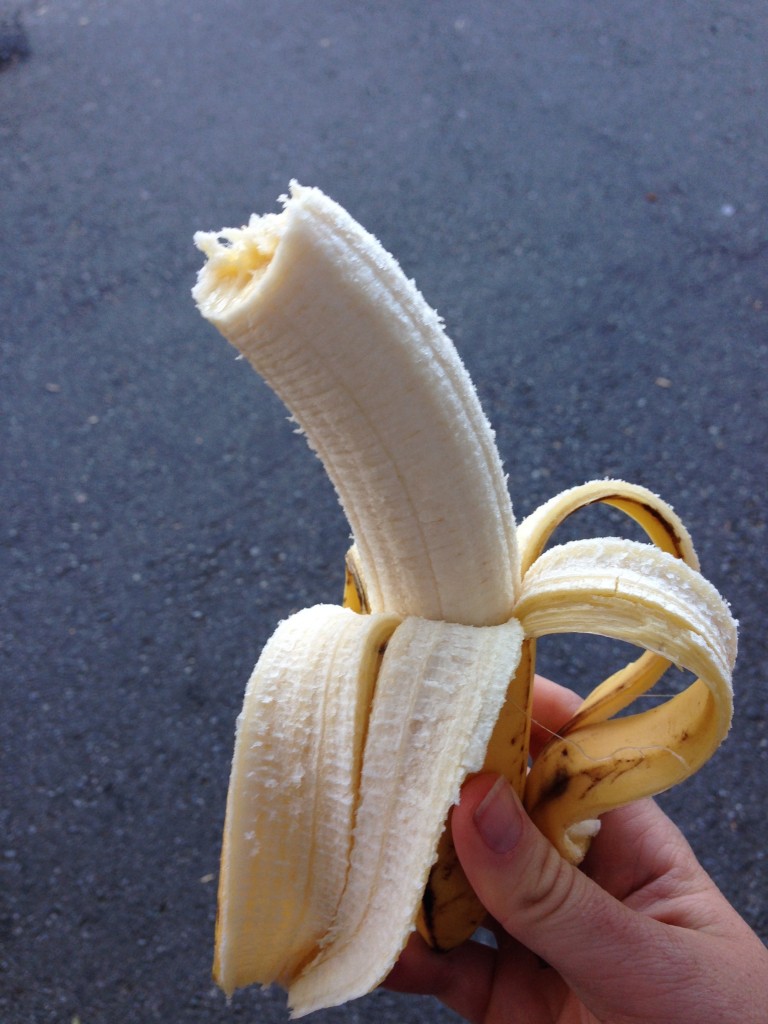 I brought a ziplock bag to carry my phone in during the race, but pretty soon just threw in the towel on keeping my phone remotely un-colorful. I wanted to document how pretty we looked after the blue station (my fav color!) and my phone quickly got covered in colorful dust, and then my ziplock decided to refuse to zip. So, here's a recap mostly with pics!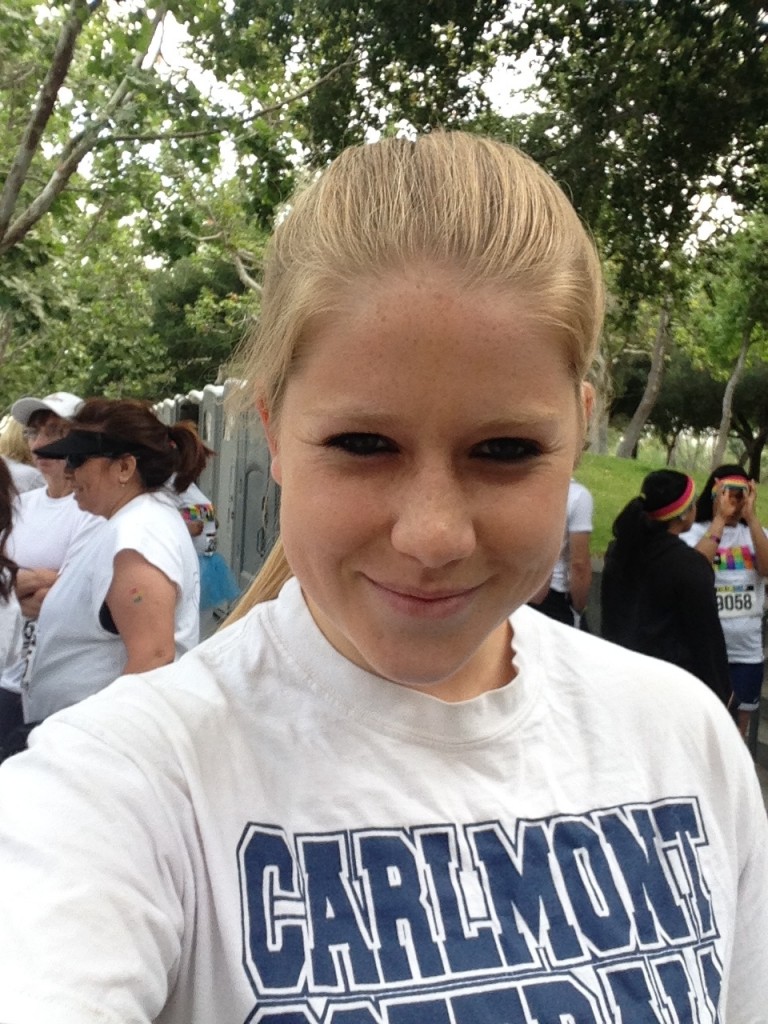 I think it's definitely important to document the "before" of a race like this!
Waiting for the start!
When we first started running, my legs felt heavy from standing around and doing a rough Crossfit last night (my #1 sign that I had regained my strength post-illness!) but by the time we went through the first color station, I was warmed up! We didn't really know what to expect of the color stations. We jogged slowly through while volunteers squirted powdery color onto us.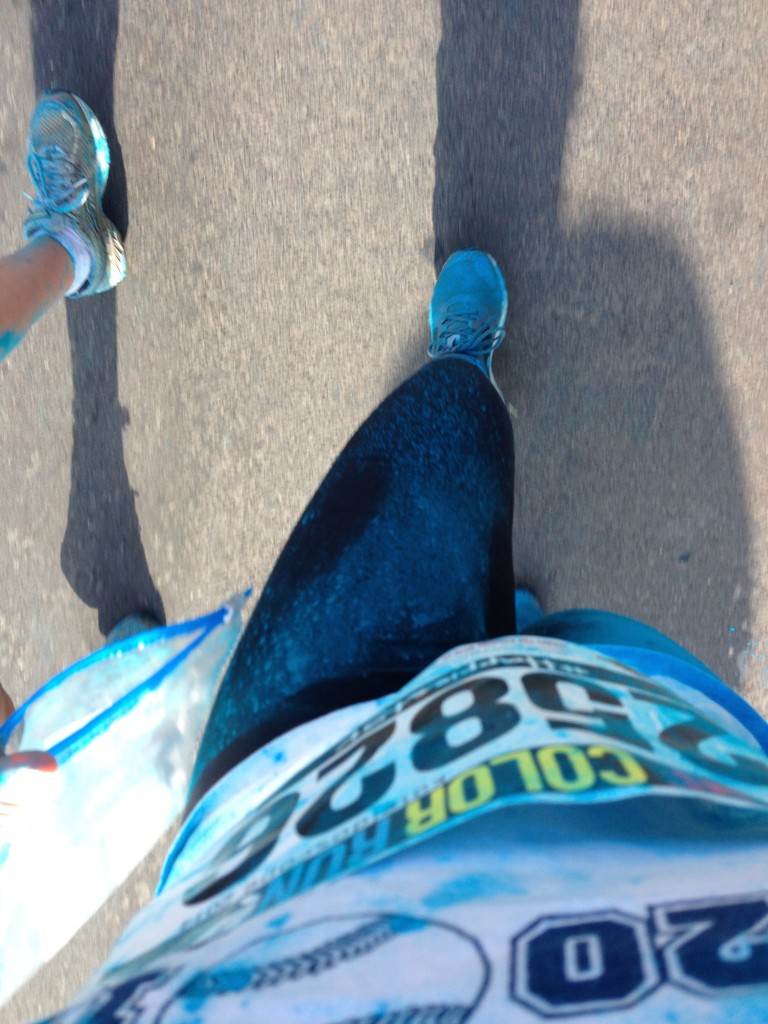 I think I got the most colored at the blue station! I loved how it matched with my shoes 🙂
Next, we came upon a cloud of purple.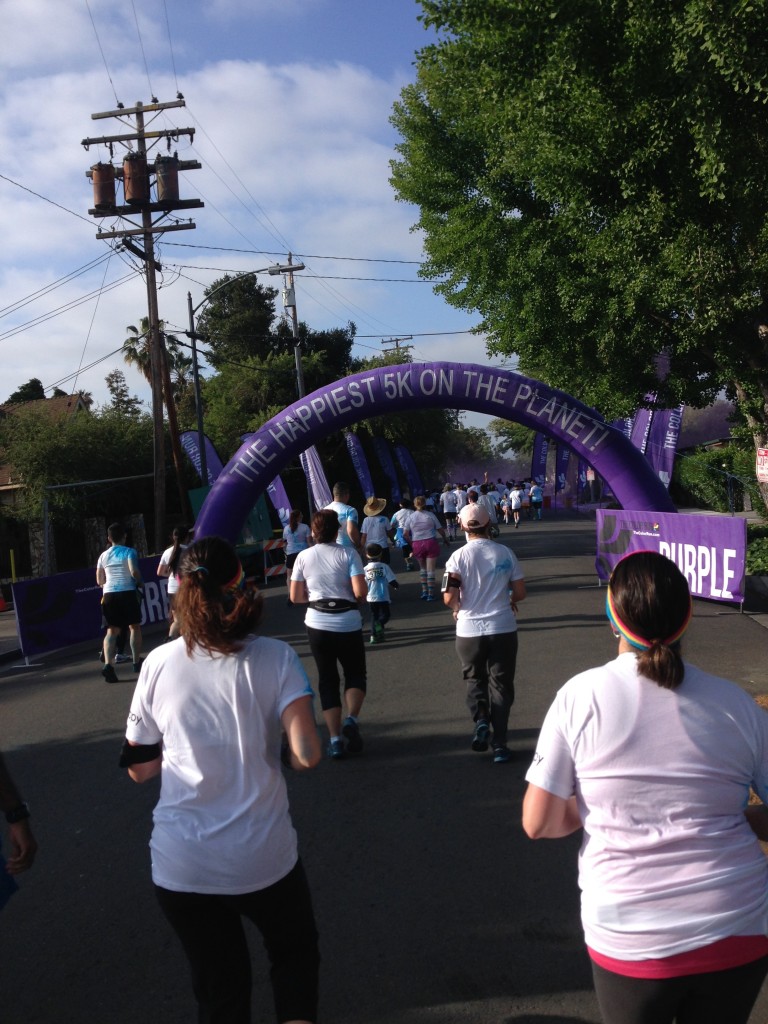 We then proceeded to go through yellow and pink as well. I thought the colors of The Color Run were really pretty. In my opinion, some of the other color runs use much darker colors that blend together and don't look as good!
Before we knew, it, we reached the finishing shoot and received additional color packets to throw after the race.
I was trying so hard not to get it in my eyes! This is after the first color throw, where everyone just throws their color packets at each other. Note the color of my face: unpainted.
We then met up with the rest of the group for the second color throw. Someone nearby us must have had green, because I got covered in it!
One cool thing is that the race was sponsored by KIND bars, and they had free samples after the race. The exciting part was that they were giving out their new bars that don't have nuts, so I could actually have one! Yay!
Back to the pictures-notice the color of my face. Well, I was still under the impression that I didn't have any paint on my face. My cleaned off the best we could (I brought wipes to clean my hands/phone) and then put on our clean Color Run t-shirts to go out to brunch. I didn't realize I had paint on my face until we walked into the bathroom to clean up a bit…and I realized I had developed quite a nice mustache.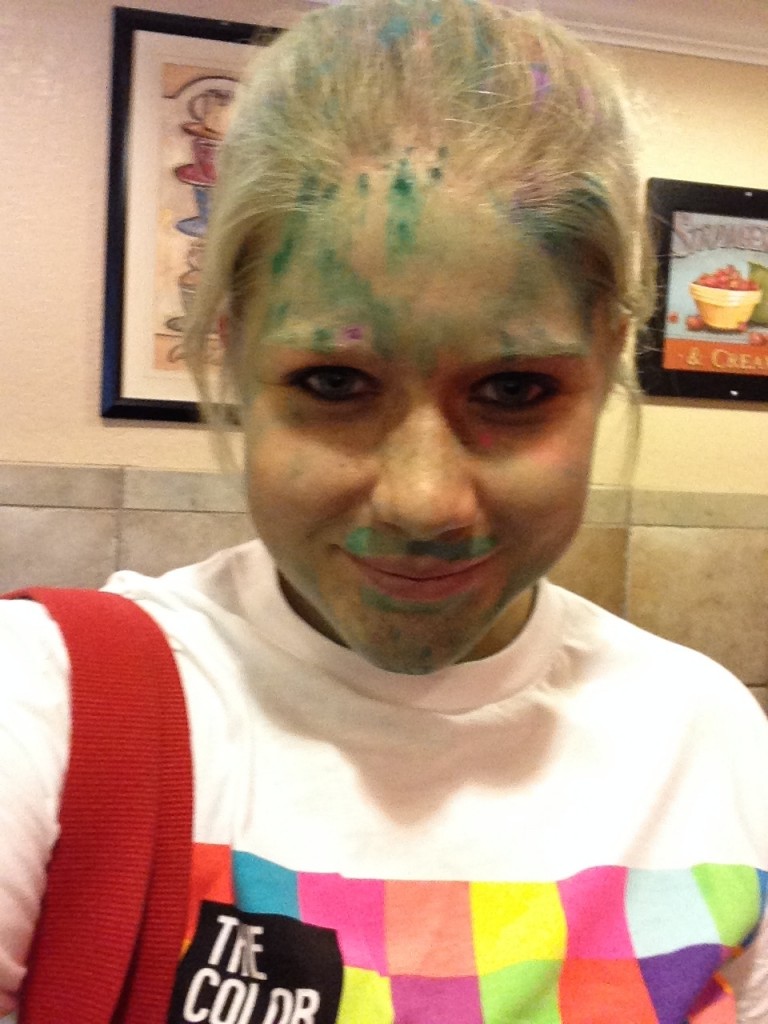 The brunch place we went to was fantastic, and they didn't seem to mind all the colorful people! (We weren't the only ones coming from the race!) If you're ever in San Jose, I highly recommend Bill's Cafe, on Willow Street. The menu looked fantastic, and it was hard to decide what to get! I ended up ordering the veggie skillet-veggies, egg whites, and cheese atop hash browns, and topped with avocado!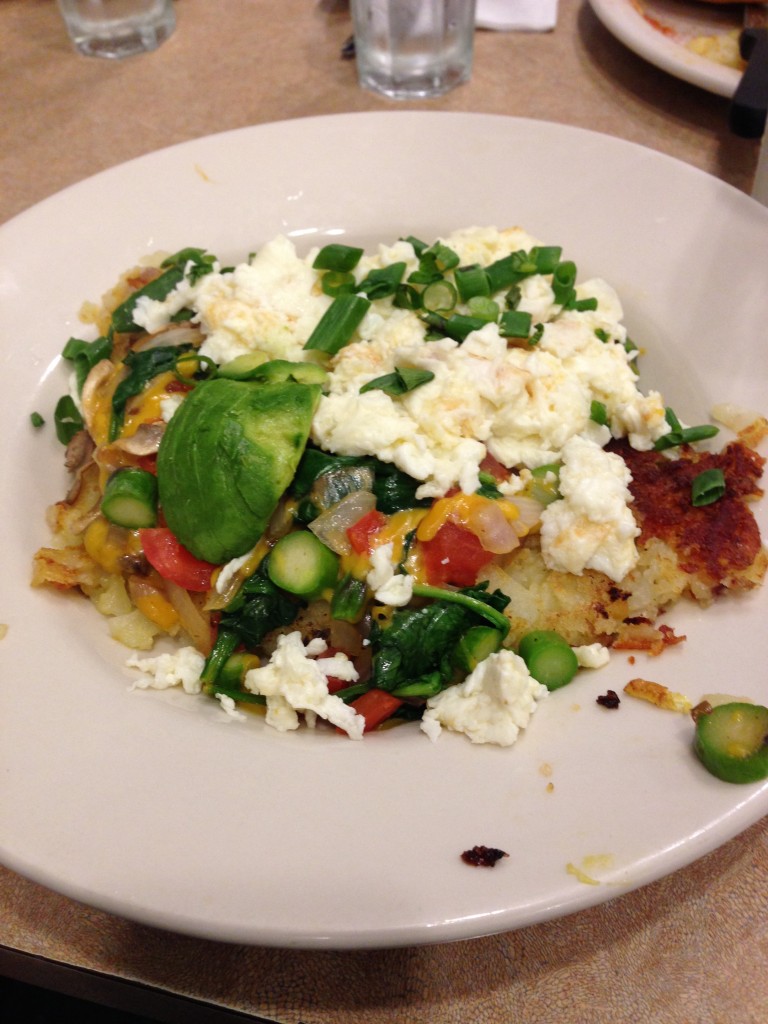 They also had amazing looking pancakes and French Toast, including cinnamon roll French Toast! We all agreed that we need to go there again!
All in all, it was a great morning! I then proceeded to take the longest shower of my life. I'm mostly not blue, and even though I can't find any dye in my hair, it was somehow dripping blue…I have yet to see how my laundry will look!
Also-PSA: running in workout pants with a hole is probably not the best idea ever. I have the worst chaffing of my life, which is currently patched up with gauze, a bandaid, and Neosporin.
Have you ever done a color run of any type? Or other fun run?