Happy Wednesday! We all know that means another installment of What I Ate Wednesday!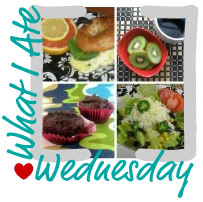 One quick bit of good news-I think all my links are fixed, but if anyone has any issues, please let me know! I'm also still trying to figure issues of following on Bloglovin, WordPress, and other blog readers but what I can say for now is make sure you have fitnessissweet.com in your reader, not the fitnessissweet.wordpress.com!
Sunday was my last day at home (I went back that evening) so I spent the day prepping some food for the week.
I made quinoa, berry compote (frozen berries on the stove for about 2 hours), egg cups with veggies inside, and a stir fry type of tofu meal.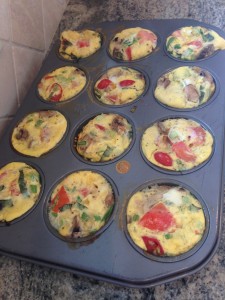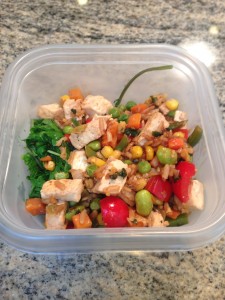 My last dinner at home was a favorite of mine-cheese soufflés! The recipe is from Cooking Light and is so good! Cooking Light has a ton of fabulous looking soufflés Ive always wanted to try! On the side was an herb salad-what's so great about this salad is that the greens are half arugula/lettuce and half fresh herbs!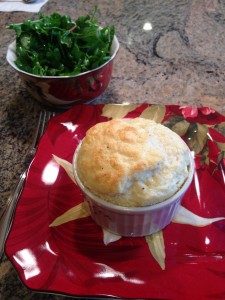 Back at school on Monday, I had tons of food all ready to go and be eaten! It helps make the first week of the quarter a breeze!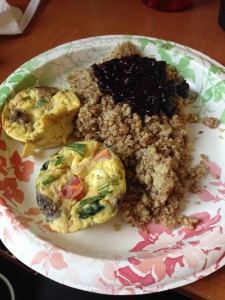 2 egg cups+quinoa mixed with ground flax and topped with berry compote.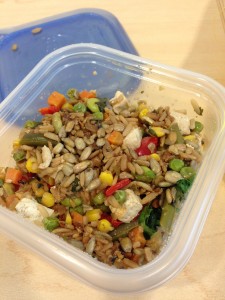 My stir fry! Topped with sunflower seeds and on a bed of baby kale.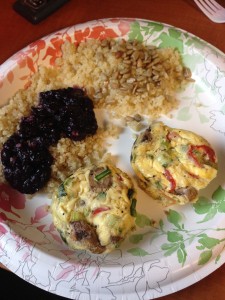 This was almost identical to the previous day's breakfast but I topped the quinoa with sunflower seeds instead of berries. I think I prefer quinoa in a more savory sense, which is why I only topped half with berries!
Some other food prep: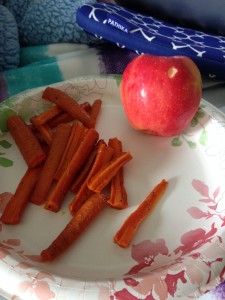 Roasted carrots and an apple. I LOVE roasted carrots. I think if I had more access to them I'd eat a pound a day.
And some campus eats: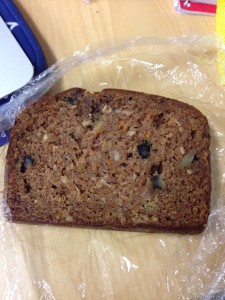 Some quick bread that I have to guess is some type of coconut pumpkin?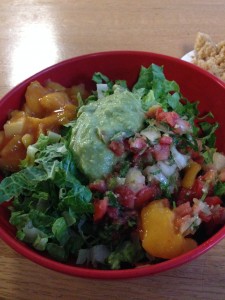 A giant burrito bowl with salmon, black beans, huac salsa, and mango salsa. Yum!
On the workout front, I did a butt kicking Spin workout on my own yesterday. HIIT on the Spin bike is killer! And then this morning, I had a quite wet track workout followed by abs from this video.  It absolutely killed me! I mean, I know I've been neglecting the core work but MAN did that burn.
I hope you guys all have a fabulous hump day!
What's the best thing you ate today?